Ravens Kick Off with Bills Once Again
Print this article
Bills fans owe the Ravens (and departed Defensive Coordinator Dean Pees) quite a bit of gratitude. Thanks to Baltimore's fourth-quarter collapse against Cincinnati in Week 17 last season, Buffalo got to see their first playoff game since way back in the 1999 season. Buffalo gave Andy Dalton a very warm welcome when the Bengals visited in the preseason, and I think I even remember seeing that there was a surge in children named "Andrew" in Western New York last winter.
As if Ginger Cannon had anything to do with it. Those kids should all be named Dean, you idiots.
Swiss Pees is gone, and so is the QB that "led" the Bills to their first postseason appearance in nearly two decades, former Raven Tyrod Taylor. Instead, we get Wink vs. Nathan in this rematch of the 2016 opener for both squads. Hopefully this one won't be quite as much of a butt-clencher.
Here's a look at the stats, quotes, and more for this matchup. Be sure to scroll all the way to the bottom for a grand introduction to our new segment.
KNOW THY ENEMY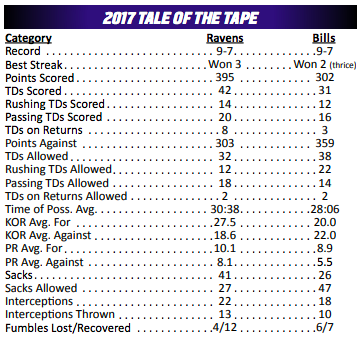 SERIES HISTORY
QUOTES OF THE WEEK
NFL Network's Kyle Brandt on the Ravens:
"I like Baltimore a lot. I think their defense is going to blow people away. I think they have really good veteran receivers now. I like [John] Brown. I like [Michael] Crabtree. And, I just like Joe Flacco. In the biggest preseason of this man's life, he's been nails. I think the Baltimore Ravens are a Top 5 AFC team. I love them this year. I love them."
Defensive coordinator Don "Wink" Martindale on the Ravens' 2018 defense:
"I really like where we're going and where we're heading with the defense. I think this defense is starting to take along the personality of the city, like all the great Ravens defenses do – from Dundalk to West Baltimore to Carroll County. I like how we're coming together. I like how we're not flinching."
QB Joe Flacco on free agent addition WR John Brown:
"John is doing a really good job making things happen really quick. We've hit him down the field, we've hit him back shoulder, everything. I really think that's a credit to him and just how well he can get off the ball and get going vertical and put those DBs in a bad position. When you don't get that, it makes it a little bit tough to hang back there and figure out where you're going to put the ball. He's just been doing a great job of beating guys off the line and showing guys what he's made of."
ESPN analyst Louis Riddick on the Ravens' offense:
"This is the football team that I think is going to be the breakout offense of the season. They've got weapons on that side of the ball."
S Eric Weddle on QB Joe Flacco's strong training camp and the connection with his new receivers:
"I've been seeing them all offseason. I love everything about Joe. We have to be better for him. He'll say to them that he needs to be better. But having a healthy offseason for him, getting the new additions, working every day in the offseason and when they had time off … Seeing them now, I expect Joe to have a career year and him to lead our team to the playoffs."
GETTING TO KNOW YOU ~ Q&A with Marlon Humphrey
What did you like about being a high school track coach at your alma mater, Hoover, in the offseason?
"I ran track there, so I was just able to help other athletes succeed. I think you learn a lot of life things in track, because track is the one sport where, whether you're the fastest or the slowest, everyone runs a certain time, and you can always improve on your time. Self-improvement is something that comes from hard work and that helps everyone win within themselves."
What do you like to do in your free time?
"I try to golf a little bit. I try to bowl a little bit. I watch probably two or three movies a week. Just kind of recreational stuff."
What are your favorite movies?
"I don't really have a favorite, but I like 'The Meg' that's out right now. It's the best shark movie that I've ever seen. Halfway through, you're going to think it's over, because that much has happened."
When you were a kid, what did you want to be when you grew up?
"I always wanted to be an NFL football player when I was young."
Who was your favorite NFL player growing up?
"Even though I wanted to be an NFL player, I didn't really watch much NFL, if any, really, when I was younger. The only people I ever really wanted to be like were Brian Urlacher and my dad [former NFL RB Bobby Humphrey]. It was mainly my dad. I used to play linebacker, so I kind of wanted to be like Brian Urlacher, in a linebacker sense. But more so, what I wanted to be, I wanted to be like my dad."
What advice would you give your younger self?
"I probably wouldn't give myself any advice. Situations make you who you are, so I probably wouldn't even tell myself to change anything."
If you could only eat one thing for the rest of your life, what would it be?
"Definitely chicken. You've got chicken wings, chicken breasts. There are a lot of different ways to eat chicken – baked, fried, grilled – so definitely chicken."
HEY, YOU LOOK FAMILIAR! ~ Key Connections
Ravens assistant head coach/tight ends Greg Roman served as Buffalo's offensive coordinator from 2015-16.
Baltimore offensive line coach Joe D'Alessandris held the same position for the Bills from 2010-12.
Bills defensive coordinator Leslie Frazier spent the 2016 season as the Ravens' secondary coach. His son, Corey Frazier, currently serves as a player personnel assistant for Baltimore.
Buffalo offensive line/run game coach Juan Castillo previously served as the run-game coordinator (2013) and offensive line coach (2014-16) for Baltimore.
Bills defensive quality control/assistant LBs coach John Egorugwu spent the 2015-16 campaigns as a Ravens' defensive assistant.
Several Buffalo players held previous stints with the Ravens: LB Lorenzo Alexander (2006 practice squad), G Vladimir Ducasse (2016), K Stephen Hauschka (2008-09) and De'Ondre Wesley (2016).
Bills TE Khari Lee is from Baltimore and attended Western School of Technology and Environmental Science (Catonsville).
Buffalo WR Cam Phillips (practice squad) is from Laurel, MD, and attended Dematha Catholic HS (Hyattsville).
HOW DO THEY TAILGATE?
What better fan base to kick off our new segment than the undisputed Kings and Queens of the Tailgate, the Bills Mafia? Let us sit back and marvel at these monsters. Most fans use plastic tables as surfaces on which to place food. Bills fans have a different use. Be sure to hide your folding tables if you see red or blue jerseys in the M&T Bank Stadium parking lot Sunday.