AFC North "Award" Predictions
Print this article
With the AFC North and the rest of the league getting underway this weekend (!!!), it's the last call for predictions. So I'm doing something a little different: I'm gonna hand out the awards that are handed out for the whole NFL to just the AFC North. Let's get to it.
Offensive Player Of The Year
The Contenders
Alex Collins | RB | BAL – Collins is clearly the most gifted back on the Ravens roster, and it's not even close if I'm being honest. He didn't see much work this preseason, but he managed 33 yards on only three carries, leading me to believe he will pick up where he left off in his first season in Baltimore. After starting the season on the practice squad, Collins earned his way onto the active roster and was the full-time starter by Week 5. He managed 973 yards on 212 carries and 6 TDs, and added another 187 yards on 23 receptions. He also earned Pro Football Focus' number one rushing grade at 89.7.
In 2018, AC will be the full time starter for all 16 games (as long as he's healthy). I'd expect OC Marty Mornhinweg to feed him the ball 15-20 times a game, and even more in the games where the Ravens have built a lead, which would put his total carries up in the 260-320 range. Add to that the return of Marshal Yanda and Alex Lewis, and whisperings that he could be more involved in the passing game, and Collins is in for a big season. I'd say 1500 total yards from scrimmage and 10 TD are realistic milestones.
Le'Veon Bell | RB | PIT – Le'Veon Bell is, in my estimation, the most complete back in the NFL. BUT, as the old adage goes, it doesn't matter if you're complete if you don't compete (ok, I might have just made that up on the spot). Bell still hasn't reported to the team, as he wasn't happy with the contract he was offered this offseason. And by all accounts, this could drag in for quite a while. I've heard he will sit out the first half of the season, and if so, he has no chance in this race. But if he has a change of heart and gets back by say Week 3 or 4, he's certainly talented enough and involved enough to make up ground. This is a situation that we have to keep an eye on. As a Ravens fan, I support your protest Le'Veon!
Antonio Brown | WR | PIT – AB is simply the best WR in the game. It's not up for discussion. Can you imagine how good this dude would be if he had Julio Jones' size? I apologize for that terrifying picture I just painted. But seriously, this guy is a machine. In his eight seasons in the NFL, he has averaged 92 receptions for 1,239 yards and 7 TD. He has a streak of five seasons with at least 100 receptions and 1,200 yards.
Expect more of the same from AB in 2018. In fact, with Bell's situation looking grimmer by the day, Brown has a chance to have a career year. I see absolutely no reason he shouldn't eclipse 100 receptions, 1500 yards and 10 TD.
A.J. Green | WR | CIN – Don't sleep on A.J. Green, AKA the Ravens Killer. Sure, he hasn't been quite as dominant over the past two seasons, but he STILL finished 2016 and 2017 with 964 yards and 1,078 yards, respectively. In fact, 2016 was the only season in his seven-year career in which he failed to reach 1,000 receiving yards.
A.J. is still the best weapon on the Bengals offense. TE Tyler Eifert is constantly injured, John Ross has flashed big play ability this preseason but he didn't play his rookie season and is essentially a rookie, and Tyler Boyd is good but he's not scaring anyone. A.J. should be far and away the most targeted Bengal. I see him somewhere around 85 receptions, 1350 yards and 8 TD.
Jarvis Landry | WR | CLE – Jarvis "Juice" Landry is one hell of a football player. In his four-year career (all with the Miami Dolphins), he has averaged 100 receptions, 1,009 yards and 5.5 TD. He runs nice routes and has soft hands.
I was initially worried about who was throwing him the ball in his first season as a Brown. Then I remembered who has been throwing to him thus far in his career: Ryan Tannehill and Jay Cutler. Tyrod Taylor and Baker Mayfield are major upgrades. Juice will produce in 2018 no matter who is throwing him the ball. He just gets open. I say he blesses his opponents with 90 receptions for 1,150 yards and 6 TD this year.
Josh Gordon | WR | CLE – If and when Josh Gordon fully commits himself to football, the league is in trouble (he seems to be doing well as of late in that regard). This dude is probably the most physically gifted receiver in the NFL. I mean, did you see him on Hard Knocks? He is one big guy.
We've seen what he can do in a full season, back in 2013. He led the league in receiving that year with 1,646 yards on. 87 receptions and reached the end zone nine times. "Flash" is a dark horse in this race, for sure.
The Winner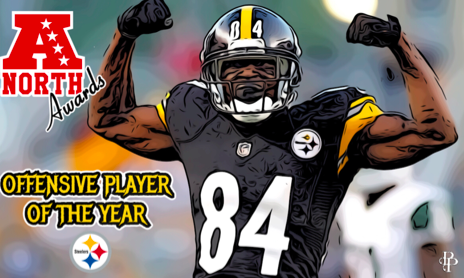 Defensive Player Of The Year
The Contenders
Eric Weddle | S | BAL – The Beard is entering his third season as a Raven and the back end of his career. He led the team in interceptions in both of his seasons with the team. He's a smart, savvy player who makes up for some of his physical shortcomings with his work ethic and tape study. And I'm sure the beard plays a role, too.
Myles Garrett | DE | CLE – After a successful rookie campaign that was highlighted by seven sacks, Myles Garrett is now entering his second season as a pro. I fully expect Garrett, the first overall pick in the 2017 Draft, to establish himself as one of the premier edge rushers. He's got a rare blend of size and speed, and he should see his fair share of double teams and TE chips this season. Doesn't matter, he is gonna be a problem.
C.J. Mosley | LB| BAL – Half man, half amazing Mosley is entering a contract year, and I can't tell you how many athletes I've seen play out of their minds with money on the line (Joe Flacco, anybody?). I don't see a deal getting done until after the season, which bodes well for the Ravens (this season, not so much next offseason when it comes time to pay up).
Mosley is one of the best linebackers in the NFL, and what makes him so special is his versatility. He can hit, he can rush the passer, and he can drop back into coverage and intercept the ball. He's a very intelligent man, one who I hope is in Baltimore for a long time.
Expect a career year from C.J.
Carl Lawson | EDGE | CIN – Carl Lawson is a dark horse in this race, entering only his second professional season. Lawson was an absolute steal in the fourth round of last year's draft (116th overall). He was an absolute nightmare at Auburn, and I'm not sure how he wasn't taken earlier.
His first season with the Bengals was a successful one, notching 8.5 sacks. I expect him to hit double digits this season playing opposite of Carlos Dunlap. This will be a big year for Lawson, and he'll make a name for himself by season's end.
The Winner
Offensive Rookie Of The Year
The Contenders
Hayden Hurst | TE | BAL – Hurst, AKA Ginger Thor, had a fantastic camp and preseason, showing exactly why the Ravens passed on Calvin Ridley with the 25th overall pick in this year's Draft.
Hurst will miss the first couple of games this season with a stress fracture in his foot, and that will certainly hurt his chances here. But when he gets back on the field, I expect him to take off right away and continue to build a rapport with Flacco. And we all know how much Joe loves a reliable TE, right? I think Hurst is will be an exception to the rule that rookie TEs typically don't produce. I see a big season for Ginger Thor.
Baker Mayfield| QB | CLE – If Baker Mayfield was starting Week 1, he'd be a shoe-in for this award. Problem is, Tyrod Taylor will start. For how long, nobody knows, and there will be several factors that play a role in when/if a change is made.
If Baker does get an opportunity by the halfway mark, he has an opportunity to win this award. He is undersized, sure. But he is very accurate with his throws, and he seems to always play with a chip on his shoulder. Time will tell if he gets the opportunity as a rookie to display why he was the first pick in the draft.
James Washington | WR | PIT – James Washington's addition to the Steelers offense isn't even fair. They already hit big on JuJu Smith-Schuster in the end of round 2 of the 2017 Draft, and now they seemed to have gotten another absolute steal in the second round of the 2018 Draft.
Washington has a stellar college career at Oklahoma State. In his four seasons, he averaged 56 receptions and 1,118 yards (that's an incredible 19.8 yards per reception). With AB, Smith-Schuster, and Bell already demanding much of the defense's attention, Washington has an opportunity to be a home run threat for this team.
Nick Chubb | RB | CLE – I followed this young man's college career closely. Nick Chubb was very impressive at Georgia and I think he's being slept on a bit. As a freshman in 2014, he rushed for 1,487 yards and 14 TD. As a sophomore, he had his best start, averaging seven yards per carry, before injury cut his season short. He finished 2015 with 730 yards. As a junior, he surpassed the 1,100 yards mark before finishing his college career with a huge senior year where he rushed for 1,345 yards and 15 TD.
He will likely be the 1B in his rookie season to Carlos Hyde's 1A. Duke Johnson will handle all of the passing downs. If for some reason Hyde should suffer a significant injury, watch out for Chubb.
The Winner
Defensive Rookie Of The Year
The Contenders
Denzel Ward | CB | CLE – Taken fourth overall in the 2018 draft, Ward will be expected to step into a large role right away and hold his own against some of the best WRs in the NFL. Last year, his former teammate at Ohio State, New Orleans Saints CB Marshon Lattimore, did just that, and Ward was a higher draft pick than Lattimore.
Ward is a bit undersized at 5-10, but is one hell of an athlete. He ran a 4.32 40-yard dash at the combine, proving he has the speed to run stride for stride with anyone in the league. He has great instincts and route recognition, and should be a man corner in this league.
Terrell Edmunds | S | PIT – Terrell Edmunds is a very gifted athlete. Look no further than the fact that both he and his brother (Tremaine Edmunds of the Buffalo Bills) were taken in the first round of the 2018 Draft for evidence that he has the genetics. But some question whether Terrell should have been a first-round pick at all. I'd say it was a bit of a reach. He is a bit raw and will need time to develop. When/if he does, he could be a playmaker in this league. But I think we are a couple years away from that.
Jessie Bates III | S | CIN – Bates III was one of my draft crushes. This dude can ball. At 6-1, he's got great size, and his 4.5 40 speed is good, not great. He can play any coverage really. He looks good in both man and zone schemes.
Reports throughout the preseason out of Cincy are that he's been playing great football. I think the Bengals got themselves a steal. Bates III is a smart, instinctual safety with terrific ball skills. I think he'll have a phenomenal rookie season.
The Winner
Comeback Player Of The Year
The Contenders
Tavon Young | CB | BAL – Tavon Young came in as a fourth-round rookie in 2016 and took the division by storm. He quickly established himself as one of the best slot corners in the league, and despite being only 5-9, even held his own on the outside when injuries forced a move.
After missing the entire 2017 season with a torn ACL, Young is healthy and ready to go to start the 2018 season. I've said it before and I'll say it again: you need to have three good corners in the NFL. The slot is becoming more and more of a mainstay in the league and the receivers in the slot aren't slouches. They're often very shifty, quick guys with a knack for getting open. Young has looked like the rookie version of himself thus far, and I think he will be the best cornerback on the team this year. Yeah, I said it.
Marshal Yanda | RG | BAL – Having a player of Yanda's caliber back on a shaky offensive line is huge. An offense can only play as well as their offensive line allows for. I expect that Marshal will be the same Marshal that he has been: the best guard in the NFL.
The Winner
Best Newcomer (Veterans Only)
The Contenders
Jarvis Landry | WR | CLE – We've already touched on Juice in the Offensive Player Of The Year section. He will be a valuable commodity for the Browns moving the chains on third down and keeping drives alive. He should lead the Browns in targets and receptions in 2018.
Preston Brown | LB | CIN – Preston Brown is simply a tackling machine that doesn't seem to get the recognition he deserves. He has only averaged 128 tackles per season in his four years, all in Buffalo. He isn't gonna sack the quarterback much, if at all, and he isn't a particularly good cover linebacker, but what he will do is make tons of plays in the run game and lead the team in tackles in 2018.
Michael Crabtree | WR | BAL – I can't stress enough the comfort I feel in having a veteran like Crabtree on this team. Crabtree isn't a 1,000-yard guy (only once in his career), but he sure can move the chains and make plays in the red zone, with 25 touchdowns over the past three seasons. He and Joe will become each other's best friend as the season rolls on, and when all is said and done, I think he'll have around 70 receptions for 900 yards and 8 TD. Not too shabby.
John Brown | WR | BAL – "Smokey" wanted to sign a one-year prove it deal, betting on himself in 2018. And, through preseason, it looks like that was a smart move. He's been the team's best offensive weapon in camp. He looks very much like the player he was when he was healthy in Arizona, the one that had two 1,000-yard seasons and burned all cornerbacks deep.
If Brown can manage to stay healthy this season, I predict he will lead the team in receiving yards and really spread opposing defenses thin. It's vital that he is successful early on. The whole offense stands to benefit from it. I hope he collects a big payday next offseason.
Carlos Hyde | RB | CLE – Carlos Hyde is an underrated back in the NFL who runs with power and does a great job between the tackles. He hasn't broken 1,000 yards in a year in his four seasons, but he's come close twice. He's always banged up and listed on injury reports, so he'll have to stay healthy if he wants to remain the lead back in Cleveland. Nick Chubb is waiting in the wings, after all.
The Winner
MVP
The Contenders
Ben Roethlisberger | QB | PIT – Big Ben is entering the backside of the backside of his career, but the guy is still right around top ten in the league and he has the best set of weapons at his disposal of any QB in the league.
With that set of weapons, BBen should run away with the AFC North MVP, IF he can stay healthy. Roethlisberger has had trouble doing so throughout his career, but has remained in relatively good health the past couple of seasons. I think he's due for a significant injury this season. Just a vibe I'm feeling.
Joe Flacco | QB | BAL – Is this the year that Joe Flacco finally puts it all together? Only time will tell, but the stars do seem to be aligning.
Joe is healthy heading into the season and that's huge. He's looked great this camp and preseason and has quickly developed a rapport with his new weapons, which is essentially his whole receiver corps. This is a very good group, an underrated one, that Joe has at his disposal. What I really like is how well they complement one another. It reminds me a lot of the 2012 offense.
A fire has been lit under Flacco after the team selected Lamar Jackson 32nd overall in the 2018 Draft – whether he wants to admit that or not. And it seems Mornhinweg has committed to attacking downfield once again, something this offense has been desperate for.
I expect Flacco to have a career year and make his first Pro Bowl. As I've said, when players are playing for a contract, they typically play very well. I have Joe at 4,200 yards, 28 TD, and 9 INT.
Antonio Brown | WR | PIT – We have already touched on AB in the Offensive Player Of The Year section. AB is just that good and that valuable to the Steelers that he should be the favorite in this race.
But he hasn't played his best when forced to play with backup QBs, and if my Big Ben premonition is right, then that would affect his running. He'd still put up big numbers though.
Tyrod Taylor | QB | CLE – Tyrod Taylor showed on Hard Knocks that he has a great work ethic. He was always the first player in the building. Tyrod had a good career in Buffalo, and really took care of the football.
Taylor will have to do more than what he did in Buffalo if he is to contend for this award. He averaged around 3,000 passing yards, 500 rushing yards, 17 TD and 6 INT while there. He'll need to see those numbers increase by about 25% to even have a chance.
Le'Veon Bell | RB | PIT – We have already touched on Le'Veon in the Offensive Player Of The Year section. His chances of winning the MVP are slim when considering the fact that he will miss time (how much remains to be seen) and the fact that he plays in an offense with a lot of other studs.
The Winner