Ravens 47 BUF 3 – A Beautifully Ugly Day
Print this article
Ravens Bills Report Card
Quarterback: A+
Joe Flacco was spectacular despite playing conditions that invited just the opposite. The 11-year vet registered a passer rating of 121.7 on the day despite a handful of drops. It was Flacco's most impressive performance since he torched the Tampa Bay Bucs on October 12, 2014 for five first-half TD passes. He delivered the ball accurately and with authority. He seems to have developed a nice rapport with QB coach James Urban. Fundamentally, Flacco has never looked better and is now paying more attention to the finer nuances of the position such as cadence, footwork and climbing the pocket. His ball handling during a difficult day was outstanding.
Flacco on throwing in the rain: "Well to be honest with you, I went out there before pre-game, and the rain was coming down sideways. I don't think it was quite that much, for the first quarter at least, but the ball was moving all over the place. I don't know if you guys saw us throwing pre-game but the ball was moving on the receivers last minute. I told Marty [Mornhinweg] going with it to the one sideline either direction is pretty good but throwing into it, I am not sure what the ball is going to look like. During the game it wasn't too bad; it was wet at times, for sure. When you fell on the grass, that was kind of a mess, but the field was unbelievable. There were no footing issues or anything like that, and at the end of the day, I think the conditions didn't end up being too bad. We got lucky."
Running Backs: C+
Alex Collins is a back with a history of poor ball security. You just knew that the conditions were ripe yesterday for a Collins miscue. Arguably, he had two. Against a more competitive team his mistakes may have been costlier…Buck Allen has grown into a versatile back who just seems to do the little things to help his team win. He did however, drop a short throw from Flacco…Kenneth Dixon was decent in mop up duties. The group did a nice job in pass protection.
Wide Receiver/Tight Ends: B
Newcomers John Brown, Michael Crabtree and Willie Snead all had touchdown grabs in their Ravens debuts and their complementary skill sets were on full display. Brown commands respect with his deceptive speed; Crabtree cleverly works the boundaries; and Snead, in a Wes Welker kind of way, looks like a heady player with a knack for finding soft spots in coverage. Tight ends Nick Boyle, Maxx Williams and Mark Andrews all made contributions.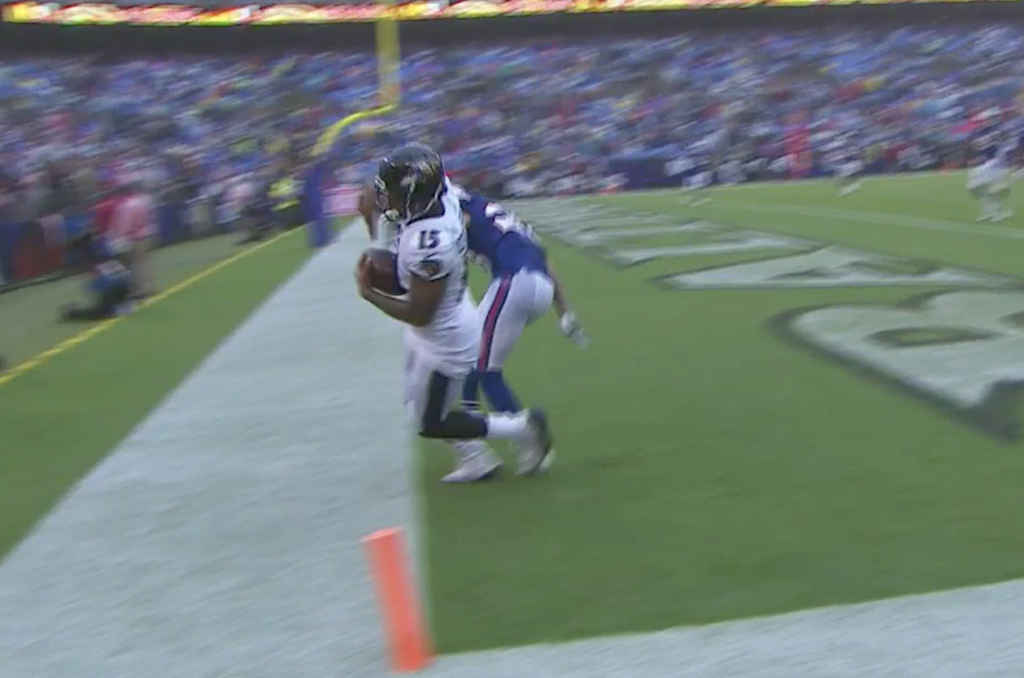 Offensive Line: B
Flacco was seldom threatened during his drop backs and when he did get pressure from the outside, there was room to climb the pocket in large part because Messrs. Lewis, Skura and Yanda were solid at the point of attack. Yanda looks like he hasn't missed a beat and his combo block to spring Collins on his 8-yard TD run was a thing of beauty. James Hurst held his own although Ronnie Stanley was sloppy at times. He was beaten badly by Bills edge defender Jerry Hughes during the Ravens' failed two-point conversion attempt. The play had the look of success if Stanley does his job.
Defensive Line: A
Brandon Williams, Michael Pierce, Brent Urban and Za'Darius Smith all had outstanding games, choking off the run and disrupting the Bills passing "attack" from the inside out. Chris Wormley contributed as well with two passes defensed and his efforts paved the way to one of Tavon Young's two sacks. Wormley's meaningful time on the field allowed Martindale to keep his D-Line rotation fresh on a short week. Cincinnati looms on Thursday.
Linebackers: A-
Terrell Suggs remains a force against the pass and the run. His intelligence is understated and possesses uncommon vision when anticipating offensive tendencies. Tim Williams' ascent continues and he's developing into quite a force on the edge. Kenny Young may end up being the Ravens' most pleasant surprise. The rookie's sideline-to-sideline speed was on full display. C.J. Mosley's workload wasn't as heavy as usual but his sure tackling was impressive. Matt Judon was a bit off his game and relatively speaking, a complete non-factor.
Secondary: A+
Marlon Humphrey wasn't challenged much but when he was, he delivered. On back-to-back plays he broke up passes intended for Kelvin Benjamin and Zay Jones. Later, on a swing pass to the left aimed at an open LeSean McCoy, Humphrey's physical play separated McCoy from the ball, leading to another incomplete pass.
Tavon Young was solid in coverage and sniffed out a developing screen to McCoy, for a short gain. The slight slot corner also chipped in with two sack. Brandon Carr was smooth in coverage although he was flagged for a questionable DPI. He made an excellent read and break on the ball during a crosser to Benjamin. He jumped the route and made a nice hands catch for the INT. Tony Jefferson showed why Ozzie Newsome signed the 2017 free agent. With the help of Martindale, who is playing to Jefferson's strengths, the former Cardinal effectively covered Bills' tight ends and he put himself in position to make an easy interception as a centerfielder.
Special Teams: B
Janarion Grant looked lost on punt returns but did manage to make one play – a 51-yard return to set up a second-quarter Justin Tucker field goal. His muff could have negatively changed the direction of the game but fortunately the Bills couldn't corral the loose ball before it went out of bounds. Tucker was 2-for-2 on FGA during a challenging day and Sam Koch netted 47.6 yards punting in less than ideal conditions.
Coaching: B+
The only blemish for the coaching staff took place during a red zone opportunity for the Bills. Around the 4-minute mark following the DPI on Carr, the Bills had a first and goal from the 3-yard line. The Ravens had to take a timeout because they had too many men on the field and then following the timeout, they lined up with only 10. Rookie QB Josh Allen could not make them pay.
Otherwise, coordinators Mornhinweg and Martindale both put together excellent game plans to keep the Bills on their heels throughout. Mornhinweg effectively dialed up plays to promote ball distribution. The Ravens offense didn't seem all that predictable based upon personnel groupings and alignment. That's the mark of a prepared team. The jury is still out on the use of Lamar Jackson whose performance may have added style but provided next to no substance.
Martindale's aggressive nature featuring multiple looks was clearly a winning formula against a confused and challenged offense. It will be exciting to see what he does upon the returns of Jimmy Smith and Willie Henry.
On to Cincinnati…