Keys to Getting Revenge in Cincy
Print this article
It's Week 2! Let's go!
Yeeeep, it might be a short week but there's already plenty to ruffle the flock's majestic black feathers; from talking heads ignoring a boring game to opening as underdogs to the Bungals. We're in for a quick turnaround against a foe we know well.
Welcome to Week 2's battle plans. Let's get after it.
The Ravens are, naturally, hardly getting the respect they deserve for absolutely dominating a middling foe in the Buffalo Bills. The Bills looked bad, but the Ravens looked rejuvenated. This Thursday will set a better benchmark to truly evaluate where the Ravens stand. The two teams atop the AFC North are clashing this Thursday in a primetime matchup straight out of 2010.
Baltimore heads to Cincinnati and seek to round out the revamped Ravens revenge tour against the second of two teams who ended their playoff hopes last year.
I'm getting ahead of myself, but seriously, a standing ovation for Red Rocket? C'mon, Buffalo. You deserved what you got.
Offense
The old adage, "you learn more from a loss than from a win," is certainly going to ring true for the Ravens in Week 2. It's easy to overlook some of the trouble spots that the team experienced, even though they gave the Bills a thorough drubbing. If the Ravens want to come out with a win this Thursday there are a few areas of the game on which they'll need to improve.
Offensive Line Play
The Ravens offensive line needs to improve if they are hoping to hold off the gritty Bengals front seven. Marshal Yanda returning has had a noticeably positive impact on the Ravens blocking; however, the rest of the line left much to be desired in the run game.
Running Back Play
Week 1 was a tough outing for the Ravens RB stable. The now injured Kenneth Dixon led the team with a mere 44 yards. It is important to note that the running game was complementary to the passing game, which is an offensive philosophy we haven't seen from the Ravens recently. It was apparent that though the running backs added three scores, their purpose was supplemental not a cornerstone.
There's nothing wrong with that philosophy moving forward, especially if the Ravens' offensive line continues to struggle to create holes for the backs. This departure from what Ravens fans know and (sometimes) love can be indicative of a fresh scheme taking shape.
Moreover, it will continue to be important to establish a ground attack to open up passing lanes. That's going to be difficult against a Bengals front that gave up just 75 yards on the ground in Week 1.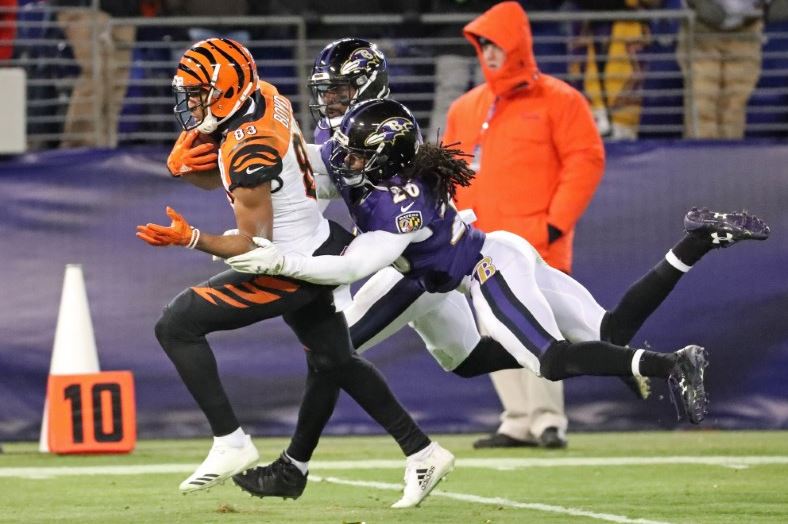 Defense
It's hard to extrapolate one week of numbers to anything foundationally indicative to the rest of the year. That being said, it is important to acknowledge that the Ravens have started the season off on the right foot, and carrying this momentum into the weeks that follow will go a long way to establishing them as a contender and a threat to the status quo. In that same vein, it is important to note that the offense spent a lot of time on the field which, undoubtedly, gave the defense some much needed rest.
Let's talk about the Bengals' weapons.
Joe Mixon: Dude was on another level versus the Colts and will prove to be a solid test for the Ravens front seven. If the Ravens let Mixon get a head of steam and some confidence, that could open up some dangerous passing lanes for Andy Dalton.
Andy Dalton: Let's get reeeeady to rumblllllleeeeeee! In this corner we have, Little Red, who threw for 229 yards last week against the Colts. AAAAANNNND IN THIS CORNER, we have the Baltimore Ravens secondary, which allowed a total of 70 passing yards against the Bills. If this isn't going to be a title fight of secondary versus an accomplished receiving crops, then I don't know what is.
Sometimes you just have to laugh at some of these reckless takes pundits are spewing.
The Ravens secondary is good, yet untested. Playing against a better quarterback in Dalton will go a long way to proving how good this unit can truly be.
A.J. Green: Coming off of a 95-yard outing against the much maligned Colts highlights the threat that Green continues to be in this league. In a perfect world, Marlon Humphrey would shadow Green and lock him down circa 2017.
Baltimore Secondary: To my own point, I think it will be imperative to see how the Ravens secondary adjusts to a different caliber of receivers and a solid (so far) running game.
What I'm Watching
Humphrey vs. Green pt.2
Here's to hoping this battle heats up. Edge – Humphrey. I'm hoping to see him take another step in the right direction as a cornerback and lock down another AFCN annoyance.
Ravens offensive line vs. Bengals defensive front
These dudes are good. As a fan, we can admit that and still want the Baltimore offensive line to dominate.
It would be great to see some key players – cough, Alex Lewis, cough – rebound after a mediocre week one.