Will Ravens Get Revenge in Cincy?
Print this article
Will the Ravens move to 2-0 against Cincinnati in Week 2? RSR Staff predict what we'll see on Thursday Night Football here.
Tony Lombardi
· Joe Flacco has a career mark of (9-10) v. the Bengals and during those 19 games he's posted a passer rating of 72.3. In Cincinnati the story is even bleaker where his career passer rating is an anemic 61.8, including just 6 TD passes against 13 INTs in 9 games along the Ohio River. But the 2018 Flacco is a different player. Look for Flacco to post a passer rating of 83+ on his way to 240 yards by air including a pair of TD passes. One of his scoring tosses will go to Nick Boyle – Boyle's first in the NFL.
· Alex Collins will get untracked a bit. He'll grind out 85 yards on 20 carries while securing the football.
· The right side of the Ravens offensive line present a slight problem. Yanda will need to help out with Geno Atkins and when he does, Hurst will be left on an island, one that will seem like a resort for Bengals' DEs Michael Johnson and Carlos Dunlap. The result? Flacco will go down like Frazier no less than three times.
· A lot of attention has been given to the Ravens posse of receivers. The one that shines brightest under the starry lights of Thursday Night Football this week will be Willie Snead who hauls in 5 passes for 75 yards and a touchdown.
· Sacks won't be as plentiful for the Ravens defense this week due to Andy Dalton's desire to get the ball out quickly. Three-step drops will be plentiful and consequently Dalton will go down just twice. The three-step won't come without consequence. Dalton will have three passes batted down at the LOS, one of which will be picked off by Eric Weddle.
· The Ravens will frustrate Joe Mixon who averaged 5.6 YPC v. the Colts this past Sunday. Wink Martindale's unit will knock 2 yards off that average BUT, the Ravens will struggle with the pass catching ability of Giovanni Bernard who will hurt the Ravens with a couple of 15+ yard grabs, one ending in the Bengals only touchdown of the game.
Final Score: Ravens 23 Bengals 16
Ken McKusick
Offensively, This game is all about the Ravens ability to handle the Bengals 4-man pass rush. When not on passing downs, that means stopping Geno Atkins (Yanda and Skura) and Carlos Dunlap (James Hurst). This would be an ideal game to have Brown's length at RT matched up against Dunlap. Without him, the Ravens will need to chip Dunlap mercilessly. Flacco needs to stretch the field and avoid throwing to contested targets in the middle of the field, because those have often led to interceptions against the Cincinnati secondary if defensed, tipped, dropped, or overthrown. If Flacco is able to play the entire game without an interception, the Ravens chance to win this game goes from approximately 50% to 85%+.
On defense, the Ravens need to contain Joe Mixon. I have confidence the Ravens deep, talented, and rested DL will create opportunities for Mosley, Young, and Jefferson to make plays. Kenny Young may be the most significant defender Thursday in terms of shutting down Mixon as a receiver. I expect the Ravens pass rush to terrorize the Bengals offensive line and on a dry field, they should be creating pressure more quickly than they did versus Buffalo. In any event, given the talent differential at receiver from Buffalo to Cincinnati, the Ravens need to rely less on their secondary to extend coverage. Dalton is vertically challenged, so compressing the pocket with hands up has borne fruit in past games.
Both passing games will benefit from mild weather and little wind. This helps the Bengals more and they squeak out a frustrating 20-17 win.
Cole Jackson
This is going to be a good test of the Ravens defense early in the season. The Bengals don't have an elite QB, but they do have an elite WR in AJ Green and a flourishing RB in Joe Mixon. Looking at the game plan and playcalling from last week, it's easy to be encouraged with Don "Wink" Martindale's first game as the leader of the group, but we should see what he can really do here.
Flacco keeps rolling against a strong defensive group, but the Ravens fan base starts to panic when our offensive line can't get much going against a stout Bengals defensive line and fantasy owners freak out at the lack of production from Alex Collins.
#RavensFlock predictions for tomorrow? I'm going with 20-17 Baltimore on a last minute @jtuck9 46 yarder. Flacco hits Crabtree to get into FG range and calls a timeout #BookIt

— Cole Jackson (@ColeJacksonRSR) September 12, 2018
Chad Racine
The Bengals will be a big step up in competition over the Buffalo Bills. The Ravens are focused and highly motivated to give the Bengals some payback from the season closer last year. It just so happened to work out wonderfully that the first two opponents this year are the two teams that left a bitter taste last year to end the season. Bengals knocked the Ravens out and the Bills were still celebrating in preseason giving Andy Dalton a standing ovation. I'm not sure Cincinnati has ever given him a standing ovation.
Jimmy Smith's absence didn't matter at all on Sunday but Thursday night is a different story. AJ Green could be contained with Marlon Humphrey, however, Dalton has more weapons that threaten a defense this year such as John Ross and Joe Mixon. I think Mixon will get shut down trying to run up the middle and he will be used more on outside runs and catching passes out of the backfield. The Bengals are a much better team this year but so are the Ravens. Ultimately one or more of the Bengals offensive weapons will find the end zone at least once.
Joe Flacco will once again show that he is playing January Joe football in September. His confidence level may be at an all-time high and that's showing in both his play and his attitude. While the weather may have been a factor for Michael Crabtree on Sunday with 2 drops it wasn't an issue at all for Flacco. This time hopefully without rain his receivers catch everything thrown their way. John Brown will catch a deep touchdown pass and Crabtree will also find the end zone again.
The Ravens will maintain the lead throughout this entire game never giving the Bengals a chance to win this game. Final score 24-10 Ravens.
Ryan Jones
Am I completely confident that the Ravens will win this game? No I'm not. They've struggled in Cincy in recent years and it seems like it's one of Joe Flacco's least favorite places to play. However, after the shellacking of the Bills on Sunday I'm not sure how anyone could pick the Bengals to win. The Bills might be the worst team in the NFL this year but they're still an NFL team, and I can't remember a more lopsided game in Ravens history. The only contest that comes to mind is the Ravens opening week game in 2011 when they destroyed the Steelers 35-7.
Joe Flacco doesn't have as efficient a game this week but he throws for more yards and the same amount of touchdowns as week one. Flacco throws the ball 40 times and completes 25 of his attempts with three touchdowns. John Brown continues to show everyone why he's more than just a deep threat going for over 100 yards and a touchdown. The Bengals front four will make Joe uncomfortable, though, resulting in two picks.
Alex Collins gets bottled up by that same unit but Buck Allen has some success catching 5+ passes and scoring a touchdown.
The Bengals will have some success on offense, A.J Green will get his yards and pick on Marlon Humphrey and Tyler Eifert will get in the endzone. I can see the Ravens doing the old bend but don't break on defense but they do enough to go into Cincy and get off to a 2-0 start.
Ravens 24
Bengals 20
Carey Stevenson
This will be a big early season test for the improved Ravens passing game. The Bengals have historically frustrated Joe Flacco by sitting in Cover 2 and forcing patience and short throws. A strategy that has been largely successful of late due to the Ravens talent woes. While i expect Flacco to play well i wouldn't count on the fireworks of last week versus a very talented pass defense in Cincy.
2 rookies will wind up being key contributors. James Hurst will struggle early versus the Bengals group of edge rushers and lead to Zeus Jr. being inserted into the lineup, where he'll help calm the waters and allow the passing game to settle in. Look for Mark Andrews to be an unsung hero in the passing. Even though Maxx Williams played double the snaps Andrews did in week one, he only ran two more pass routes and saw once less target. Taking advantage of a Burfict-less linebacker corps, Andrews goes 5-70 and a touchdown.
Not nearly to the same extent of the Bills but the Bengals have offensive line questions as well, specifically at right guard and right tackle. I foresee Wink throwing some disguises at Andy Dalton he wasn't used to in the Pees' era causing him to hold the ball in some spots as well. The Ravens will match their 6 sack total from week one on thursday night, 3 coming from Za'Darius Smith…yes i'm taking my shot again.
AJ Green has averaged 81 yards per game and has scored 6 touchdowns in his 10 career games versus the Ravens. Under Dean Pees cornerbacks didn't travel very much but i think that changes here. Marlon Humphrey continues his ascension by holding AJ to 40 touchdownless yards.
Led by a defense with it's foot on the gas in the 4th quarter for a change, the Ravens end the game by forcing a turnover late, avenging last year's week 17 collapse.
Ravens 21 Bengals 17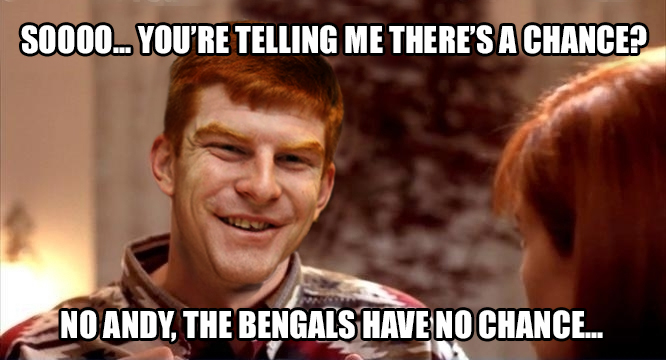 Mitchell Wolfman
-I have a bad feeling about Joe Mixon, who tore the Ravens apart in their last contest. In Week 17, Mixon rushed for 96 yards and averaged 5.3 YPC. The Ravens have lately struggled defending RBs like Mixon that are elusive and have a strong outside run element to their game. Setting the edge will be key and the Ravens will need big performances from their off-ball LBs to close down on Mixon's speed. But I'm afraid the Ravens will only be able to do so much in what will be a solid game for Mixon.
-Surprisingly, I feel a little better about limiting A.J. Green…for a change. In his last two games against the Ravens, Green has averaged only 3.5 catches, 44 yards and 0 TDs. Those numbers are impressive considering how badly Green has burned the Ravens secondary over the years. This can be attributed to the depth of the Ravens secondary but the real credit should go to Marlon Humphrey, who might be the one CB that can end all the nightmares. During the three times Green was targeted while covered by Humphrey during their Week 17 contest, Humphrey allowed him 0 catches. Expect this trend to continue after a poor game from Green.
-It goes without saying that Geno Atkins will be quite the challenge for the Ravens interior offensive line but he might end up being the least of their worries. Carl Lawson has become a dominant pass rusher who will be having his way along the edges and will get in Flacco's face a handful of times. I still don't feel comfortable with James Hurst starting at RT, but I'm sure Lawson is just fine with that idea. Lawson will sack Flacco at least twice.
-The Ravens WRs were very impressive last week and I expect another strong game from them. Although the Bengals have a strong secondary, they'll have a tough time preparing for a brand new WR corps that they've never matched up against. Michael Crabtree will come down with a handful of contested catches that will have Bengals fans throwing their remotes at the TV. Willie Snead will score the Raven's first TD while on their first trip to the red zone. You know who else will score a receiving TD? Patrick Ricard. That flat route of his has been very effective and that's exactly how he'll be scoring against the Bengals.
Todd Karpovich
— The Ravens will face a bigger challenge against the Bengals than the Bills.This game should be a better gauge of where the Ravens stand as a team. A win would go a long way to further boost the overall confidence of the players.
— Joe Flacco is 9-10 all-time against the Bengals with 19 touchdowns and 23 interceptions. They are not exactly inspiring numbers. However, Flacco has more weapons at his disposal this time around. However, he will have to avoid an aggressive pass rush and might be forced to check down several times. Still, the Bengals will need to be wary of John Brown and Michael Crabtree making plays downfield.
— The Ravens need to shutdown A.J. Green , who has tormented them throughout his career. Green has has 48 receptions for 817 yards with six touchdowns in 10 career games against Baltimore.The onus could be Marlon Humphrey to come up with a big game with some support from the safeties.
— Baltimore needs to establish a running attack to take the crowd out of the game and control the tempo. The Ravens also need to avoid turnovers to win this matchup. As a result, there will be a short leash on players that can't hold into the ball.
— The Ravens should be able to put pressure on Dalton and that could be the difference in the game. Look for Tim Williams and Kenny Young to take another step in their development.
Final: Ravens 24, Bengals 17
Adam Bonaccorsi
The Ravens go from a cupcake Week One to a team with many more weapons and much better defense in Week 2. Add in the Thursday night woes that come with a short week and we're looking at a close and low scoring game.
-Flacco goes for 275 3 TDs and a pick. Give the paydirt passes to Smokey, Snead and Mark Andrews this week.
-The running game will once again be held in check. Collins will be less of a bell cow and more of a split back. 90 total rushing yard between the Buck/Collins tandem and no touchdowns- that's zero rushing TDs through 2 weeks.
-The defense will do a fantastic job of holding AJ Green in check as Wink will put Marlon Humphrey on him all day. Eifert however feasts in the middle of the field. 5/80/1. Gross.
-Three sacks this week (Judon with a pair, Suggs another), and a singular pick by KENNY FREAKIN YOUNG. –
Janarion Grant plays. He fumbles again. Get ready for Tim White in 10 days.
BAL 24 CIN 17
2-0 on the revenge tour, as the Ravens await Case Keenum in Wk 3, who took care of Baltimore last year in Minnesota.
Brandon Portney
I've seen a lot of purple kool aid in the cups of Ravens fans after the team embarrassed the Buffalo Bills 47-3.
That was enough to instill within most Ravens fans the belief that the Ravens have established themselves as an AFC power. But let's be clear about one thing: the only thing the Ravens established on Sunday is that Nathan Peterman has about as much business playing QB in the NFL as I do.
When you don't have a QB, all complexities of defending the offense go out the window. Andy Dalton is certainly no Drew Brees, but he's much more competent than Peterman/Allen. Not to mention he has a respectable supporting cast to work with.
If the Ravens can establish a running threat early on and hit a couple big plays off play action passes, and consistently pressure Dalton on defense, they will win this game. Either way, don't expect another blowout. AFC North rivalry games are almost always tight battles down to the end.
Ravens win, 20-17, on a long Justin Tucker field goal as time expires.
Michael Champagne
Whew, what a week. Lots of changes going on at work. But, it's 4:30 p.m. on Wednesday. I'm on my way home, stuck in traffic… but you know what that means? It's basically game day!!
In Week 2, the Ravens travel to Cincinnati to take on the Bengals. I'm hoping this is the second stop on our 2017 revenge tour.
But that being said, here is my prediction for tomorrow's prime time game.
Ravens take an early lead and the defense mounts a characteristically stout first half. But that's where the wheels fall off a bit. I predict the Ravens struggle in the second half but still come away with a solid win.
Ravens 30, Bengals 21.
Note that the Bengals are a much higher caliber of opponent than the Bills, no offense Buffalo.
More:
— Ravens defense adds to their interception total
— C.J. Mosley will finally look ok in coverage vs a decent tight end.
— Kenny Young will still be the best Ravens linebacker in TE coverage.
— The Bengals will play as dirty as they did against the Colts.