Print this article
Last Week: 7-8
Overall: 22-22-1 – 50.0%
Week 3 Whiffs
— First, I would like to thank a one, Kirk Cousins for single-handedly knocking me (and probably a lot of you) out of my survivor pool. This was the third biggest upset in NFL history and the biggest since 1995. I was going to ride the Bills to 0-16. Joke is on me…
— I will quote myself from last week. Seattle had "not lost a September home game since 2009 and are 11-2 ATS in that timeframe." So of course, I picked Dallas because streaks are made to be broken, right?
— Last, but certainly not least, the Miami Dolphins. They have treated me so well in the past, but are beating me like I stole something this year. They currently sit two games ahead of the rest of the AFC East teams that are all 1-2 on the season. Rest assured though, the first week I pick them here, they are absolutely losing.
A 7-8 week is not the end of the world by any stretch especially when you stagger your bets based on your confidence. At the end of the day, I made out this week after the Steelers' win in Tampa on Monday night.
Now that every team has played at least one home and away game, it is time to introduce the Against the Spread Power Rankings: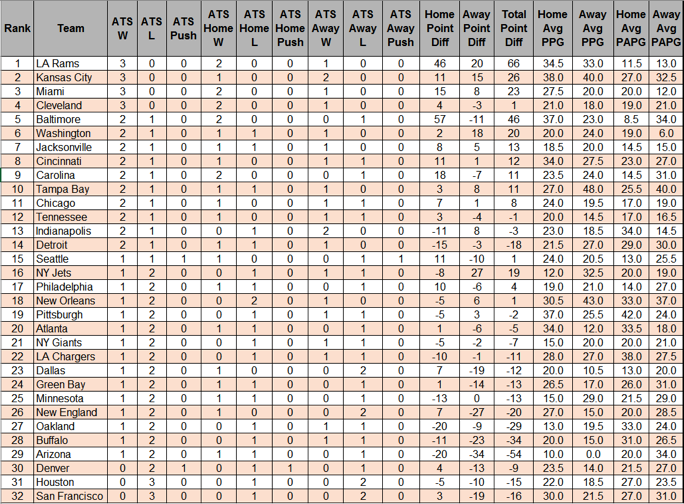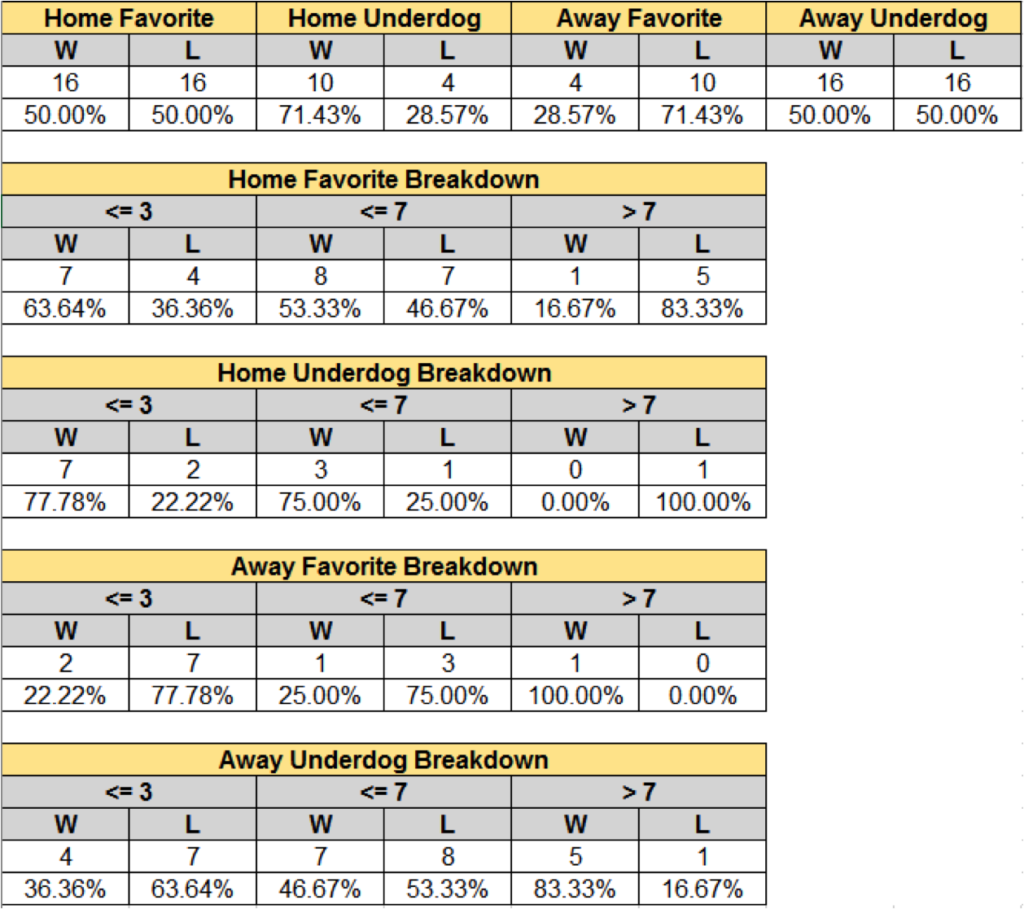 It is still early to gleam too much information from how teams are doing against the spread, but from a bettor's perspective, it is interesting to see who the "good" teams are when it comes to making us money and how that correlates to where they rank in overall record.
I will be updating this each week so feel free to dig in and use the information to make some smart plays!
Disclaimer: Please do not take these picks and expect to make any real money. I enjoy picking games and the discussions they create so feel free to play along. I will provide information for each game, but please make your own decisions and BE RESPONSIBLE!
Here we go to Week 4…
Thursday – 9/27/18
Minnesota Vikings vs. Los Angeles Rams (-7.5, o/u 49.5)
Early money was coming in on the Vikings +7.0 so the contrarian in me loves the Rams here. Luckily, so do the numbers. The Rams are at the top of this week's power rankings at 3-0 and are 8-2 in their last ten games as the favorite. The Vikings are near the bottom at 1-2 and are 1-9 straight up in their last ten games as an underdog of 6.5 or more.
Los Angeles is proving to be the class of the NFL early this year and that continues on Thursday Night Football.
My Pick: Los Angeles -7.5
Sunday – 9/30/18
Buffalo Bills vs. Green Bay Packers (-10.0, o/u 45.5)
After the biggest upset since 1995, the Bills still opened as 10-point underdogs on the road in Green Bay. Early money is coming in on Buffalo getting 10 points in this game. Although the Packers are 1-5 ATS in their last six games and failed to show up last week in Washington, I see them bouncing back here at home.
My Pick: Green Bay -10.0
Miami Dolphins vs. New England Patriots (-7.0, o/u 47.5)
Ah, my 2018 arch nemesis, the Miami Dolphins. New England is 6-4 ATS against the Dolphins in the last ten games. The Pats are also 8-0 straight up in their last eight at home and the Dolphins are 0-9 straight up in their last nine on the road versus New England.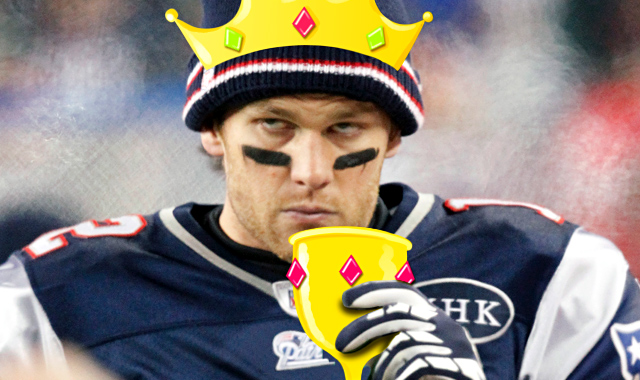 Last week, I picked New England because I love to hop on good teams coming off bad losses. That did not pay off, but I am going that route again in Week 4. New England needs a win to keep from falling three games behind Miami early in the season. They will bring it at home.
My Pick: New England -7.0
Detroit Lions vs. Dallas Cowboys (-3.0, o/u 43.5)
I feel like the books want us to pick Detroit here coming off a convincing win against New England in Week 3. Their run defense is a big concern with Ezekiel Elliott coming for them this week. As the favorite, Dallas is 6-1-1 ATS in their last eight. The only thing giving me a little pause is Dallas being without Sean Lee. I am banking on Elliott taking control of this game and guiding Dallas to a victory at home.
My Pick: Dallas -3.0
Houston Texans vs. Indianapolis Colts (-1.5, o/u 47.0)
Indianapolis has surprised me this season. They kept it close last week in Philly (which I was not expecting) and sit at 2-1 ATS on the season. The numbers say to pick Indy here. In their last five games, Houston is 0-5 (0-8 in their last eight) ATS and Indy is 4-1. However, I am going to go with the streaks are made to be broken mantra in this game.
On paper, I think Houston has better talent, but that talent has not shown up yet this season. They need a win here to stay relevant.
My Pick: Houston +1.5
Philadelphia Eagles vs. Tennessee Titans (+4.5, o/u 41.0)
Both of these teams have fared well against the spread recently. Carson Wentz looked decent in his return from injury and I see him building on that here in Week 4. The Titans offense was stagnant against a stingy Jaguars defense in Week 3 and while the Eagles defense is not as potent, it still packs a punch that I do not think the Titans can counter.
Philly wins and covers.
My Pick: Philadelphia -4.5
Tampa Bay Buccaneers vs. Chicago Bears (-3.0, o/u 46.5)
Tampa made a valiant comeback attempt on Monday night against the Steelers, but ultimately came up short. The NFL's smartest quarterback showed why he has bounced around from team to team during his NFL career and I think that will continue this week. The Bears defense will be able to create turnovers and keep Tampa's offense in check.
Chicago is 10-3-1 ATS in their last fourteen at home and that trend continues this week.
My Pick: Chicago -3.0
Cincinnati Bengals vs. Atlanta Falcons (-5.0, o/u 52.5)
My pick here is based upon the fact that Joe Mixon and A.J. Green are both banged up heading into this game. Even with both healthy, this is a tough spot for Cincinnati.
Here is a weird, but relevant stat: Atlanta is 14-4 ATS in their last eighteen September home games.
Atlanta covers.
My Pick: Atlanta -5.0
New York Jets vs. Jacksonville Jaguars (-7.5, o/u 38.5)
As the over/under suggests, this is going to be a low-scoring game, as neither team can really put up a ton of points. That extra half point being given to the Jaguars is really what is pushing me the other way. 7.5 is a lot of points in a low-scoring game so I am taking the Jets.
My Pick: New York Jets +7.5
Seattle Seahawks vs. Arizona Cardinals (+3.0, o/u 38.5)
Here is another game that should be a race to 20 points. Seattle's run game continues to drive the offense in Week 4 and their defense does just enough to shut down Josh Rosen in his first NFL start.
Arizona is 0-7-1 ATS in their last eight divisional home games.
My Pick: Seattle -3.0
Cleveland Browns vs. Oakland Raiders (-3.0, o/u 45.0)
The Browns have not won two straight games since 2014. They have been so bad that it is not worth throwing a bunch of numbers at you (they are 7-1-1 ATS in their last nine against Oakland by the way), but something felt different watching that game on Thursday night. Maybe it was all adrenaline. Maybe Baker Mayfield is THAT good. Whatever it was, I liked what I saw and think Cleveland can be a team that crushes dreams all year long. They will not win the Super Bowl, but six or seven wins is not out of the question with the roster that they have on paper.
My Pick: Cleveland +3.0
New Orleans Saints vs. New York Giants (+3.5, o/u 50.5)
This was supposed to be the year that the Saints' defense stepped up and gave their all world quarterback the help he needs to win a Super Bowl. So far, that has not happened this season. With Odell Beckham and company coming for them, that probably will not change this week and the total goes over. However, I do not see the Giants being able to stop the Saints and New Orleans easily covers.
My Pick: New Orleans -3.5
San Francisco 49ers vs. Los Angeles Chargers (-10.5, o/u 46.5)
Jimmy G's injury is huge for the 49ers. They are already 1-7 in their last eight September road games and will struggle mightily without their leader. Since I enjoy weird stats, the Chargers are 9-0 straight up in their last nine games following consecutive road games. They are also 10-5 ATS in their last fifteen. I have seen this line at 9.5 in some spots and if you can get it at that number, I would pounce all over it.
The Chargers win comfortably in the cozy confines of the StubHub Center.
My Pick: Los Angeles Chargers -10.5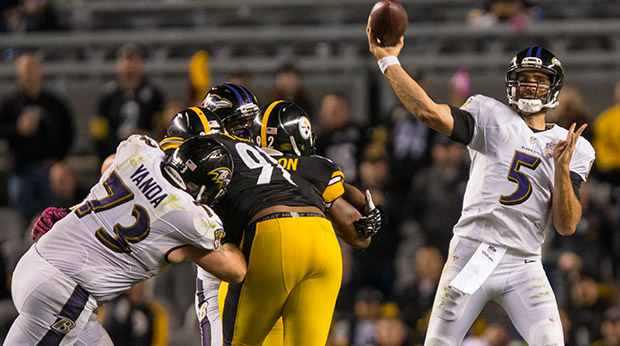 Baltimore Ravens vs. Pittsburgh Steelers (-3.5, o/u 51.0)
Who doesn't love a good Ravens vs. Steelers matchup on Sunday night football? The Ravens are 6-4 ATS against Pittsburgh in their last ten meetings and Pittsburgh is 1-4 ATS in their last five games overall.
Pittsburgh has looked rough at times this season, but throw everything out the window when these two teams clash. Anything can, and will, happen.
The line has moved from 3.0 to 3.5 now, which means that people believe in the Steelers turning around their season. That extra half point makes me think even harder about this one. At -3.0 I was leaning towards Pittsburgh, but these games are always so close that it is hard not to factor in that extra half point.
I am going to go with the Ravens here, but not because I necessarily think they will win. This will be a tight game as it always is and will probably come down to a field goal in the end.
My Pick: Baltimore +3.5
Monday – 10/1/18
Kansas City Chiefs vs. Denver Broncos (+5.5, o/u 56.0)
At some point Pat Mahomes has to hit a wall, right? Over their last 15 games, the Broncos have been the worst bet in the NFL going 2-12-1 so I do not think that happens this week. I will be riding the Mahomes train until it derails.
Oh, and Kansas City is 17-1 straight up in their last eighteen games against AFC West teams.
My Pick: Kansas City -5.5
Last week's parlay went .500 going 2-2. Luckily, each week is a fresh start:
Los Angeles Rams -7.5
New Orleans -3.5
Houston +1.5
Los Angeles Chargers -10.5
Good luck to everyone this week! Check out GridIron Gold for your online betting needs.