A Sunday Night Football Clash
Print this article
What will happen when the Steelers again host the Ravens on Sunday Night Football? RSR staff give our predictions here…
Tony Lombardi
This bitter rivalry has been characterized by brutal physicality. The bodily and emotional exertion has been so severe that even fans of each team have been known to wake up sore the next day just from watching. Sort of.
Anyway, throughout the series history scores have averaged 40 points – IN TOTAL! But thanks to the NFL Rules Committee and their infatuation with fantasy football and lip-service concern over player safety, the physicality that once defined this matchup now resides in the distance from our rearview mirror.
For starters, expect a close game that will disrupt your intestinal flow and keep you up way past your bed time. The Steelers hold a 24-20 series edge but keep in mind that includes the Testaverde years. Since 2000, the series is tied at 18 wins each. Overall 13 games have been decided by 3 points or less and 16 of the last 20 have been one-score games. The last 10 matchups at Heinz Field have been split evenly and the last two contests by the Monongahela River have averaged a total of 67 ½ points.
So, what can we expect on Sunday night?
• For starters, Ben Roethlisberger will flop twice and he'll get one of the calls which will negate a key defensive stand by the Ravens. Living room furniture throughout Baltimore will be at risk.
• Cris Collinsworth will fawn over Roethlisberger and Antonio Brown no less than 20 times over the course of the game.
• Joe Flacco and Ben Roethlisberger will combine for 700 yards passing.
• The Browns, Antonio and Smoke will combine for 300 yards receiving.
• A knot in the collective stomach of Baltimore will ruin our Monday. Pepcid AC will be hard to find on the shelves of your friendly neighborhood pharmacy.
Final Score: Steelers 34, Ravens 31
Michael Telford
It's rivalry week, so throw away everything that you think you know. This ain't it, chief. Here are my predictions for Part 1 of the AFC North rivalry:
-Alex Collins finally breaks loose and has a 100+ yard game.
-Terrell Suggs continues his terrorizing of Big Ben, with 1.5 sacks, and a handful of pressures and hits.
-Mark Andrews, John Brown, and Willie Snead combine for over 250 yards, and 2 TDs.
-The defense allows a lot of yards, but only one passing TD.
-Joe Flacco throws an early pick, but slices up the Steelers defense for the rest of the game.
Extra Credit: Boswell misses a kick/extra point.
Ravens win this one in a nail-biter, with the improved offense answering the stops that the defense gets. 30-27.
Cole Jackson
Nothing makes my work week go faster than Steelers rivalry week!
On offense: I think this is a great matchup, but it's going to depend on what Joe Flacco we see. Is he going to be on like he was against the Bills and Broncos or off like the Bengals game? Flacco truly is a box of chocolates and that is going to determine how the O does in Pittsburgh. We will struggle to run the ball and our pass catchers will get open. I think Flacco shows up and throws for 300+ with 2 TD (but also has an INT early in the game).
On defense: If Jimmy Smith were active I'd feel a lot better. The Steelers have been using Juju Smith-Schuster in the slot more than they did last year and the matchup with Tavon Young makes me nervous. We saw what A.J. Green did to Young when they were matched up and it's going to be tough. Antonio Brown will get his. The key is getting to Big Jen early and often. I think they come out with some man blitzes, but ultimately the Steelers are going to put up a good amount of points.
It's going to be a shootout with two offenses who can score. If this were in Baltimore I would feel a lot better. The lack of Smith and a pass rush will hurt the Ravens.
Steelers 34 Ravens 27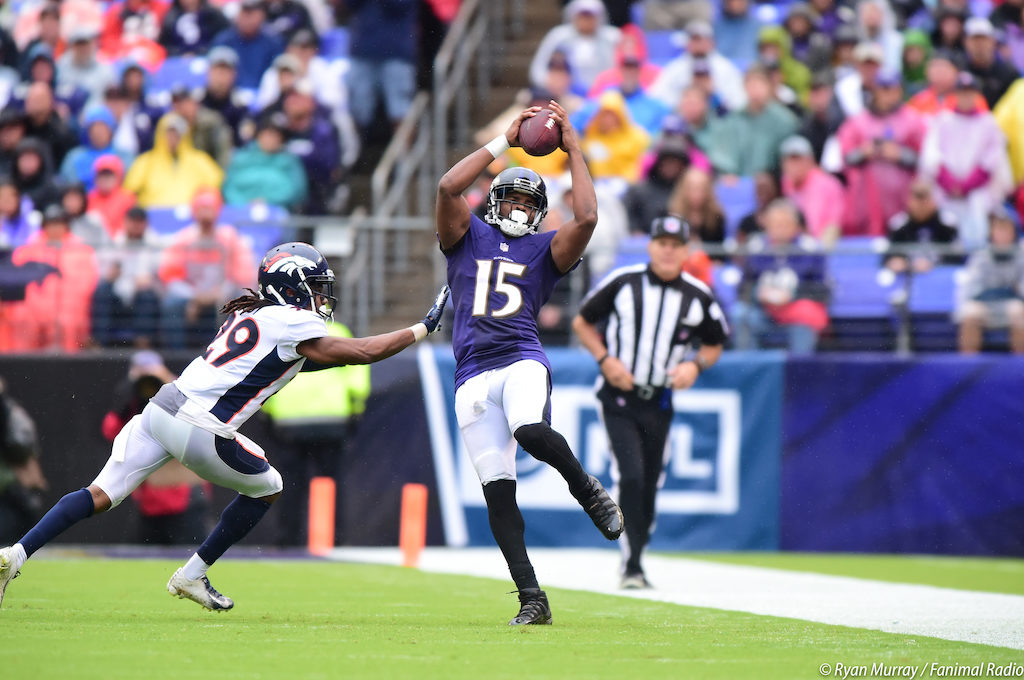 Mitchell Wolfman
JuJu Smith Schuster and Vance McDonald will each score a TD and cause problems for the Ravens all night. Ben Roethlisberger will fare well at fending off the Raven pass rush to connect primarily with those two targets. Antonio Brown, however, won't find the end zone and be held for under 60 yards.
-I know we say it every week but this HAS to be the game Alex Collins breaks out…right? Especially so since he'll be running against 25th ranked Steelers run defense that has allowed 122.3 YPG over the first three weeks. He'll get it together this game and rush for over 50 yards and score a receiving TD.
-It seems like forever since Terrell Suggs has clobbered Roethlisberger, right? That's because the Steelers offensive line is one of the best in football and will allow only one sack to the Ravens. And that one sack will go to my man ZA'DARIUS SMITH.
-I know John Brown has been heating up and I believe he'll have a big game against the Steelers but I'm mostly excited to watch Michael Crabtree. His attitude and toughness is a perfect fit for this rivalry, and this god-awful Steelers secondary is an even better fit for both Crabtree and Brown to have monster games. 100 yards for Smokey, 2 TDs for Crab.
Final score: Steelers win this one in a super close shoot out 37-33
Chad Racine
I want to believe in our defense but because it's the Steelers I have doubts about this game because there are always extended plays that lead to touchdowns. Once Ben runs out of the pocket there is no corner in the league that can stay with Antonio Brown for 5 seconds plus. Last year Brandon Carr got the unnecessary blame for not covering Brown on an island for 30 seconds…..ok well it felt like that.
The Steelers are going to find ways to score, that's just what happens in these games no matter how good the defense is. I just think they will score less than probably most people think and less than the Ravens. Here is the game that would've been great to get Jimmy Smith back because Antonio Brown, Juju Smith-Schuster and James Washington are going to be a tough trio to handle even without the help of Le'veon Bell. James Connor is by no means an easy task but he's not the threat Bell is.
Joe Flacco's level of confidence is giving me confidence each week and his play of the field is backing it up mostly so far. This will be the first time the Steelers face the new trio of Ravens wide receivers and I think they are in for a surprise. The ball will get spread around to the receivers, tight ends and running backs for which the Steelers will have no answer for.
Ravens 31-21
Todd Karpovich
— We will see a shootout between Joe Flacco and Ben Roethlisberger. Both veteran quarterbacks have weapons downfield and will look to take advantage of mismatches in the secondary. The quarterback that makes the fewest mistakes will win this game. The return of Hayden Hurst will be a boost for Flacco.
— Even though Pittsburgh is ranked 25th against the run, both Alex Collins and Buck Allen will have to grind out tough yards. The Steeler can bring the pressure and they will try to be in the Ravens' backfield for most of the game. Collins has yet to break off a big run this season.
— The Ravens need to keep Roethlisberger under pressure or he will pick them apart. Ravens linebacker Terrell Suggs has missed practice this week with a knee injury but perhaps the team is just trying to keep him fresh. The return of Michael Pierce will help.
— The Steelers got a boost of confidence with 30-27 road victory over the Tampa Bay Buccaneers. Pittsburgh had 413 yards of total offense and forced four turnovers. The Steelers know a victory would pull them ahead of the Ravens in the AFC North. The crowd will be raucous.
The pressure will be on Baltimore to win the rematch at M&T Bank Stadium on Nov. 4.
Final score: Steelers 34, Ravens 27.
Carey Stevenson
The Steelers have a solid slot corner in Mike Hilton but have been lit up on the outside. John Brown has only faced the Steelers once in his career and turned in maybe the best performance of his career, 10 catches 196 yards but no touchdowns. I'm predicting similar success this week but this time he gets into the endzone..twice. 8 catches 150 yards and 2 touchdowns for Smoke.
I'm also going back to the Mark Bavaro, i mean Andrews well. His snaps should trend up in a game expected to be a high scoring affair. Andrews goes for 4-80 and a touchdown versus seam vulnerable Steelers.
All of these receiving numbers have to mean something for the guy throwing the ball right? In 19 career regular season games, Joe Flacco has averaged 225 yards per game with a high of 303 back in 2012. The Steelers have never been more ripe for the picking and this is the best group of receivers Flacco has had in some time, probably ever (whew that bar is low).
This week Flacco goes for 370 yards and 3 touchdowns in a narrow 31-30 Ravens victory.
Ken McKusick
This is a game the Ravens would like to run, but their rushing success will again be limited by game situation, early mixed results from the run, and success with the pass.
— The Ravens find ways to get Joe regular ATS opportunities and Joe focuses on the TEs and Willie Snead for success over the middle.
— Alex Collins enjoys success as a receiver.
— The Pittsburgh offense is almost able to match the Ravens score for score.
— As with so many Ravens/Steelers games in the past, this one depends on the Ravens being able to close out the game with a key first down or two in Q4. This time, the Ravens got it done as a TE catches the pass that keeps the Steelers off the field for a last-chance drive.
Ravens 31, Steelers 27
John Darcey
This will not be your typical old school Ravens-Steelers game with a 13-10 finish, but more along the lines of the 39-38 game we saw last year.
While I have been bullish on the Ravens defense this year, I have more faith in them to make a stop then Pittsburgh this year. With that being said, I still see a shoot out coming and one of the more entertaining games in recent memory between these two franchises.
— Flacco becomes the 3rd straight QB to go over 300 yards passing against Pittsburgh, finishing with 330 yards 3 TD's and 1 INT. Mark Andrews has his coming out party going for over 100 yards.
— Crabtree, Brown and Snead each have 60 or more yard receiving.
— Antonio Brown will be held relatively in check by Marlon Humphrey with just 80 yards receiving.
— JuJu Smith-Schuster is the receiver who worries me the most, I see him finishing the game with 125 yards and at least 1 TD.
— Ben flops at least once on a Suggs hit and gets a 15 yard personal foul called against the Ravens
But when it is all said in done, as I said earlier, the Ravens have one more stop in them then the Steelers with a late 4th quarter sack that will result in a turnover on downs. This one should be fun!
Ravens 34 Steelers 30
Derek Arnold
They days of 13-10 Ravens-Steelers game are, unfortunately, over. As evidenced by last night's TNF game between two ostensibly good defenses in the Vikings and Rams where the teams combined for over 1000 YARDS of total offense, playing defense in the NFL now is pretty much impossible, as long as the other team has guys who can throw and catch.
The Ravens and Steelers both have those things. Somewhere, Ed Reed, Ray Lewis, Troy Polamalu, and James Harrison will be blushing watching the purple and black vs. black and yellow turn into another version of Arena Football.
Do I sound bitter? I don't mean to. I just miss defense.
Get ready for another barn burner. Ravens eek it out though.
Ravens 38 Steelers 37