Purple Stars: Week 4 – Ravens @ Steelers
Print this article
It feels as if the Ravens just won a playoff game. After losing their last three contests against the Steelers and not having won a game at Heinz Field since Week 4 of 2015, the Ravens must be elated after this one. The theme of last week's game against the Broncos was resilience – powering through adversity and finishing strong no matter the odds. Resilience was once again the theme on Sunday night, as the Ravens battled hard to hang on to an early lead and prevent the Steelers from doing critical damage.
This week's winners of Purple Stars each encapsulate the theme of resilience and played a major role in this huge win.
John Brown
3 catches, 116 yards, 1 TD
Many Ravens fans have in this past week expressed their strong desire to lock up John Brown to a contract extension before the season ends. After this game, that number will grow exponentially. Not only has Brown been the offense's best WR and most consistent playmaker, he's established himself as one of the top deep ball threats in the league. Brown now ranks 2nd in the NFL in air yards behind only Julio Jones and has a league-leading 4 catches on passes traveling 30+ air yards. Hard to believe this dude is a Raven.
Apart from a 12-yard reception, Brown's other two catches were absolute bombs. His largest catch was a 71-yard pass on a deep crosser where he faked the corner route outside and fluently cut in over the middle to snag a well-timed ball from Joe Flacco. Brown created separation in a nifty way by tilting his head outside, followed by a double move inside and finished with pure jets after getting SS Terrell Edmunds out of position.
Brown's nicest catch was his 33-yard TD reception that left two Steelers defenders in the dust on a well-placed rainbow pass from Flacco. No tricks here – this was just a blazing go route by Brown, who did a great job at getting over top and turning himself to Flacco to indicate he was open. Both deep catches were an excellent display of chemistry between the two.
Seriously, when was the last time the Ravens had a legitimate fantasy WR? Brown has created a culture shock in Baltimore.
Anthony Levine
6 tackles, 3 passes defensed, 1 INT
Several Ravens defenders have made great strides in their game since Wink Martindale took over as DC but I can't think of a player (other than perhaps Tony Jefferson) who has benefited more than Anthony Levine. The Ravens' increased utilization of dime packages has paved a path for Levine to contribute more as an ILB during passing situations and man, did he contribute in this one.
[Related: FILMSTUDY – Dime Time in Pittsburgh]
With less than 3:30 to go in the 4th quarter, Levine made the play of his lifetime with a well-executed interception on a careless pass by Ben Roethlisberger. In the dime, the Ravens blitzed C.J. Mosley and left Levine to defend the middle zone where it seemed as if he would sit underneath JuJu Smith-Schuster's route. But as Jefferson dropped down to help with Schuster, Levine worked to the left, kept his eyes on Roethlisberger and undercut Antonio Brown on a crosser route for the pick. Through patience and deception, Levine made it happen.
Levine's game-sealing interception will be known as a special moment in this rivalry, especially since the probability of Roethlisberger throwing a pick on that play seemed so unlikely. Coming into the game, Roethlisberger had only thrown five INTs against the Ravens at home during the Harbaugh era…that's it! And for Levine to get no. 6 in a critical moment like this, you bet your ass he's earned himself a Purple Star!
Many thought Chuck Clark would assume primary dime back duties this season, but with Levine playing this way, he'll continue to be this defense's secret weapon.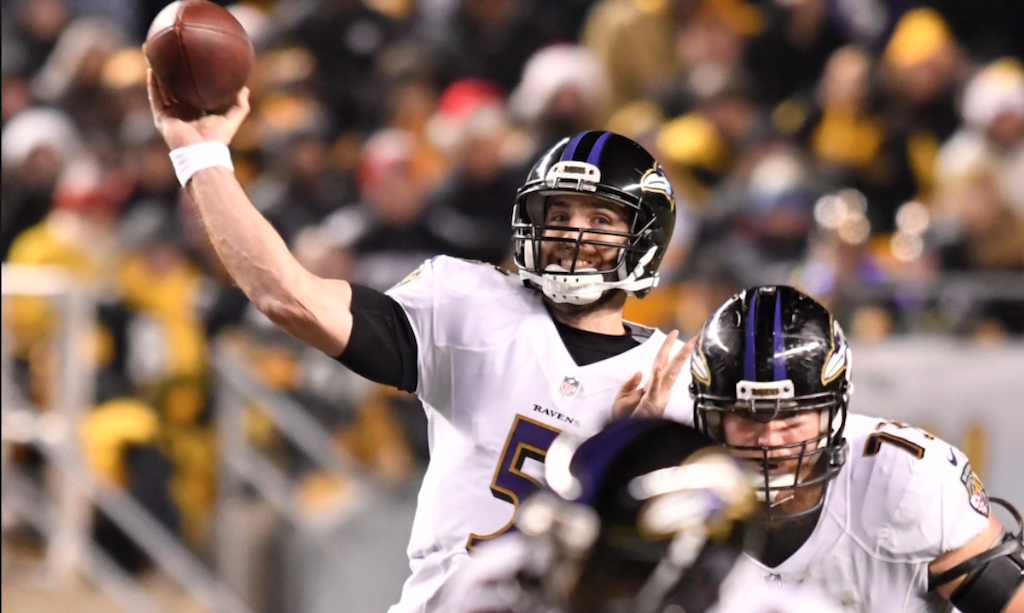 Joe Flacco
28 of 42, 363 yards, 2 TDs
Well folks, we FINALLY have our first back-to-back winner of Purple Stars. Save your breath, I know this column has existed for only two weeks and I don't care one bit. Flacco wins his second Purple Star this season after a strong performance against the Steelers. Flacco was poised most of the night and threw a fairly efficient game, notching 17 passing first downs. But I was mostly impressed with Flacco's ball location, as he completed a handful of key passes that truly kept the Ravens in the game.
Apart from his passes to John Brown, I've been in love with the connection Flacco has established with the Ravens' most reliable pass catcher in Willie Snead. Flacco linked up with Snead on a number of first down conversions, including a tough contested and bobbling catch in the red zone while being completely draped by CB Joe Haden to set up a FG. Flacco also made some impressive passes over the middle to Michael Crabtree and to one of the bigger surprises at TE this season, Maxx Williams.
Flacco made the most out of his new weapons, linking up with 11 different targets on the night. That number is a sight for sore eyes because not only does it show improvement in the receiver corps, it signifies Flacco's confidence in himself to make a big play regardless of the circumstances. I can't stress enough how impressive this transformation in Flacco has been but I'll try to sum it up in four words…
Thank you James Urban.
Honorable Mentions
— Tony Jefferson