Should Ravens Replace Hurst with Brown?
Print this article
OL Scoring & Notes vs. Browns 10/7/18
One thing I see in print or on Twitter is how the Ravens should "stop running into an 8-man box."
It's important to note, that committing to run the ball in such a situation is primarily a function of game situation and offensive formation.
The Ravens have a talented group of TEs, including Williams and Boyle, who have proven themselves as blockers and will occasionally line up at fullback. In addition, the Ravens are one of the few NFL teams that still uses a FB regularly.
Let's try this Socratically…what look do you expect the defense to show when you line up with a TE and some version of the I formation? A tight 7-man front with a single high safety and the strong safety in the box is the most likely.
Teams that have moved away from the use of a FB do so in part because they believe it is easier to force the nickel with an extra WR and run from 11 personnel (1 TE, 1 RB). Those teams regularly get to run against a box with 6 or 7 defenders, but do so with 1 less blocker at the point of attack.
In terms of game situation, there are 2 ways in which 8-man-box run stats are skewed:
— Teams that run more consistently in short yardage often use a fullback and 3 TEs to make a needed yard. Joe Flacco has 6 conversions on 6 such attempts this season.
— Teams run with the lead. It is often the best strategy to run the ball, even into an 8-man box, when you are protecting a substantial lead.
So, if you want to find a person to blame for the Ravens running into an 8-man box, blame Patrick Ricard for being an effective FB or blame the rest of the offense for the big leads they've piled up in 3 of the 5 games.
Ample Time and Space
Flacco had ATS on 25 of 59 pass plays (42%). That's a little below average.
Summarizing his results with and without ATS:
His results with ATS were quite bad relative to his historic levels, but he had an above average game without ATS. Summarizing relative to expectation:
A good portion of Flacco's underperformance relative to his opportunity set can be explained by drops, but certainly not all of it.
Offensive Line Scoring
The Ravens ran 84 scored snaps (excludes accepted penalties which resulted in no play). The line was not penalized and allowed just 1 sack in 59 drop backs (the other was a sack for no gain after Flacco had ATS).
Stanley: Ronnie had his best game of the season. He surrendered half a penetration when Chris Smith crossed his face to take down Collins for a loss of 2 (Q1, 1:30). I also charged him with 1/3 of the QH by Ogunjobi (OT, 4:37) where Hurst allowed the initial pressure and bumped Flacco, but Stanley also gave backside ground to Myles Garrett to phonebooth the pocket. Only 2 of his 6 missed blocks were cases where he was beaten, but the ball was out quickly. He had 2 blocks in level 2 and connected on his only pull. I did not score him for a pancake or highlight.
Scoring: 84 plays, 76 blocks, 6 missed, 1/2 penetration, 1/3 QH, 74 points (.88 per play). Adjusted that's an A. This was a signature game against a top young opponent.
Lewis: Alex also played his best game of the season. He surrendered 3 full pressures:
— (Q2, 13:15) Beaten outside by Genard Avery
— (Q4, 4:29) Bulled by Ogbah
— (OT, 6:00) Beaten inside by Avery
Alex also whiffed on EJ Gaines when pulling right (Q3, 6:56) which earned a share of the penetration for Collins' 3-yard loss. He had 1 block in level 2, 3 pancakes, and scored 6 of 9 points on his pulls. I did not score him for a highlight. Amidst the generally solid pass blocking of his own, he was able to assist Stanley on Garrett several times which helped to wind the Browns' best defensive player.
Scoring: 84 plays, 76 blocks, 3 missed, .5 penetration, 3 pressures, ½ QH, 67.5 points (.80 per play). After an adjustment, that's a B at guard.
Skura: Matt had a difficult game, primarily against DT Larry Ogunjobi. Of his pass rush events, he was bulled by Ogunjobi for 3 pressures and a QH. He was also beaten left once by the Browns DT. He seemed to be blocking Trevon Coley effectively (Q2, 3:06), then released him for an instant before the play was over that led to the flush and sack for which I gave him 5/6 of the charge. He made 2 blocks in level 2, but did not have a pancake, pull, or highlight.
Scoring: 84 plays, 74 blocks, 2 missed, .5 penetrations, 4 pressures, 1.5 QH, .83 sacks, 55.5 points (.66 per play). That's a high F after adjustment at center (.03 short of a D-). This continued the season-long streak where Matt's personal score mirrored the team's result.
Yanda: The Ravens have never asked more of Yanda and he continues to produce at a high level. He was backed up, then allowed a PD by the blitzing LB Schobert (Q1, 0:52). He surrendered a QH when beaten inside by Ogunjobi on the next offensive snaps (Q2, 13:21) where Lewis pulled right and Skura was assigned close the space between C and LT. That left Marshal with a difficult reach block. On the 3rd play of OT (6:49), he was asked to pull to block Myles Garrett on the left edge. He was able to square up against the Browns star, but gave ground that forced Flacco to move and eventually unload the ball incomplete. He made 2 blocks in level 2, delivered 1 pancake, and had an un-Yanda-like -1 points on 4 pull attempts. I scored him for 2 highlights, including his 4-yard pile push of Allen (Q4, 13:06) and a recovery to push Coley 6 yards+ (Q4, 2:35) on a play that went for a loss of 3.
Scoring: 84 plays, 79 blocks, 1 missed, 2 pressure, 1 QH, 1/6 sack, 71 points (.85 per play). That's an A- with adjustment. I have heard it said that Yanda is not as dominant as in past years, but it's clear to me that's in part a function of his immediate line partners, Skura and Hurst. Neither is a star and Yanda is responsible to be the glue that holds the right side together. When he played between Birk and Oher (a great center and an average RT, respectively), he had many more opportunities for highlight combination blocks and was assigned to pull to lead runs where he could fully flex his ability to line up targets in level 2.
Hurst: James's performance was solid overall, but he broke down at an inopportune time. He allowed pass rush events on 3 consecutive OT snaps (OT, 4:37 and OT, 4:32 and OT 3:22) which included 2/3 of a QH by Avery, a pressure by Ogbah, and a PD by Avery. He had allowed just 1 shared penetration in the first half until he was beaten outside by Garrett for a QH (Q2, 0:28). He made 6 blocks in level 2, had 3 pancakes, and made his only pull. The better of his 2 highlights was a combination to pin Ogbah for Yanda followed up by a gorgeous level 2 cut block that upended Schobert (Q1, 14:10).
Scoring: 84 plays, 70 blocks, 7 missed, ½ penetration, 4 pressures, 1.67 (1 + 2/3) QH, 56 points (.67 per play). That's a C after adjustment.
The talk gets loudest after a loss for Hurst to be replaced by Brown at RT and moved to LG here he would replace Lewis. I wanted to get my thoughts in print though 5 games.
From a grade perspective, Hurst hasn't done anything to lose the job. He's been a solid and very consistent C/C+ player overall. Michael Oher's grades in Baltimore were at approximately the same level as Hurst's 2018. There is a value to his 2018 consistency in particular: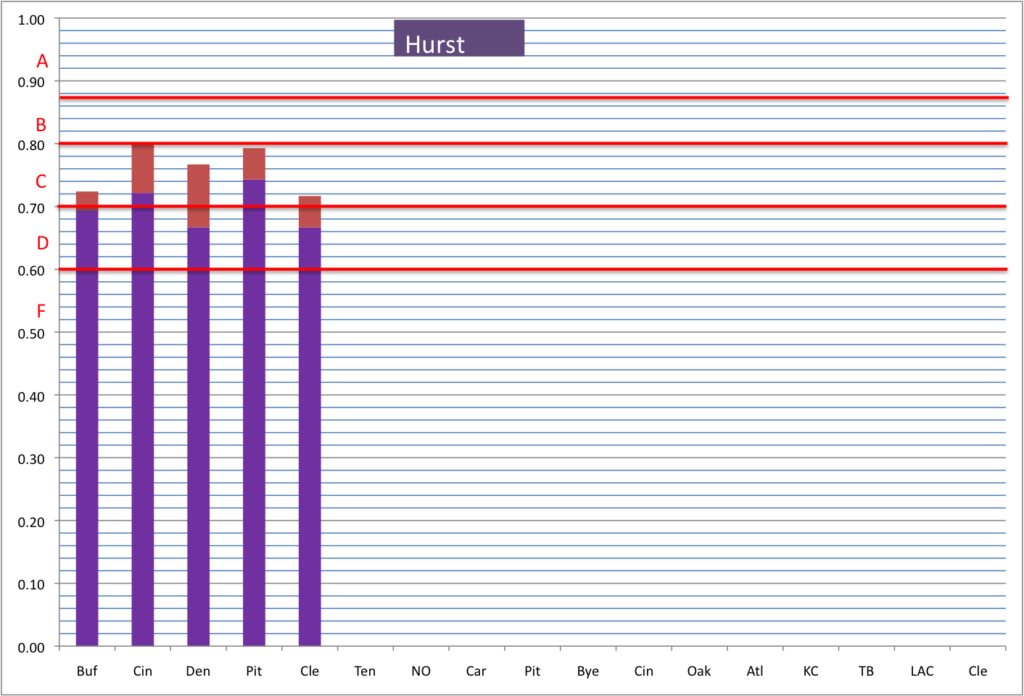 From a standpoint of scheme limitation, Hurst does not look nearly as good. The Ravens offensive design has centered on protecting him at RT. On Sunday versus the Browns, the Ravens ran unbalanced 9 times. That's significant for Hurst, because he is tucked to the inside on every such play and essentially plays as a guard (Stanley was outside on 7 plays, Brown was outside on 2 plays with a 6-man line).
In addition, the Ravens threw 15 blocks from eligible receivers on the right side alone. After removing 2 for Brown, who entered as a TE, that's still 4 set blocks and 9 chip blocks. I'm a big fan of chip blocks to help OTs and wear down opposing pass rushers, but they do prevent a RB from running anything but an outlet route.
Hurst has frequently been the beneficiary of help blocks from Yanda, who is asked to first set up Skura to single the DT then turn to bail out Hurst, usually from a bull rush. I need to add that Hurst has been effective at giving ground while maintaining position between the pass rusher and the QB. While giving up ground via bull rush isn't good, it meshes well with Yanda's ability to plant himself in the ribs of Hurst's opponent regularly.
That's a lot of scheme designed to protect a weakness in the OL.
This is a problem without an easy solution, but one option that might have worked for the Browns game is rotation. In an 84-snap offensive effort, players on both sides in the trenches were worn down and this may have been a case where Brown playing 40-50 snaps and Hurst moving to LG for 20-30 might have been an effective strategy both for freshness and to get a better in-game evaluation of Brown at RT.
Scoring: 84 plays, 70 blocks, 7 missed, ½ penetration, 4 pressures, 1.67 (1 + 2/3) QH, 56 points (.67 per play). That's a C after adjustment.
Brown: Orlando was used as a 6th lineman on 2 occasions and made 1 of 2 blocks.
If you're interested in seeing scoring trends for the players this season, those charts (like the one above) are posted here.