OL Shakeup Would be Risky for Ravens
Print this article
Cleveland is behind us, and the lights of Nissan Stadium lie ahead. Yet another stop on a three-game AFC Central revival tour. Since the demoralizing loss on Sunday, I've seen a number of Ravens fans convinced that the team is on an unstoppable downward spiral, even predicting a loss to the Titans on this Sunday.
Well, I say they're wrong.
This isn't a game prediction article, though, so I digress. Let's take a look at some things that have irked me this week.
Harbaugh's comments on run/pass balance
When asked about the team's pass-first mentality at a recent press conference, Harbaugh essentially scoffed at the idea, saying (and I'm paraphrasing) that they (the Ravens) have run more than most teams (not wrong), and that the idea of a run/pass balance is silly.
See, I would agree with you, Mr. Harbaugh, but then we would both be wrong. The Ravens are 3-15 when Joe Flacco drops back more than 50 times (he dropped back 56 times against Cleveland). On the other side of that, the Ravens have something around a .667 winning percentage when the running backs gain 120 or more on the ground. There were ~25 carries on Sunday, for 116 yards. Five of those carries (23 yards) were by quarterbacks.
That's not a winning formula, nor is it a balance. 56 vs 25 is decidedly one-sided. Against the Browns, who had the 22nd-ranked run defense, the Ravens abandoned the run game, even in a game that was close for five quarters.
They need to reverse that against the Titans, who have a similarly bad run defense.
OL or NOL?
I've seen numerous bloggers and fans complain about the Ravens' offensive line. Some are smart about it, and complain about the run blocking, as they should. Some do not do their research, and complain about all of it, which is an incorrect assessment.
I will be the first to admit that the Ravens' offensive line is atrocious with blocking up the run. 31st in the league, actually, per PFF. Better only than the Bills.
However, those calling for a change-up on the line should be wary. There is a risk run – the pass-blocking has been fairly good this season, and you risk messing that up if you swap James Hurst for Orlando Brown, Jr., and then swap Alex Lewis for Hurst. Hurst has been solid at RT, albeit with some help from a sixth OL or TEs. Alex Lewis has been… nope, he's been bad. (Looking at everybody who said he was very good, but won't speak on it now, even though they'll point to me being wrong.. maybe.. about Calvin Ridley and Saquon Barkley.)
Do I think a change won't occur at all? No. If we see one, it will likely be after the bye week. That gives Joe D an extra week to get Zeus Jr. up to speed, and lets Hurst readjust to the left guard position.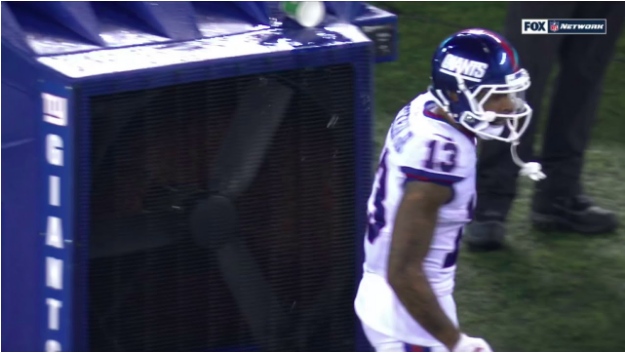 OBJ assaulted a fan
No, not a human cheering for their team. An actual fan. He let out his frustrations on the Giants' sideline by unleashing a straight-armed punch with his right hand on a sideline fan meant to regulate players' body temperature.
Why is this here? Because I found it absolutely hilarious.
OBJ is a phenomenal wide receiver, on a horrible offense, on the worst team in the league (1-5). I understand his frustration, being really good at what he does, but being held back because of others.
Still, the public outbursts, and leaving the game when your teammates are still out there may not be the best course of action, even if it did cause me to let out a bark of laughter late at night, while I tried not to wake the six other humans in my house.
I will be slightly shocked if reports of OBJ asking for a trade don't surface sometime in the next few months.
I hear Baltimore will have some cap space in 2019.
A note on hitting the QB…
JUST IN: @_TJWatt lost 38% of his paycheck from Sunday for a $20,054 fine that resulted from this "Roughing The Passer." pic.twitter.com/ot7i0SWw1l

— Darren Rovell (@darrenrovell) October 12, 2018
These penalties are absolutely ridiculous. Phantom block-in-the-back calls. Quick whistles on Neutral Zone Infraction (shameless plug, listen to the podcast) calls. But above all, the infuriating calls when a defender makes minimal contact with the precious, and apparently fragile, quarterback.
Whether it's a defender that's unable to change his positioning midair, or somebody merely slapping the helmet of the signal caller, it seems like hitting the quarterback is a thing of the past. Something has got to change, because this is merely a shell of what the NFL used to be (I still love it, and will never miss a game.)
Here's the thing. The penalty is the same, whether a defender demolishes a helpless QB, or if they accidentally scratch them with a fingernail. So why not just risk it all? Hit like they were taught, since the consequence is the same. Make football violent again.
Friday's Thought Pocket
As the loyal readers know, every once in awhile, I will forgo the final thought here, to instead give you a mish-mash glimpse of my brain's inner workings. So strap in.
— Pat McAfee has one of the best brains that I've ever had the pleasure of witnessing.
— Just because you disagree with a take, does not mean that you're right, or smarter than the person that had the take.
— Blue checks on Twitter do not denote intelligence. They're merely a verification that that person is who they say they are. Use their arguments wisely.
— Hoodie season is probably the best season. Don't @ me.
— I'm not sure why somebody hasn't made an app similar to Facebook – one that you won't get banned from for banter.
— You never truly know a person until you witness them watch their team lose a close game.. in person.
— I now own two cats.. I still don't get the hype.
— I don't understand why people are so worried about the government, when Amazon is going to run the world in five years or less.
— Ford is stopping production on all cars, sans the Mustang, which means there'll be an influx of idiots that don't know how to drive a truck running around soon.
— I'm 32 years old, and I'm still mad at whoever put Friday so far away from Monday, but Monday so close to Friday.
That's it for me, folks. The next time you read my work, will be after a glorious win against an old rival. Be sure to follow everybody from Russell Street Report, and listen to Neutral Zone Infraction, every Wednesday.
Also, buy a NZI shirt, then show me proof of you receiving the shirt. For every shirt purchased, I'm donating to a local shelter. You could help save a puppy – and everybody loves puppies.