Print this article
Last Week: 6-8-1
Overall: 40-45-5 – 47.1%
Week 6 Whiffs
— The major disadvantage of picking games on Wednesdays is that so much can change between now and game time. For example, the Rams and Broncos in Week 6. I picked the Rams here, but when I saw the weather forecast later in the week, I flipped my own pick to the Broncos (which paid off). Weather plays a huge factor in many of these games this time of year, so it's always good to check the forecast before making any plays.
— One of my more confident picks of the week was Jacksonville -3 against Dallas. I should have smelled the bait, but I took it anyway. The game was never close and maybe Jalen Ramsey will keep his mouth shut now.
— The Browns looked so good against Baltimore in Week 5 and I put too much stock in that. I ignored the fact that the Chargers' only two losses are against the Chiefs and Rams and picked the Browns anyway thinking that the West to East trip to play at 1 pm would have an effect on LA. I was wrong.
Back-to-back 6-8-1 weeks aren't normally great, but I staggered my bets and made some coin in Week 6, aided by the Ravens dominating the Titans. Once again, I started the week out well on Thursday night (4-2 on Thursday night games) but faltered on Sunday with many close games.
Here are the Week 7 ATS Power Rankings: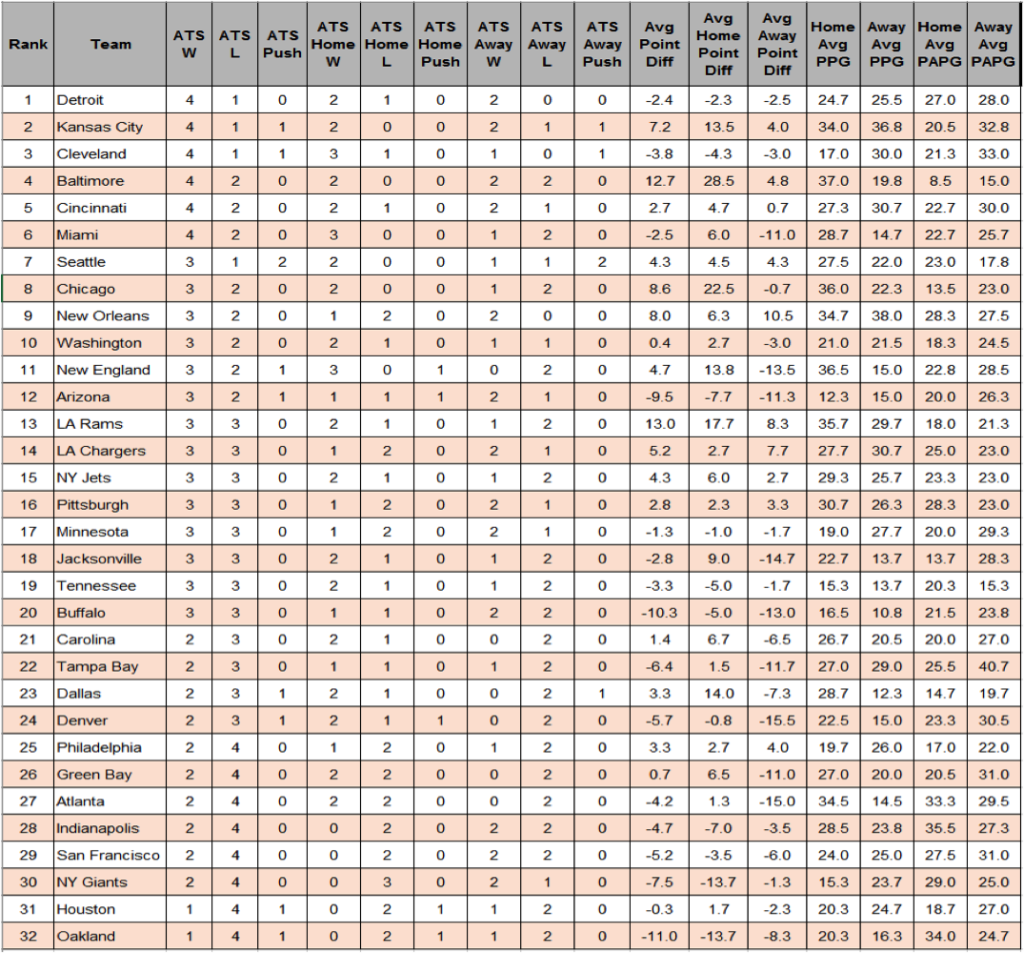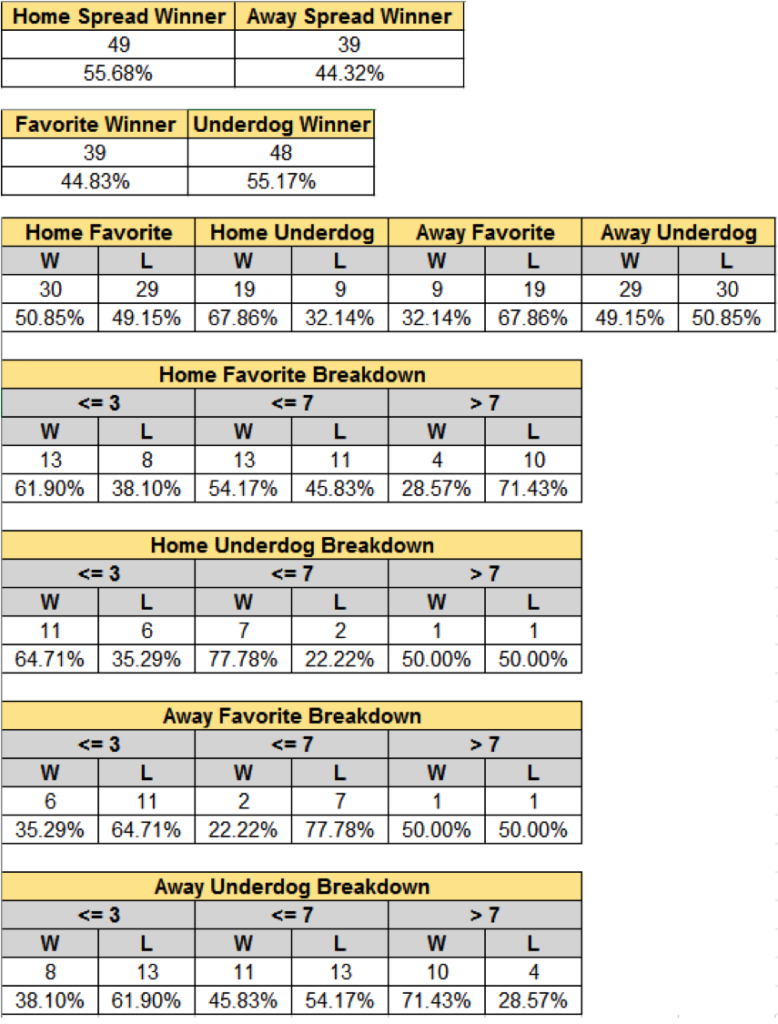 After Cleveland's first ATS loss of the season, they lose the top spot in the power rankings to Detroit, who was on a bye. The AFC North though has outperformed every other division this season as Cleveland, Baltimore, and Cincinnati sit at 3rd, 4th, and 5th respectively. We'll see if that trend continues this week.
Disclaimer: Please do not take these picks and expect to make any real money. I enjoy picking games and the discussions they create so feel free to play along. I will provide information for each game, but please make your own decisions and BE RESPONSIBLE!
 Here are my Week 7 picks…
Thursday – 10/18/18
Denver Broncos vs. Arizona Cardinals (+2.0, o/u 42.0)
What a doozy for a Thursday night game (yawn). I am 100% staying away from this game as neither one of these teams inspires any confidence. Arizona boasts a -7.7 average home point differential and Denver is a whopping -15.5 on the road so something has to give there.
The Broncos are 1-11 straight up and ATS in their last 12 road games and Arizona is 4-1 ATS in their last 5 home games. So naturally, I'm going to be picking Denver here.
Despite the ATS trends, Denver is the better team and the better bet against the less than 3-point spread.
My Pick: Denver -2.0
Sunday – 10/21/18
Tennessee Titans vs. Los Angeles Chargers (-7.0, o/u 45.5)
The Chargers rolled the Cleveland "I can't believe they're formidable" Browns in Week 6. I took the Browns last week because I put more stock in their win against Baltimore than I should have. LA's only two losses are to arguably the two best teams in the NFL and I need to take that into account.
Tennessee on the other hand is coming off one of their worst offensive performances in their franchise's history. I believe they'll have to play catch up against the Chargers in London and they just don't have the horses to keep up.
The Chargers are 9-0-1 ATS in their last 10 against the Titans and 12-6 in their last 18 overall. This will be one of my better bets of the week. Chargers cover easily.
My Pick: Los Angeles -7.0
Buffalo Bills vs. Indianapolis Colts (-7.5, o/u 43.5)
The Bills had started to improve with Josh Allen under center. With his elbow injury last week, that means the Bills will be starting veteran Derek Anderson. That scares me even with Indy struggling.
I'll be staying away from the spread on this one, but I think it goes under the 43.5 total.
The Colts are 2-4 ATS in their last six games and 1-4 in their last five at home. On the other hand, Buffalo is 4-2 ATS in their last 6 on the road, but again, with Allen out, this is a different team. The Colts should be able to cover here.
My Pick: Indianapolis -7.5
New England Patriots vs. Chicago Bears (+3.5, o/u 49.5)
I feel like this is a trap. Vegas wants you to take New England -3.5 here. I'm not going to fall for it this week. New England is coming off an emotional win on Sunday night against the previously undefeated Chiefs. They'll go up against one of the better defenses in the NFL in Week 7.
Unlike Kansas City, the Bears should be able to keep Sony Michel in check which will allow their pass rushers to pin their ears back. Add to that a still shaky New England defense, and I think the Bears can cover here.
The Patriots are 12-8 ATS in their last 20 road games whereas the Bears are 9-1-1 ATS in their last 11 home games as underdogs.
My Pick: Chicago +3.5
Carolina Panthers vs. Philadelphia Eagles (-5.0, o/u 45.5)
I initially had Carolina here, but these are two teams that seem to be heading in different directions. Carolina is a 63-yard field goal from losing their last two and Philadelphia looked to have turned it around last week against the Giants. Add to that an extended break for Philly and you have the makings of a cover for the home team.
The Eagles are 8-1 straight up and ATS in their last nine games at home against teams with winning records. Carolina is 7-3 ATS in their last 10 as an underdog, but 1-4 in their last five on the road.
My Pick: Philadelphia -5.0
Detroit Lions vs. Miami Dolphins (off the board)
The top ATS-ranked team Detroit take on the 6th ranked Dolphins in Week 7.
Once again last week, I picked against the Dolphins. Sunday morning, it was announced that Ryan Tannehill would not be starting so I was very confident in my pick at that point. Then the Dolphins did what the Dolphins have done to me all season: made me look stupid. Not only did they cover (the spread jumped to -7 Chicago after the announcement), but they won outright with Brock Osweiler at the helm. WHAT?!?
Luckily for me, this game is off the board at the time of this piece since Tannehill's status is still unknown because I was most likely going to pick the Dolphins here. Yes, you read that right.
Miami is 5-1 straight up and ATS in their last six home games. Detroit is 5-1 ATS in their last six games, but are 1-4 straight up in their last five on the road.
My Pick: off the board
Minnesota Vikings vs. New York Jets (+3.5, o/u 47.0)
Once again, this will come down to which Kirk Cousins shows up in Week 7. That should be the "bad" Kirk this week against an improved Jets defense. Add to that, the loss of Mike Hughes to the Vikings secondary and the Jets should also be able to move the ball.
Both teams are 3-3 ATS on the season and are coming off two straight victories. The Jets are 9-3 ATS in their last 12 at home. Minnesota is 1-5-1 ATS in their last seven as favorites and 2-3-1 ATS in their last six on the road. I like the Jets to possibly win outright here.
My Pick: New York Jets +3.5
Cincinnati Bengals vs. Kansas City Chiefs (-6.0, o/u 59.0)
As the over/under suggests, this game between the 2nd and 5th ranked teams is going to be a shootout and fun to watch. Both teams are coming off tough last-minute losses in Week 6 and need to bounce back. Cincinnati needs this one a bit more than Kansas City to keep pace with the rest of the AFC North.
Cincinnati is 6-2 ATS in their last eight and 5-2 in their last seven on the road. They're also 8-1 in their last nine against the AFC. The Chiefs are 4-1-1 ATS on the season and 5-1 in their last six at home.
At the end of the day, six points is a bit much for me here in a game that I think will be close. I'll take Cincy getting six.
My Pick: Cincinnati +6.0
Cleveland Browns vs. Tampa Bay Buccaneers (-3.0, o/u 50.0)
Cleveland came back down to earth last week against the Chargers so now we play the "Who Are They?" game with the Browns. While they are much improved from years past, they still don't have the horses to consistently win. They have a depleted WR corps and I think that's their downfall here in Week 7. Tampa has shown they can put up points, they just can't stop anyone. This week, they'll do just enough to cover the spread.
The Browns are 5-2 ATS in their last seven games, but 3-10-1 in their last 14 on the road. Tampa is 8-14-1 ATS in their last 23 and 4-2 in their last six at home.
My Pick: Tampa Bay -3.0
Houston Texans vs. Jacksonville Jaguars (-5.0, o/u 41.5)
The Jags are coming off two blowout losses on the road and return home to face a divisional opponent. Houston has won three in a row, albeit none convincingly. For me personally, when you factor in all those things and throw in a -5 spread, that tells me the books are begging us to take Houston. I will do no such thing. The Jags defense is not the defense that gave up 40 points to Dallas and I look for them to prove that this week. I'll also be taking the under here.
Houston is 1-10 ATS in their last 11 games and 1-5 in their last six on the road. Jacksonville is 8-1 straight up in their last nine at home and 5-2 ATS in their last seven at home.
My Pick: Jacksonville -5.0
New Orleans Saints vs. Baltimore Ravens (-2.5, o/u 49.5)
This is going to be another fantastic Week 7 matchup. One of the best offenses in the league faces one of the best defenses in the league.
I'm trying to not let my heart get in the way of my head so I've struggled with this one more than any other game this week. I've done a ton of research and it all points to the Ravens covering here. I just can't get the Saints coming off their bye week and Drew Brees having never beaten the Ravens out of my head. Those will play a factor in this game.
All that said, I think this is how this game plays out: the Saints come out flat and the Ravens take the early lead. The Saints come back and make it close but the Ravens win by 3-6 points.
The Saints are 1-6 straight up and ATS in their last seven against the Ravens, but they are 15-5-1 ATS in their last 21 on the road. The Ravens are 2-6 ATS in their last eight games at home after consecutive road games.
My Pick: Baltimore -2.5
Dallas Cowboys vs. Washington Redskins (-1.5, o/u 41.5)
One of the better rivalries in the NFL steps into the ring this week. Washington is only allowing 18.3 points per game at home whereas the Cowboys are only scoring 12.3 points per game on the road. In my opinion, Dallas is closer to the team that lost to Houston than the team that trounced Jacksonville last week and will show that this week.
Most of the pundits are picking Dallas here, but I don't see that playing out.
The Skins are 1-6 straight up and ATS in their last seven games against the NFC East, but 5-1 in their last six at home. Dallas is 5-2 ATS in their last seven against Washington.
My Pick: Washington -1.5
Los Angeles Rams vs. San Francisco 49ers (+10.0, o/u 52.5)
The Rams started out hot ATS, but have faltered the last three weeks with some larger spreads. However, they are the MUCH better team here. They should be able to shut down the 49ers' surprisingly effective offense and score points at will on a defense that is allowing 27.5 points per game at home.
The Rams are 0-5 ATS in their last five meetings with the 49ers and 1-3 in their last four on the road. San Fran is 2-4 ATS in their last six games and 1-4 in their last five at home.
My Pick: Los Angeles -10.0
Monday – 10/22/18
New York Giants vs. Atlanta Falcons (-6.0, o/u 54.5)
Last week, the Falcons stopped a three-game skid. The Giants will be looking to do the same here on Monday night. Neither one of these teams will be able to stop the other so look for this game to go over the total.
I'm picking the Giants here to show up in prime time and make this a game. Both Saquon and Odell should have huge games against a porous Falcons defense and help the Giants cover in Atlanta.
New York is 2-4 ATS in their last six and 4-2 ATS in their last six on the road against Atlanta. The Falcons are 2-5 ATS in their last seven, but 4-2 ATS in their last six at home.
My Pick: New York +6.0
Another .500 parlay last week at 2-2. There are five games this week that I'm fairly confident in:
Denver -2.0
LA Chargers -7.0
NY Jets +3.5
Jacksonville -5.0
LA Rams -10.0
Week 7 has some intriguing matchups so it should be an exciting week.
Good luck to everyone this week! Check out GridIron Gold for your online betting needs.