When the Saints Come Marching In…
Print this article
Will the Ravens be able to slow down the red-hot Saints, who are coming off their bye? RSR Staff predict what we'll see starting Sunday at 4:05 here…
Tony Lombardi
Sunday will mark the last time future Hall of Fame quarterback Drew Brees will step upon the field at M&T Bank Stadium. Not long after he does, Brees will throw his first TD pass of the game and become part of an exclusive club that includes only Peyton Manning, Brett Favre and Tom Brady. The 500 Club. Unfortunately for Brees it will take place during a losing effort.
By now you've heard it ad nauseam – Brees has beaten every NFL team, even the Saints, EXCEPT the Baltimore Ravens. The superstitious among you believe that such thoughts put the maloiks on the Ravens. Riiiiight, and Punxsutawney Phil is an accurate meteorologist. Not to worry Ravens fans. Here's what will go down…
· Brees gets TD passes 500 and 501 moving his seasonal total to 13. However, his outstanding passer rating (122.3) will take a hit. He has yet to have a pass batted at the line of scrimmage this season but that changes on Sunday. He'll have two passes redirected by the Ravens defensive front, one leading to an INT, the first of two during the day for Brees.
· The Saints have the NFL's best rushing defense. Alex Collins best effort on the season is 68 yards. You'd think that might spell trouble for the Ravens running game. It won't. On Sunday Collins will double that total thanks in part to two runs of 20+ yards.
· Joe Flacco has a career passer rating of 117.7 against N'awlins and has yet to throw an INT against Who Dat. That won't change on Sunday. He'll throw for 247 yards and a score but his 9-consecutive game streak of 25 completions comes to an end. It will be a clear indicator that things are going well for the Ravens.
· Cyrus Jones' homecoming will be a happy one. His longest punt return during his brief career took place last week in Nashville – a 26-yard return. This week he breaks one off for 50+ yards that sets up a Ravens TD. The evening ends with the Ravens in sole possession of first place in the AFC North.
Ravens 27, Saints 23
Todd Karpovich
— Drew Brees will earn his 500th TD pass … but it will come in the first half.
— Joe Flacco will out duel his counterpart, thanks to Willie Snead, who will have a huge day against his former team.
— Look for Saints TE Benjamin Watson to also have a big game.
— The weather and grass will play in the Ravens' favor.
— The Ravens hold serve at home and contain New Orleans' high-powered offense.
Ravens 27, Saints 21
Carey Stevenson
The Ravens will find their fair share off openings down the field in this one, leading to a strong game from Joe Flacco. He'll finish with 350 yards passing and 2 touchdowns, one to John Brown and one to Willie Snead. The run game still mostly sputters but Alex Collins takes advantage of scoring chances and punches in 2 rushing touchdowns. One of those coming due to a long Cyrus Jones punt return.
On defense, the Saints will move the ball a fair share…spreading it around with no gaudy numbers to be found by anyone. Old friend Ben Watson gets behind the Ravens defense for a touchdown in his return to Baltimore. Rookie burner Tre'Quan Smith gets behind Jimmy Smith for another. Za'Darius Smith keeps up his strong play with 2 sacks while Tim Williams chips in a couple of his own. Wink Martindale ultimately proves up to the challenge and gets a key stop to hold on to a close victory.
Ravens 31 Saints 28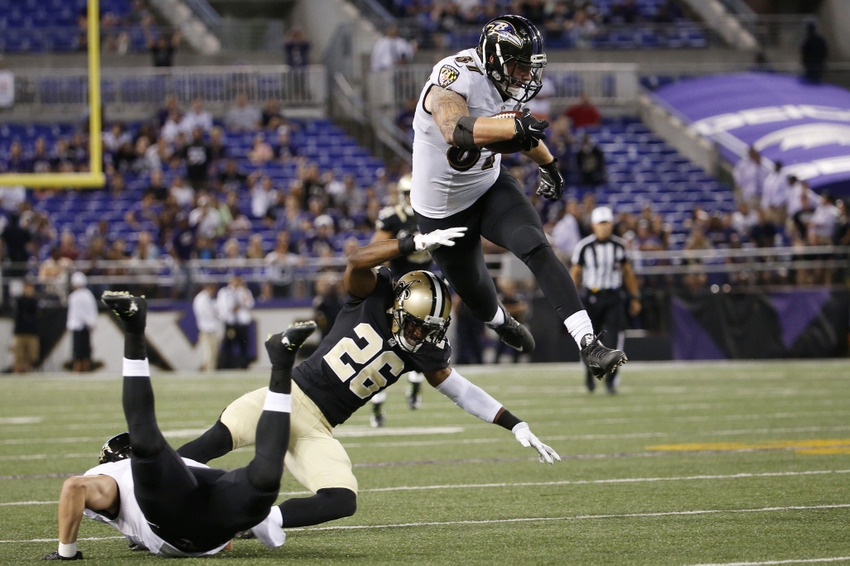 Derek Arnold
There are two ways the Ravens can go about this…
A. Make New Orleans try to play their game. Field position, punts, hard-hitting, low-scoring.
B. Assume they'll have to score 30+ and come out firing with that in mind.
Knowing John Harbaugh, he'd much prefer option A. I think he gets his wish…for a quarter, anyway. After some feeling each other out, both Brees and Flacco find a rhythm. This Ravens defense though, is for real, and they prove that on Sunday. Brees will get his – 245 and 2 TDs – but will also be sacked three times and throw his first interception of the season.
A Justin Tucker 48-yarder wins it as time expires.
Ravens 24 Saints 23
Michael Telford
These ain't the same old Ravens. Right? Sunday provides the truest test of that statement. Future Hall of Famer Drew Brees takes the field with the No. 1 offense in the NFL, and faces off against future Hall of Famer Terrell Suggs and the No. 1 defense in the NFL – but the defense is returning home after a stretch of tough road games. I'm paraphrasing, but.. there will be a firefight!
-The Ravens will continue their defensive dominance, but it won't feel like it at first. Brees will score his 500th TD with a pass to WR Michael Thomas. He'll add on 501 for good measure, but fail to throw another one in the second half.
–Alvin Kamara will be held largely in check, failing to break 70 yards rushing. Ingram won't fare much better. -The Ravens extend the 'no TDs in the second half' streak to seven games.
-WR John Brown gets going again, with his biggest game of the season thus far. -Willie Snead IV goes for 115 yards and at least one score against his former team.
-Drew Brees throws his first (and maybe second) INT of the season
– in related news, Jimmy Smith gets his first interception of 2018.
–Matt Judon doesn't have a boneheaded penalty!
-Cyrus Jones breaks off a 25+ yard return.
-Brees doesn't beat Baltimore, leaving them as the only team that he's never beaten.
-Z leads the team in pressures.. again.
Bonus round: After this game, the national talking heads fall in love with Baltimore, and they're talked about on every football show in the country.
Ravens 31 Saints 24
Chad Racine
This is the toughest test the Ravens will have faced so far. No more will we hear "they haven't played anyone good." The Saints will offer a multitude of challenges for the Ravens and be a true test of where they rank in the league. New Orleans boats the league's best run defense and top scoring offense. Players like Drew Brees, Alvin Kamara, and Michael Thomas are going to be hard to stop – let's just hope the Ravens can be slow them a bit.
The Saints defense isn't quite performing like they were last year so I think Flacco and the offense will have some success. Willie Snead is going to have himself a day with the slot corner being a weakness in the Saints defense. I think the ball will be spread around with the tight ends being heavily involved. With the Ravens running game still yet to find its footing and facing the number 1 ranked rushing defense, it doesn't bode well for the run game. However, that's only on paper and sometimes those stats don't matter. I think Flacco opens up early with some deep shots and it ends up opening up room for the run game. I'd like to see Gus Edwards get some more carries this week. Right now the run lanes just aren't as open as much as they were last year so let the power back help wear down the defense a little more.
The Ravens defense, I'm sure, is very excited for this game as is Wink Martindale. Without a doubt the Saints will score some points and will likely break the home team's streak of not allowing a second half touchdown all year. They will be facing a tough offensive line but they will find their way to Brees at least a few times. I expect fewer blitzes and more coverage sacks because Brees has the savvy to exploit those blitzes better than someone like Marcus Mariota. The Ravens defense can't stop Brees but they are going to be able to slow him down just enough for the Ravens to get the win.
Ravens 27 Saints 24
Ryan Jones
This is the best litmus test for the Ravens defense so far this year. The Saints are averaging 36 points a game, while the Ravens defense is giving up an average of less than 13 points per game so something has to give.
The key to this game for the Ravens is Joe Flacco and the Ravens passing game. New Orleans statistically has the best run defense in the league surrendering a mere 71 yards per game. However, they're vulnerable through the air ranking third to last in overall pass defense.
The Saints will score some points, the Ravens will have a hard time running the ball, so if the Ravens want to win this game it will likely take a 300-yard and three-touchdown (or more…I have him with four) effort from Joe Flacco.
— Crabtree's game winning drop two weeks ago against Cleveland may have been a blessing disguise. He seemed focused and motivated last week and I think that continues going into Week 7. He'll likely draw Marshon Lattimore though which could open things up for John Brown and Willie Snead.
— John Brown gets back on track after a quiet game against the Titans catching five balls for over 100 yards and two touchdowns.
— Willie Snead exacts some revenge on his former employer catching a late touchdown that puts the Ravens ahead for good.
–Hayden Hurst catches his first touchdown pass.
Ravens 30 Saints 27
Ken McKusick
The Ravens are going to have the early lead in this one with their offense producing as the Saints are held to 14 or fewer points in the first half.
Martindale will dial back pass rush by numbers, but keep the dial set to a high level of deception as they'll drop seven on most plays to frustrate Brees for much of the game. However, that will be paired with zone drops and blitzes that don't make it clear which defenders are coming. The Ravens will play a shallower cover 2 shell to cut down on throws in the middle of the field and challenge Brees to beat them deep.
— Brees will get his first completion of more than 30 air yards in this game. He'll also throw his first INT of the season, triggered by pressure. His QBR for the game will be under 95 (122.3 coming in), despite a big yardage total
— The Saints will score a TD in the second half.
— The Ravens offense will outproduce the Saints for a 34-24 win.