Can Ravens Tell Saints "Neaux?"
Print this article
Stats, notes, quotes, and more to get you ready for Ravens-Saints!
Let's start with some of the best ones…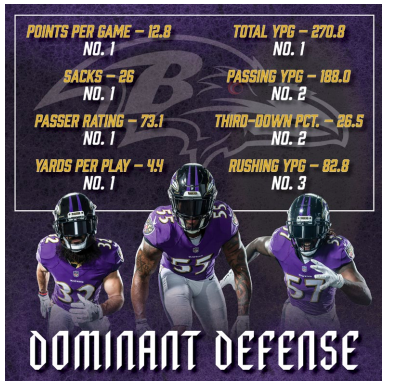 And move along to our usual…
KNOW THY ENEMY
 SERIES HISTORY
QUOTES OF THE WEEK
WNST's Luke Jones on the Ravens' Week 6 defensive performance at Tennessee:
"Playing defense in the NFL is a different animal than it was six or seven years ago, let alone trying to make comparisons to the 2000 Ravens. This is right up there among the best singlegame defensive performances in team history."
NBC Sports' Peter King naming Don Martindale his Week 6 Defensive Coach of the Week:
"When a unit records more sacks (11) than completions allowed (10), the leader gets an award. Those are the rules. Martindale's pass rushers got to Marcus Mariota every possible way – up the middle, around the edges, in the pocket, on bootlegs, you name it. The total set a new franchise record and was one short of the single-game NFL mark of 12. And it came with a familiar face watching: Titans defensive coordinator Dean Pees used to hold the same position in Baltimore."
NFL Network and Fox Sports Reporter Peter Schrager on Baltimore's 2018 Defense:
"I look at the Ravens' defense, and I don't know how teams are going to score points on them. They are so loaded, and if they are healthy this year, the Ravens are going to compete not only with the Steelers, but with every other team in the AFC. They might be a darkhorse to go to the Super Bowl. Their defense is that good this season."
Defensive coordinator Don Martindale on the importance of DB/LB Anthony Levine Sr.:
"If the game is on the line, I want [Levine Sr.] in the game. That's the best compliment I can give him. If the game is on the line, I want him in the game. We want him in the game. When I say 'we,' his teammates want him in there, the coaching staff wants him in there, the head coach wants him in there, so that's the best compliment you could give a player. And, that's through his hard work and understanding the package, and he's been that way since I've been here."
The Baltimore Sun's Childs Walker on the Ravens' 21-0 win in Week 6 at Tennessee:
"This might not go down as their best or most important performance of the year. But it's hard to imagine a more potent distillation of the Ravens' self-image. When John Harbaugh dreams of football, his favorite visions must look something like this — comfort food for a soul raised on the pounding style of Michigan coach Bo Schembechler. The Ravens traveled to a difficult road venue and took their opponent's heart and legs with a 17-play touchdown drive in the first quarter and a 12-play touchdown drive to start the third. … When they weren't grinding down the field on offense, they were chasing and battering Titans quarterback Marcus Mariota in an overwhelming display of team defense. It's hard to make history in a franchise defined by Ray Lewis and Ed Reed, but this was the first time the Ravens had ever sacked an opponent 11 times."
GETTING TO KNOW YOU ~ Q&A with Willie Snead
What makes a good teammate, and who on the team embodies that?
"I think a good teammate is somebody who's always coming to work every day to practice, motivate guys to get the best out of them and to get the best out of themselves. One teammate that comes to mind that I look up to is [Michael] Crabtree. I just try to model what he does and try to practice how he practices and move like he moves, because to me, I think he's a great receiver. That's somebody I aspire to be like."
What is your greatest accomplishment?
"It was actually landing this contract with Baltimore. I guess my journey didn't start like everybody else's, and coming in as an undrafted guy that got cut twice, and the year I had last year being really bad, it didn't look good for me. I think coming out on this end is just a huge blessing. It comes back to all the hard work and just believing in yourself and committing yourself to family and your faith. If you believe that everything is going to work out for the best, and you don't waver in your faith, it always works out. I know Baltimore is going to give me every opportunity to be great, and I want to take advantage of everything that they give me."
When did it become real that you were going to be a Raven?
"It's crazy, because it happened in April, and I was there in New Orleans for a week. The first week we were back, it was optional workouts, so I guess that their first week back is the last week that you can sign guys that are restricted free agents. My agent told me, 'Willie, you have to go work out with the Saints. You have to go, because if you don't, if we don't go to Baltimore, you're going to be in New Orleans.' So, I'm training the whole week, and Friday comes around, and I get the call: 'Ravens are going to offer you.' And it's last minute, the last hour. When I just heard that, I'm like, 'Wow.' The timing is always perfect with everything. When I got here, it just became real, and sometimes to myself, I'm like, 'Wow, I'm in the building with Ray Lewis and Ed Reed. They were here, and Joe Flacco is my quarterback.' When Joe won the Super Bowl, I was a freshman in college, and now he's my QB, and he looks to me to make plays. It's crazy."
What is something that you need to do every day?
"I pray in the morning to get my mind together and get ready for the day. The other thing I have to do is I have to watch some kind of film every day. When I get to the facility, I have to sit down in my quiet zone, and I just have to watch film, just to prepare myself for the day and the team. When I was in New Orleans, Drew Brees was always watching film. He would be the first one in at 6 a.m., last one to leave at 7:30 p.m., and he was always watching film. That's something I took from Drew. You can never watch enough film to know your opponent. That's just something I try to do whether I'm here or at home. I didn't really like to watch film at first, but when you have a guy like Drew Brees in your building, the example of a Hall of Famer, you have no choice. If you want to be great, pick up those habits."
What is something that people would be surprised to know about you?
"A lot of people don't know I am from Florida and moved six times in my life. I moved to Chicago when I was in second grade, I moved to San Diego when I was in fourth grade, I moved back to Florida when I was in the sixth grade, I moved to Michigan when I went into my 10th grade year, and then I went to college in Indiana. So, I've been everywhere. Then, I went to Cleveland and Carolina and New Orleans, and now I'm here. It's been awesome though. When you travel like that, I feel like you interact with a different group of people everywhere you go. I don't have a problem talking to people with different personalities, because I feel like I've seen it all."
What would you do if you weren't playing football?
"I went to school for sports management, so that's all sales, ticketing and P.R. I'd probably be doing something in sports behind the scenes. If not, I'd probably be coaching. I don't know what level, to be honest. I like working with kids. My dad is a coach, and if I were to be a coach, I would want to be a play-caller, because my dad is a play-caller."
HEY, YOU LOOK FAMILIAR! ~ Key Connections
Ravens WR Willie Snead IV played for the Saints from 2015- 17, recording 149 catches for 1,971 yards and 7 TDs. Snead IV also spent part of 2014 on New Orleans' practice squad.
Ravens Injured Reserve CB Stanley Jean-Baptiste was originally selected by the Saints in the second round (58th overall) of the 2014 NFL Draft.
Saints TE Benjamin Watson spent the 2016-17 seasons with the Ravens. After suffering an Achilles injury in 2016, Watson posted a team-leading 61 receptions for 522 yards and 4 TDs for Baltimore in 2017.
Saints K Wil Lutz originally signed with the Ravens as a rookie free agent in 2016 and spent training camp learning under Ravens coaches and K Justin Tucker.
New Orleans practice squad LB Darnell Sankey spent time on Baltimore's practice squad in 2017.
Baltimore Midwest area scout Dwuane Jones spent 2005-15 within New Orleans' scouting department, joining as a Midwest area scout and later serving as northern regional scout.
Saints LBs coach Mike Nolan served as the Ravens' defensive coordinator from 2002-04 (and was the WRs coach in '01).
Ravens secondary coach Chris Hewitt signed with the Saints as a rookie free agent in 1997 and played in 39 games. He was named the NFC Special Teams Player of the Week in Week 12 of 1997 after blocking a punt that led to a crucial FG.
New Orleans T Rick Leonard is from Middletown, MD, and attended Middletown HS. He was awarded Maryland Defensive Player of the Year as a high school senior.
Saints area scout Joey Vitt Jr. was born in Towson, MD, and T Jermon Bushrod went to Towson University.
HOW DO THEY TAILGATE?
With gusto (gusteaux?) and gumbo (gumbeaux?)?