From The Cheap Seats: Ravens vs Saints
Print this article
Observations From The Cheap Seats
It was a tough loss. A loss that left us all in utter disbelief because the one Ravens player who had never, ever let us down, was Justin Tucker. Judging from the look on his face, Tucker was equally shocked.
The loss drops the Ravens to (4-3) in the wide-open AFC North. Things are far from over and there's plenty of football still to be played. But the jaded among you might conclude that these are the same mediocre Ravens that have missed the playoffs four out of the last five seasons. I get it. I was among you. But this loss changed me.
The Ravens lost to a very good football team that was well rested. They lost by 1 point on a missed PAT off the foot of a guy who hadn't missed in 293 consecutive extra point attempts since his days in high school.
"I'll offer this to you guys", said Tucker following the game.
"Every kicker, every football player, is going to come across a moment, a challenging moment. Every kicker is going to…You play long enough, you're going to have a kick that you want back, and tonight was that night for me."
Not only is he the game's best kicker, he's a stand-up guy too.
But that said, this game changed my view of the Ravens. They played without two starting offensive linemen. They played without starting corner Marlon Humphrey. And yet they went toe-to-toe with Drew Brees and the (5-1) Saints. Sure, there are mistakes to correct. Mistakes are part of every game, win or lose.
This loss isn't necessarily a step back, thanks in part to the Patrick Mahomes and the Kansas City Chiefs' dismantling of the Bengals. This loss is a building block.
My observations from the cheap seats, both good and bad and in no particular order…
* Joe Flacco threw some really nice balls, particularly the deep outs and the crossers to John Brown, Michael Crabtree and Willie Snead. His dart to Mark Andrews allowed the big tight end to turn towards the goal line and barrel over smaller defenders. His decisive read and check down to Buck Allen to put the Ravens in the red zone on their would-be game tying drive in the fourth quarter was out quickly and provided Allen opportunity for YAC. But his tipped passes are maddening. He's now up to 13 on the season. The guy on the other side of the field, the guy who is barely 6 feet tall and wears No. 9, has yet to have a pass batted down this season.
Flacco was fortunate that the two batted passes and an extremely forced throw into double coverage to Snead near the right pylon were not intercepted. He also short-armed a throw to Hayden Hurst who was wide open down the right seam with 3:35 left in the game. A well-placed throw there would have been six, but in Flacco's defense Marshal Yanda was beaten on the play and the Ravens QB was unable to step into the throw…I did like the way Flacco rushed his team to the line to get off the next play before Saints head coach Sean Payton could challenge a questionable catch by Crabtree at the 5:50 mark of the 3rd quarter. The 18-yard gain to the Saints 25 converted a third down and the Ravens went on to advance to a 17-7 lead.
* John Brown looks smooth. Have the Ravens ever had a player who could run precise routes, seems uninhibited running crossers and can get deep before Smoke? Nope. Time to pay the man!
* The Ravens offensive front did a decent job protecting Flacco, particularly Orlando Brown, Jr. who was tasked with handling the dangerous Cameron Jordan. Jordan never touched Flacco and only contributed two tackles. The Ravens were decent when running north and south against the Saints but runs to the outside were regularly strung out by New Orleans whose defenders are just too fast for the Ravens O-line and tight ends.
* Back to those failed runs wide, it's possible that the Ravens are using those plays to keep opponents honest but to do so on third-and-1 from the Saints 44 when Flacco has been perfect this season on sneaks in similar situations, is simply ill-advised.
* Speaking of ill-advised, Marty Mornhinweg decided to have Lamar Jackson throw a pass when it was third-and-8 from the Saints 19. Really? Jackson is a nice weapon to have when used properly but that was clearly not a time to bring Jackson off the bench. Sure, you want to plant the seed that Jackson is a threat to throw, but how about when it's second-and-six at midfield?
* Mornhinweg had another bad game. He dictated play calling with his personnel groupings, especially when deep in the red zone. Generally speaking, when you gain 5+ yards on first down, you've won the down and it opens your playbook. UNLESS you empty the backfield. Facing a second-and-4 from the Saints 43, the Ravens emptied the backfield. Close the playbook, remove a large measure of doubt. C'mon man! The Ravens offense has potential but Mornhinweg's limitations will prevent them from being a consistent threat.
* The Ravens have struggled to get a running game going. It's beginning to feel a lot like 2013. So, you'd think they'd lighten the load a bit by throwing safe first down passes to win the down. The Saints had the 30th ranked pass defense entering the game and during this contest they showed an extreme inability to protect the intermediate middle of the field. It was there for the taking.
* Many are griping about John Harbaugh not sending Justin Tucker out on the field for a FGA at the 3:30 mark of the fourth. I think it's safe to say that the Inner Harbor end of the field had some difficult winds judging from Tucker's previous attempts. To have him try a 53-54 yarder seemed like a bigger long shot than going for it on fourth-and-6. And I did even read John's analytics report.
* While watching last night's Bengals at Chiefs game, Cris Collinsworth (yes, he annoys me too) shared part of a conversation he had with Andy Reid regarding the KC defense. When Collinsworth questioned the Chiefs rushing defense Reid said (according to Collinsworth), "You don't lose games in the NFL because of a poor run defense." I let that sink in and then I thought of the insignificance of Brandon Williams this season. He just doesn't do enough to warrant his fat paycheck and against the Saints he was regularly knocked around, particularly when it mattered most.
* Speaking of interior defenders, Za'Darius Smith had a great game in Nashville (3 sacks), particularly as an interior rusher. He was not asked to do much of that against the Saints and it left me wondering why. The one time he did rush Brees from inside the tackles, he nearly came up with a strip sack.
* On to another Smith – Jimmy Smith. He had an abysmal game. In his defense, both pass interference call could have gone either way. But those two calls aside, Smith was a liability against the Saints. Let's run down a few of his miscues:
• The first play following the Tucker field goal to put the Ravens up 3-0, defensive coordinator Wink Martindale sent Smith on a corner blitz. Despite being unimpeded, Smith whiffed on Brees and the result was a 10-yard completion.
• On the very next play, Brees hit Michael Thomas over a badly beaten Smith for a gain of 32 yards. Two Smith blunders, shifted the field 42 yards.
• On the very next play, Brees hit Mark Ingram in front of Smith along the left sideline for a gain of 8 yards. Smith's cushiony zone coverage was simply too inviting for Brees. Four plays later Smith was flagged for PI in the end zone setting up the go ahead score.
• At the 0:39 mark of the third quarter Brees hit Tre'Quan Smith for 26 yards to the Ravens 27. Jimmy Smith was a good 10 yards away from the Saints receiver. Three minutes later the Saints closed the gap to 17-14.
• With 6:29 left in the game, the Saints faced a first-and-10 from the Ravens 17. Taysom Hill ran around the left end where Smith was positioned and he did little to disrupt the 11-yard run to the Ravens 6. Two plays later, Smith was easily juked by Thomas who hauled in the go ahead 5-yard scoring toss.
Smith has a $16.175M Cap # in 2019, which is the last yr of his deal. If the Ravens part ways w/ him, they'd save $9.5M in Cap space, while still carrying $6.675M in dead money on the Cap. Needless to say, Smith's play this year will determine if he earns that $9.5M 2019 salary. https://t.co/SX6hPEZJk9

— Brian McFarland (@RavensSalaryCap) October 22, 2018
* C.J. Mosley had 16 tackles, 11 solos, many of which were within 3 yards of the line of scrimmage and a couple tackles helped to stop receivers short of the marker on third down. It was Mosley's best game of the season.
* Tim Williams has shown explosiveness when rushing the passer this season but his snaps are limited. Perhaps too limited. As explained by RSR's Michael Crawford, Williams is now showing signs of being a disrupter in the rush defense. Take a look and then ask yourself this: "Should Williams be handed some of Matt Judon's snaps who has been largely transparent this season?"
Tim Williams' explosiveness & agility showing up vs the run game. Watch him spike inside, forcing the LG & RG to engage him. Creates a pile up in the backfield that results in a 3 yard loss. pic.twitter.com/d0wNuFp1Hk

— michael crawford (@abukari) October 23, 2018
* The Ravens are now on to Charlotte to face the (4-2) Panthers who are (3-0) at home. Currently the Ravens are listed as 1-point road dogs.
My Bold Predictions Revisited
PREDICTION: Brees gets TD passes 500 and 501 moving his seasonal total to 13. However, his outstanding passer rating (122.3) will take a hit. He has yet to have a pass batted at the line of scrimmage this season but that changes on Sunday. He'll have two passes redirected by the Ravens defensive front, one leading to an INT, the first of two during the day for Brees.
RESULT: Two TDs…check; Passer Rating…mild check (114.9 for the game); no tips, no picks.
PREDICTION: The Saints have the NFL's best rushing defense. Alex Collins best effort on the season is 68 yards. You'd think that might spell trouble for the Ravens running game. It won't. On Sunday Collins will double that total thanks in part to two runs of 20+ yards.
RESULT: 11 carries, 38 yards, long run of 9 yards.
PREDICTION: Joe Flacco has a career passer rating of 117.7 against N'awlins and has yet to throw an INT against Who Dat. That won't change on Sunday. He'll throw for 247 yards and a score but his 9-consecutive game streak of 25 completions comes to an end. It will be a clear indicator that things are going well for the Ravens.
RESULT: No picks…check; 279 yards…check; 23 completions…check; things going well…almost.
PREDICTION: Cyrus Jones' homecoming will be a happy one. His longest punt return during his brief career took place last week in Nashville – a 26-yard return. This week he breaks one off for 50+ yards that sets up a Ravens TD. The evening ends with the Ravens in sole possession of first place in the AFC North.
RESULT: 1 return, 8 yards; the Steelers have sole possession of first in the AFC North
PREDICTION: Ravens 27, Saints 23
RESULT: Saints 24, Ravens 23
Suddenly online betting services are sending me unsolicited texts and emails.
M&T Bank Stadium Observations
* The crowd at the stadium was as close to capacity as I've seen for about a full season but admittedly, I don't attend all the games anymore. My eyeball test suggests that attendance may have been a few thousand short of capacity with the help of an unusual number of Saints fans.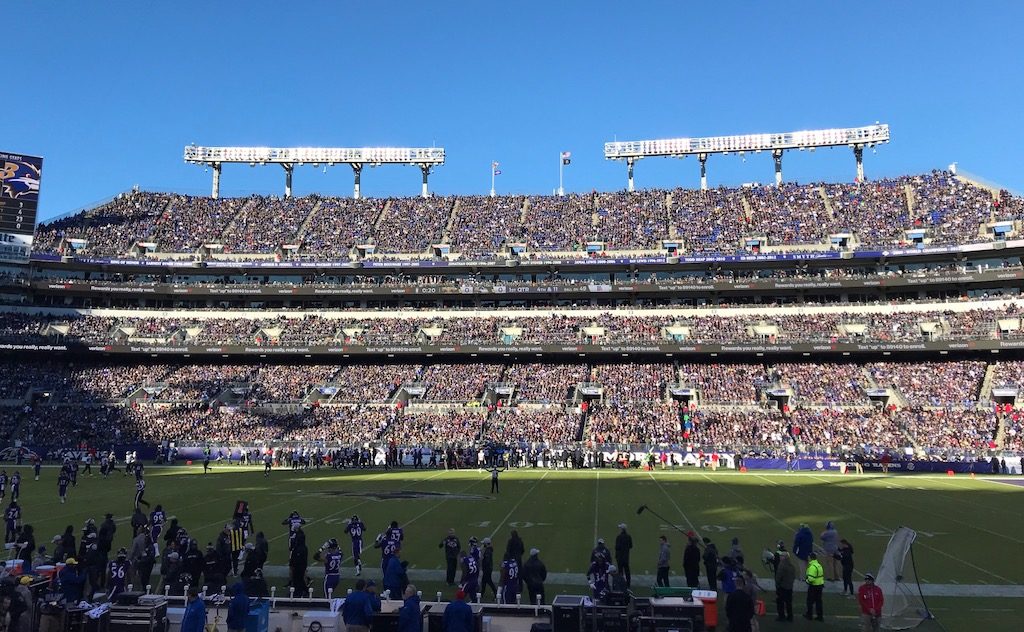 I recall the last time that the Saints visited in 2010. If I notice a couple hundred then, it was a lot. This time around? I say Saints fans were in the thousands. I'm told that the Ravens even reached out to Saints fan groups to make them aware of ticket availability. I don't know if the Ravens sweetened the pot (in the form of favorable group pricing) to lure them to Baltimore, but the effort clearly helped to put black and gold clad fans in purple chairs at The Bank.
* Things aren't the same as they used to be at The Bank, particularly the music. The stadium DJ is clueless when it comes to getting the crowd involved. After a big play or a score, you're as likely to hear Taylor Swift or some other teeny-bop computer-generated bubble gum "music" as you are the standards that once riveted the crowd like Bruce Springsteen or U2 or Blur.
Instead of playing Greta Van Fleet why not play the guys they are trying so hard to imitate. They're called Led Zeppelin.
* It still blows my mind that an exciting game like the Ravens v. Saints, winding down to the end as a one score game, can experience such a sizeable exodus from the stadium. By the middle of the 4th quarter the upper deck was half empty. If that game wasn't going to keep you in your seat until the bitter end, why bother showing up at all?
* I still run into fans who are protesting the Ravens and the NFL in general due to the player protests from 2017. I even ran into a few in the tailgate lots that won't wear Ravens gear anymore yet still attend.
Interesting…
We all are entitled to our opinions on the topic. I respect patriots and their right to boycott games. I just don't understand it. May I respectfully offer my opinion and hopefully open a few minds to a more positive outlook towards the Ravens and the NFL.
I know the Ravens have earned it.
Won't you have a listen?