Close but No Cigar on 3rd Down Stops
Print this article
Game Changers – Week 7
There are plays in every football game that impacts who wins and who loses. They can occur on offense, defense or special teams. Sometimes it's a play everyone sees, like a long touchdown run or pass, a sack, or turnover. Other times it's a play that goes unnoticed. It could be a key block on offense or a defender who doesn't make the tackle himself but executes his assignment, allowing a teammate to make the play.
After watching the coaches' film of the Ravens' 23-24 loss to the Saints, I have to admit I wasn't entirely sure what I wanted to write about this week. I thought about John Brown (7/134/1 TD), Michael Crabtree (5/66 on some big-time contested catches) or C.J. Mosley (16 tackles). I also thought about Justin Tucker's first ever miss on a PAT. But in the end, I thought about Drew Brees and the precision you have to play with on defense to beat him. So instead of focusing exclusively on players this week, I'm going to cover a few plays in the 2nd half and discuss just how close they came to forcing the Saints offense off the field on 3rd down.
Nine-yard pass to Michael Thomas
Q3, 1:24, 3rd & 8 at the NO38
Joe Flacco completed an eight-yard TD pass to TE Mark Andrews on the previous possession, so the Saints were trailing 17-7. On the FOX broadcast, you could hear the crowd going crazy as the Saints lined up in a shotgun 2×2 formation using 21 personnel (2 RBs & 1 TE). RB Mark Ingram was in the backfield, offset to Brees' left, while RB Alvin Kamara lined up in the right slot (#2) inside TE Josh Hill (#1). WRs Tre' Quan Smith (#1) and Michael Thomas (#2) lined up in tight splits on the offense's left side.
The Ravens defense countered with their dime personnel package (six DBs). At the snap, the Ravens sent five rushers and dropped six into coverage. Let's discuss the pass rush first. But before we do that, take a look at the clip and notice how Brees points in the direction of Anthony Levine Sr. and Tony Jefferson. I think he's identifying the blitz and that becomes critical to the outcome of this play.
9 yards to Thomas Q3 3-8 1_24 all22 pic.twitter.com/wTVciriGlv

— michael crawford (@abukari) October 24, 2018
Three of the five rushers are Mosley, Levine and Jefferson. Mosley rushes the left A gap (between C & LG) and Levine rushes the right A gap (between C & RG). Ingram steps up to block Mosley and the C & RG block Levine. This creates a crease for Jefferson to exploit and he's unblocked with a clear path to the QB. Flash back to Brees pointing in the direction of Levine and Jefferson pre-snap. He's aware they might be blitzing. Knowing that before it happens allows him to develop a plan of action if it does happen. It does happen, and Brees is able to scramble left and with Jefferson draped around his waist, get the ball out with just enough on it to reach Thomas who was wide open.
But why was Thomas so open? Let's turn our attention to the coverage. Take a look this screenshot from the 1998 Tampa Bay Buccaneers defensive playbook (courtesy www.footballxos.com). Tony Dungy was the head coach of that team and the late Monte Kiffin was the defensive coordinator. This is an example of how they divided the field into passing zones in their MoF coverages, i.e. one safety in the deep middle area of field (zone), like cover 3. Dungy & Kiffin divided the field into four underneath zones (flat, curl, slot & hook – on both sides of the field) and three deep zones (two deep outside ⅓ zones and one deep middle ⅓ zone). The deep zones would look different in a split field coverage, i.e. two safeties deep, like in cover 2. Each safety would be responsible for a deep ½ zone.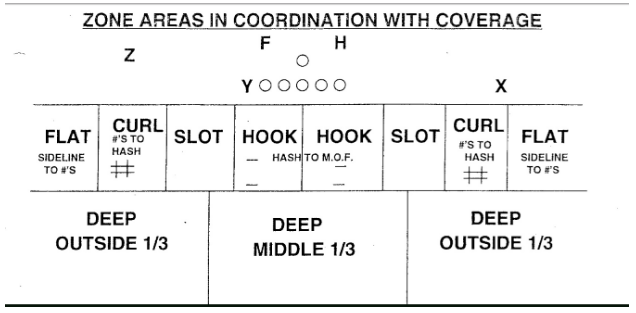 Back to this play. At the snap, this looks like a MoF coverage with three underneath zone defenders and three deep zone defenders. Eric Weddle is dropping to the deep middle ⅓ zone. CBs Jimmy Smith and Brandon Carr appear to be responsible for deep outside ⅓ zones. The inside release and route stem by TE Hill causes Carr to move inside the field numbers but still holds him deep.
OLBs Tim Williams & Terrell Suggs both initially drop to the curl zone, but Suggs follows RB Kamara on his wheel route (out-n-up) up the left side of the field, vacating the curl and flat zones. WR Thomas runs a crossing route from left to right and Brees finds him in the underneath zone vacated by Suggs.
Because Brees was being wrapped by Jefferson as he threw, the ball fluttered a little and Thomas had to come back towards Brees to make the catch. At the catch point, Thomas was still about 5 yards shy of a first down. Carr drives from his deep ⅓ towards Thomas' outside shoulder, Thomas cuts inside Carr and is able to get upfield for the first down before Levine tackles him from behind.
9 yards to Thomas Q3 3-8 1_24 EZ pic.twitter.com/jByL0ojPpZ

— michael crawford (@abukari) October 24, 2018
The design of this play distorted the integrity of the Ravens zone coverage but execution was the key. If the pressure reaches Brees and he isn't able to extend the play, then it's probably a sack or incompletion and the Saints are punting the ball back to the Ravens down 10. Even if Brees still completes the pass but Carr is able to tackle Thomas in the open field at or near the catch point, the Saints are punting (or going for it on fourth down again). But Brees diagnosed the pressure and had a plan for it. Thomas made Carr miss in the open field. Seven plays later, the Saints score a TD and cut the Ravens' lead to 3 points.
10-yard pass to Benjamin Watson
Q4, 10:05, 3rd & 8 at the NOR46
The Saints are trailing 17-14 and attack this 3rd down using 11 personnel (1 RB, 1 TE) from a shotgun 2×2 set. Again the Ravens counter with dime personnel but this time, they rush four and appear to be in a split field coverage (two deep safeties), dropping seven.
10 yards to Watson 3-8 Q4 10_05 EZ pic.twitter.com/xnqBKPCYxZ

— michael crawford (@abukari) October 24, 2018
Za'Darius Smith and Suggs do a nice job collapsing the pocket. Smith bull rushes the Saints' 3rd string LG back towards Brees. Suggs is able to get the RT's shoulders turned, creating a soft edge, and tries to rip under him. While this is solid pressure, the result is an NFL pocket. Not much room, but enough room to hitch up and deliver the ball.
9 yards to Thomas Q3 3-8 1_24 all22 pic.twitter.com/wTVciriGlv

— michael crawford (@abukari) October 24, 2018
In coverage, the key to this play is what happens in the middle and on the right side. Tre'Quan Smith (#1)& Ben Watson (#2) are aligned in tight splits. As Smith releases outside, Carr turns and runs with him. This is an indication of man coverage. Watson is uncovered and releases vertically upfield, just inside the numbers. This is an indication of zone or off-man coverage. More on my coverage uncertainty later.
WR Cameron Meredith was aligned in a tight split in the slot (#2) on the left side and he runs a crossing route from left to right. Mosley and Levine are aligned in the MoF. As the routes distribute, Mosley plays over the top and outside of WR Meredith's crossing route. Levine plays shallower (closer to the line) and appears to be mirroring RB Kamara who releases into an option route from his pre-snap backfield alignment. An option route gives the receiver the "option" to break inside or outside based on the defender's leverage.
Back to Watson's route. He breaks out towards the right sideline at a depth about two yards beyond the first down line. As Brees throws the ball, Jefferson drives from his deep safety alignment but isn't able to beat the ball or dislodge it as Watson makes the catch for a first down. The Saints score another TD nine plays later and take the lead 21-17.
I have to admit I'm not 100% sure what the coverage was here. Carr looked like he was playing man right from the snap on Smith. Mosley & Levine appeared to play zone (maybe pattern-match zone) or could've been playing off man coverage and matching routes as they came their way. Weddle and Jefferson didn't move horizontally at all but did drop back vertically (in a straight line) for about five or six yards. That doesn't sound like cover 2, where the safety's landmarks in the deep ½ are the tops of the field numbers. Their movements looked more like quarters coverage.
Whatever the coverage was, the Saints play design distorted the zones once again. Smith's route lifted Carr and Meredith's route held Mosley closer to the MoF, so the right flat (some coaches teach that the flat extends in depth 16-22 yards downfield) was vacated. Watson ran his out route in that area of the field.
These plays don't illustrate huge, glaring busts in coverage or poor pass rushes. They illustrate how a great play caller and QB can exploit sound defensive schemes that aren't executed with exacting precision. That said, the Ravens defense held the league's top scoring offense in points per game (36 PPG coming into Week 7) 12 points below their average and were a missed extra point away from forcing overtime.
There are no moral victories in football (or any sport) but I come away from this one still encouraged about this year's Ravens team.