Print this article
Last Week: 5-8-1
Overall: 45-52-6 – 46.4%
Week 7 Whiffs
— Paralysis by over-analysis. I tend to do a fair amount of research for my picks and the trends have been very misleading this season. A big example in Week 7 were the Panthers. I initially picked them, but once I dug into it, all the trends and numbers seemed to be pointing towards Philly. So, I picked the Eagles and lost.
— 1 pm games. At one point right before halftime of the 1 pm games, I was winning all but the Jacksonville game (we'll get to them later). That turned quickly and I ended up 1-5 during that timeframe. Luckily the 4 pm games saved some face for me.
— The Jaguars were supposed to be Super Bowl contenders and they have been a shell of that since their win in New England. I thought Vegas was laying a trap for us trying to bait us into picking Houston and then have Jacksonville cover. Then Bad Blake Bortles shows up and starts almost literally handing the ball to the other team.
This week was tough. Going ahead in so many games early, only to lose nearly all of them, stings. I continued my string of picking winners on Thursdays (5-2) and Mondays (5-3), but the early Sunday games killed me in Week 7.
Here are the Week 8 ATS Power Rankings: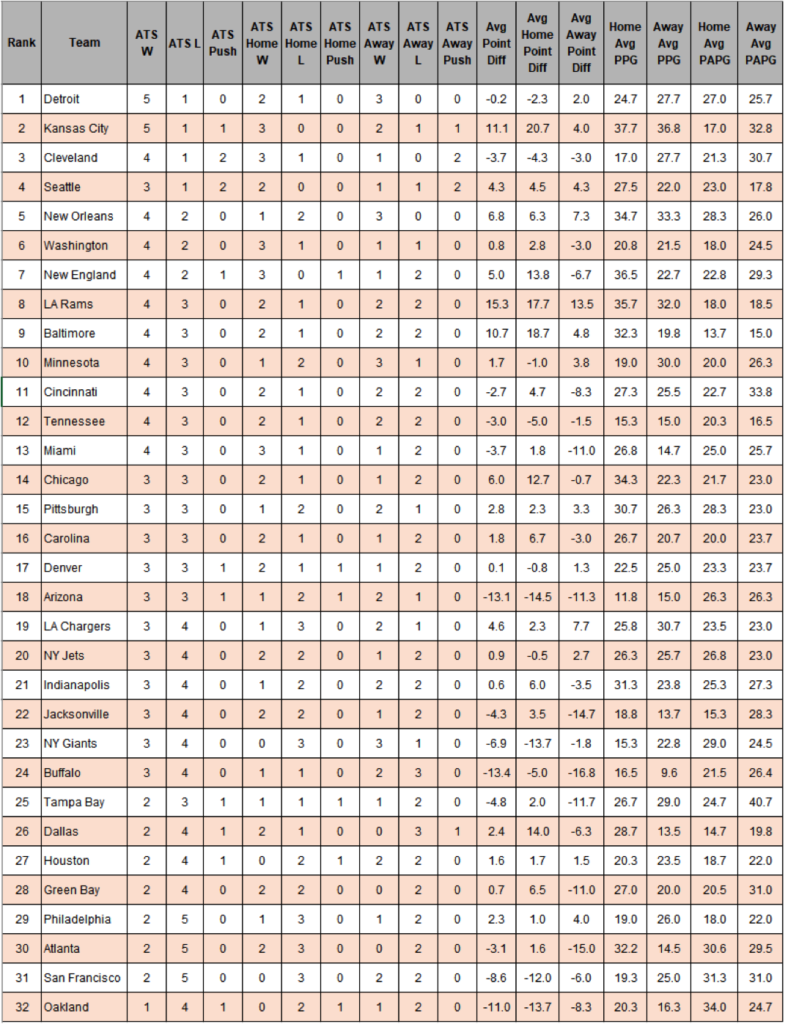 Things have started to normalize the past few weeks. Home underdogs were hitting at over 75% two weeks ago, and that has now come down to 57%. The best bet seems to still be if you can find a home underdog between four and seven points; they are hitting at almost 64% this season.
Disclaimer: Please do not take these picks and expect to make any real money. I enjoy picking games and the discussions they create so feel free to play along. I will provide information for each game, but please make your own decisions and BE RESPONSIBLE!
 Here are my Week 8 picks…
Thursday – 10/25/18
Miami Dolphins vs. Houston Texans (-7.5, o/u 44.5)
Houston is hot, having won four in a row, and get a gift of a Thursday night home game to go for number five against a banged-up Dolphins team that will be without quarterback Ryan Tannehill and wideouts Albert Wilson and Kenny Stills.
The Dolphins have gone 7-13 ATS in their last 20 road games with an average point differential of -9.4. The Texans are 8-10-2 ATS in their last 20 home games and 0-4-1 in their last five, but with the injuries mounting for the Fins, Houston should win this one easily.
My Pick: Houston -7.5
Sunday – 10/28/18
Philadelphia Eagles vs. Jacksonville Jaguars (+3.5, o/u 42.0)
Both teams are coming off tough Week 7 losses, have not played good football as of late, and desperately need a win here. This game really comes down to who you think can right the ship.
Regardless of who the quarterback is for Jacksonville this week, I think they'll have their hands full with the Eagles on both sides of the ball. Couple that with what seems like a locker room in turmoil and you have the makings of a bad Sunday.
Philly is 6-1 straight up in their last seven after a loss. The Jags are 9-3 ATS in their last 12 as underdogs. Both teams are 5-5 ATS in their last 10.
If you consider this as a road contest for both teams, Philly's average road point differential in their last 10 sits at 5.0 whereas Jacksonville's sits at -9.0. My money is on the Flying Papales.
My Pick: Philadelphia -3.5
Seattle Seahawks vs. Detroit Lions (-3.0, o/u 49.5)
This is a matchup between two of the top four teams ATS this season. Both enter this week with only one loss and Detroit has won five in a row ATS. Coming off their bye week, Seattle should be able to keep this game interesting down to the wire.
Seattle is 8-9-3 ATS on the road since 2016 with an average point differential of 0.9 points. The Lions over the same span are 11-8 ATS with an average point differential of 2.4 points. Look for this to be a close game that could honestly go one way or the other. I'm sticking with my gut this week…
My Pick: Seattle +3.0
Washington Redskins vs. New York Giants (+1.0, o/u 42.0)
This spread scares me. Washington has played well this season and the Giants have not, but Vegas only has the Giants as one-point dogs on Sunday. Normally, that would make me lean towards the Giants here, but this year has been anything but ordinary in terms of picking games.
I'm going to side with the better team here and that's Washington. Their defense is allowing less than 20 points per game over their last 10 and that should leave plenty of room for Alex Smith and co. to steal a division game on the road here.
Over their last 10 games, Washington is 6-4 ATS with an average road point differential of -7.8 and the Giants haven't fared much better with a 5-5 record ATS with an average home point differential of -7.6. I think this will be a low-scoring affair with this Skins coming out on top.
My Pick: Washington -1.0
Denver Broncos vs. Kansas City Chiefs (-10.0, o/u 55.0)
After four straight losses, and in a potential trap game last week for Denver against Arizona, they came out swinging and smoked the Cardinals. The Chiefs did the same to Cincinnati as both teams cruised to 45-10 Week 7 wins.
Some places have Kansas City at a perfect 7-0 ATS this year. I have them at 5-1-1 since my spreads are as of Wednesday each week, but regardless, they have been making people money. I bring that up because their only loss that I have for them was against this Broncos team back in Week 4 in Denver. Before that game, the Chiefs had won five in a row ATS against the Broncos dating back to 2015.
I'd personally stay away from this game because although Denver is 4-14-1 ATS in their last 19 and Kansas City is 6-1 in their last seven ATS at home, the spread reflects those numbers. This is a divisional, rivalry game, and one that is normally close. That being said, 10 points is too much to give here and the Broncos cover.
My Pick: Denver +10.0
Baltimore Ravens vs. Carolina Panthers (+2.0, o/u 43.0)
If you had asked me before last week what I thought would happen in this game, I would have told you the Panthers would win. After the missed extra point heard round the world, I've changed my mind. The Ravens need a win here before facing Pittsburgh and Cincinnati in their next two games at home. Their defense should be able to neutralize Cam Newton and smother the Panthers offense.
The trends don't really point you in any direction as Carolina is 8-0 straight up and 6-2 ATS in their last eight games at home winning by an average of eight points. Baltimore, on the other hand, is 6-0 straight up and ATS in their last six games following a loss and 5-2 ATS in their last seven on the road.
I'll take the more desperate team in this situation, especially coming off a loss. Baltimore will win and cover.
My Pick: Baltimore -2.0
Cleveland Browns vs. Pittsburgh Steelers (-8.0, o/u 51.0)
My most hated matchup returns in Week 8. After a shaky start to the season including a Week 1 tie against Cleveland, Pittsburgh has seemingly started to turn the corner. It's hard to say a divisional game is a trap game, but this one could be it with Pittsburgh traveling to Baltimore in Week 9.
Cleveland has won the last three matchups ATS and are at 5-3-2 ATS in their last 10 with an average road point differential of -6 points. Pittsburgh is 4-6 ATS in their last 10 with an average home point differential of just 0.8 points.
These games are normally close and, just like the Denver game, eight points is a lot in a divisional matchup. I'm picking Cleveland to cover.
My Pick: Cleveland +8.0
New York Jets vs. Chicago Bears (-7.0, o/u 45.5)
Last week, I had the Jets and Bears pulling off potential upsets. I was a bit off on that one. The Bears nearly took down the Patriots, but the Jets got their doors blown off at home.
Like many teams in the NFL, the Jets go as their quarterback goes. In Week 7, rookie Sam Darnold threw three picks and for only 206 yards. I don't see those numbers improving against a decent Bears defense.
Chicago is 10-4-2 ATS in their last 16 home games and the Jets are 2-5-1 ATS in their last seven on the road.
My Pick: Chicago -7.0
Tampa Bay Buccaneers vs. Cincinnati Bengals (-4.5, o/u 54.5)
Cincinnati got called on for Sunday night football and were embarrassed. I can't read this team as they've needed several late game comebacks to win games, but have now lost two straight. This game should be a shootout as neither team has been able to stop anyone this season. I see Cincinnati putting up big numbers this week and covering the 4.5 points.
Weird stats of the week: The Bengals are 6-1 ATS in their last seven games at home after failing to cover their last home game and 4-1 in their last five games before a bye. Cincy also has a 0.9 average home point differential in their last 10 home games.
The Buccaneers are 5-2 ATS in their last seven as underdogs and have an average point differential of -7.6 in their last 10 road games.
My Pick: Cincinnati -4.5
Indianapolis Colts vs. Oakland Raiders (+3.0, o/u 50.0)
The Raiders are being deconstructed by Jon Gruden right before our eyes. They've traded away arguably the best defensive player in the NFL and this week they let go of their top wideout in Amari Cooper. Things will get worse before they get better in Oaklavegas.
On the other side of the ball, the Colts have been trending in the opposite direction. Their offense has had at least three touchdowns and 375 passing yards in four straight games. Their ground game has also gotten going with Marlon Mack rushing for over 100 yards last week.
All of this should point to an easy Indy cover in Week 8.
Oaklavegas is 2-6-2 ATS in their last 10 games and the Colts are 5-5 ATS.
My Pick: Indianapolis -3.0
Green Bay Packers vs. Los Angeles Rams (-9.0, o/u 57.0)
In their two road games this season (at Detroit and at Washington), Green Bay has an average point differential of -11.0. On the flip side, the Rams have an average point differential of 17.7 in their three home games (Minnesota, LA Chargers, and Arizona). Those numbers don't bode well for Aaron Rodgers against a Rams team that has proved almost impossible to stop so far this season.
The Pack are 7-3 straight up and 6-2-2 ATS in their last 10 games after the bye. The Rams are 5-5 ATS in their last 10 home games.
My Pick: Los Angeles -9.0
San Francisco 49ers vs. Arizona Cardinals (PICK, o/u 43.0)
The Cardinals have won the last five meetings between these two division rivals, but I don't see that playing out this week in a game nobody will really care about. Arizona's defense ranks last or next to last in scoring, passing yards, rushing yards, and yards per play. That doesn't stack up well against San Francisco's second ranked rush offense.
San Francisco is 5-2 ATS in their last seven road games, but Arizona is 4-2 in their last six at home so both teams have been strong in that respect.
My Pick: San Francisco PICK
New Orleans Saints vs. Minnesota Vikings (PICK, o/u 52.5)
New Orleans returns to the site of the Minneapolis Miracle and will get some revenge in Week 8. On paper, the Saints have the better team, especially with the Vikings defense not being nearly as dominant as last year. However, neither team has shown the ability to consistently stop opposing teams so expect a shootout and whoever has the ball last may win this one.
Minnesota is 8-2 straight up and 5-5 ATS in their last 10 at home with an average point differential of 7.3. New Orleans is 6-4 straight up and 7-3 ATS in their last 10 on the road with an average point differential of 6.7. Needless to say this game should be close and fun to watch and should also go over the total.
My Pick: New Orleans PICK
Monday – 10/29/18
New England Patriots vs. Buffalo Bills (+14.0, o/u 44.5)
Here is another game I'll be staying away from this week. I hate spreads this large, especially in divisional games. I think it's safe to say the Patriots should win this game, so then it comes down to, by how much?
Everything points to a dominant New England win as Derek Anderson remains the starter in Buffalo and their only credible offense weapon in LeSean McCoy is currently in concussion protocol. 14 points is just an awful lot to give in a division game and I have a hunch that Buffalo will cover here.
In the last 10 years, this matchup has seen double digit spreads six times (all in favor of New England). The Bills are 4-2 ATS in those games. Buffalo is also 5-5 ATS in their last 10 games and 5-4-1 in their last 10 at home. New England is 5-4-1 ATS in their last 10 overall and on the road.
My Pick: Buffalo +14.0
I'm going to go with 5 again this week, all favorites, but I like these matchups:
Houston -7.5
Cincinnati -4.5
Indianapolis -3.0
Washington -1.0
Baltimore -2.0
Good luck to everyone this week! Check out GridIron Gold for your online betting needs.