Print this article
Last Week: 8-6
Overall: 53-58-6 – 47.7%
Week 8 Whiffs
— Our beloved Ravens. A team that is normally able to bounce back from tough losses like the one against the Saints, but what a colossal letdown in Carolina. Nothing worked, and the future of Harbaugh and Flacco may be on the line in the next two home games against Pittsburgh and Cincinnati.
— The 49ers went up 15-3 early in the 4th quarter against the Cardinals with Arizona showing no life on offense. Then San Fran proceeded to give up 15 points and lose 18-15. Don't ever trust bad teams.
— My least favorite matchup: Cleveland vs. Pittsburgh. Here's the best piece of betting advice you'll ever read on this piece. Whoever I pick in that matchup, go the other way…then invite me out on your yacht.
A solid start to the week, going 6-3 up until the 4 pm games on Sunday. A 2-3 mark in the late games brought me back down to Earth, but I can't complain with 8-6.
Here are the Week 9 ATS Power Rankings: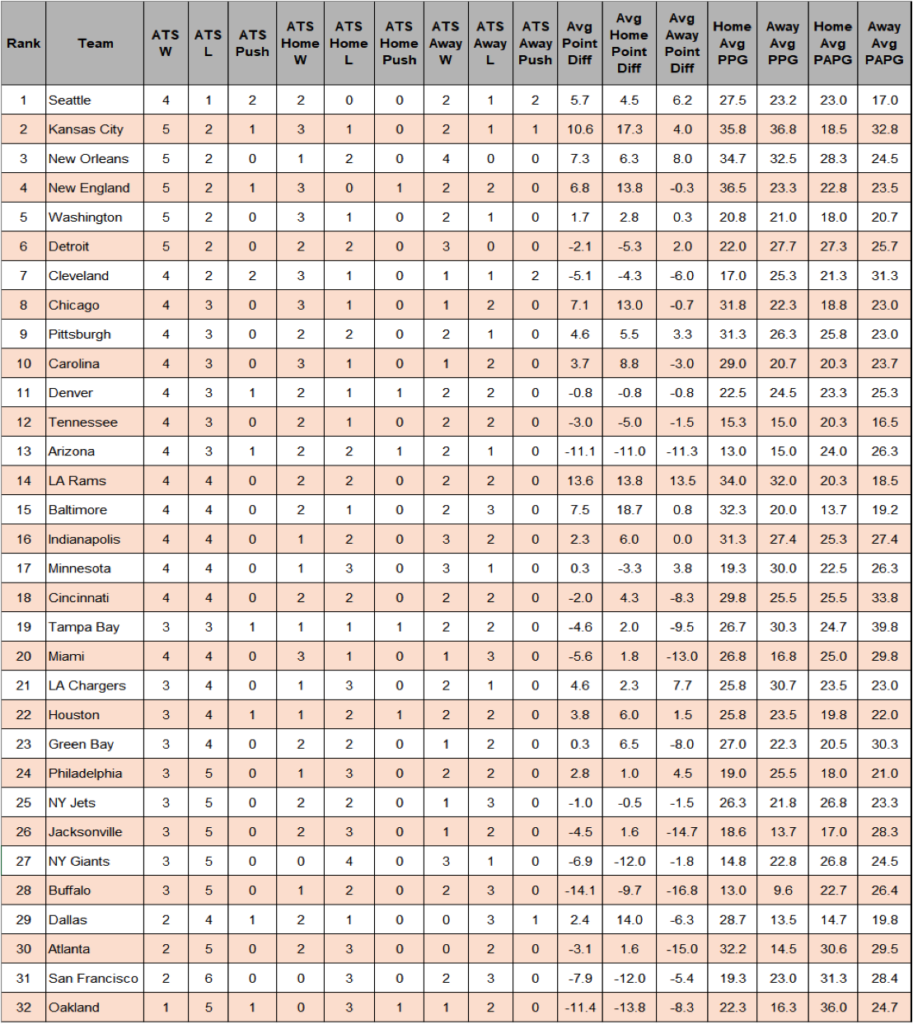 Halfway through the season and most of these numbers have come back close to 50%. The lone spot where you would be making some money with a large enough sample size would be home favorites of more than 7 points. They seem to be struggling to cover so far this year so we'll have to keep an eye on whether or not that continues.
Disclaimer: Please do not take these picks and expect to make any real money. I enjoy picking games and the discussions they create so feel free to play along. I will provide information for each game, but please make your own decisions and BE RESPONSIBLE!
Here are my Week 9 picks…
Thursday – 11/1/18
Oakland Raiders vs. San Francisco 49ers (-3.0, o/u 46.0)
At a combined 2-13, the ratings should be off the chart bad for this game. The Raiders have been awful this season and have traded away arguably their best two players. The Niners on the other hand haven't been much better and have lost six straight even though they've been competitive in a few of those games. There's nothing about this game that would push me definitively in one direction or another so I'm going to have to go with the perceived (I think) better quarterback in Derek Carr to cover the 3 points.
The 49ers are 1-14 ATS in their last 15 games as favorites. Oakland is 1-4 ATS in their last 5 overall and 2-7-1 ATS in their last 10 on the road.
My Pick: Oakland +3.0
Sunday – 11/4/18
Pittsburgh Steelers vs. Baltimore Ravens (-3.0, o/u 47.0)
The Ravens are in desperation mode as they try to keep pace with the top of the AFC North. A loss here could potentially put their season in a tailspin and seal the fate of Flacco and Harbaugh. A win and they head into their bye with confidence that we hope can snowball.
After Baltimore dismantled Pittsburgh in Week 4, the Steelers have reeled off three straight wins and have covered in each of those games. Their offense is starting to click and are catching Baltimore at a good time.
Without seeing the injury report, this one is tough for me. If Humphrey, Lewis, Hurst, and potentially Stanley are out, I would lean hard toward Pittsburgh. If any or all those players return this week, it would make me consider taking the Ravens here, but it's worth taking the 3 points in a series that normally comes down to the wire.
In the past 10 seasons, favorites of 3 points or less are 4-7-3 ATS in this series. Pittsburgh is 6-4 ATS in their last 10 in Baltimore and 6-4 ATS in their last 10 on the road overall. Baltimore is 4-5-1 ATS in their last 10 at home.
My Pick: Pittsburgh +3.0
Detroit Lions vs. Minnesota Vikings (-5.0, o/u 49.0)
Both of these teams like to air it out and this game should get close to that total of 49. The Vikings fall into my "good teams coming off of losses" bucket, which I like to pounce on as much as possible. As much as I don't like giving 5 points in a divisional game, I think the Vikings will be able to bounce back this week and cover against Detroit.
Minnesota has been a strange team this year. They're performing better offensively on the road (19.3 ppg at home vs. 30.0 ppg on the road) and are only 1-3 ATS at U.S. Bank Stadium. Detroit is 3-0 ATS on the road this season.
The Vikings are also 8-1 straight up and ATS in their last 9 games heading into their bye week and Detroit is 4-7-2 ATS in their last 13 games in Minnesota.
My Pick: Minnesota -5.0
Atlanta Falcons vs. Washington Redskins (-1.5, o/u 47.0)
The Falcons have been decimated by injuries and the Skins should be able to take advantage of their banged up secondary. Atlanta should be able to keep it close, but I don't see them being able to pull off a win on the road against a better than expected Washington team.
Washington is 6-1 straight up and ATS in their last 7 home games. The Falcons are 2-8 ATS in their last 10 on the road.
My Pick: Washington -1.5
Tampa Bay Buccaneers vs. Carolina Panthers (-7.0, o/u 54.5)
Carolina dominated Baltimore last week and get a Fitzpatrick-led Buccaneers team at home in Week 9. The spread here reflects what we saw last week, and I believe rightfully so. The Panthers dismantled Baltimore's top ranked defense and should have no problem with Tampa Bay this week.
The Panthers are 9-0 in their last 9 at home winning by an average of 8.78 points, but are 1-4 ATS in their last 5 against divisional opponents. Tampa Bay is 3-1 ATS this season with Fitzpatrick at the helm.
My Pick: Carolina -7.0
Kansas City Chiefs vs. Cleveland Browns (+9.0, o/u 51.5)
With Hue Jackson and Todd Haley out, this will be a transition week for Cleveland, and a rough one at that. Kansas City is averaging 36.8 points per game on the road and should be able to hold down a depleted Cleveland wideout corps enough to cover the 9 points in this one.
The Chiefs are 10-4 ATS in their last 14 games following an ATS loss. Both teams have fared well this season ATS as the Chiefs are 5-2-1 and the Browns are 4-2-2.
My Pick: Kansas City -9.0
New York Jets vs. Miami Dolphins (-3.0, o/u 45.0)
I don't have a good feeling on this one and will be staying away. I wouldn't be surprised with either outcome here so I'm just going to have to go with my gut. If you've followed along at all, I despise picking the Dolphins and I'm going to continue that this week and go with the J-E-T-S JETS JETS JETS.
The Jets are 14-4-1 ATS in their last 19 games on the road against the Dolphins. Miami is 6-2 ATS in their last 8 following consecutive ATS losses.
My Pick: New York Jets +3.0
Chicago Bears vs. Buffalo Bills (+10.0, o/u 37.0)
A big welcome back to every bettor's favorite player, Nathan Peterman!!
The Bills have announced that Peterman will be starting this week and he's getting fed right to the Bears (sorry, I couldn't resist). Chicago is averaging 22.3 points per game on the road while the Bills are only averaging 13.0 at home. The low total here coupled with the large spread scares me a bit, but I'm still going to go with Chicago covering and Buffalo being lucky to get to 10 points.
Buffalo is 1-4 straight up and ATS in their last 5 games as home underdogs. Chicago is 6-3 ATS in their last 9 games.
My Pick: Chicago -10.0
Los Angeles Chargers vs. Seattle Seahawks (-1.5, o/u 48.0)
This is a prove-it game for both teams. I believe this game will tell us a lot about where these teams will be headed in the second half of the season. Both have been putting up points this season as the Chargers are averaging 30.7 on the road and the Seahawks are averaging 27.5 at home. I look for this game to go over the total, but I would stay away from the spread. If I had to pick, I'd lean Chargers.
The Chargers are 2-5 straight up and ATS in their last 7 games following the bye week, but 5-2 ATS in their last 7 on the road. Seattle is 4-1 ATS in their last 5 games.
My Pick: Los Angeles Chargers +1.5
Houston Texans vs. Denver Broncos (PICK, o/u 46.0)
Houston opened as underdogs in this matchup, but it quickly moved to a pick-em game. The Texans are rolling after five straight wins and sit at the top of the AFC South. Denver, on the other hand, has lost five of their last six.
The loss of Will Fuller will hurt the Texans going forward as he was the one player on their roster who could blow the top off defenses and open things up for DeAndre Hopkins. I see this being a close, low-scoring game that should go under the total.
Houston is 6-1 ATS in their last 7 games heading into a bye, but 3-10 ATS in their last 13 overall. Denver is 1-3-1 ATS in it's last 5 home games and 5-14-1 ATS in their last 20 overall.
My Pick: Houston PICK
Los Angeles Rams vs. New Orleans Saints (-1.5, o/u 59.5)
Easily the game to watch in Week 9. Arguably two of the top three teams in the NFL will matchup in what Vegas thinks will be a high-scoring game. I'm not sure the game goes quite that high and will consider playing the under here, but these teams will almost certainly put on a show.
The Rams are averaging 32.0 points on the road whereas the Saints are averaging 34.7 points at home. LA should be able to utilize Todd Gurley to control time of possession and keep Drew Brees off the field, which in my opinion is what will lead to the under. Ultimately, I just can't see myself picking against the best team so far in the NFL as an underdog in this spot.
LA is 11-1 straight up in their last 12 road games winning by an average margin of 14.5 points however they are 1-3-1 ATS in their last 5. The Saints are 5-0 ATS in their last 5, but only 2-4 ATS in their last 6 at home.
My Pick: Los Angeles Rams +1.5
Green Bay Packers vs. New England Patriots (-6.0, o/u 56.5)
Something just doesn't seem quite right in Green Bay. Was it just Ty Montgomery (welcome by the way) being insubordinate or are there deeper problems inside that locker room? It's hard to say, but at 3-3-1, this is not a good time for the Pack to be traveling to her majesty's castle. I think this will be a high scoring game that will approach that total, but the Pats will cover the 6 points at the end of the day.
Green Bay is 3-7 ATS in their last 10 and 1-4 ATS in their last 5 on the road. The Pats are 4-1 ATS in their last 5 overall and 9-3 ATS in their last 12 at home.
My Pick: New England -6.0
Monday – 11/5/18
Tennessee Titans vs. Dallas Cowboys (-6.5, o/u 41.0)
Both teams are coming off of their bye weeks and should be well rested. In the past week, the Cowboys have bolstered their passing attack by adding Amari Cooper from the Oaklavegas Raiders. Dallas also boasts the third-ranked overall defense which will spell trouble for a Titans team that is only averaging 15 points per game away from home this season. I look for Dallas to dominate this matchup and cover the 6.5 points.
Tennessee is 4-2 ATS in their last 6 games and 5-5 ATS in their last 10 on the road scoring an average of 16.3 points. Dallas is 4-6 ATS in their last 10 at home scoring an average of 24 points.
My Pick: Dallas -6.5
I went 3-2 last week on my 5 picks after adding Baltimore late (whoops). This week, I don't like a ton of games, spread wise, but here are a few that I'll be scattering a few dollars on:
Houston PICK
Washington -1.5
Kansas City -9.0
Good luck to everyone this week! Check out GridIron Gold for your online betting needs.