Ravens Season on The Brink
Print this article
Looking For The Silver Lining
Prior to the Ravens v. Steelers game on Sunday, the networks devoted time to discuss John Harbaugh's job security or lack thereof. Ian Rapoport even went so far to say that Harbaugh could be let go before the end of the season. I'm not buying it. And now even Rapoport is back-peddling.
From @gmfb: What's next for the #Ravens and John Harbaugh… along with a #Steelers RB Le'Veon Bell update. pic.twitter.com/xN2t8j3vsj

— Ian Rapoport (@RapSheet) November 5, 2018
The Ravens are a class organization and after nearly 11 seasons of dedicated service, it would be out of character for team owner Steve Bisciotti to fire his skipper with 7 games still on the schedule. If there was a potential head coaching candidate on Harbaugh's staff (the closest being Greg Roman), maybe they might move on from Harbaugh and name an interim HC.
But that's not the case in Baltimore.
The only way that Harbaugh would be relieved of his duties is if he refuses to play the young players after the Ravens are mathematically eliminated. The moment Harbaugh's squad registers its 7th loss, Lamar Jackson should be named the starter. The Ravens will have to determine if they can compete with Jackson in 2019 or bring back Joe Flacco for his 12th campaign in Baltimore.
We've seen enough of the mediocrity. We've seen enough of the inconsistencies. We've seen enough of the Ravens obsolete offense engineered by tired football minds. We've seen enough of an overrated defense that gets carved up by quality quarterbacks the way a sushi chef slices yellow tail tuna.
Still No. 1?
Believe it or not, the Ravens defense is still ranked number 1, yielding 305 yards per game ("YPG") and they're ranked second in scoring, yielding 17.8 points per game ("PPG"). But they can thank the Bills and Titans for that given their anemic performances against the Ravens. When facing quality quarterbacks, the numbers and results change – dramatically.
Since the fourth quarter of their game against the Saints, the Ravens have given up 955 yards of offense and 76 points in 9 quarters. Projected out over 3 full games, that works out to 424.4 YPG and 33.8 PPG. And since their visit to Nashville the Ravens have registered just 2 sacks (1 v. Steelers that was a gift from Ben Roethlisberger to keep the clock running) and zero turnovers.
Adding insult to injury, Roethlisberger didn't even play well yesterday yet the Steelers still managed to control the clock 36:29 to 23:31 thanks to 20 more plays than the Ravens and their ability to sustain drives, converting 10 of 16 third downs including six second-half conversions and 1-for-1 on fourth down attempts. How much longer do we have to watch the Ravens defense cave in during crucial moments to understand that things need to change?
"I've never been someone who's worried about keeping a job. It's always been, for me, [about] doing the job. I've got a bunch of great coaches and a bunch of great players that bust their tails every day to do the best job they can. I feel real good about the way this team has been coached for the last 11 years, and for the last number of weeks we've been in the season. So, there are no regrets. Never been any regrets here with me. We'll keep fighting, and that's what we do." ~ John Harbaugh
There's little doubt that the Ravens will keep fighting. Effort has never been an issue for Harbaugh's teams. Execution has been an issue. Who among you actually thinks that the Ravens defense has a shot, on the road, against Patrick Mahomes or Philip Rivers?
Let's face it, the immediate future is not bright but there's a lot of season to go and a lot of teaching moments ahead for the Ravens younger players. Hopefully the Ravens will use the time wisely, but what's best for the team conflicts with what might be best for a coaching staff hanging by a thread. If nothing else the resulting drama will be interesting to observe.
Speaking of which, here are a few other observations from Sunday's disappointing outcome…
Observations From the Cheap Seats
Joe Flacco reverted to some bad old habits, throwing off his back foot leading to several balls being thrown short. He short-hopped each of his primary targets, John Brown, Michael Crabtree and Willie Snead. He threw short on a 9-route down the right sideline to Brown and on a couple of throws into the end zone intended for Mark Andrews. He also short-armed a throw to Crabtree in the end zone that should have been an easy score. Flacco also locked in on receivers and completely ignored a wide-open Jackson for another easy score. 
#Ravens Lamar Jackson being this wide open for a touchdown and completely missed by Flacco will be fun in the film session. 🤦‍♂️ pic.twitter.com/FWoFm8xo2D

— Charles Robinson (@CharlesRobinson) November 4, 2018
During earlier games this season, Flacco used cadence as a weapon to keep opposing defenses off balance. Not against the Steelers, and the patchwork offensive line could have used the help. That said, given the twitchiness of Jermaine Eluemunor and Alex Lewis, the altered cadence probably would have worked against the Ravens. How pathetic is that if true?
The Ravens offensive line was a sieve, particularly Messrs. Eluemunor, Lewis and Matt Skura. Even Marshal Yanda was schooled for a sack by Steelers DT Stephon Tuitt. At times Skura moved like his feet were tied together. Collectively they were a train wreck and the poor effort probably contributed to Flacco's jitteriness and lack of accuracy. Eluemunor and Skura holding onto the shirt tails of players that blew by them was somewhat comical yet simultaneously sad.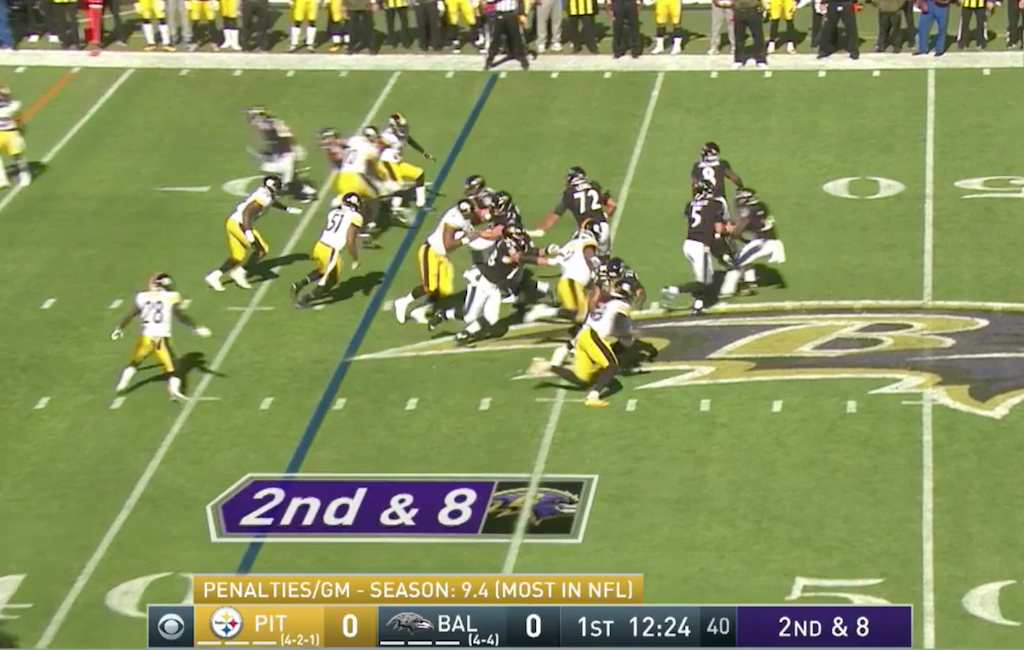 Generally speaking, when pressured Flacco gets rattled and predetermines where he's going with the ball prior to the snap. Opposing defenses bait him with pre-snap looks that provide false illusions of success. And even when staring at failure, he goes with the play anyway. It's tiring and disappointing for a very experienced 11-year vet. The Ravens lack a quick passing game and their execution of screen plays looks like an electric football game.
Clock management remains an issue. With about 3 1/2 minutes left in the game the Ravens had 3 timeouts in their pocket but Harbaugh hung on to them like he was saving them for a Secret Santa gift exchange. Two runs later the game was at the 2-minute mark…The Ravens lack a sense of urgency. For years Joe Flacco has performed better when running a no-huddle offense. On Sunday, like they've done so often, the Ravens lacked tempo when time wasn't on their side. As experienced as Flacco is, he needs to take control. Tempo starts with him and unfortunately it resembles rush hour traffic on a rainy day along I-695.
Mark Andrews is a beast, one that should be fed regularly. He moves well in space and he's a huge target. The Ravens got him in iso situations but poorly placed throws by Flacco took away the extreme height advantage during the mismatches…Chris Moore made a terrific catch on Flacco's best pass of the day – a 30-yarder down the left hashmark over and in front of a few defenders. Moore is underutilized at WR…
After 9 games, Lamar Jackson's role in the offense still feels forced particularly when he doesn't seem to be a threat in the passing game. He has unique talents. Unfortunately, he's saddled with a coaching staff that is incapable of unleashing them. His bad exchange with Gus Edwards needs to be cleaned up. That fumble looked like the result of an insufficient number of practice reps between Jackson and Edwards…It's pretty clear that the Ravens will be in the market for a running back. Edwards and Buck Allen lack explosiveness and Alex Collins just seems to waste a lot of energy with unproductive movements.
Despite the sloppy effort, the Ravens had a chance to win the game but right on cue, Wink Martindale's unit failed again. Down 20-13 with 12:39 left in the fourth quarter, Roethlisberger left the game with an injured shoulder, on the heels of some dramatic flopping that would make World Cup participants proud. Coming off the bench cold was backup QB Joshua Dobbs to face a second-and-20 from the Steelers 5.
Dobbs immediately connected with Juju Smith-Schuster for a 22-yard gain. Weddle was in the area but had his back to Dobbs and was unable to make a play on the ball. Not only is Weddle no longer an effective defender, he's become a liability. This play was a perfect case-in-point. But Weddle won't be bumped aside. He wears the green dot and is considered a team leader. Sticking with Weddle over Chuck Clark is a byproduct of Harbaugh's loyalty – the same loyalty that keeps him attached to ineffective coaching assistants.
Whenever they needed it, the Steelers relied on a crosser or slant to convert a challenging third down. The Ravens never adjusted. That said, there were a few solid defensive efforts from the Ravens on Sunday. Matt Judon played well. He had a few pressures, a sack and a batted pass…Za'Darius Smith hustled all over the field and was explosive at times…Jimmy Smith has struggled since his return from a 4-game suspension but Sunday was a bounce-back game for him. He supported the run well, knocked away two passes and he was in position to make a play most of the afternoon…Except for a missed tackle on Antonio Brown, Tavon Young competed well throughout the afternoon. Hopefully he'll be able to bounce back from his ankle injury following the bye week.
The Ravens pass rush has disappeared. Not only are they not disrupting quarterbacks, there are times when opposing QBs could order a pizza as they wait for receivers to clear…Terrell Suggs looks tired and uninterested. Late season fades are the norm for Suggs and it looks like 2018 will be no different…Brandon Williams spent a lot of time on the ground in unproductive ways. He's been a disappointment all season…Michael Pierce continues to outplay Williams but what is Martindale thinking dropping the 350-pounder into coverage?…Brandon Carr was faked out of his jock by a plodding tight end. It resulted in a 51-yard gain by Jesse James who was so open he got away with an elongated juggle before completing the possession.
Those Bold But Off-Base Predictions
Obviously, I suck at the prediction business but since I started this a few weeks ago, I'll keep reminding you how bad I am at this. Feel free to take shots. I've earned them.
PREDICTION: Ben Roethlisberger's final stat line will read: 31 of 44, 310 yards, 2 TDs and a passer rating of 105.3.
RESULT: 28 of 47, 270 yards, 2 TDs and a passer rating of 89.8
PREDICTION: With so much attention directed towards Antonio Brown, Juju Smith-Schuster posts a big day with 8 catches for 125 yards and a score. Jesse James will haul in the other TD pass from Roethlisberger from 12 yards out.
RESULT: Juju posted 7 catches for 78 yards and did not score. James didn't score a TD but he was involved in the longest play from scrimmage.
PREDICTION: James Connor will cap the Steelers scoring with a TD run although he'll find the host defense to be anything but hospitable. Connor will rush 20 times for just 58 yards.
RESULT: Connor got his touchdown through the air from 7 yards out and he rushed 24 times for 107 yards.
PREDICTION: Joe Flacco's passer rating will eclipse his November average of 90.4 while the Ravens running game will average less than 3 YPC.
RESULT: Joe registered a 77.1 passer rating while Ravens backs averaged 3.8 YPC
PREDICTION: The Steelers will successfully rub out John Brown but that will open things up for Willie Snead who will post a stat line of 8 catches for 110 yards.
RESULT: Brown posted 3 catches for 15 yards while Snead had 7 grabs for 58 yards.
PREDICTION: Twenty penalties will be accepted in total, the last of which will be a DPI against Jimmy Smith inside the Ravens 20 to set up a game winning score for Pittsburgh.
RESULT: 13 penalties were accepted. 
PREDICTION: Steelers 27 Ravens 24
RESULT: Steelers 23 Ravens 16