Print this article
Last Week: 8-5
Overall: 61-63-6 – 49.2%
Week 9 Whiffs
— Big D let me down. I had a shot at getting back to .500 for the season and things looked good early, but Dallas missed a field goal and turned the ball over twice that gave momentum to Tennessee and they ran with it.
— I really had no idea who to pick in the Oaklavegas/San Francisco game so I figured I would take the better quarterback. Who would have thought the better quarterback would have been a rookie first-time starter, not Derek Carr?
— In today's NFL, anything can happen and you shouldn't be surprised by it. For instance, a 3-4 Atlanta team, going on the road to a 5-2 Redskins team that had been rolling. Why wouldn't Atlanta lay the hammer down in that situation?
Back-to-back solid weeks have me close to 50% again, but in the betting world, you need to be closer to 55% to make a profit. Vegas as a whole took a big loss last week as the public made a killing across the board.
There are some massive spreads this week so where the money goes should be interesting to watch.
Here are the Week 10 ATS Power Rankings: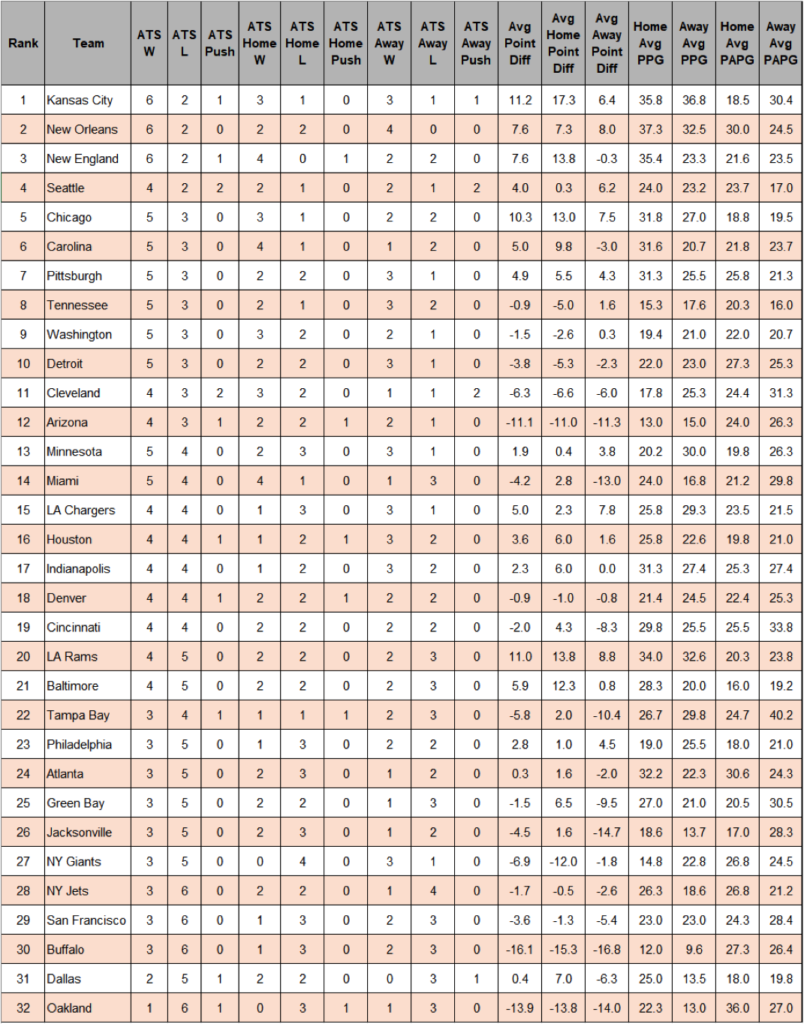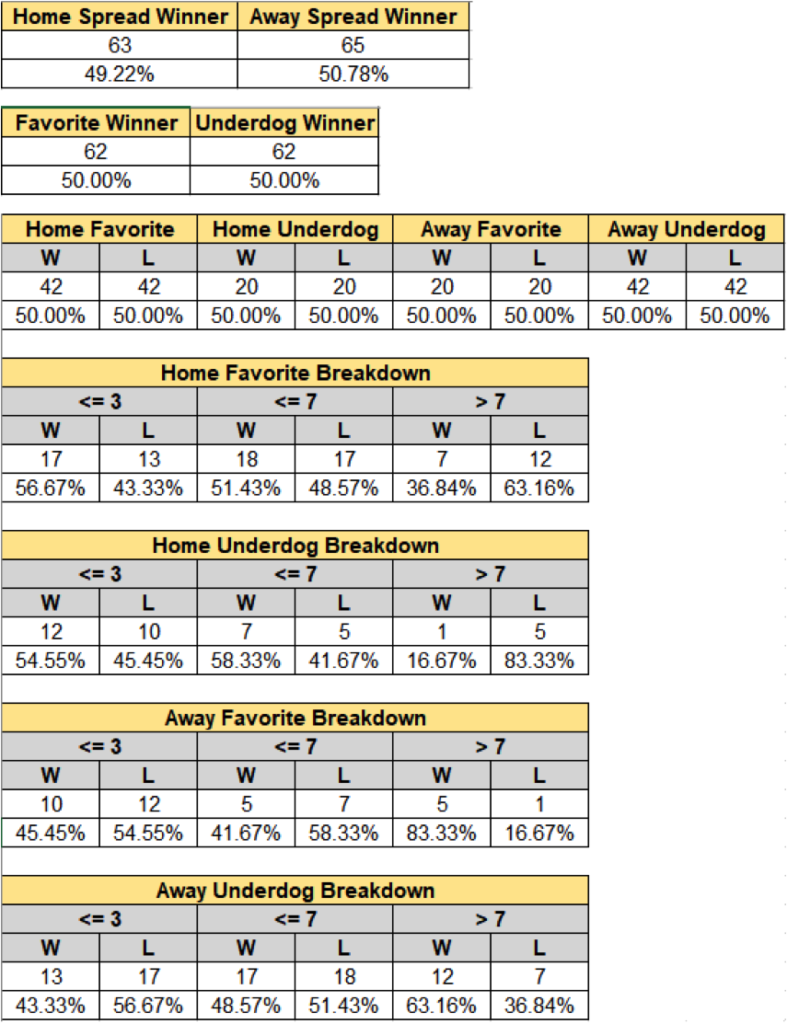 The only real advantage so far this season has been on spreads larger than 7 points one way or the other (which will come into play a lot this week).
I read an interesting tweet over the weekend. It was I never thought of before so I went back and did some research of my own. Since 2008, 81.6% of the time, the straight-up winner has also been the spread winner. This year alone, that number is at 82%. That's crazy to think about and will definitely change the way I approach games.
Disclaimer: Please do not take these picks and expect to make any real money. I enjoy picking games and the discussions they create so feel free to play along. I will provide information for each game, but please make your own decisions and BE RESPONSIBLE!
Here are my Week 10 picks…
Thursday – 11/8/18
Carolina Panthers vs. Pittsburgh Steelers (-4.0, o/u 52.0)
Both teams are coming into the short week off big divisional wins in Week 9 and look to keep rolling in an unusually interesting Thursday night game. With both teams playing as well as they have, I pegged this as a 3-point spread so the extra point here is pushing me to the Panthers. Both teams should be able to move the ball on the other, but I think Carolina's defense will, at the very least, keep the score within a field goal.
Carolina is 7-3 ATS in their last 10 games as road dogs. The Steelers are 2-7 ATS in their previous 9 home games, but are 13-1 straight up in their last 14 primetime games.
My Pick: Carolina +4.0
Sunday – 11/11/18
Buffalo Bills vs. New York Jets (-7.5, o/u 37.0)
With a total of only 37 and a spread of 7.5, Vegas is telling us that they think the Jets won't score much and the Bills won't score hardly at all. The Jets have lost their last three games, averaging only 11 points per game, but are still more than a touchdown favorite this week. That tells me something, especially with Sam Darnold out this week.
The only thing here that gives me a little pause is the uncertainty in who will be starting Sunday for Buffalo. It's possible that Josh Allen is back, but by no means is that a guarantee. If he's back, I would consider the Bills here.
The Bills are 3-8 straight up and ATS in their last 11 divisional games, but 6-3 ATS in their last 9 against the Jets. New York isn't much better, going 2-6 ATS in their last 8 games, but is 9-4 ATS in their last 13 at home.
My Pick: New York Jets -7.5
New England Patriots vs. Tennessee Titans (+7.0, o/u 46.5)
Had Tennessee lost on Monday night, I believe this spread would have gone to around 10 points, and I believe that's where this game will end up. The Titans won't be able to stop the Patriots offense and Belichick and co. will devise a defensive game plan that will confuse Marcus Mariota into a few turnovers. The Titans are closer to the team that was shut out by the Ravens than the team that came back on Monday night football to beat the Cowboys.
Tennessee is 12-3 straight up and 11-3-1 ATS in their last 15 home games. The Pats are 9-0 straight up and 8-1 ATS in their last 9 games heading into a bye winning by an average margin of 22.3 points. They are also 16-3 straight up and 14-5 ATS in their last 19 road games.
My Pick: New England -7.0
Detroit Lions vs. Chicago Bears (-7.0, o/u 45.0)
The Bears are surprisingly sitting at the top of the NFC North, and a divisional win over the Lions in Week 10 would be huge for the stretch run. Detroit, on the other hand, is trending in a different direction, sitting at 3-5 with the possibility of the season getting away from them with another loss this week. I see this as a 27-23-type game with Chicago ultimately winning, but Detroit being able to keep it close.
Since 2010, Detroit is 11-4-1 ATS against Chicago. The Bears are 0-10 straight up in their last 10 games against divisional opponents, losing by an average of 9.2 points.
My Pick: Detroit +7.0
New Orleans Saints vs. Cincinnati Bengals (+5.0, o/u 54.0)
For me, this may be the toughest game of the week to pick. A home team coming off a bye, getting 5 points, is a lot in my opinion. However, it's justified when the Saints have rattled off 7 straight wins and sit at the top of the NFC. What makes this tough for me is the fact that the Saints are coming off the huge win last week and are primed for a letdown here against an AFC opponent.
Ultimately, I think the loss of A.J. Green here is what will doom the Bengals. Without him on the field, defenses will be able to focus their attention elsewhere on an underwhelming group of receivers. On the other side of the ball, like everyone else in the NFL, I don't see the Bengals being able to slow down Brees enough to cover, and the Saints roll.
The Bengals are 9-1-1 ATS in their last 11 games as home dogs. New Orleans is 5-0 ATS in their last 5 games and 5-0 ATS in their last 5 on the road.
My Pick: New Orleans -5.0
Jacksonville Jaguars vs. Indianapolis Colts (-3.0, o/u 47.0)
From a bettor's perspective, I see this as one of the more interesting games on the docket for Sunday. Indy's running game has been getting the job done as of late, but I don't see that happening this Sunday against a Jacksonville defense that has a lot to prove after being dominated prior to their bye. Add Leonard Fournette back into the mix as well and I can see Jacksonville not only covering, but pulling out the win in Indy this week.
Jacksonville is 7-1 ATS in their last 8 games after a bye. The Colts are 0-6 ATS in their last 6 against Jacksonville with an average point differential of -13.
My Pick: Jacksonville +3.0
Atlanta Falcons vs. Cleveland Browns (+5.0, o/u 51.0)
Atlanta sure looked good against Washington in Week 9, and will head into Week 10 looking for their fourth straight win. Their offense seems to be hitting their stride just as the Browns seem to be falling off their yearly cliff. That should culminate in an easy victory in Cleveland for the Falcons this week.
Atlanta is 2-4 ATS in their last 6 games and 3-8 ATS in their last 11 on the road. The Browns are also 2-4 ATS in their last 6 and 6-16 in their last 22 at home. Nothing much to gleam from those numbers, but since the Falcons are on a roll, I have to go with them here to win and cover.
My Pick: Atlanta -5.0
Washington Redskins vs. Tampa Bay Buccaneers (-3.0, o/u 51.5)
I believe this spread is a bit of an overreaction to what happened in Washington last week. To me, this is more of a pick-em than a -3 game. Until last week, the Redskins had looked great, with a defense that had outperformed expectations. Tampa Bay flipped quarterbacks again last week trying to get a little Fitzmagic back in their locker room and it didn't work out in Carolina (although he didn't look bad). Fitzpatrick has thrown 3 or more touchdowns in all of his completed starts this season so they'll stick with him again this week.
This week I see the Skins stopping his streak of three-touchdown games and being able to come out on top.
The Redskins are 4-2 ATS in their last 6 games and 2-4 ATS in their last 6 on the road. Tampa is 1-5 ATS in their last 6.
My Pick: Washington +3.0
Arizona Cardinals vs. Kansas City Chiefs (-17.0, o/u 50.0)
Since 2008, there have only been 10 games with spreads of 17 or greater (favorites going 5-4-1 ATS in those games). 17 is a ton of points in this day and age of the NFL and as much as I try to find a reason for the Cardinals to cover here, I just can't. The Chiefs should be able to move the ball at will and the Cardinals have shown no ability to do the same against anyone. As much as I want to stay away from any 17-point spread, I have to take the Chiefs here.
The Cardinals are 2-8 ATS in their last 10 games on the road against teams with winning records, and are 0-11-1 ATs in their last 12 games in the early afternoon timeslot. Kansas City is 6-2 ATS in their last 8 home games and 6-2-1 ATS on the season.
My Pick: Kansas City -17.0
Los Angeles Chargers vs. Oakland Raiders (+10.0, o/u 50.0)
Another large spread in a divisional game here as the Chargers face a Raiders team that is obviously tanking. In Week 9, Oaklavegas got beat 34-3 against a 49ers team that was starting its third-string, rookie quarterback. That's embarrassing. They'll get no reprieve this week against Philip Rivers and a Chargers offense that ranks 11th in passing and 6th in rushing. As with the Kansas City game above, I can't come up with any logical reason why the Raiders cover.
The Chargers are 5-0 ATS in their last 5 road games against teams with losing records. Oaklavegas is 1-5 ATS in their last 6 games overall and 1-4-1 ATS in their last 6 at home.
My Pick: Los Angeles Chargers -10.0
Miami Dolphins vs. Green Bay Packers (-10.0, o/u 47.5)
Green Bay is coming off back-to-back losses against two of the top four teams in the league and will be looking to take out their frustrations on Miami this week.
I was leaning Miami here at first, but then I looked at the weather and temperatures will most likely be in the 20's come kickoff in Green Bay. Couple that with a Dolphins defense that has been injury plagued and that makes for a good day at the office for Aaron Rodgers. As long as the Packers defense doesn't mail it in, the Pack should be able to cover here.
The Packers are 6-1 ATS in their last 7 games in the late afternoon. Miami is 2-5 ATS in their last 7 before a bye and 1-8 ATS in their last 9 as road underdogs.
My Pick: Green Bay -10.0
Seattle Seahawks vs. Los Angeles Rams (-10.0, o/u 51.0)
I'll be staying far away from this game. The Rams are coming off their first loss of the season against the Saints and now need to keep pace if they want to secure home field advantage throughout the playoffs. These games are normally very close, with an average point differential of 4.9 points dating back to 2008. I'm going to hang my hat on that number this week, as the trends don't really point you in any direction. I'll pick Seattle to cover the 10 points here.
Seattle is 1-5 ATS in their last 6 on the road against the Rams and 2-8 ATS in their last 10 as double-digit underdogs. The Rams are 1-4-1 ATS in their last 6 games and 2-4-1 ATS in their last 7 at home.
My Pick: Seattle +10.0
Dallas Cowboys vs. Philadelphia Eagles (-7.0, o/u 43.0)
This spread screams of an overreaction to the Cowboys' loss on Monday night, but ignoring the spread, the Eagles should win here. Philly is 16-3 straight up in their last 19 following a bye and the Cowboys have lost nine straight after playing on Monday night. With winners covering at 82% this year, I'll have to hop on the Eagles here – as much as I want to stay away from this spread as well.
The wild card, in my opinion, is Golden Tate. He should have a positive effect on the Eagles offense and should help them to a cover at home in Week 10.
Dallas is 2-3-1 ATS in their last 6 on the road, but 5-1 ATS in their last 6 on the road in Philly. The Eagles are 2-5 ATS in their last 7, but 13-3 straight up in their last 16 at home.
My Pick: Philadelphia -7.0
Monday – 11/12/18
New York Giants vs. San Francisco 49ers (-3.0, o/u 44.0)
ESPN gets blessed with another doozy of a game. At a combined 3-14 on the season, this may go down as one of the least-watched Monday night games in recent memory.
I see the Giants showing up a little under the bright lights and playing as inspired as they can at this juncture of the season. Their road point differential currently sits at -1.8 on the season, so they have been in most of their road games.
Nick Mullens will start again for the 49ers and now that there's some tape on him, I look for him to regress in his second start. This is a good spot for the Giants to steal one on the road.
The Giants are 4-2 ATS in their last 6 games on the road. San Francisco is 3-6 ATS in their last 9 games.
My Pick: New York Giants +3.0
2-1 record last week after the egg laid by the Redskins. The number of large spreads this week will make it very interesting to see where the money comes in and how much the lines move come kickoff. Here are a few of my best bets:
LA Chargers -10.0
Atlanta -5.0
Jacksonville +3.0
New England -7.0
Good luck to everyone this week! Check out GridIron Gold for your online betting needs.