Will Ravens Stop the Skid?
Print this article
The Ravens play host to the Cincinnati Bengals on Sunday at M&T Bank Stadium. Can they get back in the win column? RSR staff predict what we'll see here…
Tony Lombardi
The redundant theme is back in play again this week thanks to a weak, watered-down AFC, a conference that even for the likes of canadian-sports-betting.com , has been a conundrum of sorts to figure out.
Yet it still remains relevant: "This week's game is a must-win for the Ravens!" A loss at home against the Bengals might, it MIGHT keep that theme alive for one more week but it would likely force the Ravens to run the table during the then remaining six games AND hope for some help from other teams.
But first things first…
· Robert Griffin, III gets the nod while Lamar Jackson resumes his role as a rotational quarterback. LJ will get 10+ snaps, throwing the ball 5 times for 53 yards and a score and running it for another 30 yards. Jackson's scoring strike will be to Nick Boyle who gets his first NFL TD.
· Griffin hasn't started since New Year's Day, 2017 when he faced the Steelers and posted this stat line: 29 of 40, 232 yards, 2 TDs and 1 INT for a 92.9 passer rating. He'll fall short of those numbers on Sunday, going 17 of 28 for 175 yards, 1 TD, I INT for a rating of 75.7. His highlight will be a 30+ yard connection with John Brown.
· Without A.J. Green the Bengals offense will struggle. The Ravens choke out Joe Mixon who registers 47 yards and Wink Martindale's corners will play press forcing Andy Dalton to double clutch a few times as he tries to get the ball out quickly. Look for Tavon Young to get one pick while rookie Kenny Young gets another off a tipped pass. Dalton's multiple attempts at re-loading will pave the way to two Ravens sacks, one by Za'Darius Smith and another by C.J. Mosley.
The Ravens get a much-needed win as they cover the 3 ½ point line. At the end of the day, the Ravens will be in a five-way (5-5) deadlock with the Bengals, Dolphins, Titans and Colts.
On to Oakland…
Ravens 23, Bengals 17
Todd Karpovich
— There is a lot of uncertainty surrounding this game, main with the Ravens starting QB. As a result, this is a difficult matchup to handicap. As of Friday, the Ravens are 4.5-point favorites.
— Marvin Lewis will have the defense playing at a higher level against the Ravens, who have struggled to score touchdowns over the recent three-game losing streak. This could game could turn into a slugfest. However, neither team can effectively run the ball
— the Bengals are ranked 25th and the Ravens are 27th with yards rushing.
— The absence of A.J. Green is a big blow to the Bengals. He plays some of his best games against Baltimore.Tyler Boyd will help fill the void. He caught 6 passes for 91 yards with a touchdown in the first meeting.
— This is a must-win game for the Ravens. It's also a huge game for the Bengals to keep pace in the playoff race.
— The Bengals always seem to play their best against the Ravens. This game will be more of the same.
Bengals 20, Ravens 16
Ken McKusick
The Ravens' Wild Card hopes are far from gone after some good news from the Bengals and Dolphins on the bye week. Pivotal game, must win, and inflection point are all terms that apply to Sunday. The Bengals enter in disarray, but that's just where they were when they came to Baltimore and ruined New Year's Eve in 2017.
This game rests on the Ravens' ability to protect whoever is at QB and give them time. While I believe Flacco gives the Ravens the best chance to win down the stretch, this is an odd situation where either RGIII or Lamar Jackson could be an ideal change of pace to deal with the 4-man pressure with which the Bengals have frustrated Joe for years.
On defense, the Ravens will step forward with a solid effort, including:
–A turnover, to break the long drought
–2 or more sacks
–Solid play from the dime which will frustrate Dalton on 3rd down
–At least 1 TFL and 3 tackles for Michael Pierce who will help the Ravens reach 3rd and 7+ at least 5 times
–Improved play from Tavon Young (relative to his most difficult performance as a professional in week 2 versus Green), who will blanket Tyler Boyd and other sot receivers
Ravens 20 Bengals 13
Derek Arnold
While I'm excited for the LJ era in general, I'm of the mind that it's not time just yet. That said, if you asked me one team I wouldn't mind seeing a non-Joe QB take a shot at? It would be Marvin's Bengals, who have owned Flacco over the years. So what the heck? Let's go with someone(s) else!
Jackson will be announced as the starter. He'll play the first series. But RG3 will take at least 50% of the snaps on Sunday. I think LJ's stomach bug and resulting missed day of practice gives the coaching staff the excuse they need to not let him completely take the reins for a full game. It'll be for the best.
— Jackson goes 7/17 passing for 95 yards and an interception. He runs it another 10 times for 85 yards, including a 15-yard scamper for a score. He also loses a fumble.
— Griffin is much more efficient, going 8/11 for 110 yards, including a 50-yard touchdown to John Brown. He doesn't turn it over.
— With both QBs running RPO concepts, the Ravens ground game actually takes advantage of Cincy's NFL-worst rush defense. In addition to Jackson's 85 yards, Griffin adds 25, Alex Collins 55, and Gus Edwards 30 and a TD. So that's 205 yards through the air, and another 195 on the ground. 400 yards of total offense? Hey, that's still GOOD for Cincy's D, and I'm drinking the purple kool-aid this week.
Defensively, Wink shows us that it really was an anomaly caused by Mosley's injury that led to what we saw in Cincy in Week 2. Without Green, the Ravens finally once again treat Ginger Cannon like he should be treated. Four sacks and an interception.
Ravens 27 Bengals 13, and let the (3-way!) QB controversy begin…
Chad Racine
This is a game the Ravens could and should win but, they won't. My guess is Flacco isn't going to play and the Bengals know that. There will probably be a mix of both RG3 and Lamar and some of both on the field at the same time, which presents much bigger problems than Flacco on the field falling asleep at the receiver position.
The Bengals defense is on pace for a historically bad season. However, no matter how bad their overall season is they always play the Ravens like it is their Super Bowl. When you can't win a playoff game, the next best thing is to put everything you have into beating the one successful team that you can beat. Spoiling the Ravens' season (again) would be the ultimate moral victory.
The Ravens already look to me like a team that has given up. Maybe I'm wrong and I hoping that's the case. With reports of Harbaugh's job being on the line (which is obvious to me if they don't make the playoffs), Flacco being injured, the defense falling apart (just like the last few seasons), and a lack of playmakers, they are a team in turmoil at the end of the road.
We've seen this play out before when the season is on the line against the Bengals and it hasn't ended well. Ravens this is your last chance to show us what you're made of.
Bengals 24 Ravens 20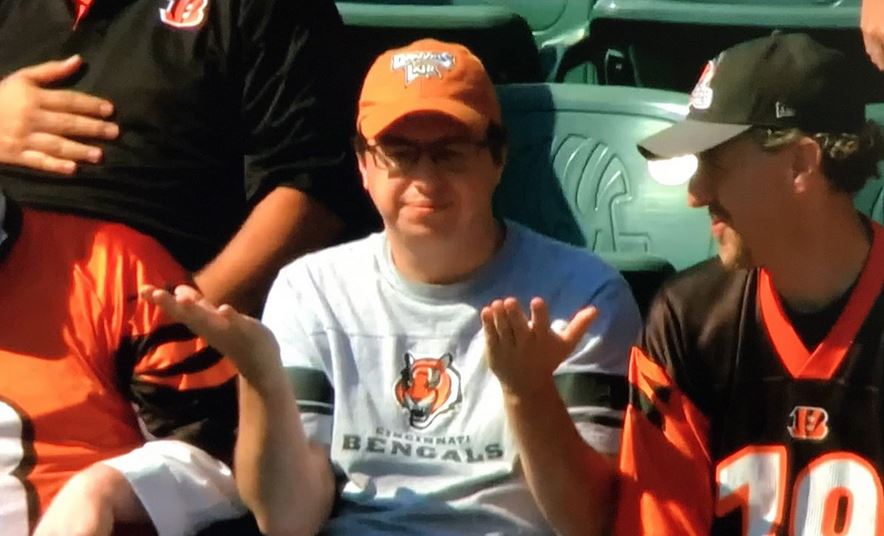 Nick Capecci
With the Bengals having an unusually bad defense (especially the past few weeks), I expect the Ravens to have a better gameplan then they did Week 2. The running game should have a solid overall day versus a defense that is allowing 140 yards per game. Jackson will also be able to have his way with his legs. Lamar has gotten better every week throwing the ball, and it will pay off on Sunday. His stat line will hover around 18/25 – 250 Yards – 2 TDs. Add one more on the ground for Lamar for a really good performance for the rookie.
The defense will get beaten its fair share of times against new nemesis Tyler Boyd, and explosive running back Joe Mixon. The Ravens pass rush will need to get going early to make Dalton feel uncomfortable since security blanket Green is out with a Toe Injury. The run defense has been average for quite some time now, and Mixon will enjoy that. Dalton will have an average day, but they will win and ugly back-and-forth contest.
It'll be a last-minute field goal, where once again the Ravens aren't disciplined enough to see the importance of this game, and make silly mistakes. I think Ravens fans might finally see how the Harbaugh/Flacco regime has run its course.
With Lamar starting, we will at least see a real glimpse of the future.
Cin 24 Bal 21
John Darcey
The Ravens, as usual, are playing a must-win game in November to keep alive any hopes of making the playoffs, and they have yet to announce who is starting at QB! In any event, I think the Ravens pull out a victory, simple because I have more faith in the Ravens defense making one more stop then the Bengals defense.
Now onto the predictions:
· Let's start with: RG3 makes the start instead of Joe or Lamar
· However, Lamar does get 20+ snaps this game as he and Griffin split time at QB and with more 'Lamar packages' then usual, utilizing the athleticism of both QB's.
· Griffin scores a rushing TD and Lamar hooks up once again with fellow first round pick Hayden Hurst for a score.
· Alex Collins makes hiss presence felt racking up 85 yards and a TD.
· Newly-acquired Ty Montgomery will be involved in the passing game and will have not one but two, receptions of 15+ yards. He will also return kickoffs and take one to the 35.
· Defense rebounds nicely with five sacks of Dalton and at least one pick
· With no Green, the Bengals offense takes a step back with no receivers having more than 40 yards.
· Mixon will do some damage, going for 60 yards on the ground and a score. He will also score one receiving.
· But none of that will be enough, as the Ravens will come out ahead, moving into the second WC spot and giving fans a glimmer of hope that this season can be turned around.
Ravens 30 Bengals 20