Print this article
Last Week: 2-9-1
Overall: 69-79-8 – 46.6%
Week 11 Whiffs
— I've been underestimating the Colts all season. I put too much stock in Tennessee's Week 10 win against the Patriots and not enough in the Colts resurgent offense.
— How can anyone lose to a team that is trying to lose? Ask the Arizona Cardinals. Oaklavegas has been inwardly trying to lose games by trading away big pieces of their team, but even in a win, they still find a way to lose. They dropped from the first pick in next year's draft to the third pick.
— Vegas is good. Of the 12 games I had picked this week, 7 finished within 2 points of the spread. That's a crazy number and shows just how over-the-top accurate Vegas is at assigning lines, even as early as Wednesday.
There aren't enough curse words to accurately describe Week 11. Probably my most frustrating week of the past few years with so many close losses, but hey, the Ravens won, right?!?
I follow a ton of "professional" gamblers on Twitter and seeing as how I didn't see them bragging over and over again about their winnings last week, I doubt they did well in Week 11 either.
Let's try to bounce back, shall we?
Below are the Week 12 ATS Power Rankings: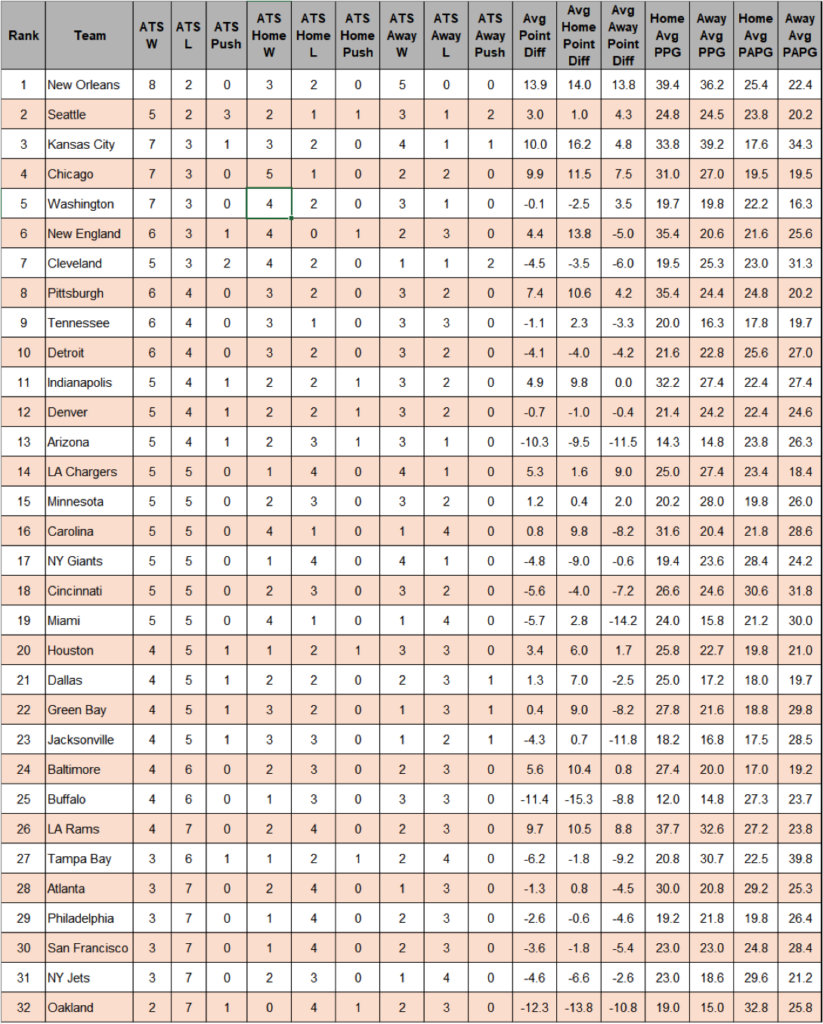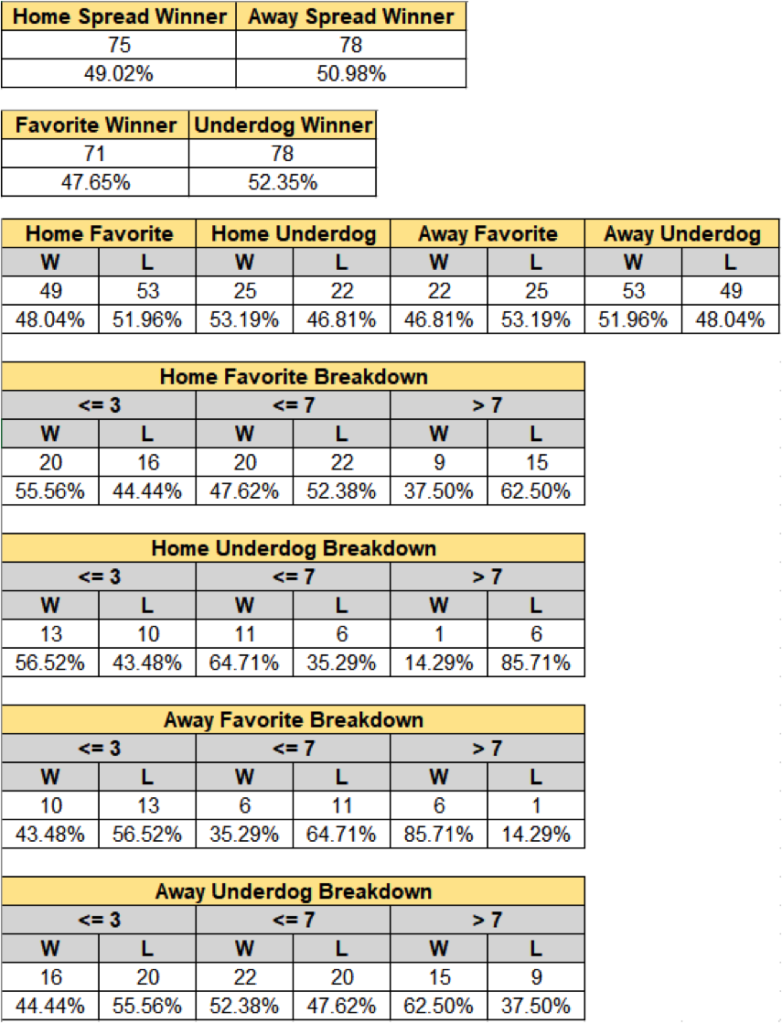 Disclaimer: Please do not take these picks and expect to make any real money. I enjoy picking games and the discussions they create so feel free to play along. I will provide information for each game, but please make your own decisions and BE RESPONSIBLE!
Here are my Week 12 picks…
Thursday – 11/22/18
Chicago Bears vs. Detroit Lions (off the board)
Chicago opened as 4.5-point favorites before news of Mitch Trubisky possibly missing Thursday's game was made public. Now the game has been taken off the board until more information comes out.
Chicago won the last meeting in Week 10 between these two teams, and if Trubisky starts, they should win this one as well.
Chicago is 7-3 ATS in their last 10 games and are scoring an average of 27.0 points on the road while giving up only 19.5. Detroit is 6-4 ATS in their last 10 and are 3-2 in their last 5 at home.
My Pick: off the board
Washington Redskins vs. Dallas Cowboys (-7.5, o/u 41.0)
Washington was in control of the NFC East and then a broken ankle changed everything. Alex Smith's gruesome injury opened the door for the other three teams in the division and Dallas looks to take advantage this week. Along with Smith's injury, they'll still be without three starting offensive linemen, which could make for a long day for Colt McCoy.
On the other side, the Cowboys have started to finally feed Ezekiel Elliott the ball and that has opened up things in the passing game as well.
7.5 points in a rivalry game is a bit much for me and even with McCoy starting and the offensive line banged up, I think the Redskins defense can keep this game close. I don't think the Skins will win, but I do see them covering.
Dallas is 9-1 straight up and 1-9 ATS in their last 10 home games when favored by 7 points or more. Washington is 5-1 ATS in their last 6 games and 15-8 ATS in their last 23 on the road, but those can really be thrown out the window with McCoy starting this week.
My Pick: Washington +7.5
Atlanta Falcons vs. New Orleans Saints (-13.5, o/u 61.0)
After three consecutive wins, Atlanta has lost their last two games to Cleveland and Dallas. Their offense has looked like a shell of itself which does not bode well for a game in which they'll most likely be having to play catchup most of the day.
Back in Week 3, New Orleans won by 6 points in Atlanta while surrendering 37 points. Since that game, they have only given up an average of 19.4 points while scoring an average of 39.1 points. I look for that trend to continue on Thanksgiving in primetime.
Atlanta is 2-5 ATS in their last 7 road games against the Saints. The Saints are 5-0 ATS in their last 5 games as favorites. Teams favored by 13 or more points on Thanksgiving are 5-0 straight up and ATS since 1984.
My Pick: New Orleans -13.5
Sunday – 11/25/18
Seattle Seahawks vs. Carolina Panthers (-3.0, o/u 47.5)
With Carolina losing their last two games, this matchup with Seattle turns into a huge game for both teams. A win for Seattle and they will be tied with Carolina at 6-5. A win for the Panthers and they can distance themselves a bit from a team on their tails.
I'm picking Carolina here because they're a different team at home than they are on the road. They'll be able to control the ball with Christian McCaffrey and should win by a touchdown here in Week 12.
Carolina is 10-0 straight up and 8-2 ATS in their last 10 home games. Seattle is 2-4 ATs in their last 6 games on the road against Carolina.
My Pick: Carolina -3.0
New York Giants vs. Philadelphia Eagles (-6.0, o/u 46.0)
A win by the Cowboys on Thanksgiving coupled with a win by the Giants on Sunday will make for a very interesting last five games of the season in the NFC East. New York has won two in a row, but will face a tough test against a desperate Eagles team.
I have no clue why the Eagles have not been able to get the job done offensively. On paper, they boast one of the better receiver corps in the league and should dominate this game, but they haven't done that yet this season. My take here is that the Giants keep this game close and while they may not win, they get the cover.
The Giants are 4-1 ATS in their 5 road games this season and have yet to lose one by more than 7 points. Philly is 1-4 ATS in their 5 home games this season and 3-7 ATS overall.
My Pick: New York Giants +6.0
New England Patriots vs. New York Jets (+10.0, o/u 46.5)
More often than not, I will back a Patriots team coming off a bye, but the 10 points is giving me a little pause about this one. However, the Patriots have to be stewing coming off of a drubbing at the hands of the Titans and I think they take their frustrations out on the Jets this week.
Like with any Jets game this season, this will come down to the play of Sam Darnold. If he performs well, the Jets do well. I lean hard toward Darnold struggling this week against a Bill Belichick-led team that has had an extra week to prepare for a rookie quarterback.
New England is 9-1 straight up and ATS in their last 10 games after a loss, but are 2-7-1 ATS in their last 10 against the Jets. The Jets are 8-3 ATS in their last 11 homes games as an underdog. On the season, away favorites of more than 7 points are 6-1 ATS.
My Pick: New England -10.0
San Francisco 49ers vs. Tampa Bay Buccaneers (-3.5, o/u 55.0)
Back and forth we go. Jameis Winston will be back under center for the Buccaneers in Week 12. While I have no idea what to expect from Winston himself, I do know the Buccaneers offense has been one of the NFL's best this season. Their defense on the other hand, not so much. Matt Breida should be able to move the ball consistently against this Bucs defense, but I don't see that being enough as Tampa will put up points in bunches. If Winston protects the ball, Tampa wins this one easily.
Neither team has done well ATS this season as San Francisco sits at 3-7 and Tampa Bay sits at 3-6-1. The Buccaneers are 1-6-1 ATS in their last 8 games and the 49ers are 0-5 straight up in their last 5 road games losing by an average of 5.4 points and 1-7-1 ATS in their last 9 games on the East coast.
My Pick: Tampa Bay -3.5
Miami Dolphins vs. Indianapolis Colts (-10.0, o/u 51.0)
The Colts are coming off of a huge win against Tennessee that created the logjam of 5-5 AFC teams. They face one of those teams this week in the Miami Dolphins.
As I sit here today, they have not announced whether or not Ryan Tannehill will return this week (he is probable, however). While I'm not the biggest fan of his, I think his presence may push me to a Miami cover. Either way, it will be a tough matchup for Miami on the road where they have struggled mightily against a Colts team that has suddenly their offensive groove both on the ground and through the air.
The Dolphins are 6-2 straight up and 7-1 ATS in their last 8 games on the road against the Colts, but are 1-9 straight up and ATS in their last 10 on the road overall. Indianapolis sits at 2-2-1 ATS at home this year with a home point differential of 9.8 points per game.
My Pick: Miami +10.0
Oakland Raiders vs. Baltimore Ravens (-11.0, o/u 43.0)
I'll be honest, this is easily the toughest game of the week for me to pick because of the uncertainty of Lamar Jackson at quarterback for Baltimore. Although Oaklavegas ranks 31st against the run, they will almost certainly limit Jackson to some extent forcing him to throw the ball more than he did last week against the Bengals.
If I had to put my money on it, I think the Ravens receivers will be so wide open against a porous defense because of the threat of the run, that Jackson will get several chunk completions and guide Baltimore to a comfortable win here. Let the quarterback controversy begin…
Baltimore is 16-3 straight up in their last 19 when hosting a West coast team. They are also 1-5 ATS in their last 6 games overall and 2-5 ATS in their last 7 home games. Oaklavegas is also 1-5 ATS in their last 6 games overall and are 3-8-1 ATS in their last 12 games on the road.
My Pick: Baltimore -11.0
Cleveland Browns vs. Cincinnati Bengals (-3.0, o/u 47.5)
This game hinges, for me, on the health of A.J. Green. Without him, the Bengals offense has looked completely different as teams don't have to follow Green around the field. He's questionable for this week's crucial game and I think it's as simple as: he plays, they cover.
The major reason for hope for the Browns is their 5th ranked rushing attack going up against the Bengals' 32nd ranked unit. They have the opportunity to control the ball as Baltimore did in Week 11 and steal one on the road here if they can accomplish that.
Ultimately, I think Green plays this week in a must win situation for the Bengals. Because of that, I'm going with Cincy to win and cover.
The Bengals are 5-1 ATS in their last 6 games against divisional opponents. Cleveland is 4-11-1 ATS in their last 16 road games and 0-5 ATS in their last 5 against Cincinnati.
My Pick: Cincinnati -3.0
Jacksonville Jaguars vs. Buffalo Bills (+3.0, o/u 37.5)
One of two things will happen for the Jaguars after last week's collapse against the Steelers. It will either rejuvenate them by showing they can hang with the best in the AFC, or it will crush them as their slim playoff hopes were most likely squashed with the loss. With the way their locker room has been this season, I'm going with the latter and a letdown game here in Buffalo.
Bills fans will have something to cheer for as Josh Allen is set to return this week which is why I will give the edge to the Bills here. I had Jacksonville down at first, but the more I think about which team will play harder and with more emotion, the more I'm pushed toward the Bills.
Road teams are 6-1 ATS in the last 7 matchups between these two teams. Jacksonville is 1-2-1 ATS on the road this season and 3-5-1 ATS in their last 9 road games overall. Buffalo has been bad at home this year going 1-3 ATS with a -15.3 point differential.
My Pick: Buffalo +3.0
Arizona Cardinals vs. Los Angeles Chargers (-12.0, o/u 45.0)
This may be my spite pick of the week. HOW could ANYONE lose to the Raiders?!? The Cardinals lost last week to a team trying to lose. That's hard to do.
This week, they face a team that is coming off a terrible loss at home to Denver and need a win to stay two games ahead of the rest of the AFC wildcard hopefuls. I don't see this game being close as the Cardinals offense ranks next or next to last in passing, rushing, total score, and time of possession.
Arizona is 5-1-1 ATS in their last 7 games as an underdog. The Chargers are 1-4 ATS in their last 5 games at home. Those trends don't point to a Chargers cover, but I can't pick against them playing what might be the worst team in the NFL.
My Pick: Los Angeles -12.0
Pittsburgh Steelers vs. Denver Broncos (+3.0, o/u 47.0)
Pittsburgh got a scare last week in Jacksonville, but those are the types of wins you can look back to when you're sitting at home for the first week of the playoffs. With Kansas City losing to the Rams, the Steelers sit just a half game back of the Chiefs and can't afford to drop a road game against a beatable Denver team, and they won't.
While the Steelers offense gets most of the attention, their defense quietly ranks 6th against the pass and 9th against the run. They'll be able to slow down the Broncos enough to cover the spread easily in Week 12.
The Steelers are 10-0-1 straight up in their last 11 road games winning by an average of 7.55 points. Denver is 1-4-1 ATS in their last 6 home games.
My Pick: Pittsburgh -3.0
Green Bay Packers vs. Minnesota Vikings (-3.0, o/u 48.0)
The Packers struggle on the road and Kirk Cousins struggles under the prime time lights so pick your poison here.
Another matchup this week where both teams are desperate for a win to keep their playoff hopes alive. In essentially a do or die game, I'm hard pressed to pick against Aaron Rodgers. They'll be able to score enough to keep the game close and I would not be surprised with the Packers pulling out a win on the road in Minnesota.
Green Bay is 4-8-1 ATS in their last 13 games and 1-5-1 ATS in their last 7 games on the road. Minnesota is 4-7-2 ATS in their last 13 games, but 17-7-1 ATS in their last 25 games at home.
My Pick: Green Bay +3.0
Monday – 11/26/18
Tennessee Titans vs. Houston Texans (off the board)
With Marcus Mariota's status up in the air, this one is off the board as well. If Mariota sits, the Texans should roll in this one. If he plays, I still see them winning, but it could be a much closer game.
My Pick: off the board
Hopefully this week turns out better than last week's embarrassment, but even if it doesn't, we're heading into the holiday season so it could be worse right?
Pittsburgh -3.0
New England -10.0
Cincinnati -3.0 (if Green plays)
Wishing everyone a safe and happy Thanksgiving!
Good luck to everyone this week! Check out GridIron Gold for your online betting needs.