Defensive Dominance & Ball Control
Print this article
A third straight week with Joe Flacco sidelined…a third straight week where the Ravens walk away with a win, this time over the Atlanta Failcons, with Joe Flacco-Lite under center. Another game means another article. With that in mind, I present to you, the Good, Bad, and Ugly.
The Good!
How about that defense? For a second week, the defense came up with a score to all but ensure a victory – this time Peanut strip-sacks Joe Flacco-Lite (that's Matt Ryan, for the uninitiated), and Tavon Young scooped it up for a touchdown. The defense notched three sacks on the day – including one for The Man That Time Forgot, Terrell Suggs. Brandon Williams had his most complete game of the season, pushing around the Atlanta offensive linemen like they were schoolyard kids. Jimmy Smith and Marlon Humphrey had themselves a day, holding the combination of Julio Jones and Calvin Ridley to a mere FIVE catches for FORTY yards – COMBINED. That's not a typo, ladies and gentlemen. The defensive line was equally impressive, allowing just 34 yards on 15 carries – a 2.6YPC average.
All-in-all, the Ravens held the Falcons offense to just 131 yards (their lowest output since 1999), and 9 points.
Time of possession. 39:39 to 20:21. That's the difference between the Ravens' ToP, and the Falcons'. Atlanta had the ball for just over five minutes in the second half. Part of this is due to an absolutely stifling defense, as mentioned above, but also to the new – but also old – ground-and-pound that the Ravens have (re)adopted. (More on that later.) Be it Lamar's struggles in the passing game, the changed OL scheme, the new playcalling, whatever the reason, Wink has found a way to stifle offenses, while Marty is taking advantage of bad defenses – which is what you would expect from a team that some people (not me) are now calling a contender – again.
Run, Ravens, Run! Gus Edwards, 21 carries, 82 yards – just about a 4.0YPC (his worst of the season). Lamar Jackson, 17 carries, 75 yards, a TD – 4.4YPC. Kenneth Dixon, recently reactivated, 8 carries, 37 yards – 4.6YPC. Ty Montgomery, 3 carries, 13 yards – 4.3YPC. The Baltimore running game is rolling right now (granted, against bad defenses). For the third straight week, the Ravens racked up over 200 yards on the ground. Couple that with a defense (refer to paragraph one) that is getting hot at the right time, and that's a formula for success, no matter who is the quarterback.
Justin Tucker. 4-for-4 on field goals (in fact, the only two he's missed all season were blocked.) Didn't miss an extra point, unlike Chris Boswell, who somehow has more Pro Bowl votes. I hate that popularity contest. AutomaTuck has lived up to his name.
The Bad.
You get concussion protocol! You get concussion protocol! You get concussion protocol! Lamar Jackson. Jimmy Smith. Alex Lewis. Am I missing anybody? The amount of almost-concussions that the Ravens suffered (didn't suffer?) on Sunday was ridiculous. Luckily, everybody was cleared and returned to the game (except Lewis, I think), but when coupled with yet another injury to Ronnie Stanley, you have to wonder how many more hits these boys can take.
You get a fumble! You get a fumble! You get a fumble… for a touchdown. Jackson had not one, not two, but three fumbles in this game. Yes, he is a rookie, but.. Well, see this tweet. It's not like it's new for him, either. He fumbled 25 times during his college career, and is on pace for over 100 NFL fumbles, if he plays as long as Joe Flacco has. I understand that some will try to wave it off, and say that he 'only lost one.' Which, he did. For a touchdown. That gave the Falcons life in a game where the Ravens largely snuffed out any hope. Against better teams, these become game-changing plays. Lamar has seven fumbles this season. Ball security, ball security, ball security. People ripped apart Alex Collins with four fewer fumbles. Let's not act like this isn't a concern.
You get a penalty! You get a penalty! You get a pen… you get it. There was a point in the game that the Ravens got back-to-back-to-back-to-back penalties. Stupid penalties that didn't need to happen. If this team has any hope of making a deep playoff run (assuming they get there), then the lack of discipline, especially on the offensive line, needs to stop. Now-ish. (I do like the free promo for the NZI podcast, though. If we could see a Neutral Zone Infraction penalty every game, I'm okay with it – as long as it isn't always on Baltimore.)
Bonus Bad: Sark's Offensive Gameplan. Look, guys, as good as the defense was on Sunday, it wasn't all their prowess. Atlanta OC Sarky's gameplan was miserably bad. It helped – and it's a large reason why the Falcons haven't scored 20 points in any of their last four outings.  
The Ugly.
Honestly, guys.. Not much to put here. But I'm going to anyway!
The passing game. Let's talk about it – and no, this won't all be about Lamar's inconsistency. The Ravens leading receiver was, once again, Mark Andrews. I'm completely okay with this, because Baltimore needed a consistent, pass-catching tight end – they've been very successful when they have had one. The next leading receiver was Ty Montgomery.
Hasn't the fanbase been upset about 'Checkdown Joe'?
Anyway. The receivers absolutely have to stop dropping balls. There were two in this game – one by Willie Snead, one by John Brown. In fact, Jackson failed to connect with John Brown four times, by my count (not four drops, don't get it confused.) Unless you can guarantee me that the Ravens will be able to stifle every offense they face (this includes high-powered offenses like KC, LAC, and likely LAR if they were to make it to Atlanta in February), then eventually, somebody is going to have to learn to pass/catch the ball. There were a couple of close call, near interceptions, with no purple in the vicinity (or white, I guess). Yes, I am aware, he is a rookie. Again, these problems are nothing new. 125 yards passing will not win you many games in today's NFL. Neither will this first-half stat line. Maybe try Sam Koch at QB, if the season is on the line? He does have a 100% completion percentage.
The Chloe Bennet.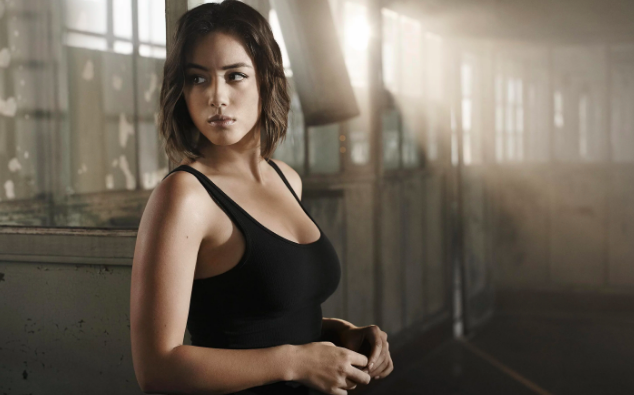 I saw some of you in the comment section last week, talking about how Chloe Bennet was a 'one in every bar' type of beauty, and to that, I say… go get your eyes checked. She's here to stay, until she goes the way of Megan Fox. Moving on.
It was moderately difficult for me to pick out any one player that deserved this award, because there were more than a handful that did. But after a lot of back-and-forth with.. Well, myself, I present this award to none other than…
Eric Weddle. His stat line wasn't impressive – he had two tackles (to be fair, nobody without a sack or fumble recovery had an impressive stat line due to the lack of offensive output from Atlanta). But he is an absolute gamer. Matt Ryan – sorry, Joe Flacco-Lite – would shift protection. Weddle shifted the defense, or even just himself. Thus, JFL would have to shift protection again. So, Weddle would shift again. This went on for the entire game, with Weddle besting Ryan almost every single time. These are the kinds of things that don't show up on the stat sheet. These are the things that Weddle won't get credit for, from the 'casual' or 'new' fans. These are the things that impress the hell out of X's and O's guys, analysts, and guys like me, that love every facet of the game, but absolutely adore defensive generals.
That's it for me this time, guys. Sound off in the comments, as I'm sure you will. Let me know what you thought, what you would've added, etc. As always don't forget to listen to the Neutral Zone Infraction podcast, found only on Russell Street Report.