Print this article
Thanks to both recency bias (0-3 pre-bye vs 3-0 post-bye) and the deep divide between the Flacco-pologists and Lamar Lovers, there's been plenty of debate about which quarterback is better suited for a Baltimore Ravens (7-5) playoff run. Sure, the defense is really the bigger reason for recent success, but that doesn't stop the heated debate from continuing to plunge deeper and deeper into an abyss that can be likened to a political debate, or even bigger philosophical debates like whether pineapple belongs on pizza (it does) or if a hotdog is a sandwich (it is). 
But just like any of the above examples, in the Flacco-vs-Lamar debate, we don't want to hear opinions about who you think is better (unless you agree), or whether Lamar should start developing now, or if you think the Ravens' all-time leading passer is a 'bum.'
We want straight facts regarding which QB is better, right?
Well, this isn't that (yet – read on and you'll get to it). 
These are the bigger factors at hand in determining which QB should start the final 4 games of the Ravens 2018 season.
Better Hair
I don't think there's any question that Joe is the front-runner here. Dude has elite hair, and a solid beard when it grows in for the winter months of AFC North rugged football. Just look at that beard (below). PERFECTION.
Can Lamar even grow a beard? Absolutely not. 
ADVANTAGE: FLACCO
Who Owns More Pants
This question was posed to me on the Twitter-dot-com-app and it's both a poignant one and a tough one, but I've gotta assume Lamar. Flacco is a father of five, so I'd say he probably owns two pairs of jeans (one nice pair and one for Home Depot runs), a few pairs of sweats, maybe some fam jams for the Christmas photo, and a suit. I think it's also safe to say that Joe owns like 80% shorts (mostly cargo), per The Dad Manual.
Lamar just got his rookie deal done this year, no agent fees, and he's doing his fashionable thing.
ADVANTAGE: LAMAR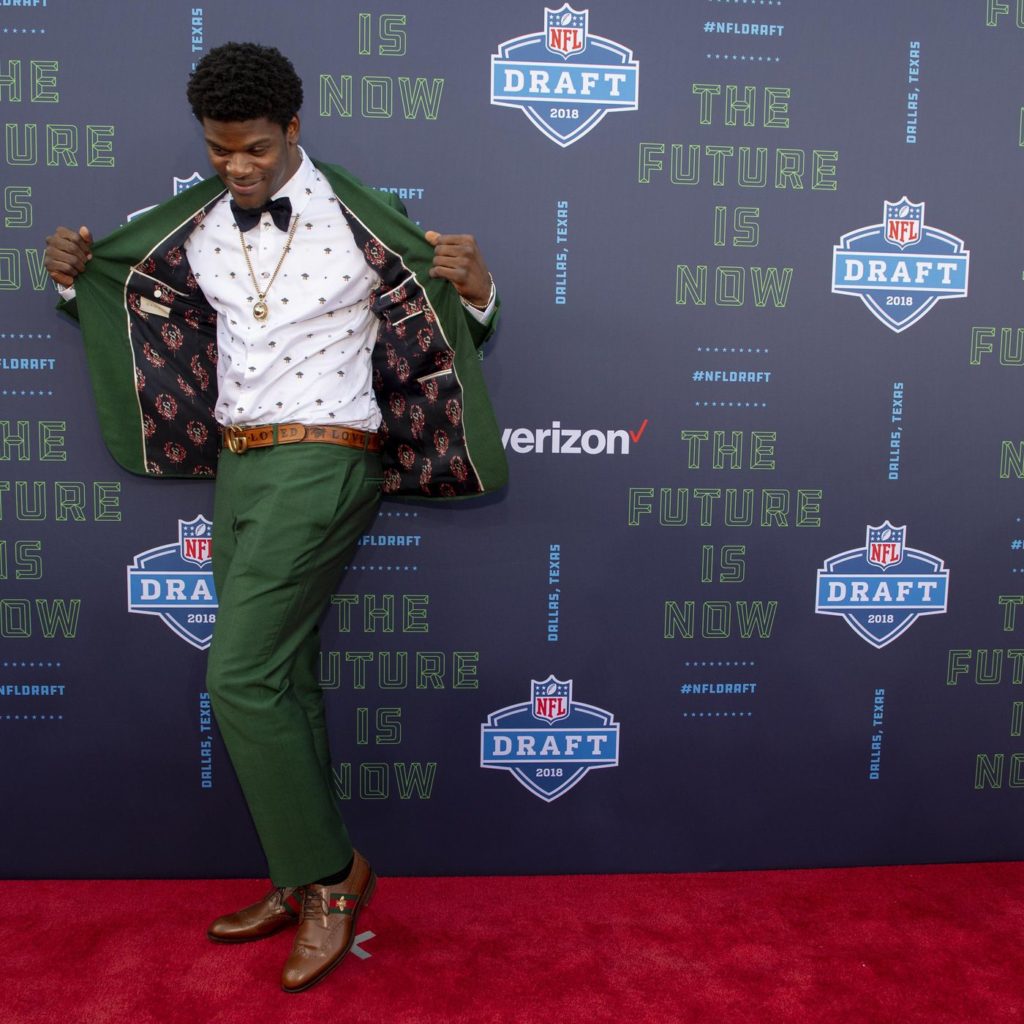 Sideline Exuberance
Have you seen Joe on the sideline during this injury stint? Joe looks bored. Disinterested. Doesn't want to be there… so basically the same Joe we've known for a decade that, yanno, wanted to be there and won a Super Bowl MVP.
He wins with that expression and they call him "Joe Cool." He loses or is inactive with the same expression he's "emotionless and doesn't care."
Meanwhile, Lamar has more emotions and conversations on the sidelines. He's having fun… maybe too much fun… now I'm wondering if he's even taking this professional quarterback thing seriously for a team in the playoff hunt…
ADVANTAGE: MY MENTIONS
Fastest
Depends, really. Straight speed? Absolutely Lamar. I feel like he could lap the football field in the time it takes Flacco to run a 40. But simply saying 'speed' is a open-ended term, isn't it?
Fastest to pop out five kids? That's Joe.
Fastest to have an entire city turn on him, while absolving every other facet of the team from any wrongdoing? Joe once again.
Fastest to have a fanbase crown him despite really not doing anything special offensively versus some bad defenses? Back to Lamar.
Fastest to win a Super Bowl MVP? To be determined…
ADVTANTAGE: TBD
Eliteness
I mean, one has a shirt and the other doesn't. Nuff said.
ADVANTAGE: FLACCO
Extracurricular Work
Which QB is putting in more time off the field to improve their game? I would say Flacco thus far, solely based on the fact that Lamar still doesn't have access to the entire playbook because he's struggling to learn it, which clearly means he's not trying hard enough; however, it's been brought to my attention today that it's obvious that Joe isn't trying to improve his game at all anymore and he's mailing it in, thus the reason he looks so disinterested on the sidelines.
Also on Joe: he only worked out with receivers prior to camp this year because the media and fans forced the issue. Otherwise, he'd just wait til camp started and hope for the best, knowing he's being handed the job. Instead, Joe uses his free time for ridiculous things like his family or recording commercials. Pathetic.
ADVANTAGE: LAMAR
These are the important factors, folks. If you're not on board for the real deal, then what's the point in forming an opinion at all?
ACTUAL STAT TIME
Oh, and for those who want actual 'numbers' like they mean anything, check out below for the 1st nine weeks with Flacco starting versus the last three with Lamar starting. Feel free to use this as ammo for either side of the debate (or be rational and realize the defense is the biggest factor in the recent success).
Have at it.