Print this article
Last Week: 7-9
Overall: 91-101-8 – 47.4%
Week 14 Whiffs
— Even without the "Miami Miracle", the Dolphins were going to cover (again) against her majesty. The Pats had been rolling straight up and against the spread so I chose to ignore the fact that they struggle mightily in Miami.
— Defense still plays. In a year where defensive games have been few and far between, I chose to go with the offenses in the two matchups last week that featured top-tier offenses versus top-tier defenses (Baltimore vs. Kansas City and LA Rams vs. Chicago). In both cases, the defense covered showing that there is hope for those of us that still like a good ol' fashion slobber knocker.
— Carolina looked SO good early in the season, but since their win against the Ravens, they have fallen off a cliff. They lost another game last week to the Browns who, although a long shot, are quietly remaining in the playoff picture.
The AFC playoff picture became more muddled after Week 14, especially in the North. Pittsburgh lost again, this time to the Oakland Raiders, which leaves the division still in play for the Ravens. With Pittsburgh's next two games against New England and New Orleans, it's feasible to think they may miss the playoffs altogether if they don't pull out at least one of those games. It should certainly be an interesting last three weeks of the season.
Below are the Week 15 ATS Power Rankings: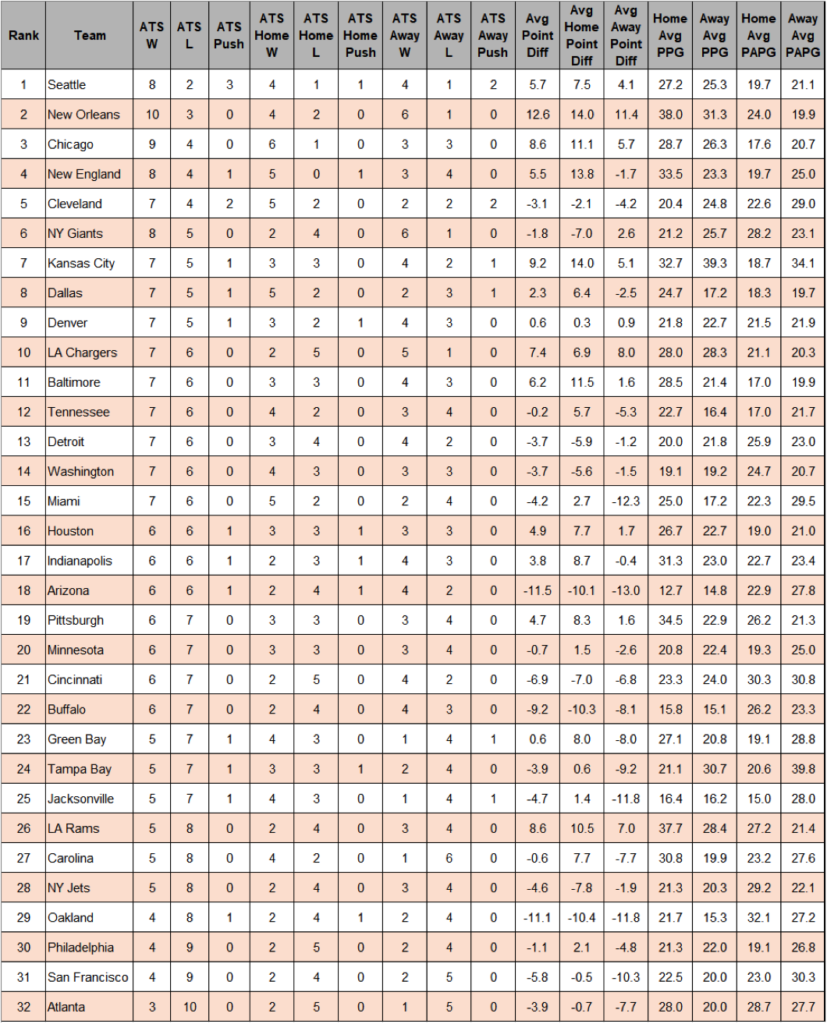 Disclaimer: Please do not take these picks and expect to make any real money. I enjoy picking games and the discussions they create so feel free to play along. I will provide information for each game, but please make your own decisions and BE RESPONSIBLE!
Here are my Week 15 picks…
Thursday – 12/13/18
Los Angeles Chargers vs. Kansas City Chiefs (-3.5, o/u 53.0)
This should rank among the best, if not be the absolute best, Thursday night game of the season. Both teams are coming off nail-biters in Week 14 and look to solidify their playoff seeding.
For me, this matchup comes down to two things. First, Patrick Mahomes. He looked awfully good against the Ravens' defense and if he continues to play like that, there may not be a team that can stop him. Most importantly though, is home field advantage on Thursday night. It's supposed to be cold and rainy, which is what is pushing me hard toward Kansas City (and the under) in this matchup.
The Chargers are 5-1 ATS on the road this season with a +8.0 average point differential and are 9-1 straight up in their last 10 games. Kansas City is 3-3 ATS at home this season with a +14.0 average point differential. In these two teams' last four matchups, Kansas City has won and covered each time.
My Pick: Kansas City -3.5 
Saturday – 12/15/18
Houston Texans vs. New York Jets (+6.5, o/u 41.5)
This should be another wet matchup on Saturday in New York, which should favor the Texans and their top-tier run defense big time. I look for Houston to be able to establish the run early and often while the Jets struggle to move the ball against a stout Texans defense. That will also push the total under the 41.5.
The Jets are 1-6 straight up and 2-5 ATS in their last 7 games.   Houston is 5-2 ATS in their last 7 games and 3-3 ATS on the road this season.
My Pick: Houston -6.5
Cleveland Browns vs. Denver Broncos (-3.0, o/u 45.5)
A week after just about ending the Carolina Panthers' season, the surprising Browns can do the same to Denver at Mile High. I don't see that happening, however. Cleveland is a completely different team on the road as they are just 1-5 this season away from home allowing 29.0 points per game with a -4.2 average point differential. Add that misery to a trip to possibly the most difficult place to play for a road team and you have the makings of a Denver cover.
Cleveland is 2-2-2 ATS on the road this season. Since 2008, Cleveland is 0-4 against the Broncos, losing both games in Denver by double digits. Denver is 6-2 ATS in their last 8 games, but just 3-7-1 ATS in their last 11 at home.
My Pick: Denver -3.0
Sunday – 12/16/18
Tampa Bay Buccaneers vs. Baltimore Ravens (-8.0, o/u 47.0)
The Ravens have uncertainty at the quarterback position and that will give the Buccaneers fits trying to prepare for this week's game. That being said, I have this strange feeling that the Ravens' coaching staff will try to get too cute in this game and disrupt the flow, which will lead to this one being much closer than it should be.
With the division possibly on the line, I do think the Ravens will win, but the only way I see them covering is if they get back on the turnover train this week against Jameis Winston. Since they haven't done that yet this season, I can't pick them here. Ravens win, but Tampa covers.
Tampa is 1-12 straight up in their last 13 games as road underdogs and 5-12 ATS in their last 17 December road games. Baltimore is 3-3 ATS at home this season with an average point differential of +11.5.
My Pick: Tampa Bay +8.0
Arizona Cardinals vs. Atlanta Falcons (-9.0, o/u 44.0)
While the Falcons defense has been ravaged by injuries, it's their offense that has really disappointed. Through their current losing streak of five games, they're averaging just 17.6 points per game and currently sit dead last in the ATS Power Rankings with a 3-10 record. They'll buck both of those trends this week against an Arizona team that managed just three points against Detroit last week. If you have Julio Jones in your fantasy lineup, you'll be marching onto the finals next week.
The Cardinals are 8-2 ATS in their last 10 games after an ATS loss. Atlanta is 0-5 straight up and ATS in their last 5 games losing by an average of 10.6 points.
My Pick: Atlanta -9.0
Detroit Lions vs. Buffalo Bills (-3.0, o/u 38.5)
Weather, weather, weather. It's always hard for me to take a dome team going on the road in non-ideal conditions. It'll be freezing in Buffalo on Sunday and that spells danger for a Lions team that has been struggling as underdogs recently. This game will be close, but Buffalo will pull it out in the end. I wouldn't be surprised by a push here in this one.
Buffalo is 15-4 straight up in their last 19 games following consecutive losses. The Lions are 1-4 ATS in their last 5 games as an underdog.
My Pick: Buffalo -3.0
Green Bay Packers vs. Chicago Bears (-6.0, o/u 45.0)
Green Bay played inspired last week against Atlanta after Mike McCarthy's firing and I look for that to continue in a game where they are almost a touchdown underdog. Chicago is coming off a huge win at home against the Rams and could have a letdown here against a rival that is perceived as struggling.
In this game, the historical trends point toward the Packers, but the more recent trends say to jump on the Bears to cover. My opinion is that the only reason the Bears beat the Rams is because of turnovers. They won't get those this week against Aaron Rodgers, which will allow the Packers to keep it close.
Green Bay is 7-3 ATS in their last 10 games against Chicago going 4-1 ATS in the last 5 games in Chicago, but are 1-6-1 ATS in their last 8 games on the road overall. Chicago is 7-1 ATS in their last 8 at home.
My Pick: Green Bay +6.0
Oakland Raiders vs. Cincinnati Bengals (-3.0, o/u 46.0)
I'd first like to take a minute to personally thank the Oaklavegas Raiders for beating the Steelers in Week 14. We needed you, and you (and your field) came through.
Now for this week's game against the Bengals. This is a tough one for me as neither team inspires any confidence. In six road games this year, the Raiders have an -11.8 average point differential and are 2-4 ATS. The Bengals, on the other hand, have dropped their last five games ATS at home and have an average home point differential of -7.0 this season. I want to pick Oakland here, but my fear is that last week was their Super Bowl and are primed for a letdown on the road.
I'm personally staying far away from this one, but I'll take the home team if you make me.
Cincinnati is 2-6 ATS in their last 8 games. Oaklavegas is 7-13-2 ATS in their last 22 games and 1-8 straight up in their last 9 on the road.
My Pick: Cincinnati -3.0
Dallas Cowboys vs. Indianapolis Colts (-3.0, o/u 47.0)
Two teams coming off huge divisional wins last week will meet in a very interesting matchup. The Colts bounced back after getting shut out by Jacksonville to hand Houston its first loss since September. Dallas put a huge dent in Philly's playoff hopes and strengthened their hold on the NFC East division.
A big question mark in this game is the status of Zack Martin. One of the best guards in the game re-injured his knee against Philly and his status for this game is in question. His absence would put a damper on the Cowboys rushing attack and we've established that Dak Prescott can't beat anyone by himself even with the addition of Amari Cooper.
These are two teams that I have underestimated time and time again this season so I'm leaning Cowboys, but I'm by no means confident about that pick.
Indy is 7-0 straight up in their last seven games as home favorites. Dallas is 5-0 ATS in their last five games, but just 2-4 straight up in their last 6 on the road.
My Pick: Dallas +3.0
Miami Dolphins vs. Minnesota Vikings (-7.0, o/u 43.5)
Minnesota looked terrible against Seattle in Week 14 so I look for them to bounce back here at home against Miami in a must-win game for the Vikings to stay alive in the NFC playoff race. To be fair, it is also a must-win game for the Dolphins, who held their own against the Pats and stole a victory on a miracle of a final play. The Vikings defense however, is not the Patriots. They have a much better unit and will make life difficult for Miami. Stefon Diggs and Adam Thielen should feast upon a Dolphins secondary that ranks toward the bottom of the league, which will lead to a double-digit Vikings win.
Miami is 2-4 ATS on the road this season and 2-9 ATs in their last 11 road games. The Vikings are 3-3 ATS at home this season and 17-7-1 ATS in their last 25 at home.
My Pick: Minnesota -7.0
Tennessee Titans vs. New York Giants (-2.5, o/u 43.5)
In a NFL season that has been anything but predictable, these two teams may be near the top of the unpredictable list.
After a 1-7 start to the season, the Giants have turned things around, going 4-1 in their last five games, and 5-0 ATS in that same span. Tennessee has been on a roller coaster all season as they lost their opener, won three straight, lost three straight, won two in a row, lost two in a row, and have won their last two in a row again. The Titans' defense should be able to frustrate the Giants enough to eek out a win this week in a must-win game for Tennessee.
Tennessee is 2-5 ATS on the road this season. The Giants are 2-4 ATS in their last six games at home.
My Pick: Tennessee +2.5
Washington Redskins vs. Jacksonville Jaguars (-7.0, o/u 36.0)
One of the lowest totals of the year tells me Vegas thinks this game will be BORING. The Redskins are still technically alive, but with a quarterback just picked off the street they really have no viable shot to make noise. On the other side of the ball, I thought the Jaguars had mailed it in until they shutout the previously hot Colts two weeks ago. Then they come out in Week 14 and not only lay an egg, but give up 264 yards on the ground to the Titans.
With all that said, seven points is a lot in a game where the total is 36 points, but I have no faith in Josh Johnson to be able to do much of anything offensively for the Redskins, so I'll be taking the Jaguars here against my better judgement.
Washington is 5-2 ATS in their last seven games after an ATS loss. The Jaguars are 9-3 straight up in their last 12 home games.
My Pick: Jacksonville -7.0
Seattle Seahawks vs. San Francisco 49ers (+6.0, o/u 44.0)
In what alternate universe should San Francisco have beaten Denver last week? The answer is this: this universe called the NFL of 2018. San Francisco went ahead early and held on to beat the Broncos last week in an upset that put Denver on the brink of elimination. The Seahawks dominated the Vikings on Monday night and have been rolling of late winning four in a row and going 4-0-1 ATS in their last five games. They also sit at the top of the ATS power rankings with the best winning percentage.
I see them being able to limit the 49ers offense and put up plenty of points to make this one a no-doubter.
Since the 2013 Conference Championship, Seattle has won 10 straight against the 49ers and have gone 8-2 ATS in that span. In their last nine games this season, Seattle is 7-1-1 ATS. San Francisco is 4-9 ATS on the season and 2-4 ATS at home.
My Pick: Seattle -6.0
New England Patriots vs. Pittsburgh Steelers (+1.5, o/u 52.0)
Both teams are coming off losses that could, and should, have been avoided and both teams need wins here for different reasons. The Steelers are desperate, and a fourth straight loss here could not only drop them from the division lead, but drop them from the playoffs altogether. The Patriots on the other hand, need a win to potentially stay in the running for a first-round bye and much-needed home field – unless they play the Chiefs.
Something is telling me to take the Steelers here, but I just don't have faith in a team that just lost to one of the worst teams in the NFL and have not looked good in a month now. Add to that the fact that the Steelers simply struggle against the Patriots time and time again so I have to take the Patriots with a line that is just about a pick-em.
New England is 5-0 straight up in their last five games against Pittsburgh.
My Pick: New England -1.5
Philadelphia Eagles vs. Los Angeles Rams (-9.0, o/u 53.5)
The Eagles had their shot to get back in the NFC East race and they were shut down by a resilient Cowboys team – along with several bad calls by the zebras. Los Angeles also took a beating last week at the hands of the Bears and were limited to just six points. They need a win here to keep pace with the Saints to potentially land the number one seed in the NFC.
The Rams should be able to move the ball up and down the field in this game and I just don't think the Eagles will have much fight in them after the wind was taken out of their sails last week by Dallas. This one could get ugly.
The Rams are 6-0 straight up in their last six home games winning by an average of 10.5 points. Philly is 1-5 ATS in their last six games on the road.
My Pick: Los Angeles -9.0
Monday – 12/17/18
New Orleans Saints vs. Carolina Panthers (+6.5, o/u 51.5)
Cam Newton is hurt and struggling, but the Panthers will almost certainly trot him out there on Monday night in hopes to keep pace with the Saints. He won't help and this is another game that could get ugly early.
Carolina has been a different team at home this season, but that was with a healthy Newton. They just simply don't have the firepower to keep up with the Saints.
New Orleans is 10-1 ATS in their last 11 games and are 7-1 ATS in their last 8 on the road.
My Pick: New Orleans -6.5
Picking all favorites this week in a five-team parlay:
Seattle -6.0
Houston -6.5
Denver -3.0
New Orleans -6.5
Houston/NY Jets UNDER
Good luck this week!