Print this article
Last Week: 5-10-1
Overall: 96-111-9 – 46.3%
Week 15 Whiffs
— The late games killed me last week. I went 0-4 in the late afternoon time slot and on through Monday night as three of the four games were upsets.
— I'm still underestimating the Colts. Maybe it's because I want them to lose for our own personal gain with the Ravens, but I just don't see this team as good enough to compete with the big dogs in the NFL. It'll be a shame if the Ravens miss the playoffs and the Colts or Titans get in, since the Ravens are the much better team.
— Remember two weeks ago when Jacksonville shut out Andrew Luck? They just lost to Josh Johnson. Enough said.
Two weeks left and there is still plenty up for grabs in this NFL season. This season has been anything but predictable so who knows what will happen to end the season, but it will sure be fun to watch.
On the AFC side, Week 16 will be huge. The Ravens' most likely path to the playoffs consists of winning out. If they lose this week to the Chargers, however, that opens up a spot for the Colts or Titans to slide into the final playoff spot. For the NFC, there is a lot more uncertainty. The NFC East boasts three  teams with .500 or better records so the last few weeks in that division will not only determine the division, but also potentially a wild card spot.
Here are your Week 16 ATS Power Rankings: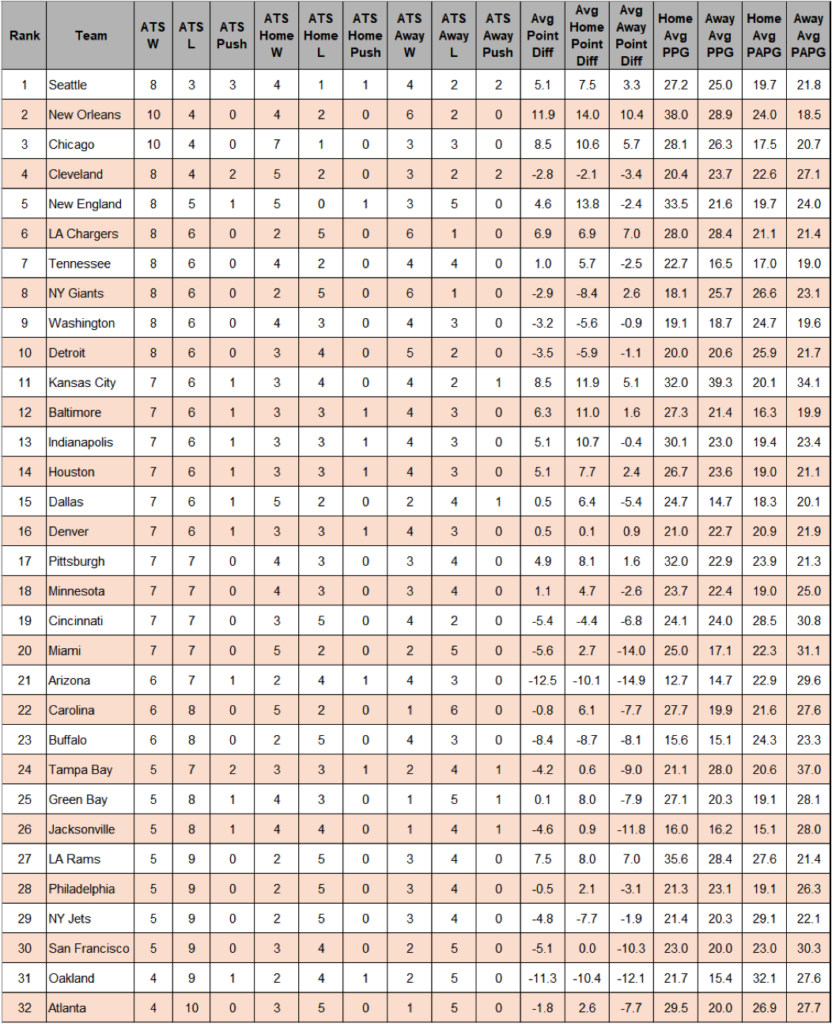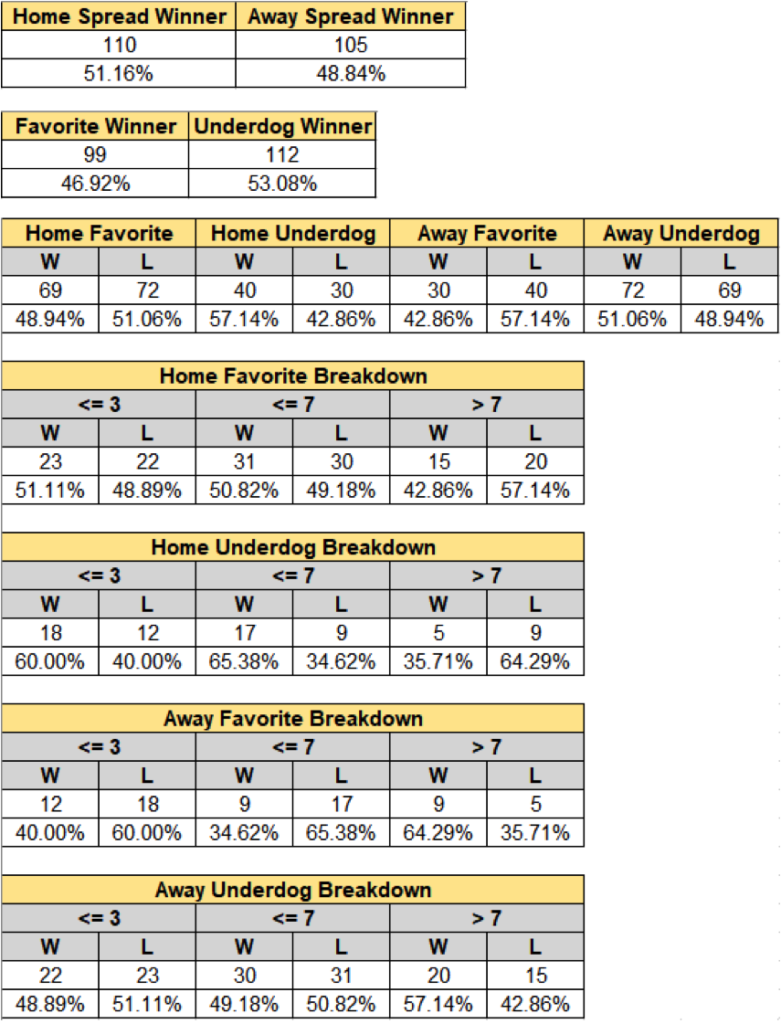 Disclaimer: Please do not take these picks and expect to make any real money. I enjoy picking games and the discussions they create so feel free to play along. I will provide information for each game, but please make your own decisions and BE RESPONSIBLE!
Here are my Week 16 picks…
Saturday – 12/22/18
Washington Redskins vs. Tennessee Titans (-10.0, o/u 37.0)
The Tennessee defense has been stout this season, which is reflected by Vegas in the line and total. Even with Tennessee being a different team at home going 4-2 ATS, they only have a 5.7 average point differential. Couple that with the low total and high spread, and I'm going to have to go Washington here for the simple fact that it's hard to cover 10 points in a low-scoring game unless you completely limit the other team. I don't think that'll happen here and the Redskins keep it within single digits, losing 17-10.
Washington is 4-3 ATS on the road this season scoring 18.7 points per game while giving up 19.6 per game. The Titans are scoring 22.7 points per game at home while giving up only 17.0.
My Pick: Washington +10.0
Baltimore Ravens vs. Los Angeles Chargers (-4.5, o/u 44.5)
This game has the potential to be the biggest regular season game of John Harbaugh's tenure in Baltimore. With the way the AFC playoff picture is taking shape, the Ravens will most likely have to win out to secure a playoff spot, and that would start this week in Los Angeles.
In Lamar Jackson's first five starts, he has faced five of the bottom eight rush defenses in the NFL. That will change this week against a Chargers team that currently sits 9th in the NFL in rushing yards per game allowed.
There has been debate over whether this type of offense is sustainable in today's NFL. I think we'll get that answer this week. The Chargers should be able to limit Jackson more than any other team has which will force him to throw the ball more than the Ravens would like. And oh by the way, the Chargers also have the 8th ranked pass defense.
This is a bad spot for the Ravens to need a win, but that's exactly what has transpired. I see a rough game for Jackson and the Chargers winning by a touchdown. I also wouldn't be surprised here if we see Jackson limited to the point of #5 making an appearance at some point in this game.
Since there's a limited sample size of data with Jackson at quarterback, you can throw most of the numbers and trends out the window. Baltimore is 3-1-1 ATS with Jackson under center, scoring an average of 25.6 points per game. The Chargers are only 2-5 ATS at home this year with a 6.9 average point differential.
My Pick: Los Angeles -4.5
Sunday – 12/23/18
New York Giants vs. Indianapolis Colts (-9.0, o/u 46.5)
The Colts are flying high after a beatdown of Dallas in Week 15, but in a must-win situation, they should win this game outright. However, this game hinges on the status of Odell Beckham Jr. If he suits up, I'm easily taking the nine points here. If he doesn't, I'd question that decision. The Giants' weapons of Engram, Barkley, and Beckham should be able to keep pace with the Colts offense to at least cover here in Week 16.
Weird stat of the week: Teams that post shutouts in the prior week are 23-18 straight up and 16-24-1 ATS since 2011.
Indy is 5-1-1 ATS in their last seven games as home favorites. The Giants are 5-1 ATS in their last six games and are 6-1 ATS on the road this season.
My Pick: New York +9.0
Green Bay Packers vs. New York Jets (-1.0, o/u 44.0)
I've been burned two straight weeks betting on Aaron Rodgers to do Aaron Rodgers things, so why not make it three for three this week? Both teams have been eliminated, which is a scenario I tend to stay away from when putting my money on games. You never know the psyche of these teams and whether or not they'll show up. Green Bay is the better team on paper and in basically a pick-em, I have to lean that way.
Green Bay is 8-3 straight up in it's last 11 road games against teams with losing records. The Jets are 1-5 ATS in their last six 1 pm games.
My Pick: Green Bay +1.0
Buffalo Bills vs. New England Patriots (-13.0, o/u 44.5)
The Patriots return home having lost two in a row. They haven't lost three straight games since 2002. New England opened as 10.5-point favorites and the line has already jumped to 13 which means money is flying in on the Pats early. The Bills defense has been serviceable this season so there's the thought that they'll be able to keep this game close, but you don't want to run into an angry queen and that's just what we have this week. Her majesty is going to light up the Bills and show the NFL that they still have some fight left.
The Pats are 6-0 straight up and 5-0-1 ATS at home this season. Since 2014, New England is 6-2-1 ATS against the Bills. Buffalo is 3-5 ATS in their last eight games and are 4-3 ATS on the road this season.
My Pick: New England -13.0
Minnesota Vikings vs. Detroit Lions (+6.0, o/u 43.5)
The Vikings re-committed to the run last week which resulted in a big win. If they actually continue that this week, they'll be able to run up the score against a Detroit team that ranks in the middle of the pack against the run.
Detroit is a rare team that struggles more at home than on the road. This season, they have a -5.9 average point differential at Ford Field. That doesn't bode well against a team that may have found their rhythm last week. I like the Vikings to win big.
Minnesota is 7-1-1 straight up in their last nine games against divisional opponents, but just 3-4 ATS in their last seven road games. Detroit is 2-5 ATS in their last seven as home underdogs.
My Pick: Minnesota -6.0
Atlanta Falcons vs. Carolina Panthers (-2.5, o/u 47.0)
Another Week 16 matchup that means nothing for the playoffs. My pick here is Atlanta for a very simple reason: I have a hunch that Cam Newton won't be playing, and if he is, he won't be 100%. That fact makes it very hard to pick a Carolina team that has struggled mightily in losing six straight games (1-5 ATS) after starting 6-2. Both teams covered last week for the first time since Week 9, but Atlanta looked like the much better team. I agree with Vegas that this will be a field goal game and I see the Falcons pulling it out in the end.
In the last six matchups, Atlanta is 5-1 straight up and ATS including a 31-24 win in Week 2 of this season. Carolina is 12-2 straight up in their last 14 games against teams with losing records and are 5-2 ATS at home this season.
My Pick: Atlanta +2.5
Tampa Bay Buccaneers vs. Dallas Cowboys (-7.0, o/u 46.5)
I'm taking Dallas in this one, but I'm not confident about it. I like the fact that they need a win here and were beaten badly last week. They are also a completely different team at home, going 5-2 ATS this season. My bet here is for Ezekiel Elliott to have a big day on the ground and for the Dallas defense to beat around Jameis Winston just enough to cover the seven points at home.
The Bucs are 0-9 straight up in their last nine games on the road against teams with winning records. Dallas is 5-1 ATS in their last six games.
My Pick: Dallas -7.0
Houston Texans vs. Philadelphia Eagles (-2.0, o/u 45.5)
I understand that giving a home team three points is the starting point of a line, but when a .500 team is going up against a team that has won 10 of 11 games, I would expect the .500 team to be an underdog. That's not the case here, as Vegas has some faith in Nick Foles it seems. I, on the other hand, do not. I don't think Foles can catch lightning in a bottle twice as he goes up against one of the better defenses in the NFL. J.J. Watt and Jadeveon Clowney will put him on his back and all but eliminate Philly from playoff contention this week.
Philadelphia is 9-2 straight up and ATS in their last 11 home games against teams with winning records. Houston is 3-10 ATS in their last 13 1 pm games.
My Pick: Houston +2.0
Cincinnati Bengals vs. Cleveland Browns (-7.5, o/u 44.5)
Raise your hand if you would have believed me if I would have told you early in the season that Cleveland would be 7.5-point favorites in Week 16 over Cincinnati…
I wouldn't have believed it either, but here we are in this alternate universe where the Browns have something to play for late in the season. The Cleveland offense has been fairly effective this season with Baker Mayfield under center and facing a Bengals team that possesses the worst defense in the NFL could mean he's in a for a big day.
On the other side of the ball, the Browns' defense has only given up more than 20 points twice since Gregg Williams took over as head coach. The Bengals were scoring 30.25 points per game before their latest six-game stretch where they are averaging 19.33. Needless to say, the loss of A.J. Green and then Andy Dalton has wreaked havoc on this Cincinnati offense.
Cleveland should win this game by double digits.
Cleveland is 4-1 straight up and ATS in their last five games winning by an average of 8.5 points. Cincy is 2-7 straight up and 3-6 ATS in their last nine games, losing by an average of 15.14 points.
My Pick: Cleveland -7.5
Jacksonville Jaguars vs. Miami Dolphins (-4.5, o/u 39.0)
This will be one of the only times you see me pick Miami. They're facing a team that has quit on the season after losing to the juggernaut quarterback Josh Johnson in Week 15. Miami is still technically alive (with some help) and they'll win here this week.
Since taking over for Blake Bortles, Cody Kessler has one touchdown drive in 31 possessions. That's next level terrible.
Jacksonville is 0-5 straight up and 0-4-1 ATS in their last five road games, losing by an average of 15.2 points. Miami is 5-2 ATS at home this season.
My Pick: Miami -4.5
Chicago Bears vs. San Francisco 49ers (+4.0, o/u 42.5)
The Bears clinched the NFC North title last week, but still have a lot to play for with a shot at a first-round bye.
The Ravens may have statistically the best defense in the NFL, but my money is on the Bears. They have been destroying quarterbacks all year long and are getting a rookie this week to feast on. Even though San Francisco has had better showings of late, they haven't faced a defense like they will this Sunday. Chicago will limit Nick Mullens and cover easily.
San Fran is 3-4 ATS at home this season. The Bears are 3-3 ATS on the road, but have an 8.5 average point differential.
My Pick: Chicago -4.0
Los Angeles Rams vs. Arizona Cardinals (+14.0, o/u 46.0)
The Rams have struggled in their past two games, and luckily get a struggling Arizona team to try to right their ship before the playoffs. They need to win to keep their hopes of a bye in play and even if they're without Todd Gurley they will win this game – it just depends by how much.
I'm leaning Rams here because they are easily 14 points better than the Cardinals, but the Cardinals are a fickle team. They've already covered as underdogs this season with spreads of 10.5, 14, and 17 so it would not surprise me to see them keep it within 14 points this week…but I can't put money on it. I'm also staying away from this game, but I do think the Rams should cover.
Arizona is 2-4-1 ATS at home this season and 2-7-1 ATS in their last 10 games against their division at home. The Rams are 3-4 ATS on the road this season.
My Pick: Los Angeles -14.0
Kansas City Chiefs vs. Seattle Seahawks (+2.5, o/u 53.0)
The Chiefs were flying high until their loss last week against a Chargers team with whom they now share the same record. A win by the Chargers and a loss here by the Chiefs will vault Los Angeles to the top spot in the AFC and the Chiefs down to the 5th spot.
Seattle, on the other hand, needs a win as well to keep their hold on a wild card spot in the NFC. They've performed well extraordinarily well at home in night games and seem to be peaking at just the right time.
My gut tells me to go with Kansas City here in desperation mode. If they don't get home field advantage in this year's playoffs, I think they'll be an early out and they know that. They win a close game by a field goal late.
Seattle is 24-6-4 ATS in their last 34 night games and 18-5 ATS as a home underdog since December 2008. Kansas City is 4-2-1 ATS on the road this season.
My Pick: Kansas City -2.5
Pittsburgh Steelers vs. New Orleans Saints (-6.0, o/u 53.5)
The Steelers last two weeks can just about summarize this NFL season. Lose to Oakland, beat New England in back-to-back weeks. Their defense that had been struggling, was able to shut down her majesty and win a huge game. I believe that was more of a mirage than a sign of things to come. I still don't have faith in the Steelers defense going into New Orleans where the Saints are averaging 38 points per game and have a 14.0 average point differential.
I like the Saints to win by 10 points and put up big numbers on offense. I also see this game easily going over the total.
Pittsburgh is 0-3 ATS in their last three road games. New Orleans is 4-0 ATS in their last four home games.
My Pick: New Orleans -6.0
Monday – 12/24/18
Denver Broncos vs. Oakland Raiders (+2.5, o/u 44.5)
As a Ravens fan, I had Denver pegged as the team we should be most worried about two weeks ago. Two bad losses to Cleveland and San Francisco and now Denver is on the outside looking in on the playoffs.
Oakland has been just as bad. Coming off a surprise win against Pittsburgh, they followed that up with a drubbing by the hands of a woeful Bengals team.
In this game, I'm just going with which team I think is better on paper and that's the Broncos. They've been decent ATS on the road and should be able to continue that against Oakland.
Denver is 4-1 ATS in their last five road games. Oakland is just 2-4-1 ATS at home this season.
My Pick: Denver -2.5
I think Week 16 will settle a lot of playoff races, but also create doubt in a few other spots. It'll be fun to see how it all plays out and which teams will have something to play for in Week 17. For those of you in your fantasy football championships, good luck!
Here are my personal favorites this week:
Minnesota -6.0
NY Giants +9.0
Miami -4.5
Chicago -4.0
Good luck this week!