The Blueprint to Discharge the Bolts
Print this article
Offense
Get right to it
The Chargers play more dime personnel than anybody in football, so this will be an interesting test in wills. Albeit not at the same level, but like the Ravens, the Chargers have been able to play the run well enough in lighter fronts to stay in them. In Week 14 they faced a Bengals team with a mobile QB and a good running back and Joe Mixon gashed them for 111 yards on 26 carries, nearly pulling off the upset…but despite that, they stayed true to what they've done and played predominately with six defensive backs.
It will be important that the Ravens steer clear of any longer-developing run plays and get straight downhill. With their edge duo of Melvin Ingram and Joey Bosa and stud safety Derwin James (/sheds tear) no doubt on the prowl for Lamar Jackson on the edges it would behoove the Ravens to instead go after light linebacking duo Jatavis Brown and Adrian Phillips inside.
Speaking of Melvin Ingram…
He'll play with a hand in the dirt, standing up, dropping in coverage, rushing from the interior…pretty much anywhere. He's got game-wrecking ability and the Ravens need to know where he is at all times.
With the weather being what it was and the Bucs' lack of pass rush I understood the Ravens deactivating Ty Montgomery but on the strength of Ingram and Bosa alone, he needs to be active in this one.
A steady dose of motion
The Chargers will stand a lot of people up at the line of scrimmage and attempt to confuse Lamar as to who's coming, who isn't, the coverage behind it, etc. Going into his sixth NFL start, it would be too much to ask of him to diagnose all of this pre-snap with a great deal of success. Using motion would help him better decipher what look he's facing while creating concepts to overload some of the Chargers zones.
Even if they force them into heavier fronts more often, he still stands to face plenty of five- and six-defensive back looks. The Chargers have a very talented back seven pass defense with two stud pass rushers.
The Ravens will need to give Lamar all the help they can.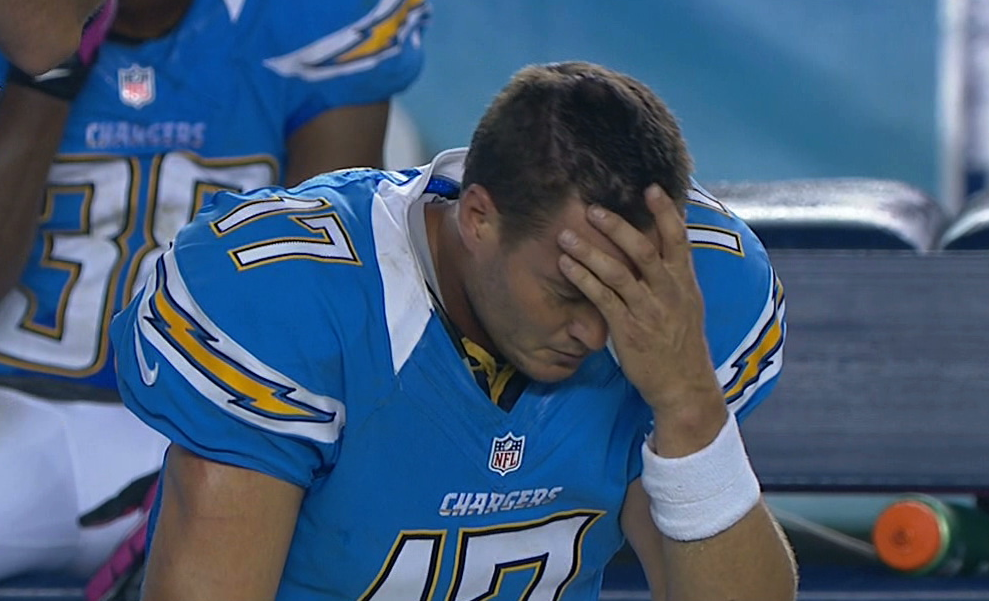 Defense
Fade Alert
This key is for Mike Williams specifically. He has exceptional body control, timing and strong hands. Even when you know it's coming, Philip Rivers is always looking to give Williams a chance to win in 50-50 situations. Unlike the Chiefs trio of midget slot receivers (sorry, a little salty because my opponent had Williams in fantasy), the Ravens have size at the position and they usually do a good job at the catch point.
This matchup however still offers a steep challenge. They'll need to value the deflection over the interception and work through the receiver's hands because Williams has the talent, even with good defense, to make a highlight-reel play.
Varying safety looks pre-snap
The Chargers run game and Keenan Allen set the table for the offense. Around them, they have talented shot players like Tyrell Williams, Travis Benjamin and Mike Williams. They don't simply run, run, play-action nine route you either. They'll utilize deep crossers and posts, end around's, etc. If you telegraph that you're in a split safety Cover 2 look, Rivers is going right down the seam on you. That is particularly worrisome with this duo's lack of range. Disguise will be important.
It's not like you're going to trick him much in year 15, but you want to limit just how empowered he is pre-snap.
Ekeler's reverting role
Austin Ekeler was one of the NFL's most productive players per touch this season but sort of bombed in the lead role with Melvin Gordon out. With Gordon's return imminent I'd expect the Chargers emphasize putting Ekeler predominately in space via outside runs, swing passes, screens, etc. Because of how good the Chargers have run the football this year I don't think we see a lot of dime in this game which will lessen Anthony Levine's role in defending the short to intermediate parts of the field.
The Ravens will need a big game from Kenny Young as he's really the only other front seven guy that can match up with these backs. Ekeler's availability for Saturday's game is still up in the air, but even if he doesn't play, rookie Justin Jackson offers a lot of the same dynamic.
Matchup to watch
Tavon Young vs Keenan Allen
Keenan Allen spends half of his snaps in the slot so while he'll likely draw Marlon Humphrey when he's out wide, he'll face Tavon Young more often. Allen wins with his size versus smaller defenders but his biggest trump card is his suddenness and route-running ability. Young will need to be sound and not be rocked to sleep with Allen's head fakes and crisp footwork.
The Ravens have the run defense to combat Gordon and company but how well they defend Allen will go a long way in determining whether they can pull off the Saturday night upset.