A Slightly Different Formula
Print this article
The Ravens went to LA with reasons to complain about the scheduling of their season-extending game against the Chargers.
Let's review:
— The Chargers had a Thursday night game in Week 15, otherwise known as a mini-bye.
— Despite the fact the Ravens had to travel across the country…
— They were flexed into a Saturday night game on the road.
The Ravens won what was effectively the first of 6 (we hope) playoff games and earned the right to advance to Week 17 against the Browns.
A Different Formula
The hallmarks of the Lamar Jackson era to date have been the Ravens' ability to dominate snap count, convert 3rd downs, and maintain possession with the run even when the opponent knows it is coming.
On Saturday:
— The Ravens won the snap count just 60-57 after outsnapping the Chargers 39-21 in the first half.
— The Ravens converted just 4 of 13 times on 3rd down
— The Ravens went 3-and-out from their own 2-yard line to give the Chargers a 39-yard field with 3:00 left when leading by just 6.
It wasn't the "Jackson formula," but this time the defense found their turnover mojo and took the ball away twice in the final 3 minutes to win the game.
Onwuasor Stars
Patrick Onwuasor played just 27 non-penalty snaps, but turned in the best game of his career. Reviewing with racing form notes:
(Q1, 12:06): Converged quickly for tackle as Rivers threw to Green PR3 (3 + 0 YAC) [4]
(Q3, 14:44): Blocked by RT Tevi in L2 on Gordon RM13
(Q3, 10:34): Bulled and shed RB Jackson for S-8
(Q3, 4:55): Penetrated through right A gap, but RG Schofield blocked him in back past play, 2nd block in back on Williams called
(Q3, 4:25): Drove between RG Schofield and RB Gordon in the right A gap. Urban looped between Gordon and C Pouncey for S-7 (shared with Z Smith)
(Q3, 0:56): Dropped too deep, but recovered to make arm tackle on Gates PL5 (3 + 2) [2]
(Q4, 9:45): Beat Gordon outside for fast S-8
(Q4, 6:10): Shed pulling RG Schofield to further stretch Jackson RR-1, Jefferson tackled in space.
(Q4, 2:54): Delivered game-sealing FF on Gates returned by Tavon Young for TD.
He rushed the passer 7 times, generating 2 full sacks and a contribution to a third. He wasn't beaten for any big pass plays and he delivered the game-winning forced fumble as the 2nd man to Gates.
Onwuasor or Kenny Young typically leaves the field in obvious passing situations for Anthony Levine when the Ravens play their dime package. In a set of deviations from Martindale's typical use of the dime, Onwuasor stayed on the field for 2nd and 19, 2nd and 16, 3rd and 4, and 1st and 20. The results of those 4 plays were offensive pass interference (Peanut uninvolved), his sack -8, Urban's sack -7 (Shared with Z. Smith) by twist over Onwuasor (see above), and Patrick's game-winning strip of Gates.
Package Oddities
Other than the usage of Onwuasor in some passing situations, the Ravens played a standard set of packages against Chargers with 2 exceptions.
They twice employed the 4-CB dime package on the last Chargers drive of the half (beginning Q2, 2:00). On the first play, Carr dropped to play safety while Jefferson effectively moved up to play Levine's traditional dime spot. After a false start, that package remained on the field, but Carr moved to coverage at the LoS and Jefferson dropped deep. The Ravens otherwise used the dime on 16 occasions, all with Levine. They may have had a planned coverage switch to put Carr in position for an interception or it may simply have been a different look Martindale wanted to show the Chargers (or some future opponent).
After Dixon's fumble to start the second half gave the Chargers the ball at the 17, The Bolts had a 3-play sequence that energized their fans:
— (Q3, 14:44): Gordon ran up the middle for 13 yards when the double teams on Brent Urban and Brandon Williams were each converted into combination blocks in level 2 on Mosley and Onwuasor. It's what we've seen when the Ravens power run game has been working effectively against the nickel in recent weeks.
— (Q3, 13:58): Brandon Williams drove back C Mike Pouncey 3 yards to blow up the pull of LG Dan Feeney. Nonetheless, Gordon cut back behind the pileup for a gain of 3 to the 1.
— (Q3, 13:21): On 2nd and goal from the 1, the Ravens substituted, but not to get another lineman in the game. Instead, they stayed in the nickel and inserted Jimmy Smith for Tavon Young. Gordon followed the double team of Feeney and Pouncey on Williams for the go-ahead TD. While it is more difficult to substitute a heavy (it might have been Pierce) in situations near the goal line, much of the difficulty is often in getting a larger player off the field.
Now let's take the LA perspective on this sequence. Their star back had just run over the vaunted Ravens defense for 17 yards on 3 plays. Their passing attack was not on track to that point (57 passing yards, long of 11). They were badly outsnapped in the first half. The Ravens seemed committed to the nickel as the viable way to stop the run. The game remained close enough for the Chargers to win by run or pass.
Given the circumstances it's not surprising the Chargers continued to try the run. However, holding penalties on Okung (drawn by Suggs) and Pouncey (drawn by Pierce) as well as a block in the back by Tyrell Williams (drawn by Weddle) each stalled a second-half drive.
Dialing more pressure against Rivers
The Chargers entered the game averaging 8.0 net yards per pass, but could manage just 3.6 YPP in this one to go along with 2 interceptions. The Ravens game plan was to lean on their outstanding corners, move Rivers off his spot with pressure, and reduce his effectiveness.
The Ravens allowed Ample Time and Space (ATS) on just 13 of 41 pass plays (32%). When they held Mahomes to 27% in week 14, he effortlessly moved in the pocket and extended by rollout, but that's not a realistic expectation for Philip Rivers in 2018.
By number of rushers, everything worked. Beyond the results of these non-penalty plays, the Chargers also had 3 first downs (62 total yards) wiped out by penalty (OPI Allen, Illegal Shift Allen, Holding Okung).
In terms of deceptive elements, Martindale sent 16 blitzers from off the line of scrimmage (LoS). The Ravens also had 9 rushes where 2 or more dropped to coverage from the LoS and used 7 stunts. Of the 41 plays resulting in a pass or sack, 8 met the definition I use for a deceptive blitz. This was one of the most deceptive games of the season for the Ravens pass rush.
To summarize the Ravens pass rush, they were successful in creating pressure with either 4 or 5 rushing and made effective use of blitzes and stunts to further confuse a mediocre pass blocking line.
Individual Notes
Brent Urban had a half sack (shared with Za'Darius Smith) when he twisted over Onwuasor (Q3, 4:25).
Michael Pierce (31 snaps) had one of his best days as a pass rusher with 5 pressures. None of the Chargers interior linemen (Feeney, Pouncey, and Schofield) could match up with him and he drew a big hold on Pouncey to stall a drive.
Tyus Bowser (13 snaps) made the most of his playing time including 1 pressure and another near sack which ended up being a tackle of Rivers for a gain of 1 (Q3, 5:36).
Suggs (42 snaps) had a QH on Carr's game-starting INT (Q1, 15:54) and added 5 more pressures, but that was far from the sum of his contributions. He diagnosed a screen pass which forced Rivers to ground the pass and take a big hit from Za'Darius Smith (Q1, 5:00). Terrell was well-positioned for another dump off for Jackson on 3rd and 19 (Q2, 8:29), but the throw was off target. He tackled Gordon with back-side pursuit for a gain of just 1 (Q3, 1:27). Finally, he drew a hold on LT Okung that put the Chargers in a 2nd and 20 hole (Q4, 3:00) immediately before Onwuasor's forced fumble and Young's return sealed the game.
Humphrey (41 snaps) had a high-point interception on the last defensive snap in coverage of Benjamin (Q4, 1:39). Marlon had 1 other PD from behind Allen (Q4, 14:56) near the right sideline. He also had the drive-ending coverage of Gates (Q2, 0:50) on a ball that was overthrown by Rivers. He allowed only 3 receptions for 20 yards, 2 of which came with quick tackles in bounds while playing a little soft on the final drive of the first half (Q2, 2:00 and Q2, 1:12).
Finding a WLB to Play Next to Mosley in 2019
With cap dollars available from Flacco's likely departure in 2019, the Ravens may consider a draft pick at ILB. I like the idea of him learning his craft from a veteran, however. I was poking around for potential candidates and saw the year Darius Leonard has had compared to Mosley: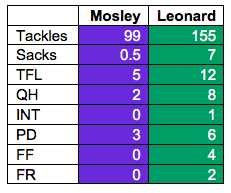 I'm happy CJ got the Pro Bowl honor, but I can see the beef Jets fans have about the selection. Then I found this guy wallowing in relative anonymity for a team that remains in contention:
I'd tell you his name and age*, but I'm afraid there may be something about his personal history or circumstances that may prejudice your view of him.
The guy I have in mind will likely want a 1-year "prove it" deal, but I'm sure he can be had for a cap cost of approximately $6 million in 2019. Given the Ravens potential rebuild and needs at other positions, is he worth a 1-year contract? Would you try to sign him for multiple years if the cost was $8-10 million of average annual value?
Defensive Stars
Patrick Onwuasor
Marlon Humphrey
Terrell Suggs
This was a game with many honorable mentions, but Michael Pierce was closest to being included.
*Oh, that playmaking Will linebacker's totals are actually the combined stats of Onwuasor, Young, and Levine.
Peanut and Kenny Young have combined to play 719 of the team's competitive snaps (79.3%) and have 8 sacks despite the fact they are typically removed for Levine on obvious passing downs.
Young is signed through 2021, Levine through 2019, and Onwuasor will be a RFA who will cost perhaps $3.5 million if the team places a 2nd round tender in 2019. Those 3 have combined to play 104% of the team's snaps, so you might want to scale down those stats by 5%, but that's a lot of playmaking for the cost. That's the value of platooning over signing a single superstar who can play all 3 downs at ILB.