Print this article
Last Week: 8-6-2
Overall: 104-117-11 – 47.0%
Week 16 Whiffs:
— A whiff has never been as sweet as the Ravens winning in Los Angeles. Look, I'm the first to say I think Lamar Jackson is the best fit for this team right now, but I'm also the first to say I don't think he's the long-term answer at quarterback in Baltimore. I thought he would falter in L.A. and the Ravens would fall out of playoff contention. He surpassed my expectations and then some with what might have been the Ravens' biggest road win since Joe Flacco's rookie year in Dallas.
— Oh Miami. I pick you ONE week and you lay an egg in a game you needed to win against a team that has quit on the season. The Jaguars defense decided to unexpectedly show up in Week 16 and shut down the Dolphins season.
— A few weeks ago, Denver looked like they could be the biggest threat to steal the Ravens' six spot in the AFC playoffs with their remaining schedule. Since, they've taken a nose dive and took a beating on the national stage against the lowly Raiders.
We've made it to Week 17. This is a week that is generally one where there are a ton of question marks about who is playing and who is not. I like to stay away from betting anything major this week since there is so much up in the air, but you can find some good lines close to game time if you pay attention.
Here are the Week 17 ATS Power Rankings: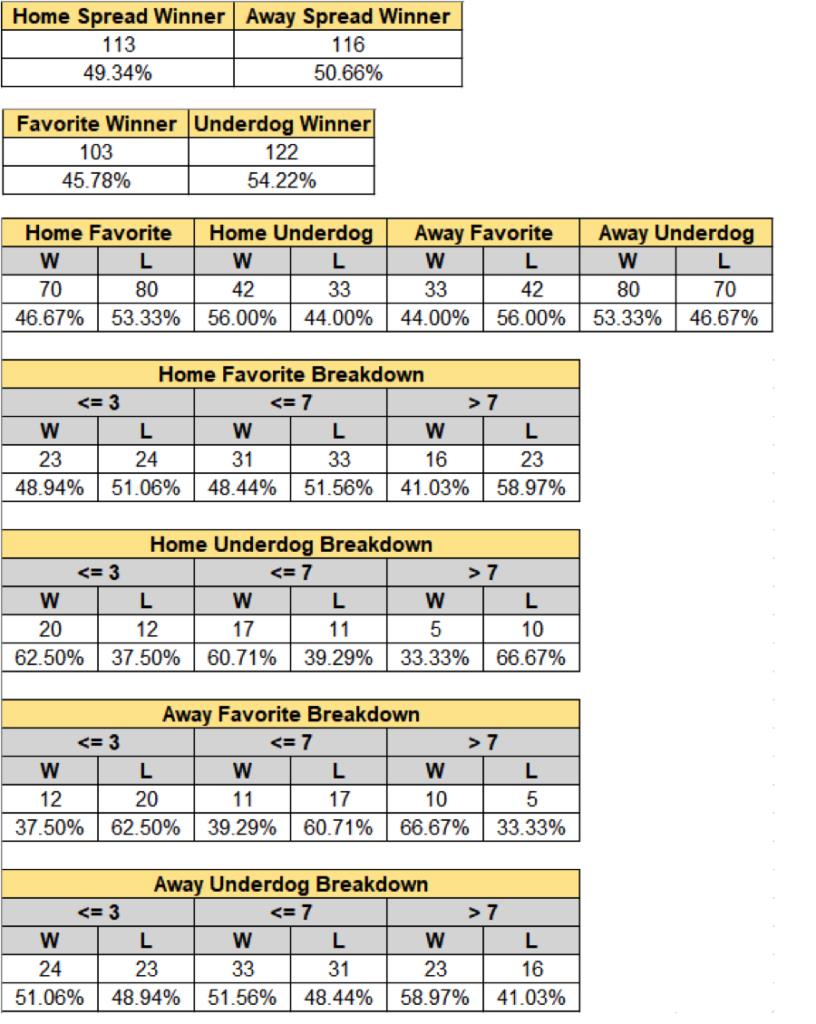 Disclaimer: Please do not take these picks and expect to make any real money. I enjoy picking games and the discussions they create so feel free to play along. I will provide information for each game, but please make your own decisions and BE RESPONSIBLE!
Here are my Week 17 picks…
Sunday – 12/30/18
Dallas Cowboys vs. New York Giants (-6.0, o/u 41.5)
Having already determined their playoff seed, the Cowboys have nothing to play for here and will probably rest their starters in the season finale. That is reflected in the six-point spread and is a prime example as to why I stay away from this week if I can.
The Giants should win this game at home if the Cowboys do in fact rest their starters.
Dallas is 2-4-1 ATS on the road this season. The Giants are 2-5 ATS at home this season with a -8.4 average point differential, but are 4-1 ATS in their last 5 games.
My Pick: New York -6.0
Detroit Lions vs. Green Bay Packers (-8.5, o/u 44.0)
Green Bay just hasn't been good this season. They rallied last week to beat the Jets, but the Jets beat themselves with 16 penalties. Detroit hasn't been much better, as they only mustered up nine points last week against the Vikings. My feeling here is that this game goes over the total and stays close as Matthew Stafford will be able to keep pace against the Packers' weak secondary.
The Packers are 1-6 ATS in their last seven games against divisional opponents. Detroit is 5-2 ATS on the road this season.
My Pick: Detroit +8.5
New York Jets vs. New England Patriots (-13.5, o/u 44.5)
The Jets have lost seven straight games in Foxborough by an average margin of 11.7 points per game. That spells disaster for a team playing for nothing against a team playing for a potential first round bye. Although I do think the Jets could keep this one close, I don't have enough faith in them in Foxborough to put any amount of money on them. I'm taking the Pats.
New England is 5-1-1 ATS at home this season and 7-0 straight up. The Jets are 5-10-1 ATS in their last 16 games on the road.
My Pick: New England -13.5
Carolina Panthers vs. New Orleans Saints (-9.0, o/u 44.5)
The Saints clinched home field throughout the playoffs last week so they have nothing to play for in this game. However, their backup (Teddy Bridgewater or Taysom Hill) is still better than either Taylor Heinicke or Kyle Allen, so it's hard for me to take Carolina even getting nine points. I'm also staying far away from this one until closer to game time and we find out who is in and who is out here.
Carolina is 1-6 ATS in the last seven games. The Saints are 10-3 ATS in their last 13 games, but you can throw these numbers out the window in Week 17.
My Pick: New Orleans -9.0
Atlanta Falcons vs. Tampa Bay Buccaneers (-1.5, o/u 50.5)
The Falcons enter Week 17 on a two-game winning streak after disappointing this season. They have looked much better in this small winning streak and Matt Ryan should be able to continue his hot play against a struggling Bucs defense. From a Tampa Bay perspective, they need to find out if Jameis Winston is their future or if they need to move on next season. My money is on them looking elsewhere on the offseason and we'll get a taste of why in Week 17 with a couple of picks from Winston to allow the Falcons to win outright.
Tampa is 9-21 ATS in their last 30 home games in December. Atlanta is 2-5 ATS on the road this season with a -4.6 average point differential.
My Pick: Atlanta +1.5
Jacksonville Jaguars vs. Houston Texans (-7.0, o/u 40.0)
This is the Ravens' best shot at higher than a four seed in the AFC playoffs. Jacksonville has the talent to beat Houston outright, but that talent chooses when it wants to show up. Houston needs this win to guarantee the AFC South title and to possibly secure a first-round bye depending on what happens in New England.
The Jags offensive line is ravaged by injuries so Houston's defensive line should be able to wreak havoc all day and keep Jacksonville in single digits. I like Houston to cover easily.
The Jags are 2-27 in their last 29 road games against teams with winning records. Houston is 3-3-1 ATS this season with a 7.7 average point differential.
My Pick: Houston -7.0
Miami Dolphins vs. Buffalo Bills (-3.5, o/u 39.5)
I picked Miami last week, and they bit me. I'm not falling into that trap again with a warm weather team going to Buffalo to play in below freezing temps. In games like this, I normally lean toward the defense and that favors the Bills.
On the offensive side of the ball, Josh Allen can make fans bang their heads against the wall as any rookie does, but his skillset keeps giving hope. He'll show up in the last game of the season and cover against Miami.
Miami is 2-5 ATS on the road this season with a -14.0 average point differential. The Bills are also 2-5 ATS at home this season with a -8.7 average point differential.
My Pick: Buffalo -3.5
Arizona Cardinals vs. Seattle Seahawks (-13.5, o/u 38.5)
Seattle had a huge win at home against the AFC-leading Chiefs in Week 16 and will carry that into this week to secure the five seed in the NFC playoffs. Seattle's top ranked rush offense will run over, around, and through a weak Cardinals' defense.
13.5 points is a lot against a divisional opponent, but when one has their golf clubs ready to go and the other is fighting for their lives, it's spot on.
Seattle is 20-8 ATS in their last 28 games against their division at home. Arizona is 4-3 ATS on the road this season with a -14.9 average point differential.
My Pick: Seattle -13.5
Los Angeles Chargers vs. Denver Broncos (+6.5, o/u 41.5)
The Chargers still have a shot at the division and the top seed in the AFC even after a poor showing against Baltimore. The Broncos had a poor showing of their own against a terrible Oaklavegas team. This week, the better team will bounce back and put the heat on the Chiefs to win against the Raiders or risk falling into the wild card round. Philip Rivers is resilient and will carve up the Broncos secondary to prove that last week was a fluke.
Side note, I really hope the Ravens avoid the Chargers in the wild card round (assuming that's where they land). Even after a convincing Week 16 win, I don't like this matchup.
The Chargers are 6-1 ATS on the road this season. Denver is 3-3-1 ATS at home this season.
My Pick: Los Angeles -6.5
Chicago Bears vs. Minnesota Vikings (-4.0, o/u 40.5)
Minnesota is in do-or-die mode and need a win to sneak into the playoffs. The Bears, on the other hand, could secure a first-round bye with a win and a Rams' loss. This will be a low-scoring affair as that is the strength of both teams. I see this being a low-scoring game with the Bears, at the very least, covering the four points they're getting.
Chicago is 4-3 ATS on the road this season. Minnesota is also 4-3 ATS at home this season which should make for a close game.
My Pick: Chicago +4.0
San Francisco 49ers vs. Los Angeles Rams (-10.0, o/u 48.5)
The Rams are in need of a win here this week to secure the 2nd seed and a first-round bye. They'll shut down the Niners passing attack and score plenty of points to cover the 10 here in this one and earn the week off.
My only hesitation here is the status of Todd Gurley. The Rams did well last week with veteran C.J. Anderson, but I don't think that is something on which they can count.
The Rams are 5-0 straight up in their last five games against divisional opponents with an average winning margin of 18.4 points but have lost their last 11 Week 17 games. San Fran is 9-1 straight up in their last 10 Week 17 games.
My Pick: Los Angeles -10.0
Philadelphia Eagles vs. Washington Redskins (+7.0, o/u 42.0)
I dislike both of these teams, but there's something about what Nick Foles is doing again that I can't take my eyes off of. If they somehow sneak into the playoffs, they'll be a dangerous out with him at the helm. They have a good shot this week with Chicago having something to play for against the Vikings and with Washington down and out. I do think the Eagles win here, but it'll be closer than the seven points Washington is getting at home. Eagles win by a field goal and backdoor into the playoffs.
Washington is 7-3 ATS in their last 10 games at home. The Eagles are 3-4 ATS on the road this season.
My Pick: Washington +7.0
Cincinnati Bengals vs. Pittsburgh Steelers (-14.5, o/u 45.5)
There will be a lot of scoreboard watching in this one. The Steelers suffered an extremely tough loss last week against the Saints in a game that looked like they were going to pull out at the end. They'll take that frustration out on a the Bengals this week who probably can't wait for this season to end. I'm staying away from this game with the high spread in a divisional game, but if I had to pick, I'd be on the Steelers.
Pittsburgh is 2-9 ATS as a favorite of 14 points or more since 1992. Cincinnati is 0-7 straight up and 6-1 ATS in their last seven games as an underdog of 14 points or more.
My Pick: Pittsburgh -14.5
Cleveland Browns vs. Baltimore Ravens (-6.0, o/u 41.0)
The most anticipated home game that I can remember and yet another Week 17 game that the Ravens need to win to get into the playoffs. I do think they'll win, but it'll be much closer and come down to the wire.
There will be a game, and I hope it's not this one, where Jackson really struggles. His running, while working now, scares the hell out of me. He'll have to win this one through the air, in my opinion, which also scares me and is the reason I'm picking Cleveland to cover.
Cleveland is 3-18 straight up in their last 21 games against the Ravens and are 0-10 straight up in their last 10 games on the road against teams with winning records. Baltimore is 4-1 ATS in their last five games.
My Pick: Cleveland +6.0
Oakland Raiders vs. Kansas City Chiefs (-14.0, o/u 52.5)
This game is simple to me. Last week's Oakland game on Monday night was their Super Bowl. They played better than they have all year and took down the Broncos. The Chiefs need to win here to secure the top spot in the AFC and avoid a disappointing wild card berth. They'll rise to the occasion and make quick and easy work of the Raiders to lock up the top spot.
Oakland is 4-2 ATS in their last six games, but just 1-5 in their last six on the road. The Chiefs are 0-4-1 ATS in their last five games.
My Pick: Kansas City -14.0
Indianapolis Colts vs. Tennessee Titans (+3.5, o/u 43.5)
Probably the most interesting game of the day because this is basically a playoff game for both teams. The Titans are a different team at home with a 6.1 average point differential so them getting 3.5 points here is a bit surprising to me unless Marcus Mariota misses this game, which is a possibility. If he does sit out, I'd be on the Colts here, but I don't think that'll happen. This is too big of a game.
I've been down on the Colts all year and I'm going to stick with my gut here that they are closer to the team that Jacksonville shut out a few weeks back and who almost lost to the Giants than the team that shut out Dallas two weeks ago. Tennessee's defense will limit Andrew Luck and be able to keep it close.
Luck is 10-0 straight up against the Titans in his career, but the Colts are 1-9 straight up in their last 10 night games. Tennessee is 7-3 ATS in their last 10 home games.
My Pick: Tennessee +3.5
The last week of the season is always a crapshoot. I try to stay away, but there are a handful of games that I like:
Kansas City -14.0
Chicago +4.0
Houston -7.0
New Orleans -9.0
Atlanta +1.5
I hope you have Happy New Year!!
Good luck this week!