Smith, Mosley Deliver AFC North Title
Print this article
It was a day of explicit celebration and another of conspicuous non-celebration. Let's review:
— The Ravens honored the 1958 Colts on the 60th anniversary (week) of their historic Championship win against the Giants in New York.
— They honored Brandon Carr with a nice tribute on the video board for his Walter Payton Man of the Year award
— They did not honor Marlon Humphrey for winning the team MVP (reportedly at his request).
— The team gave Terrell Suggs a short video salute for his 229th game, which surpassed Ray Lewis for the most regular season games played in team history
— The Ravens introduced their Pro Bowl players after the offense.
But perhaps most conspicuously of all, the Ravens did not do anything to honor Joe Flacco in what could have been his last game wearing the uniform.
Many suggested that's not something Joe would have wanted, because Sunday was all about the task at hand.
Perhaps a more fitting tribute would have been to insert Flacco for a potential QB sneak on 3rd and 1 (Q2, 1:53). Joe has been perfect on sneaks in 2018, converting for a first down each time. Lamar Jackson…has not.
Among ways where the Ravens can use Flacco's skill set since the change, QB sneaks are one area where his experience and size have tremendous value in picking up a single high-leverage yard. I wouldn't point to the result of the play any more than I'd point to the turn of a bad river card, so this is not a matter of hindsight based on the fact the game reverted to a contest after Jackson's fumble.
Please spare me the notion that removing Jackson would have ruined his confidence, shaken the foundation of the team, further divided the fanbase, or anything similar. If Taysom Hill can replace Drew Brees, or Jackson could replace Flacco for specific game situations earlier this season, there isn't any reason why Joe shouldn't enter for a role in which he has much more proven success. Furthermore, John Harbaugh's post-game team comments should underscore the idea such an insertion would not have been a problem in the locker room.
Would it have been the icing on the cake to have Joe score a TD? Sure, but it should have been done solely because he was the right QB for that play. That would have been the most fitting possible tribute to the team's first franchise quarterback.
The Stand
Past Ravens seasons have hinged on individual plays or series. For example:
The 2000 Ravens Super Bowl run was keyed by Keith Washington's block and Anthony Mitchell's return at Tennessee in a year the Titans were the only team that could play with them.
The unlikely 2003 Ravens playoff drive from 5-5 began with Ed Reed's blocked punt TD versus the Seahawks, which triggered a 17-point, 4th-quarter comeback.
The 2006 Ravens had their hopes of a Super Bowl dashed on Antoine Bethea's interception of Steve McNair on 3rd and goal from the 4 (Q2, 9:21).
The 2012 Ravens had 2 significant inflection points, including the Mile High Miracle and the 4-down stand ending at the 5-yard line that effectively sealed Super Bowl XLVII. The latter closed out the career of Ray Lewis with a set of contributions no less significant than any athlete has ever had.
And, of course, the 2017 Ravens had their season ruined by the 4th-and-12 TD from Dalton to Boyd.
If the Ravens play on, we'll remember "The Stand" from 2018 in a similar way and perhaps even pair it with "The Strip" (Onwuasor v Gates) from Week 16.
A former history professor once lectured that we don't often understand the significance of historic events at the time, but come to appreciate them (and reinterpret them) only after the fact. Let's review that series:
— (Q4, 1:18) 1st and 10, Bal 39.
After the 16-yard completion to Landry, the Browns were on the edge of FG range for Justin Tucker, but needed perhaps another 10-15 yards to greatly increase the chance for Rookie K Greg Joseph. The Ravens rushed 7 to force Baker Mayfield to deliver the ball quickly. He threw for David Njoku, who was singled on the right sideline versus Anthony Levine. The Ravens dime played the hands of Njoku perfectly and knocked away the pass without ever turning his back or making premature contact.
— (Q4, 1:14) 2nd and 10.
The Ravens brought a 6-man rush, but the Browns picked it up well. With ample time and space (ATS), Mayfield threw for Landry by the left sideline. The throw was slightly behind Landry, which allowed Jimmy Smith to drive through the receiver for the 2nd consecutive PD.
— (Q4, 1:10) 3rd and 10.
The Ravens again brought 6-man pressure and Mayfield unloaded for Njoku between the numbers and the right hash. Levine was in his hip pocket again, but able to track the football. He clubbed the ball away from Njoku and into the air where it was almost intercepted by Carr.
— (Q4, 1:06)
4th and 10. The Ravens again brought a 6-man rush, including Matt Judon unblocked off the left edge who knocked down Mayfield just after he unloaded. Baker delivered a slant which appeared on target for RB Duke Johnson, but Mosley had backed off from his rush and leapt to intercept the football and extend the Ravens season.
Notes on these plays:
— The Ravens rushed 6 or 7 on all 4 plays. The need to gamble to force quick throws in that situation was as well-understood by Martindale as it was by Tony Romo.
— The Ravens had been shredded when back-end help was required earlier in the game. On one hand, it's concerning Cleveland's ability to exploit the Ravens' Cover 2 with multiple vertical routes may provide a blueprint for other playoff teams. However, it's even better Martindale had an appropriate response to those circumstances.
— The Ravens delivered 4 consecutive PDs. For the season, they had just 80, so The Stand represented 5% of their season total.
Pass Rush Ponderings
The Ravens faced a red-hot QB and offensive line who had been party to just 3 sacks during the Browns 5-1 run.
The Ravens allowed Ample Time and Space (ATS) on 19 of 42 pass plays (45%), but they never did manage to sack Mayfield (one was negated by a defensive hold). In addition to his ATS opportunities, Mayfield had 13 more times when he delivered the ball quickly (BoQ) when it appeared pressure might develop. That left just 10 plays where the Ravens generated a pressure event within 3 seconds.
Given the lack of pressure events, it seems counterintuitive that the Ravens had significantly better results the more players they rushed.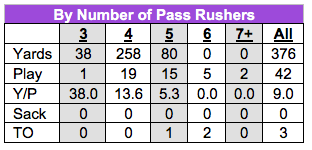 This is the most extreme set of results by numbers I've ever seen in a game. When they rushed 6+, they did not allow a completion in 7 pass plays with 5 passes defensed, including 2 interceptions.
Splitting Mayfield's pass results by pressure category:
With ATS: 19 plays, 281 yards, 1 TD, 1 INT, 14.8 YPP
Without ATS (BoQ): 13 plays, 40 yards, 1 TD, 0 INT, 3.1 YPP
Without ATS (pressure event): 10 plays, 55 yards, 1 TD, 2 INT, 5.5 YPP
Martindale made limited use of deceptive elements. He sent 12 blitzers from off the line of scrimmage (LoS). The Ravens also had 4 rushes where 2 or more dropped to coverage from the LoS and used 6 stunts. Of the 42 plays resulting in a pass or sack, just 1 met the definition I use for a deceptive blitz.
To summarize the Ravens pass rush, they were unsuccessful in generating pressure events, but did force Mayfield to deliver the ball quickly. When the Ravens failed to threaten pressure, Mayfield shredded their defense with vertical throws.
General and Individual Notes
The Ravens shut down Nick Chubb (9 carries, 24 yards). When Patrick Onwuasor chased him down for a 5-yard loss on his final carry, Chubb lost his 1000-yard season and finished with 996.
No Ravens defensive lineman played more than 27 competitive snaps and those were well split between Pierce (26), Urban (25), Williams (27), and Wormley (12).
For the second time in 3 weeks, the Ravens had a candidate for the greatest game by a CB in team history. Let's review Jimmy Smith's amazing performance with racing form notes:
— (Q1, 13:01): Stepped in front of Callaway to intercept pass tipped by Mosley at LoS
— (Q2, 4:06): Collected INT against helmet of Mayfield threw for Higgins 12 yards [2] and PD by Young, denied 3rd and 11
— (Q2, 1:45): Had tight coverage of Callaway 25 yards [1], forces throw away
— (Q2, 1:39): Had good coverage of Callaway 15 yards [1] on 3rd and 10, Mosley pressure forced throw away, denied 3rd and 10
— (Q3, 5:36): Funneled Callaway to sideline 40 yard [1] with step-for step coverage, denied 3rd and 11
— (Q4, 3:28): Picked by Higgins took him out, Callaway PL1 TD [2]
— (Q4, 1:40): Had tight coverage of Landry 22 yards [1], throw was off target
— (Q4, 1:14): Dislodged the football from Landry 10 yards [1] as he drove through tackle.
The ball skills were back on full display, but Smith also used the sideline as effectively as I've ever seen a CB in one game. He had 4 drive-ending coverages, just like Humphrey vs. Tampa Bay. It might have been possible to tag him with one of the WR screens to his side, but the only reception of consequence he allowed was the 1-yard TD which was all but impossible to stop once the pass crossed the LoS.
Marlon Humphrey had a difficult day after being named the team's MVP. His defensive holding negated the Ravens' only sack (Q4, 15:00). He also lined up offsides (Q2, 0:08) which gave the Browns the trifecta of a free play, an additional play guaranteed (the half can't end on a defensive foul), and 5 important yards of reduced FG distance (51 to 46). Fortunately, Humphrey recovered to knock the ball away from Perriman 25 yards down the right sideline and Joseph missed the ensuing FG attempt.
Humphrey surrendered receptions of 38 (Callaway), 21 (Callaway), 42 (Njoku), 11 (Higgins), and 14 (Landry). He also had the back end of a bracket on Landry which went for 19 yards.
Tavon Young had an up and down game. He was beaten by Breshad Perriman for a 28-yard TD (Q1, 8:28) where it appeared he expected help on the back end. He was similarly beaten for the TD on the Browns' first play of the second half (Q3, 12:35) when Jefferson bit on Njoku's route. He had underneath coverage of Callaway which forced an incomplete (Q2, 12:41). On the very next play, his big hit on Landry helped deny 3rd and 7. He and Onwuasor attacked the outside hip of Chubb to force his spin back to the inside where Za'Darius Smith took him down for a 2-yard loss (Q2, 4:51). He broke up the pass for Higgins on which Smith made is diving interception (Q2, 4:06). Young had outstanding coverage of Landry (Q4, 1:35), but both Mayfield's throw and Landry's catch were better for a 16-yard completion.
CJ Mosley had one of the best games of his career without accumulating a gawdy tackle total. In racing form:
— (Q1, 13:01): Blitzed through left C gap for pressure/PD, collected by Smith for INT
— (Q1, 4:02): Missed tackle (with Suggs) on Chubb RR10
— (Q1, 3:38): Worked off penetration from Williams and Weddle to take down Chubb RM0, denied 3rd and 1
— (Q2, 12:41): Rushed unblocked through left B gap to force quick release on INC for Callaway
— (Q2, 1:39): Beat RB Johnson through A gap for fast pressure, incomplete
— (Q2, 0:21): Was close in zone on PM40 to Higgins on extended play
— (Q4, 15:00): Had his Sack-10 negated by Humphrey DH
— (Q4, 1:06): Delivered AFCN title with game winning INT near LoS
He made contributions in coverage, as a pass rusher, and versus the run.
Defensive Stars
Jimmy Smith
C.J. Mosley
Anthony Levine