Two-Minute Drill: Wild Card Weekend
Print this article
WILD CARD WEEKEND & PURPLE FRIDAY CHAOS!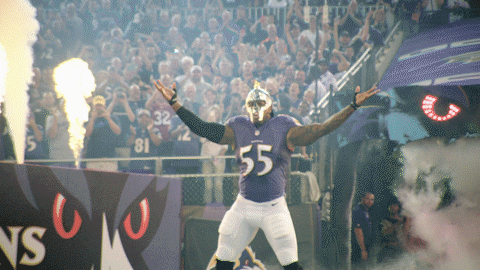 Hopefully you've gotten a chance to go out and join one of the numerous Ravens Rallies around town this week (I was fortunate enough to attend the White Marsh rally yesterday) and really kick this home playoff game insanity into full gear! It's one thing to be aware of the Ravens making the playoffs, but to join one of these events and really soak in the atmosphere…
*chills*
Enough of that, let's roll through this 2 Minute Drill!
 Last Week: Ravens 26, Browns 24
Raise your hand if you used the word "collapse" at some juncture in this game, largely due to nightmarish visions from Week 17 last season. And Week 16 the year before. And the fact that this team hadn't made the playoffs in so long, that it truly seemed unimaginable to return to the promised land once again. 
*every hand raised*
It got scary at times, and I was largely questioning a lot of the offensive play calling by Marty Mornhinweg (3rd and 5 pitch out, anybody?), but the Ravens defense did something they failed to do in the clutch moments to close out the past few seasons – they made a play. 
And not just 'a play' – C.J. Mosley made a phenomenal read of Baker Mayfield, who rushed his throw with Matt Judon in his grill, and a tip drill turned pick off sealed the victory for Baltimore. If we're being honest, that pick may have just earned Mosley an extra $1-2M per year on his next deal. Good on ya!
This Week: Bolts @ Ravens
Sunday 1/6 @ 1:05pm
Two games vs the same opponent in three weeks is tough, and hasn't been a task for Baltimore since 2012 (@ PIT in Week 11, vs PIT in Week 13), but this is also the shortest turnaround to play the same team from regular season to playoffs. In 2012 the Ravens faced the Broncos in Week 15, then again in the Divisional Round (five weeks), but other than that? The closest was at least eight weeks between head-to-head matchups (Steelers 2014- Week 9 & Wild Card Round, and Patriots 2009 – Week 4 & Wild Card Round). 
*more playoff stats to come in the Top 5*
As for this particular game, we're looking at a fully healthy Chargers team, versus a fully healthy Ravens team. Last go around, the Chargers were playing with a partial – Keenan Allen, no Hunter Henry, and Melvin Gordon just returning from injury. The Ravens defense will surely have it's work cut out for them, but that's also what we've heard against the Falcons… the Bucs… the Chiefs… the Chargers last time around…
They'll be fine. 
On offense, the Ravens have to stick to form, but also need to buck one nasty trend: Nine Red Zone trips in the last three games have resulted in either a turnover or a chip shot Field Goal. Those absolutely need to be six (7) in order to bring home the win on Sunday, and beyond. Place blame where you'd like (I personally point all fingers at Mornhinweg's play calling, and inability to stick to what works), but they have to get it right. 
PREDICTION: 
I've been optimistic the past two weeks and I'm not backing down now. Defense and a strong run game are the keys to playoff success in the NFL, and fortunately for Baltimore? They've got both.
The Ravens defense will hold the Chargers to 16 points in this game, via a short field goal, 2 touchdowns, and a failed 2 point conversion. The Ravens will again attack Rivers in the backfield for the better part of the game, leading to four sacks and two interceptions (Jimmy Smith, Eric Weddle).
The offense will surprise us – you, me, the big boys in the national media, and most of all, the Bolts fans. Lamar Jackson is going to break 250 passing yards with two passing touchdowns (Mark Andrews, Michael Crabtree) to go with 75 yards on the ground. The Bolts focus will be so heavy on the run game that a few big passes over the top to Hayden Hurst and Andrews will be key in this matchup. Add in another 220 total rushing yards between Gus Edwards and Kenneth Dixon, and this game is sealed with a five-minute clock-killer drive to end it.
RAVENS- 27
CHARGERS- 16
Rest of the Slate
I mean… there's only four games. And you're going to watch each and every one of them, so let's just not go there this time.
Instead, go check out my Who To Root For guide to see the important facets of these Wild Card matchups, like who Pete Carroll looks like whilst slapping his gum, or how I feel about rooting for an Irsay-owned team, and even a quick note on Philly Philly fans.
Rank 'Em!
Typically I do something snide here, and off the wall. Not this week. This week I'm too friggin' pumped for the playoffs so I'm dropping some knowledge bombs from the Stats Department. Enjoy!
TOP 5 RAVENS PLAYOFF STATS UNDER HARBS:
5: The Ravens are 5-0 in the Wild Card Round.
4: The Ravens are 2-0 in home playoff games.
3: The average margin of victory in the Wild Card Round for Baltimore is 17.6(!)
2: The Ravens are 2-0 in the playoffs vs the AFC West 
1: In the Wild Card Round (five games), the Ravens have never given up more than 17 points in any game, and have held team to less than 10 points three times. Every offense they faced was ranked in the top-12 at seasons end:
— Miami '08- 12th (9 Points Allowed)
— New England '09- 3rd (14 PA)
— Kansas City '10- 12th (7 PA)
— Indianapolis '12- 10th (9 PA)
— Pittsburgh '14- 2nd (17 PA)