Shorthanded Defense Holds Up Their End
Print this article
On a day when the defense continually rescued flagging offense and special teams, one question reverberated on the broadcast, in the stands, on social media, and probably in most households where the game was watched.
Why not Joe Flacco?
I think there are 2 good reasons why the Ravens didn't go to Joe even after Lamar Jackson threw for 11 net yards in the first half.
Joe has had his greatest difficulties throwing when the opponent is able to get consistent 4-man pressure and he faces 7 defenders in coverage. Not only do Joey Bosa and Melvin Ingram lead one of the game's best 4-man rush units, but Flacco has never faced a secondary of the quality the Chargers present. The Chargers played quarter (7 DBs) on 58 of 59 snaps according to NextGen, and that includes 2 first-team All-Pro players (Derwin James and Desmond King). It's not difficult to imagine a much uglier second half had he been inserted.
By comparison, the 2000 Ravens made terrific use of the quarter defense with 55 such snaps (including 4 sacks and 9 turnovers) in the entire regular season, but no Ravens team since has approached that total (Ryan's 2008 unit had 38). The Chargers' use of the quarter was a bold stroke that combined talent on the back end and difficult circumstances (the losses of Jatavis Brown and Brandon Mebane) with the opportunity to contain Jackson as a runner and passer.
The Ravens' best chance prior to falling behind by 3 scores was to get back in the game by having Jackson slow down the pass rush and get the offense on track with a combination of run and pass plays. That would eventually occur, and almost in time to be of use.
There was, however, another big reason not to throw Flacco to the wolves down 20-3. At that point, the Ravens needed to score quickly, but as always, consideration for next season was required. Joe has some legitimate trade value this offseason, but that could have dropped significantly had he been hurt in this game.
Count me among many fans who would have liked to see Joe lead a TD drive in his last home game, but not at any cost.
Defensive Effort Wasted
To summarize, the Chargers:
— Managed just 243 yards of offense, their second lowest total of the season after the Week 16 game vs the Ravens in Carson (198).
— Averaged 2.7 yards per rush, 4.7 yards per pass play, and 3.7 yards per play overall.
— Converted just 6 of 17 opportunities on 3rd down.
— Converted just 1 of 3 trips to the red zone and 1 of 2 goal-to-go situations.
— Were dispatched 3-and-out or faster 5 times, excluding their game-ending kneel.
Those totals should have been good enough to win, but not Sunday.
Tiring Defense
Only once during Jackson's tenure as the starting QB were the Ravens faced with tiring defenders (KC, outsnapped 23-3 at end of regulation and beginning of OT). The hallmark of the team's success has been a suffocating defense fueled by a low-variance rush offense and rotation which has kept the defense very fresh and led to domination of snap count.
We know the offense didn't hold up its end in this game, but the defense entered the game with problems at all 3 levels that were exacerbated during the game.
On the DL, the Ravens again chose to activate just 4 players (Pierce, Urban, Williams, Wormley). Pierce was injured on the first snap of the second half and did not return. That left Williams, Urban, and Wormley to split the snaps. They played well, but still surrendered the only touchdown drive of the game for the Chargers followed by a short FG drive.
The OLB group was the only group that was heavily taxed in the previous 7 games. Playing without Tim Williams, the Ravens were again without a valuable pass rusher. That shorthandedness was made worse when Suggs was injured (he played just 12 of the final 28 competitive snaps, excluding penalties and kneels). Za'Darius Smith disappeared as a pass rusher with a heavy workload inside and outside (47 snaps).
Most teams don't have the depth to rotate at CB and those that possess the depth rarely do so. However, the Ravens' success with rotation at corner may have both contributed to their ability to maintain man coverage and to nurse their way through nagging injuries to Smith, Young, and Humphrey. Tavon Young was a surprise scratch for the Wild Card game. In his absence, Humphrey (65 of 65), Carr (53 of 65), and Jimmy Smith (62 of 65) played more snaps than in previous weeks. Smith, in particular was beaten for gains of 17 (Q2, 12:40), 14 (Q2, 0:40), and 28 (Q3, 2:16), all on an island. Those were the longest 3 pass plays of the day surrendered by the defense (they allowed a run for 14 and a run for 9 + 5 on a penalty as well).
Pass Rush
After limiting Rivers to his worst game of the season 2 weeks prior, Martindale maintained a pass rush that included both numbers and some deception. Rivers had ample time and space (ATS) on 14 of 33 dropbacks (42%).
It's a good game when your defense can hold the Chargers to 4.7 YPP, and the 13 plays with 5+ rushing averaged just 4.3 YPP, so the Ravens were successful both with and without a heavy rush. The Ravens personnel will be different in 2019, but I think Martindale will be emboldened to try more island coverage (cover-1 and cover-0) given the NFL rules and the team's success in 2018.
In terms of deception, the Ravens were more limited than 2 weeks ago. They blitzed just 10 times from off the line of scrimmage (LoS) and surrendered ATS on 5 of those plays. The Chargers had more success with blocking assignments when the Ravens had 2+ drop to cover (6 of 10 ATS) than in the first game. On one of the Ravens' most deceptive blitzes (Q3, 3:36), Jefferson blitzed while Urban and Judon dropped to zone. That was one of only 2 times a lineman dropped to cover and Rivers found Gates for a 12-yard conversion of 3rd and 9 with Urban trailing (see below).
The Ravens also used just 4 stunts in this one after generating 2 of their 4 sacks in week 16 off stunts.
A hidden failure of the pass rush was the inability to help generate an interception. Judon did hit Rivers as he threw once, which floated in a way that often results in an interception, but was simply dropped by Keenan Allen (Q2, 0:45).
These Go Up to 11
Whenever the Ravens have substitution problems, I am reminded of this classic scene from This is Spinal Tap:
The Ravens had 3 more incidents in the Wild Card game:
(Q2, 7:49): Martindale inserted Brent Urban as an extra DL on 3rd and 1, but Brandon Carr did not leave the field, so the Ravens played the down with 12 on the field, which gave the Chargers a first down to go with a free play. Fortunately, Gordon was stopped for a gain of 2 and the damage was limited to 5 yards.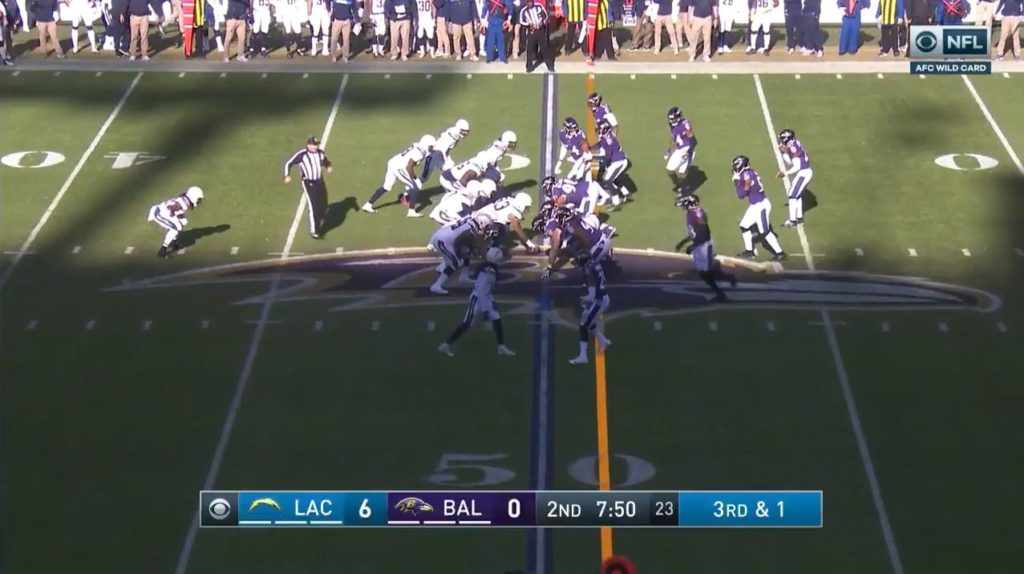 (Q3, 0:11): Za'Darius Smith rushed off the field (see below) to leave the Ravens with just 10 men on the field on 2nd and goal from the 2. Rivers completed the pass for a gain of 1 to FB Watt.
(Q4, 14:58): Still on the same goal-line stand, Suggs was inserted very late as the 11th defender on 4th and 1. That was a curious failure considering the Ravens had a lengthy review of Gordon's near TD/near fumble on the preceding play. Suggs was able to get into his stance, but Gordon ran to his side for the TD. I can't come up with any legitimate reason for a late defensive substitution under those circumstances.
(Q4, 14:44): Incredibly, the Ravens were not done lining up shorthanded.  They had just 10 players on the field for the 2-point conversion as they appeared to switch from their FG defense unit to a standard defense.  You can see Board and Canady leave the field while Kenny Young is unsure if he should enter.  The game seemed out of hand at 18-3, but it got worse a few seconds later as Williams was uncovered for the conversion.
Individual Performances
Patrick Onwuasor again played well and has increased his market value entering the offseason as a restricted free agent. Reviewing racing form notes:
(Q2, 12:40): Beat RB Ekeler for a QH, but Rivers completed a PL17 to Allen
(Q2, 10:32): Made RB Gordon miss cut, pressured Rivers on drive-ending incomplete
(Q2, 7:27): Rushed unblocked through left B-gap for S-6, Ekeler missed pickup
(Q3, 10:37): Dislodged football from TE Green as 2nd man to ball (Jefferson), recovered by Mosley
(Q3, 7:55): Beat C Pouncey right to tackle Gordon RL-4
Peanut played just 36 competitive snaps
Matthew Judon also logged a big game:
(Q1, 11:08): Tackled Benjamin on PR-1 to deny 3rd and 2
(Q2, 14:14): Shed TE Green to tackle Gordon RL-2
(Q2, 4:01): Stepped into neutral zone, then back without causing any offensive player to move his feet. Oddly, the flag was still thrown.
(Q2, 0:45): Bulled then shed LT Okung for QH as Rivers threw, ball popped up and was dropped by Allen
(Q2, 0:34): Was one of 4 Ravens drawn off by Poucey head bob for NZI
(Q2, 0:34): Rushed unblocked off left edge for QH on PL3 to Ekeler
(Q2, 0:29): Rushed unblocked off left edge (again) for QH on PL3 to Ekeler and was shaken up
(Q3, 14:48): Beat LT Okung inside for late QH, collided with Pierce who injured elbow and did not return
(Q3, 3:43): Stunted through right A-gap to flush Rivers then deliver late QH
(Q3, 1:35): Lost track of ball and lost left edge as he spun to cover FB Watt on Gordon RL14
Eric Weddle played well in what may be his final game as a Raven. In particular, he made 5 tackles in the 4th quarter alone for gains of 2 or less. Those included a dive between Judon and Wormley to take down Gordon for a gain of 2 when it appeared the right side was sealed for a big gain (Q4, 1:51).
Defensive Stars
Matthew Judon
Patrick Onwuasor
Eric Weddle