NFL Picks ~ Divisional Weekend
Print this article
Last Week: 1-3
Overall: 115-126-11 – 47.7%
Wildcard Whiffs:
The trends were overwhelmingly in favor of Seattle, Los Angeles, and Chicago. Only one of those three covered and unfortunately for us Ravens fans, it was the Chargers.
Houston must have thought they were playing on Sunday because they didn't show up for their matchup with the Colts. They looked overmatched and were sent home by Andrew Luck and co.
What a terrible end to the season for us here in Baltimore. Let me start with my two cents about the "should Flacco have played" debate. My answer is no. I agree with John Harbaugh in keeping Joe on the bench. My reasoning being that the Ravens' offensive line is horrendous in pass blocking and that was on full display against the Chargers. Lamar succeeded this season because of his abilities and the effect they had on this running game, which masked the deficiencies of the offensive line. That worked to perfection until a team stopped the running game as the Chargers did Sunday. When forced to pass, there was no time. If Flacco would have been in there, he would have been hit constantly and would have fared no better (if not worse) than Lamar did.
Here are the ATS rankings of the final eight teams left in the playoffs:

Disclaimer: Please do not take these picks and expect to make any real money. I enjoy picking games and the discussions they create so feel free to play along. I will provide information for each game, but please make your own decisions and BE RESPONSIBLE!
Here are my Divisional Round picks…
Saturday – 1/12/19
Indianapolis Colts vs. Kansas City Chiefs (-5.0, o/u 57.0)
Once again this season, I underestimated the Colts. Their offensive line and revamped defense turned the fortune of this team around mid-season and they've continued to ride that wave to the Divisional round of the playoffs. The question this week will be whether they can slow down the Chiefs at Arrowhead.
Offensively, both teams rank in the top ten in the NFL which on the surface, puts the over in play with Kansas City's porous defense. However, this is a dome team going outdoors to play in freezing temperatures with the possibility of some rain/snow in Kansas City on Saturday. I'll be taking Kansas City and the under in this one as I think home field advantage and the weather finally slow this Colts team down and Kansas City wins by a touchdown at home.
Indy is 10-1 straight up and 7-3-1 ATS in their last 11 games. The Chiefs are 7-1 straight up, but just 4-4 ATS in their 8 home games this season.
My Pick: Kansas City -5.0
Dallas Cowboys vs. Los Angeles Rams (-7.0, o/u 49.0)                 
The last few weeks of the season make me absolutely terrified to take the Rams and Jared Goff. In his last five games his stat line looks like this:
228.2 average yards per game, 60% average completion percentage, 6 touchdowns, 6 interceptions, and a 80.7 average quarterback rating.
Those numbers don't give me any confidence in him to match their regular season average of 32.9 points per game against an above-average Cowboys defense who will likely shut down the Rams run game and force Goff to win this one through the air.
Now, with that said, I think the Rams just have too much talent to lose this game straight up, but the Cowboys will keep it closer than the seven point spread. They'll be able to win time of possession by feeding Ezekiel Elliott early and often which will also force this game under the total.
Dallas is 10-1 straight up in games where the opposing offense had more passing attempts than rushing attempts. They are also 6-1 ATS in their last 7 games as underdogs. The Rams were 3-5 ATS at home this season with the highest number of points per game at home in the NFL (37.1).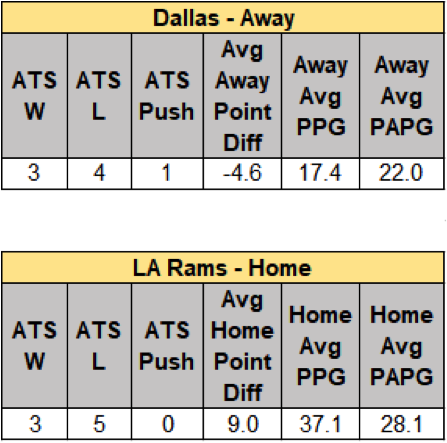 My Pick: Dallas +7.0
Sunday – 1/13/19
Los Angeles Chargers vs. New England Patriots (-4.0, o/u 46.0)
Easily the game I'm looking forward to the most this weekend. Maybe it's recency bias, but the Chargers look like they may be the best team in the league at this point. If they're not the best, they are definitely the most well-rounded. Their combination of a potent offense with a defense that is capable of getting to the quarterback is lethal this time of year.
They'll roll into New England on Sunday to take on her majesty in yet another home playoff game for the Patriots. I love the Chargers in this game to not only cover, but to win outright. I believe they'll be able to get to Brady and force him to move his feet which will give them the opportunity at a few takeaways. On the other side of the ball, the Chargers offense will be able to get back on track after struggling against the stingy Ravens defense.
The ONLY thing that is giving me some pause about this game is the weather for Sunday in New England. As of now, they are calling for the possibility of rain/snow showers which could derail the Chargers, but I'm still laying my money on Philip Rivers to finally come through in New England.
The Patriots are 15-0 straight up and 12-3 ATS in their last 15 games as home favorites. The Chargers are 5-1 ATS in 6 road playoff games with Rivers under center. The under has hit in 8 of the Patriots' last 9 games (average combined score of 40.8).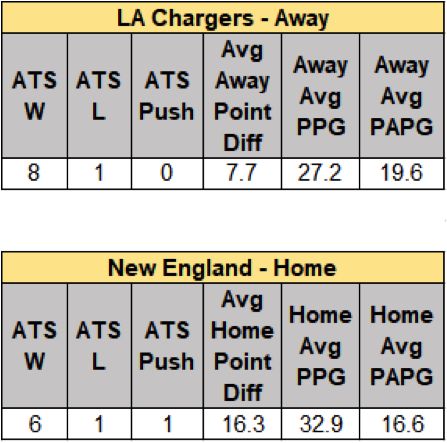 My Pick: Los Angeles +4.0
Philadelphia Eagles vs. New Orleans Saints (-8.0, o/u 50.5)
Another interesting game on Sunday. There's the thought that the Saints will just waltz to the Super Bowl with home field advantage, but if we've learned nothing else these last few weeks, it's that you can't discount Nick Foles' magic.
In Week 11, these teams met in New Orleans and the Saints dominated the Eagles, winning 48-7. I don't think this week will get to that extreme, but I do think the Saints will cover the 8 points with ease. New Orleans will be able to utilize their two-headed monster of Alvin Kamara and Mark Ingram to setup Drew Brees and the passing game and cruise into the NFC Championship game. Big numbers will be put up in this game and the total goes over.
The Saints have gone 14-2 straight up in their last 16 home games and have never lost a home playoff game under Sean Payton. The Eagles are 1-4 straight up and ATS in their last 5 games against the Saints.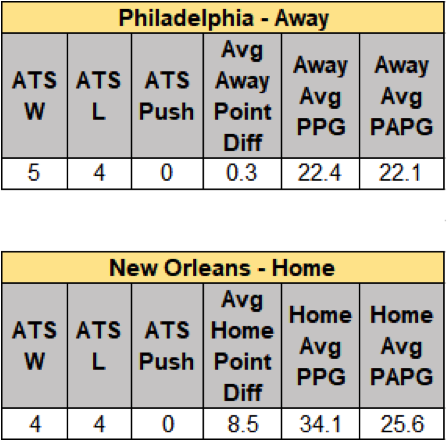 My Pick: New Orleans -8.0
Wild card weekend wasn't filled with a ton of interesting games, but I think Divisional weekend will more than makeup for that. Look for some tighter than expected games and maybe an upset or two.
Good luck this week!