Who To Root For: Divisional Round
Print this article
Yea, I know. The Ravens are out. I'm bummed too.
But I'm also 100% focused on draft season moving forward (not so much free agency because it's more barren than a Marty Mornhinweg fan club meeting), and very much looking forward to what 2019 brings for the Ravens. A new General Manager in Eric DeCosta, a new Offensive Coordinator in Greg Roman, and likely a slew of veterans on their way out of town. 
But for now? Let's focus on the playoffs. 
About Wild Card Weekend…
In case you only focused on the Ravens last week in the wild card round, here's a few odds and ends you may have missed from the other matchups:
— The Colts went up 21-0 at halftime against the Texans. Everybody stopped watching. Lots of yawning.
— The Ravens D got owned, their offense kept trying to run when it was blatantly ineffective and refused to make adjustments, and eventually came up short. Oh wait, that was the Seahawks. 
— Sebastian Janikowski hurt himself. I think that was like the 5th time this season. 
— Three slow quarters, and nine unanswered points later, the Bears won 15-10.
— Just kidding, they lost after a four-minute Nick Foles TD drive put the Eagles up 16-15.
— Just kidding again, Mitch Trubisky moved the Bears into field goal range with seconds left. This game is a LOCK for Chicago.
-***DOUBLE DOINK***
Who To Root For: Divisional Round
This week should be fairly easy on who to root for
Colts @ Chiefs
Saturday 1/12 @ 4:35pm
Lots of folks are pulling for the Colts… or is it that they expect the Chiefs to fold like, oh I don't know… every Chiefs playoff team ever? Seriously, check this stat out:
Colts have won as many postseason games at Arrowhead Stadium (2) as the Chiefs have all time.

Last time Chiefs won home playoff game was 25 years ago, when Joe Montana led them to a victory in 1993 wild-card round, at a time when Patrick Mahomes and Tyreek Hill weren't born yet.

— Adam Schefter (@AdamSchefter) January 12, 2019
I was 7 when this happened. It's been a minute. 
Once again, I know Baltimore fans will struggle to pull for the Colts, but not me. I want more drunken Irsay videos from the locker room. I want more Captain Andrew Luck tweets. I want more validation that my drunken drafting of Marlon Mack in Round 4 in a fantasy draft was actually brilliant. 
WHO TO ROOT FOR: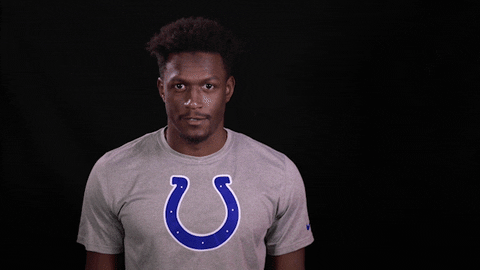 Cowboys @ Rams
Saturday 1/12 @ 8:15pm
The Cowboys didn't win last week. The Seahawks lost thanks to being predictable on offense, and not making in-game adjustments (sound familiar)? 
This week they head to LA, where it's not really a road game in a soccer stadium where half of the 40,000 fans (at best) will be cheering for the bandwagon that is Jerrah's 'Boys. 
I still hate the Cowboys and you should too – don't root for the head coach in Jason Garrett who shat all over the Ravens by using them to bump his Dallas pay. Don't cheer for overrated Dak. Don't cheer for a team that's basically the Steelers of the NFC (excessive hype, too much attention from the national media, obnoxious bandwagon fanbase). 
Instead, I'm pulling for Jared Goff. Why? Because I froze up on an episode of the Neutral Zone Infraction podcast and when Michael "Chibs" Telford asked me who the best QB in the NFL is? My dumbass said Goff… who then went crazy for 1,600 yards, 14 TDs and 1 INT in a five-game stretch. Great for me, but why are you cheering for Goff? Because in his rookie year he started seven games, hit 54.6% of his passes, had 1,100 total yards, and six total touchdowns to 12 turnovers. Lamar Jackson? Seven regular season starts, 58.2% completion, ~1,900 total yards, 11 total touchdowns and 15 total turnovers.
Dream big dreams, kids.
WHO TO ROOT FOR: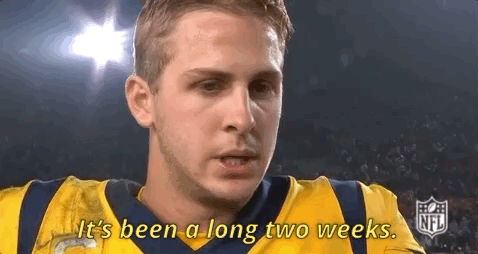 Chargers @ Patriots 
Sunday 1/13 @ 1:05pm
I don't think we need to overthink this game at all: I'll never root for the Patriots (even though I did last Super Bowl). You won't either.
Nobody likes snide Tom Brady and his man Uggs, or Bill Belichick and his smug arrogance, or the worst part of the Pats: BAHSTAN FANS.
I'm exhausted with their arrogance, entitlement, and annoying as hell accent. Steamer pots are trash. The Bruins suck. The Red Sox bought championships. Lobstah is overrated – if you have to put butter on something to make it taste good, then you're not cooking it right. Eat a Maryland steamed crab and try to tell me it's not 1000% better, Massholes.
But let's go the other route here and pump the Chargers: I want to see the team that beat the Ravens win it all now, so I can feel more validated in how close this Ravens team was, and whether or not they are close enough for a retool in 2019? Or in dire need of a full rebuild. Let's all cheer for Philly Philly Rivers to hoist the Lombardi, and maybe celebrate with a "heck yea, bud!" and maybe a "holy crud, this is friggin' awesome!"
Note: Phillip Rivers does not curse.
WHO TO ROOT FOR: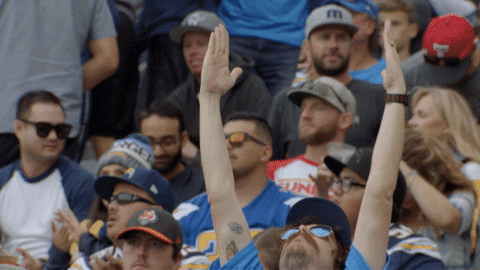 Eagles @ Saints
Sunday 1/13 @ 4:40pm
Nick Foles is now being called Big D… well, you can finish the rhyme yourself, and the justification is quite obvious: when you're the perennial backup that's failed miserably at other stops in the NFL, only to return home, lead your team to a 2018 Super Bowl win, cordially recede to the sidelines in the next season, only to be forced back into action for the Eagles? Then take your team to the playoffs? Then win on the road in Chicago??
I'm not gonna lie, that's impressive. 
Once again, the Eagles will stick Foles under center and hope he can create more magic to extend an amazing feat by the Eagles once again. 
Everyone is pulling for Drew Brees and the Saints, and it makes sense…
But not me. I want more BDN magic from Foles and the Eagles, and in a perfect world?
I want a Philly Philly vs Philly Philly Rivers Super Bowl.
WHO TO ROOT FOR: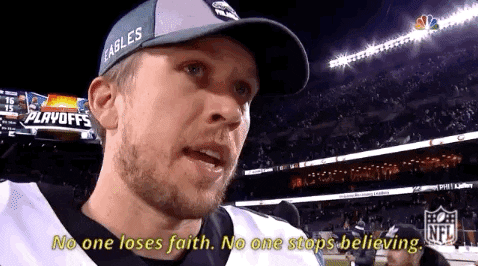 Rank 'Em!
A lot of blame has been dispersed for the Ravens' loss in the Wild Card Round to the Bolts. The main targets are the obvious ones – Lamar Jackson, Marty Mornhinweg, the entire offensive line – but I'm digging deeper. The guys we're not talking about that are bigger culprits of this Ravens early exit from the playoffs.
Top 5 Under-the-radar Blame Game Award Winners
5 – Bobby Petrino
"Lamar Jackson can't throw a pass!" Yea, well do you know why? Because Bobby-goddamned-Petrino never worked on those mechanics with Lamar at Louisville! Instead he built an offense that had Lamar running for this life more often than dropping back to pass, so coming out he had more work to do on fixing those mechanics and here we are today. And speaking of which…
4 – James Urban
Last offseason fans gushed about the Urban hire. "Finally a QB Coach to help develop Flacco! And Lamar!" Clearly he didn't develop the QB's that much with the way the rookie QB played in the wild card game. His mechanics still need work, he was hesitant to throw, and got himself in trouble a few times that, I mean any QB Coach worth his weigh would have adjusted by now. Thanks a lot, Urban. Go back to Cincy to work with a busted ass A.J. Green…
3 – Fake Fans
Yea. I'm blaming everyone booing the Ravens offense. It wasn't working, and we know that. Don't you think the players/coaches knew it too? Or did you think that your booing coerced them into changing things? I'd imagine Marty was on the sidelines wondering to himself "are those boo's for me? Man, I was gonna just keep this up, but maybe we'll pass it a little more now. Hey, thanks fans!"
And even worse are the clowns chanting for Flacco. Same principle – did you honestly think that was going to change the coaches' decision? Or maybe just discourage an already struggling rookie QB? You made it worse not better. I'm personally elated you spent $200-500 to spend three hours of your life throwing a tantrum like my three-year-old when I tell her she can't have a Starburst at 7am.
2 – Joe Flacco
If Joe doesn't get hurt against the Steelers prior to the bye week, then Lamar never gets the chance to start, and either 1) the Ravens outright miss the playoffs so we never play this game to lose it, or 2) the Ravens make the playoffs, start Joe, which means none of the fake fans can whine and complain… and they still lose because the QB wasn't the issue nearly as much as the play calling by Marty, and the offensive line acting as a revolving door for Bolts defenders.
1- The Chargers
Ummm…. guys. Ever think that maybe the Chargers are a better team? Like they hit on more draft picks (so many more)? Have more defensive talent? Have more offensive talent? Outcoached the Ravens? Outplayed the Ravens? Ever dawn on anybody that the better team actually won that game and we need to stop acting like the Ravens were the superior team that out of nowhere fell short and came up small in a big game? 
Enjoy the games this weekend Flock, and remember – friends don't let friends cheer for Thomas Brady-Bundchen!