Positional Overview: Running Back
Print this article
Alex Collins underwhelmed then went on IR.
Undrafted free agent Gus Edwards became the "Gus the Bus."
Kenneth Dixon rose from a casket like the "Undertaker" to resurge.
Ty Montgomery ended the year as the third down back.
If you expected any of this before the season, please let me know what lottery numbers you plan to play next.
This offseason leaves no shortage of options and questions to be answered at the position. The team confirmed it will keep a run-centric approach next season.
Now the question is who will be carrying the ball?
Let's take a look at the roster as it currently stands.
Under Contract
— Kenneth Dixon
— Tyler Ervin
— Christopher Ezeala
Exclusive Rights Free Agents
— Gus Edwards
— De'Lance Turner
Restricted Free Agents
— Alex Collins
Unrestricted Free Agents
— Ty Montgomery
— Buck Allen
Needs
Third-down back (preferably with three-down potential)
Collins followed his breakout 2017 season with very much the opposite in 2018. His spot on the roster in 2019 is understandably in doubt. The Ravens can retain the duo of Dixon and Edwards for less than the lowest possible tender they could place on Collins (2.023 million estimate).
Collins is still very talented, but he has a propensity to bounce runs outside too often. He has nice feet and he's very tough to bring down in the open field.
[Related: Positional Overview – Quarterback]
The problem here is he doesn't compliment Dixon and Edwards due to his limitations in the passing game. Keeping all three still means the Ravens still need to prioritize a fourth. Dixon's inability to stay on the field may make the Ravens play it safe with Collins. However, if they decide to address the position in free agency or in the draft, you could see Collins in a different uniform next season, even if it means he's tendered initially and it's later pulled.
Dixon unexpectedly gave the Ravens more glimpses of the promise he showed in 2016. Dixon has had issues staying on the field but has never lacked for talent. Even through Collins was the top runner in 2017, I thought Dixon was still the most gifted back on the roster. He seemed to be playing a little heavier than normal last year coming off the injury. If he comes back in better shape and the Ravens don't add anyone of significance in the backfield, I could totally see a breakout from him. With his history and the fact that he's heading into a contract year, it would behoove the Ravens to get insurance though.
Edwards had a solid, non-descript preseason, but it's clear the Ravens saw more than what I did. They were clearly right. Edwards' no-nonsense, downhill running approach was just what the team needed. Extrapolate what he did Week's 11 through 17 for the whole season and he was on a near 1,500 rushing yard pace. He isn't elusive or threatening in the passing game, so as the team continues to evolve (prayers), there will be a bit of a cap on his upside as a whole but for a team that would like to continue to impose its will on the ground, Edwards can remain a key cog in that.
Montgomery was brought over from Green Bay in a trade before the deadline. I always wonder how his role/impact would have been different if Joe Flacco remained under center but his appeal took less precedence with the change at QB. His biggest contribution was as a pass protector … on a team that ran more than anybody in the league after Lamar Jackson took over as the starter. Montgomery could still be a useful player but how much do you prioritize his return for a run-heavy outfit when you could draft someone cheaper with more upside who gives you most, if not all of what he does?
Tyler Ervin has some interesting open field traits, De'Lance Turner does as well in a different package. Both are guys to keep an eye on as outside shots for RB4 duties.
The Ravens have an interesting group of players but still need to inject talent into the position, particularly with players who can make things happen in space and after the catch. With so many of the guys they have heading into free agency in the next year or 2, it's important that they add someone who not only just plays on third down but has early down value as well.
Free Agent Options
— Le'Veon Bell
Last week, "Good morning football" had a segment about talking about the potential fit. A subsequent Instagram follow of Bell by Lamar Jackson got the internet buzzing about Bell to Baltimore.
The appeal here is obvious, Bell is arguably the best RB in football who would also offer the Ravens young signal caller an outlet in the passing game. For a team with a lack of imposing threats and scheme evolution questions, Bell's skill set would do a lot to remedy both.
His contract expectations make this a tough sell. The Ravens have a QB in place whose gravity as a runner inherently makes it easier for his running backs to find running lanes. They finished the year with a wildly successful running game with two backs that didn't earn 2 million dollars between them.
If Bell's market isn't as robust as he thinks (very real possibility) and the Ravens can craft a deal where they aren't so financially tied to him in or after his age 30 season, I could see this a possibility. I don't think its very likely at all but it's fun to talk about.
— Corey Grant
He is an incredibly explosive space back and kick returner. I could see him flourishing in Roman's outside zones runs and screen game. The Jaguars gave him a high tender last offseason but he ended up getting hurt and they now have major cap concerns. Grant could be available on more of a modest prove it type of deal and for my money will wind up being one of the bargains of free agency if he can get into a scheme that bests utilizes his talents.
— Jamize Olawale
Now that the schematical direction of the team has been decided upon, I think one of the biggest priorities for the Ravens should be how they can make their heavy, run centered packages more threatening through the air. Roman's offenses usually have a fullback, that role was mainly occupied by Maxx Williams and Nick Boyle to a lesser extent but both of those guys are free agents. Olawale could come in and play that role but offer a plethora of options due to his ability to run routes,
catch passes and run the ball.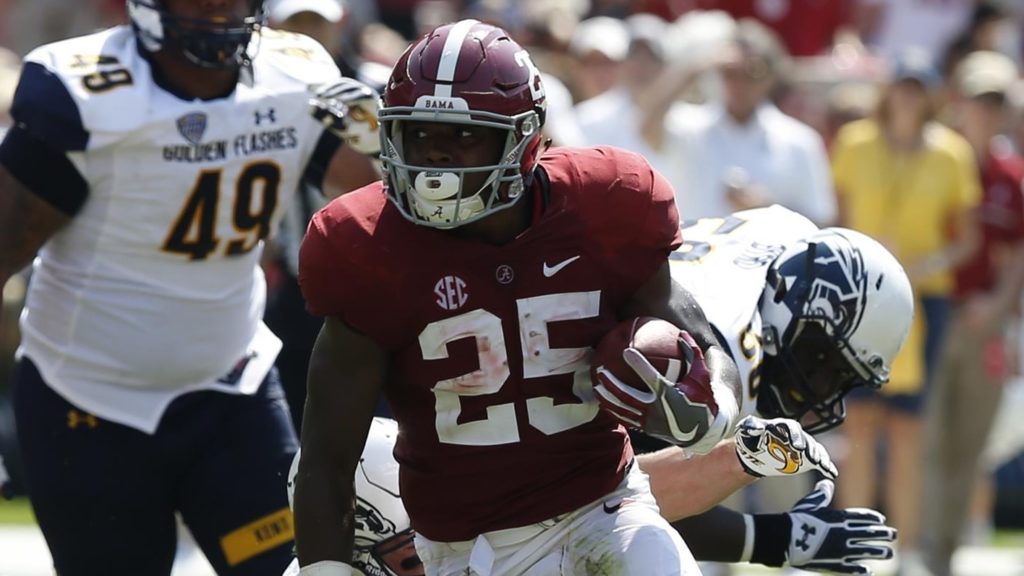 Draft options
— Joshua Jacobs, Alabama
Jacobs is a run finisher who plays with great pad level and force. In the passing game, he has great lateral agility, good hands and excels in pass protection. He would give the Ravens a legitimate 3 down centerpiece in the backfield. Having a talent of this magnitude is one thing but there's also the real value in having someone in the backfield who doesn't give away whether the play is a run or a pass. The question here is a lot like the one with Le'veon Bell. Do you pay a premium for something you may be able to get in a cheaper combination of guys or that you can get 80% of in a later pick?
Projection: 1st round
— Devin Singletary, Florida Atlantic
Singletary was another fun watch. He's an electric cutter with exceptional start-stop quicks. He's a tougher runner than I expected as well. He keeps his legs churning through contact and finishes better than his size would suggest. Singletary would give the Ravens some sorely needed open field juice. Making him a 25 touch a week guy may be a bit ambitious but getting players of his ilk has become increasingly important in today's NFL.
Projection: 2nd round
— Rodney Anderson, Oklahoma
Anderson is a big back with plus change of direction ability. His hands and ability to split out make his passing game potential is intriguing. He runs to his size and is a load to bring down in the open. He's got legit feature back potential but injury concerns will push him to the middle of the draft. Anderson's upside is one of the biggest reasons not to take an RB early.
Projection: 4th round
— James Williams, Washington State
Williams is a very good fit for today's game. At the absolute least, he'll find a role on 3rd down somewhere thanks to his great feet and flexibility. He's not a grinder between the tackles but I think he can do enough to be a solid shotgun runner. I don't see feature back in his range of outcomes but he could be an integral part of a committee if the Ravens decided they'd like to keep that approach and wanted to add pass game specialist.
Projection: 5th round