Who Will Eric DeCosta Choose First?
Print this article
Who will Eric DeCosta draft in the first round in his first draft as Ravens GM? That's the question on Ravens fans' minds as the draft approaches – here are four first-round candidates from my own personal big board, and a bonus:
Josh Jacobs, RB Alabama
5'10" 216 lbs
In my opinion, Jacobs is the most complete back in this draft, as well as the most versatile. He runs with power and vision, and is very elusive. He's a legitimate receiving threat and solid in pass protection. Jacobs also possesses top-end speed and is a threat to take it to the house every time he touches the ball. Since he played in a rotational role, he is much fresher than most similarly-talented running backs coming out of college. With only 120 carries, Jacobs had 11 touchdowns as a runner with 640 yards at 5.3 yards per carry. He had another three touchdowns as a receiver with 20 receptions for 247 yards.
With a Lamar Jackson-led offense, is this the year the Ravens really want to invest in a first-round receiver? I believe a running back will have a much bigger immediate impact on the offense – especially one with Jacobs' skill set.
Gus Edwards and Kenneth Dixon are excellent backs that will contribute and thrive along with Lamar but Jacobs would be a very dangerous weapon in the Ravens offense.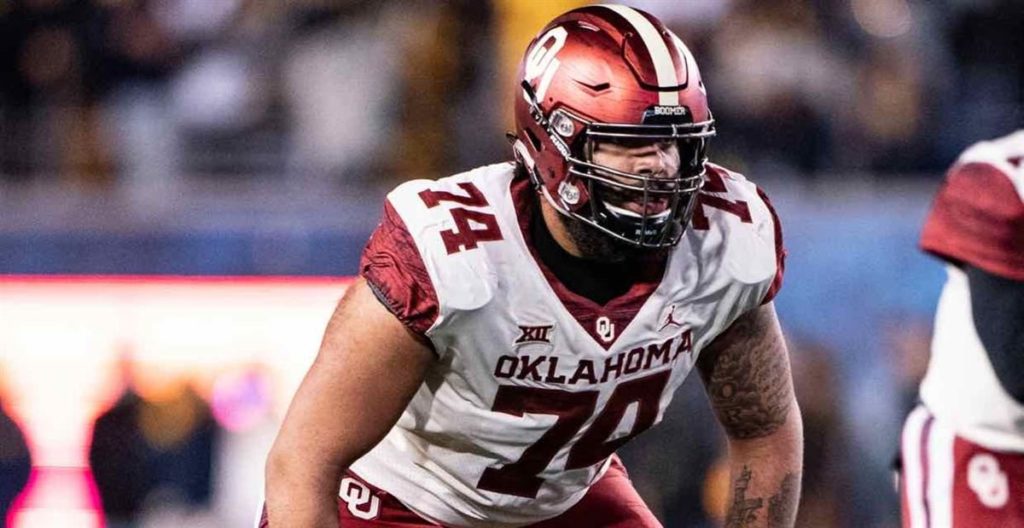 Cody Ford, OL Oklahoma
6'5″ 335 lbs
My colleague Cole Jackson just did an extensive breakdown on Ford here, so I will keep it short. It's no secret that the Ravens want to build a mauling, physical offensive line. Ford would be the ideal prospect, and could go somewhere in the range of the Ravens' pick. He could be the next Kelechi Osemele for the Ravens and is nearly identical in size. He would be the Ravens' immediate starter at left guard and would be a viable option at right tackle, which was his position in college, as a backup.
Guards can typically be found in the later rounds, and the Ravens have a track record of doing just that. The Ravens selecting a guard/tackle in the first round may be unlikely, but bulking up the offensive line might be DeCosta's #1 priority – if it is, why not take Ford here?
T.J. Hockensen, TE Iowa
6'5″ 250 lbs  
Hockensen is one of the best blocking tight ends coming out of college in a long time. He is widely regarded as the best tight end in the draft both for his ability to block and as a receiver. He is no stranger to making big plays down the field either. Along with his speed, he is tough to bring down and has very good hands as a receiver. Hockensen ended 2018 with 49 receptions for 760 yards with six touchdowns.
You might be thinking "The Ravens just took two tight ends last year." That may be true, but both Maxx Williams and Nick Boyle are free agents. The tight end corps was very predictable last year. When Boyle and Williams were in the game they were there to block. When it was Mark Andrews and Hayden Hurst, defenses had to think pass. Hockensen would be a true dual threat and would make the offense less predictable. With his blocking ability, you end up helping the offensive line and getting a quality receiving target with the same pick. The Ravens could have an elite tight end corps which could be very beneficial to Jackson.
Montez Sweat, EDGE Mississippi State 
6'6″ 252 lbs
Sweat's stock started to rise at the Senior Bowl and it may continue to do so at the combine next week. His production in the SEC is evidence of what he could become at the NFL level. In 2017, he had 48 tackles, 15.5 for loss, with 10.5 sacks. In 2018, he had 53 tackles, 14 for loss, 11.5 sacks, and one forced fumble. He is most suited to play in a 3-4 scheme with his size and athleticism. His strength is rushing the passer but he is also adept at setting the edge in the run game. To me, Sweat just looks and plays like a Raven and could be the heir apparent to Terrell Suggs.
Elite pass rushers normally don't get past the top 10 picks. Luckily this year's draft class is fairly loaded with them which will push a few of them back a little bit. With Suggs and Za'Darius Smith free agents – not to mention the disappointments that Tim Williams and Tyus Bowser have been – an outside linebacker could be the team's biggest position of need.
BONUS
I know I said a running back would be more impactful in the short-term. However, this next guy has first-round talent and due to an injury, could fall down draft boards to a later round. The Ravens don't currently have a second-round pick, but…hear me out:
Marquise "Hollywood" Brown, WR Oklahoma
6'0″ 160 lbs
Brown is in the mold of DeSean Jackson. They have very similar playing traits, but Jackson is a little shorter and also a little heavier. With John Brown unlikely to return, the Ravens could use some speed at the receiver position. A player like Brown can not only take the top off the defense, he's also a threat with short to intermediate passes thanks to his ability to avoid tackles. I think Brown is the type of receiver that would serve Lamar Jackson very well: someone that is going to be very hard to cover for these extended plays and a check-down target that will be able to make big gains out of some short passes.
Hollywood Brown is unlikely to go in the first round now due to his Lisfranc injury, along with being very light for an NFL receiver. I do think he is a perfect fit for the Ravens – just not in the first round any more. I came up with my list before the injury so I'm keeping Brown here as a bonus. He'd be a great option if the Ravens were to trade out of the first round. I don't think he will make it to the 3rd round, but if a team wanted to get back into the first-round, Brown would be an ideal 2nd-round target – and would still qualify as DeCosta's first pick as Ravens GM.