Potential Drama in Denver?
Print this article
They say that time heals wounds and while that may be true for most conflicts, it hasn't changed my opinion of John Elway. I've never liked him and I never will! From the day he dissed the Baltimore Colts right up to now, he's always been smug with a highly inflated sense of entitlement.
I rooted against him as a player.
I root against him as a league executive.
I even rooted against the solvency of his auto dealerships.
Now, with the trade of Joe Flacco to Denver, there's new connectivity with Elway and Baltimore.
Elway is prickly. He publicly criticizes players and coaches as if he's never had a blemish of any kind during the 58 years of his narcissistic existence. He even recently ran off his long-time friend Gary Kubiak who is now the offensive coordinator in Minnesota. I wonder how long it will take for Elway to get in Joe's grill. And then I wonder how Joe will respond.
Recently Joe was spotted at Denver International Airport (see below).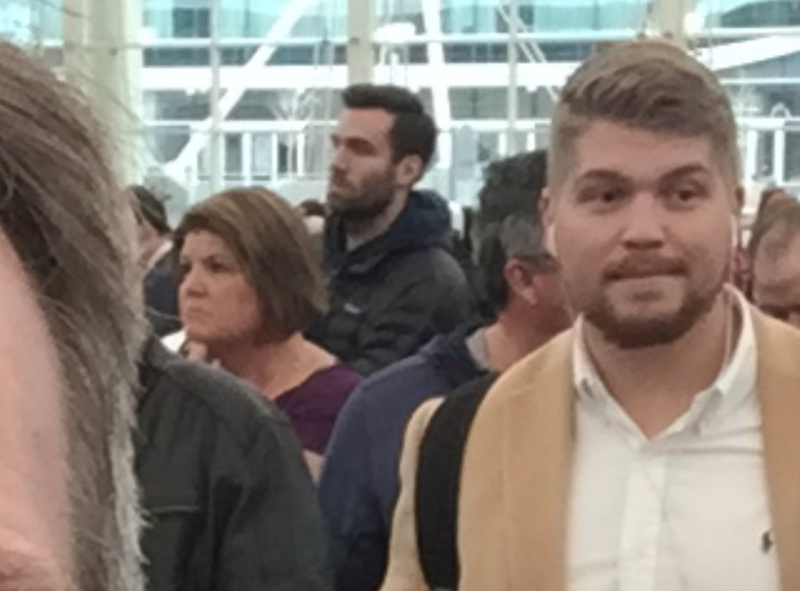 Now Flacco isn't the kind of fella who will travel alone to Denver in February. I doubt that he was going to Aspen or Breckenridge and I doubt that he was on a recon mission to scout out marijuana harvesters. It's a safe be to say that Joe was paying a visit to his new employer.
So, Elway couldn't send a jet to pick up his new QB? Maybe Joe will put his foot down and threaten to play right field for a Yankees minor league affiliate.
Sorry Joe. Can't root for you in Denver as long as one of Mr. Ed's colts is still running the show there.
Let's Play Tag. Let's Not!
It's interesting to read comments from fans who think that the Ravens should tag C.J. Mosley. That's insane. Mosley is a good player – not great. The franchise tag suggests greatness but more importantly, such a tag ($15.591M) would take the team's projected cap space down to less than $4M. Is that what Eric DeCosta meant when he stressed the importance of proper salary cap management?
I don't think so.
There are others who have suggested that the Ravens should tag Mosley and then trade him. But there's danger in that as well. It would require an agreement from all parties – the team, Mosley and Mosley's new team. And why would an acquiring team want to give up compensation in the form of picks, players or some combination thereof, AND money when money alone could be enough to acquire the unrestricted free agent? And how does that benefit Mosley?
The truth is, tag and trades rarely happen and it won't in the case of C.J. Mosley.
Off The Mark
There seems to be a burgeoning groundswell of support for RB Mark Ingram to the Ravens. If the decision was mine, I'd take a hard pass. Not that there's anything wrong with Ingram, but there are far less expensive players like him available in the draft. DeCosta has stressed fiscal responsibility so why should the Ravens take a chance on a 29-year-old player with 8 seasons under his belt, fresh off a 4-game suspension for PEDs?
Ingram isn't a difference maker. The Ravens will look for a back who can stretch the field not only in the run game, but also as a dual-purpose threat out of the backfield – one that they can control for four seasons under a rookie deal. Not a guy who could command $4.4M per season with over 1500 touches of wear-and-tear.
1967, Pink Floyd started their first sessions at the EMI Studios, St. John's Wood, London on their debut album The Piper At The Gates Of Dawn, working on the song 'Matilda Mother'. While Pink Floyd were recording their album with former Beatles engineer Norman Smith, The Beatles themselves were working in the studio next door, recording 'Fixing A Hole' for their Sgt. Pepper album. Micky Dolenz from The Monkees attended the mixing session during the day.
1986, Metallica released their third album, the highly influential album, Master of Puppets, considered by many in the metal community to be the best metal album of all time. This was the last Metallica album with bassist Cliff Burton who was killed when the group's tour bus over-turned in southern Sweden while touring to promote the album.
2002, Elton John accused the music industry of exploiting young singers and dumping talented artists for manufactured groups. He said 'There are too many average and mediocre acts; it damages real talent getting airplay. It's just fodder.'
And just to prove Elton's point, Ariana Grande is being praised for a fete not accomplished since The Beatles held down Billboard's top 5 spots in 1964. The "artist" who once claimed to hate Americans currently owns the top three spots on the Billboard Hot 100. If her garbage isn't an indictment on contemporary music, I don't know what is.
Let's just package a young girl with slick marketing and computer-generated noise and zoom our way to the top of the charts (said most record labels).
Style over substance.
What a Grande ripoff!