7-Round Mock Draft (Pre-Combine Edition)
Print this article
It's happening. It's here. That's right, the 2019 NFL Combine has arrived. Now, I'm not one that thinks the results of the T-Shirt Olympics have any real bearing on how a prospect will translate to the NFL (see: Brown Jr., Orlando). However, there are certain drills that matter for certain position groups, and measurables can be important for wideouts, defensive backs, etc. All of this aside, I still feel like it's important to do multiple mock drafts before the actual draft is upon us – one before the combine, one before free agency, and of course one after free agency.
This one? This is the pre-combine version. Strap in, and give me all of your hate for what follows.
Ravens Draft Picks as of 2/28/19:

R1: 22
R2: None
R3: 85, 102
R4: 123
R5: 160
R6: 191, 193
R7: None
(I should note that the Ravens will likely receive a 4th round pick from the Broncos, but as they have more than one fourth round pick, and the trade isn't official until the start of the new league year, that pick will not be listed in this mock draft.)
Round 1
The Ravens own the 22nd overall pick in the first round of the draft, after a first-round exit in the playoffs. I'll list a couple of scenarios that could play out when that pick rolls around.
Scenario One: The Ravens stand fast.
There's a large part of me that believes that the Ravens should trade back in the first round. It makes the most sense, especially when they don't own a second-round pick. In this scenario though, the Ravens take a much-needed shot at a No. 1 wide receiver.
Who most people want: D.K. Metcalf, WR, Ole Miss
Who I wouldn't be shocked to see them pick: Josh Jacobs, RB, Alabama
Who would shock me: Nasir Adderley, S, Delaware
The Pick: N'Keal Harry, WR, ASU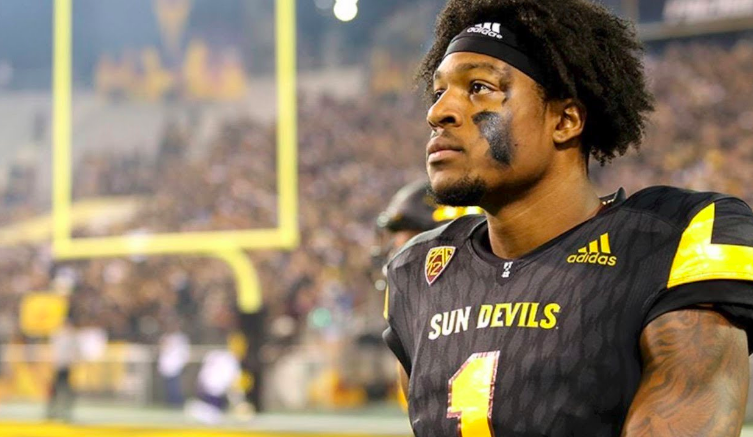 Go ahead and click the above link to get a better idea of who N'Keal Harry is, if you don't know by now. A big-bodied, contested-catch monster, Harry would be an immediate replacement to (and upgrade over) the recently departed Michael Crabtree. Baltimore hasn't taken many shots at early-round wide receivers since…well, ever, but especially since Joe Flacco took over at quarterback. If they're serious about helping second-year quarterback Lamar Jackson, they should start by providing him a young wideout with a huge catch radius, with whom to learn and grow.
Scenario Two: The Ravens trade back.
This is obviously my preferred scenario. I believe that the Ravens can trade back, and actually land a better player than N'Keal Harry – at least as far as fitting in Baltimore (dedicated readers, or my Twitter followers, will know where I'm going with this already).
Who most people want: Chris Lindstrom, OL, Boston College
Who I wouldn't be shocked to see them pick: Montez Sweat, DE, Mississippi State
Who would shock me: T.J. Hockenson, TE, Iowa
The Pick: Kelvin Harmon, WR, North Carolina State
Again, you can click on the above link to get a better grasp on Kelvin Harmon. In this scenario, I'm assuming that the Ravens trade down 5-7 spots, and net themselves a mid-round pick to add to the 4-5 they'll already have at this point. Where Harmon isn't as 'elite' as Harry when it comes to contested catches, he's still no slouch, and his blocking abilities are much better than Harry's. In a Greg Roman offense, blocking might be the most important trait that any offensive player can have, and Harmon has it in spades. He's a willing hitter with a large catch radius, and an aggressive attitude. He could grow and learn with Jackson, becoming a true X, and has the ceiling to develop into one of the better wideouts in the league.
Round
2

3


This is where it starts to get tricky, as I can't assume that the Ravens will trade into the second round, especially given their historical struggles there. Without a second-round pick, the Ravens have to fill multiple holes with a 'best player available' mentality.

(For the rest of these rounds, I won't be listing the choices at the picks.)

Pick 85:

This next pick may surprise some people (especially those that are high on him), but in many mock drafts, this offensive guard is still available at 3.21, and he is an immediate fit at left guard, as well as a big upgrade over Alex Lewis or James Hurst.

The Pick: Chris Lindstrom, OL, Boston College
With Lindstrom, the Ravens get an 'explosive' guard that can also play at right tackle in emergency situations. He has an anchor in the pass game, and he should translate to an elite 'puller' in a Power Scheme like Roman's. While he's not undersized, he's also not a mountain of a man, but makes up for it with quick hands, and quicker feet. His athleticism should provide good second-level blocks, and his feistiness could result in a Ryan Jensen-like attitude.
Pick 102:
Eric Weddle is either going to retire, or play elsewhere, and the Ravens don't have a free safety behind him. Using the compensatory pick from the loss of Jensen, Baltimore solves this problem.
The Pick: Chauncey Gardner-Johnson, FS, Florida
There's a solid chance that CGJ is gone by this point, but if he's still there, the Ravens need to race to the podium with his name. Weddle is slow, CGJ is not. Weddle isn't known as a heavy-hitter, CGJ definitely is. His feet are fluid, his hips aren't tight. The later in the draft you get, the more you expect to see glaring deficiencies, and with CGJ, the only one I can see is his consistency – sometimes he loses his receiver, which is a coachable flaw. His run defense has improved over the past two years, as has his tackling ability and form. If he tests well this weekend, don't expect to see him fall anywhere close to this range, but for now, CGJ would be an absolute steal at 102, and would pair well with DeShon Elliott in 2020.
Round 4

There's one need that the Ravens haven't addressed to this point. Even though it's been said that Gus Edwards is the RB1 in Baltimore in 2019, the team has also said that they would bring in competition at the position, and I think the fourth round is the perfect place to do this, especially with how deep this running back class is.
Pick 123:
Devin Singletary. David Montgomery. These are names that you've heard me throw about, but I'd assume that both of them are gone by this point. That leaves the first running back prospect that I fell in love with while watching tape.
The Pick: Benny Snell, Jr., RB, University of Kentucky
Stop me if you've heard this before – Roman enjoys employing downhill runners in his power scheme. Powerful, bullish backs, who enjoy contact, and creating yards after it. Enter Benny Snell. He was the entire UK offense for three years. He broke the rushing record for UK, and he did it in punishing style.
While I've long banged the table for a dynamic, pass-catching back to pair with Edwards and the oft-injured Kenneth Dixon, Snell would make for a different kind of three-headed monster in Baltimore. He's not a pass-catching back, and his pass protection needs work, but he's willing to do both, and has no problem being a workhorse runner. He plays with good balance, even when he's bouncing off of defenders like a ping-pong ball. His awareness allows for him to fall forward more often than not, and he controls his frame well when he's tiptoeing down the sideline. He's not twitchy, and not overly fast, but he makes up for all of that in power and yards-after ability.
Round 5

The Ravens have defensive end depth issues. Brent Urban has had issues staying healthy, or producing when he is, and Willie Henry can't do it all, unfortunately. Enter this guy, a Ravens special.
Pick 160:
The Ravens have had a long history of finding gems at smaller schools, and this pick is no different.
The Pick: Maxx Crosby, DE, Eastern Michigan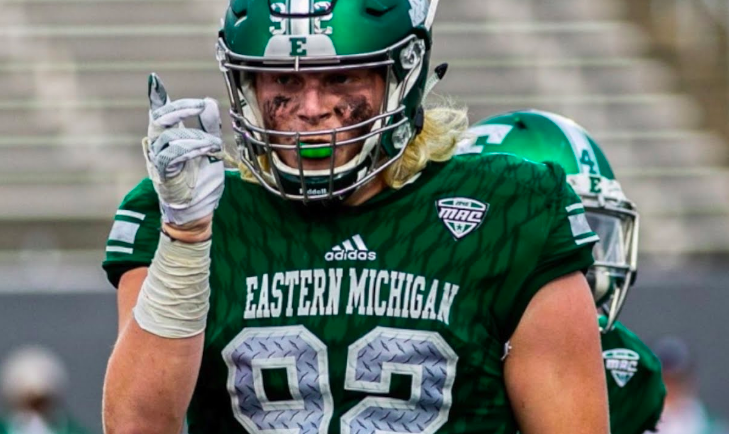 An undersized pass rusher with both tangible and intangible plus traits? That was an Ozzie Newsome special, and I believe that Eric DeCosta will follow along that same path. He needs to add some mass in order to be more powerful, but he has good length in his arms, and he uses his hand technique well. However, he's a bit tight, especially through his hips, which gives him problems when lowering his shoulder to fight through blocks. He does bring a nasty rip-and-punch to the table, and excels at gap penetration.
With coaching, he could bring plus ability to both the run and pass defense portions of the game.
Round 6

These are the final two picks for the Ravens, as it stands right now. I'm already fully prepared for hate for some of the picks that I've made, because let's face it, nobody is ever completely happy with a mock draft, and everybody always thinks they know more than the person drafting. If you're not happy with it so far, maybe these two picks will cheer you up.
Pick 191:
If the prospect of getting a true No. 1 wideout in the first round doesn't please you, perhaps getting a sleeper-stud in the 6th will. What about another sleeper beyond that? Last year, I called the Ravens drafting Jaleel Scott (though they took him earlier than I had him valued), so let's see if we can't channel some of that prescience this year.
The Pick: Hunter Renfrow, WR, Clemson
Renfrow isn't getting the hype that he should be, but I absolutely believe that he will go at least two rounds higher than I am seeing him mocked currently, after he tests well. He's a smaller wideout that doesn't compensate completely with speed, but he has the best hands in the draft – that's not an exaggeration – and his route running is easily top five. He has the attitude of a gamer – plays with heart on every rep, and is willing to block (notice a trend with my picks here?), but his size and speed combination will make him fall down the boards.
Pick 193:
You can never have too many corners. That's why I'm selecting a kicker with the final pick of the Ravens' 2019 NFL Draft.
Kidding. It's a corner. Even with Jimmy Smith, Marlon Humphrey, Brandon Carr, Anthony Averett, and Stanley Jean-Baptiste on the roster, the Ravens attack my favorite position with another late-round pick.
The Pick: Jamel Dean, CB, Auburn
At 6-foot-1-inch, and over 200 pounds, Dean looks the part of a typical NFL cornerback. He has decent speed, and has great tackling form. He suffers in his angles, as well as his hand-play. Better in zone than man, his press coverage needs work. He could benefit from coaching, as well as learning from Smith, Humphrey, and company. He likely spends a year on the practice squad, but could easily emerge as a solid rotational or backup corner.
In Closing

Before anybody makes a snide comment, I am aware that I neglected the center position. It's just how the chips fell in the draft, and I feel confident that the Ravens will attack the position in free agency. However, since free agency didn't actually play a part in this mock draft, in this scenario, it looks like Matt Skura would be the center moving forward, and Marshal Yanda would have to help him – as would newly-acquired Chris Lindstrom.
Feel free to leave your questions, comments, and concerns in the comment section, where they will be largely ignored, and laughed at (if they're laughable).