Harry Would Bring Much-Needed YAC
Print this article
This article started life as a snapshot of DE Charles Omenihu, but after much deliberation, I've decided (been told) that I'm going to stick to wideouts and defensive backs, since I'm better at evaluating them, having some experience at/defending the position (I played CB for a number of years). So I deleted the entire article, and here we are.
As such, moving forward, Cole Jackson will be handling OL and DL, and we're looking for somebody to handle RB/LB.
So! Time to move onto my second favorite wide receiver, N'Keal Harry, standout from ASU.
— 6 foot, 2 3/8 inches
— 228 pounds
— 21 years old
— 9 ½ inch hands
— 33 inch arms
— 78 ¼ inch wingspan
Receiving Stats (3-year collegiate career)
— 213 receptions
— 2889 yards
— 22 touchdowns
— 13.6 YPR
— 3 rushing scores
If Kelvin Harmon is the best blocking wideout in the draft, then N'Keal Harry is the best contested catcher in the draft. Follow along as I extol the virtues of a big-bodied high-point catcher in a Lamar Jackson-led offense.
CONTESTED CATCH ABILITY
Let's go ahead and just get it out of the way. If you need/want your wideout to wrestle every single ball away from a defender, Harry is your guy. Strong and long, his timing is impeccable on almost every jump ball. Uses his country-strong hands to take possession in hand-fighting situations. A big boy who uses his size to box out defenders with sheer physicality. Sets himself up well for YAC opportunities (more on that below) and lands his jumps ready to cut-n-go.
YARDS AFTER CATCH ABILITY
One of the problems in Baltimore has been the lack of yards after catch from wideouts. N'Keal is surprising in this area, given his size and apparent lack of speed. He sets up defenders for the miss, and executes well, using a shimmy-step and nuanced routes to create room for himself to move down the field. I wouldn't call Harry 'explosive', and his 40 time/cone drills will answer a lot of questions about his agility and mobility, but he's one of the better YAC wideouts in the 2019 draft.
AWARENESS
This is an underrated trait, in a world that values measurables and gaudy statistics. Harry has a keen sense of where the sideline is when hauling in catches, which makes for some spectacular toe-drag swag. Again, his body control helps in this area, as he uses his size and length to box-out defenders, or simply plant himself against a push-out. As Jackson gets better throwing outside the numbers, having a WR with the ability to make a tight-window catch with his back against the sideline would be a big boost to the passing game, especially on money downs.
BLOCKING
Even though Harmon is far and away the better blocker, Harry is no slouch in this aspect. His size alone can slow a defender, and he has very good control of his foot placement when mirroring a DB. He's not as aggressive as you would think, for a wideout of his stature, but he makes up for that with good punch, and extends himself to his full length when fighting off a corner.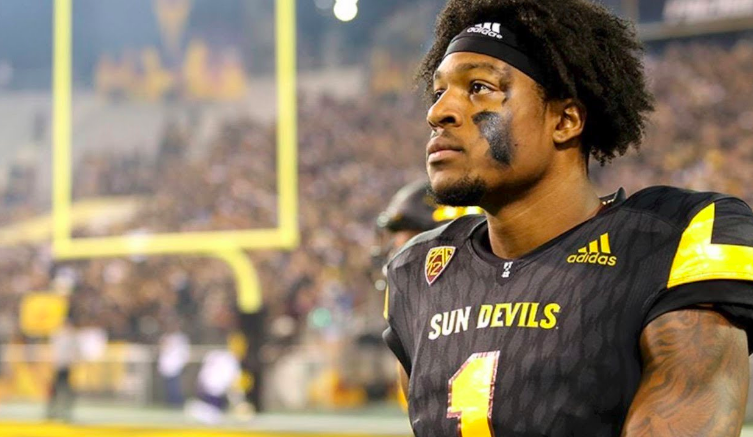 IN CLOSING
If Harmon is gone at 22, and the Ravens are determined to draft a wideout before any other position (they should be, as it stands right now), then N'Keal is more than just a consolation prize.
As far as a fit in Baltimore, Harry is my WR2 – big, strong hands, able to wrestle the ball away from defenders, and able to provide help on the offensive line. His hype has dropped a bit since I first started watching his tape, but I think that's more because of DK Metcalf and other wideouts than it is the fault of N'Keal himself.
Another prototypical 'X' receiver, Harry looks and plays like the No. 1 that Ravens fans have been screaming for since…well, forever.