Print this article
It happens every year. Many fans lose their minds when they see other NFL teams spending boatloads of money on free agents while the Ravens seemingly sit on the sidelines, watching it all unfold.
"They're asleep!"
"Wake up DeCosta!"
"Worst GM of all time!"
"DeCosta and Duquette should be roommates!"
Thankfully, these yahoos don't have their hands on the controls of the Ravens personnel department.
I get that it isn't easy to watch fan favorites leave for another team, particularly 36% of the starting defense. But think about why the Ravens are in this position. They don't REALLY want to lose players like C.J. Mosley or Za'Darius Smith. But they just don't have the cap space to retain them. It's that simple.
Now you might argue that their own cap mismanagement put them in this spot – that if they were more fiscally responsible maybe they could have extended Mosley and Smith BEFORE they hit the open market. However, the Ravens cap has them handcuffed and to get out of this NFL incarceration, Eric DeCosta needs to avoid overpaying talent, like they've done in the past with players like Brandon Williams.
The Ravens also need to draft better. Misses on players like Matt Elam and Terrence Brooks forced them into free agency where they've burned money on the likes of Kendrick Lewis, Michael Huff, Tony Jefferson and Eric Weddle.
The Departures
Speaking of Weddle, does anyone really think that he was worth $6.5M per year? We're talking about a 34-year old safety who has slowed considerably, possesses declining tackling skills and registered exactly 0 interceptions and 3 passes defensed in 2018.
Terrell Suggs – that one hurts sentimentally. He will likely become the franchise's fourth Hall of Fame player and the Ravens wanted to keep him. But HE opted to play in his hometown. It's a choice he's earned but you can't fault the Ravens here either.
C.J. Mosley, a nice player, solid, dependable teammate. But is he worth $17M per year? That's a rhetorical question.
Za'Darius Smith – love his hustle and motor but can we agree that Z disappeared at times in 2018? He had 3 sacks against the Titans in Week 6 and then didn't register another sack until six games later. And that's worthy of $34.5M in the first two years of his new deal in Green Bay?
At the end of the day, the Ravens said goodbye to two players in the December of their respective careers and two others who were grossly overpaid.
Right player, right price…
The New Arrivals
Mark Ingram is a player who I initially thought was unnecessary. Is he really all that different than Gus Edwards? But after further review, I've changed my mind.
What has really stood out to me about Mark Ingram is his YPC. He's averaged at least 4.6 YPC or more since 2015. In 2016 and 2017 he averaged 5.0 YPC. That's impressive. He is a very productive runner and can spring some big runs. #Ravens #RavensFlock @MarkIngram22

— Dev Panchwagh (@devpanchwagh) March 15, 2019
It's plays like this one that makes me think of "Calm Like a Bomb" when I watch Ingram. He'll run for 2 yds, 3 yds, 5 yds, then BOOM! 51 yds. The play is well blocked and Ingram shows balance, play strength and acceleration. pic.twitter.com/VeLtk3wb4f

— michael crawford (@abukari) March 14, 2019
Ingram is a tough dude. Not afraid to stick his face in the fan and chip a DT (Jonathan Allen) after a run fake. pic.twitter.com/hOF1AFbBWb

— michael crawford (@abukari) March 14, 2019
A lot to look forward to in Baltimore! 🙌

A look back at new @Ravens RB @MarkIngram22's best plays! pic.twitter.com/oj0tc1lnau

— NFL (@NFL) March 14, 2019
Ingram is a true three-down player and his role in the pass game as a pass catcher and in pass pro is severely underrated. And here's a bonus intangible. Word is that former Raven (and Saint) Ben Watson along with current Raven and former Saint, Willie Snead, both vouch for Ingram's leadership and character. That said, don't be surprised if the Ravens still consider a speed back in the upcoming NFL Draft.
Earl Thomas is a rare player. He has the range to be a pure free safety, the instincts to quickly diagnose tendencies and the physicality to blow up plays inside the box. Thomas' versatility will allow defensive coordinator Wink Martindale to be even more deceptive with his looks and blitz packages.
Even if you are among the most ardent Mosley fans, it's hard to argue this point…
Thomas impacts games more than C.J. ever could.
Welcome to Baltimore, Mark and Earl!
When new @Ravens safety Earl Thomas is on the field, opposing QBs avoid the deep middle of the field.

Over the last 3 seasons, opponents targeted the deep middle (10+ air yards, between the numbers) on only 12% of attempts with @Earl_Thomas on the field (18% without him). pic.twitter.com/NMlmYbyl5A

— Next Gen Stats (@NextGenStats) March 14, 2019
Is DeCosta Done?
Chances are the Ravens will make a few more moves so as to limit their needs on Draft Weekend. Many fans get a little squeamish when they think of the Ravens boosting their receiving corps through the draft – and with good reason. The Ravens have regularly whiffed on the position. But it looks like they'll need to try again, particularly when you consider the ridiculous deal the Giants inked Golden Tate to.
And here are the contract terms: Golden Tate to the Giants on a four-year, $37.5 million deal that includes $23 million fully guaranteed, per source. https://t.co/TN6fNHOfHv

— Adam Schefter (@AdamSchefter) March 14, 2019
The Ravens will want to retain the comp picks they've earned from the losses of Za'Darius Smith and John Brown, so the next free agent play, if there is one, is likely to be for a cap casualty. Justin Houston, recently released by the Chief, comes to mind.
But whatever happens from this point forward, an offseason can't be judged until it's finished just like you can't judge a script until it is completely written. And in the case of DeCosta and the Ravens, the script considers more than just one offseason. The goal is to achieve future financial freedom with a degree of cap frugalness today.
Catch-22
Fans are keen on obtaining new jerseys for the recently acquired players. As it turns out both Thomas and Ingram wore numbers throughout their NFL careers that are now being worn by current Ravens. Thomas' No. 29 is assigned to Marlon Humphrey while Ingram's No. 22 is worn by Jimmy Smith.
Smith's future in Baltimore is questionable. For the moment, he's a Raven and there's no reason to let him go. Not yet. The Ravens have the cap room. It's possible that DeCosta is waiting out the free agent market to see what teams failed to land free agent talent at CB. He could then approach the free agency losers about Smith if he's able to secure a draft pick. Or he could simply wait to see if a less expensive cap casualty surfaces and then just release Smith.
Something tells me the full story with the Ravens vet CB is pending.
Ingram just might get the number he covets.
Never Go Against The Family
DeCosta has made it clear that the Ravens are looking to keep their good, young players. Matt Judon certainly fits that description. But sometimes you wonder what is going on in that head of Judon's.
He's committed penalties during games at the most inopportune time – oftentimes stemming from poorly-placed emotion. When the Ravens lost Mosley and Smith, Judon took to Twitter:
UPDATE: 9:53 AM on March 15, 2019: The original tweet from Judon has been deleted but fortunately, we suspected this could happen and grabbed a screen shot.
If you've got a beef like that, keep it internal. Keep it in the family.
Detour Dave
Baltimore lost an iconic radio voice last night – "Detour" Dave Sandler. Those who know him well describe Dave as an extremely kind and compassionate man. Sandler suffered for some time from heart and lung issues and leaves us at the all-too-young age of 58.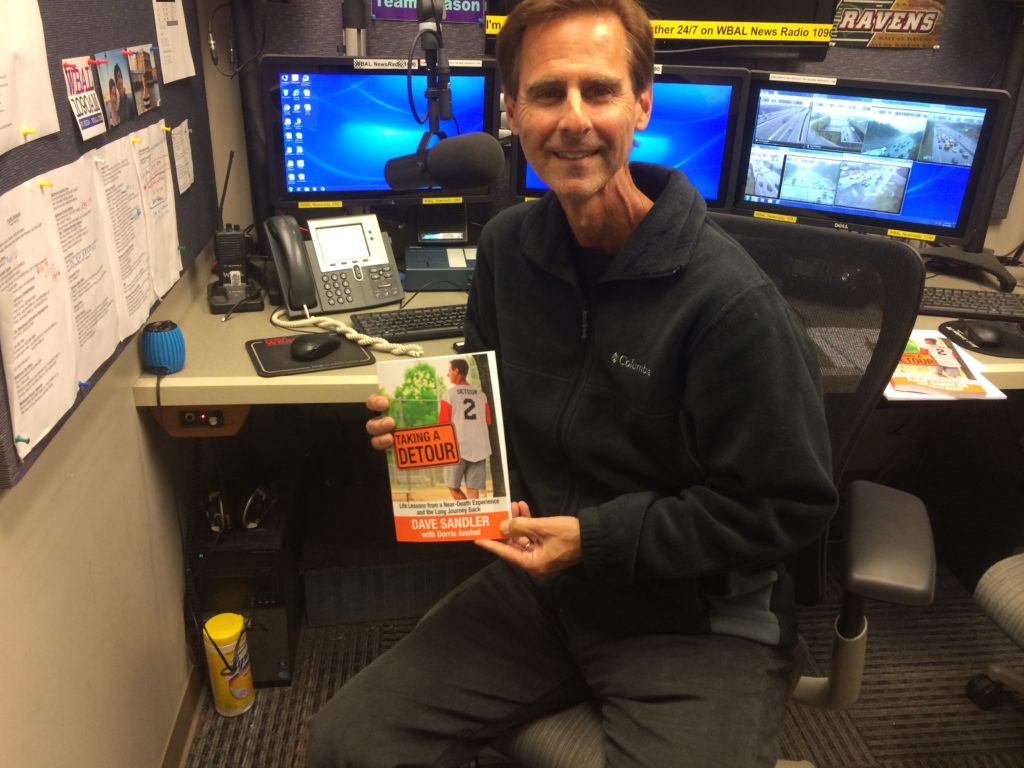 Dave's legacy and kindness will live on in perpetuity. Like the legendary Chuck Thompson was to the Colts and Orioles, Detour Dave was to "Traffic & Weather Together" here in Charm City. For Dave's family, friends and all who knew him well, I hope your love and memories provide comfort during this difficult time.
He will be missed but never forgotten.