7-Round Mock Draft, Post-Combine Edition
Print this article
The combine has come and gone, and draft stock has risen or fallen accordingly, even if it's unwarranted. We're entered NFL Free Agency, and the Ravens made a splash, signing one of the best safeties in the league in Earl Thomas. They also shored up the running back position, signing Pro Bowl RB Mark Ingram away from the Saints. He seems very excited about re-joining wideout Willie Snead, with whom he played in New Orleans.
And so, we've reached the point where I think a new mock draft is necessary – and let me tell you: I think it's pretty close to perfect. But I'm still here for your hate.
Ravens Draft Picks as of 3/15/19:
R1: 22
R2: None
R3: 85, 102
R4: 113, 123
R5: 160
R6: 191, 193
R7: None
ROUND 1

I should note that while a trade back makes an odd sort of sense for the Ravens in round one, this mock draft has no trades. I'll still include the multiple choice options found in my first mock draft. I've been a big supporter of a first round wideout, so this pick may surprise you.
Who most people want: D.K. Metcalf, WR, Ole Miss
Who I wouldn't be shocked to see them pick: Josh Jacobs, RB, Alabama
Who would shock me: Nasir Adderley, S, Delaware
Pick 22: Chris Lindstrom, iOL, Boston College
The Ravens will likely be a run-first offense in 2019, and this is the area where Lindstrom excelled, as that Boston College was also a run-first, run-heavy offense. Lindstrom has power and great pad level to his blocks, and finishes without losing technique towards the end of his blocks. While he doesn't have much pass-blocking tape, he shows a good anchor that will translate at the next level. At 6'4", 300+ pounds, he's a bit smaller than your typical mauler, but he makes up for it with quick hands and quicker feet, and provides an immediate (and huge) upgrade at the left guard position, which was easily the weakest on the offensive line last season. He plays with chippiness, bringing attitude to the line, and can play right tackle in emergency situations.
Cole Jackson (@ColeJacksonRSR) wrote a good breakdown of him here.
ROUND 3
I won't assume that the Ravens will trade up into the second round. There's a lot of value to be had in the third round, and they hold two picks, so Eric DeCosta may choose to hold fast – and if the board falls like this, he absolutely should hold fast.
(For the rest of these rounds, I won't be doing multiple choice options.)
Pick 85: J.J. Arcega-Whiteside, WR, Stanford
A 6-foot-2-inch, 225-lb wideout with a plus strength profile and elite ball skills? Yes please! JJAW, as he is affectionately called around the draft world, has a good route tree, good acceleration for his size, and the footwork and hand skills to get out from under a DB at any point in his route. He may have the best body control in the class, enabling him to decide where the catch point is, and get there before/ahead of the defender. While some have him labeled as a slot receiver, he had a lot of work outside, and I think he would fit as an outside receiver in the NFL. He would provide second-year quarterback Lamar Jackson with a reliable boundary target, as well as another 3rd-down chain-mover. Imagine the Ravens taking a wideout because of his high floor/high ceiling, and not because he has special teams ability, and JJAW should pop into your mind immediately.
Pick 102: Maxx Crosby, EDGE, Eastern Michigan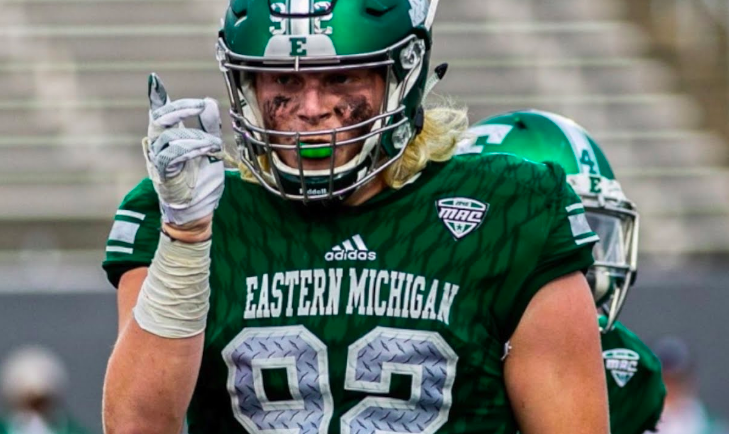 An undersized pass rusher with both tangible and intangible plus traits? That was an Ozzie Newsome special, and you have to think DeCosta picked some of that up along the way. Crosby had a good combine, and his stock went up because of it. He still needs to add some mass while gaining strength, but he has good arm length, and uses those arms very well. He needs to work on loosening his hips, but his rip-and-punch combo is second-to-none, and he excels at gap penetration. A little bit of coaching, and Crosby would bring plus attributes to both run and pass defense at the next level.
[Related: 7-Round Mock Draft (Pre-Combine Edition)]
ROUND 4
The Ravens attacked a couple positions of need in NFL Free Agency, but when a talent like this first-of-two picks falls in your lap, you don't question it. You just accept it, and move forward. The fourth round means you don't have to start the prospect right away, which is nice if you just signed the same position to, say, a three-year, $15M deal.
Pick 113: David Montgomery, RB, Iowa State
As I've mentioned countless times throughout my articles, the Ravens will likely want to run the ball in 2019. If the second half of 2018 is any indication, they'll want to run it a lot. Enter the high-motor, gritty Iowa State running back. Some of the best 'contact play' in the class came from Montgomery's tape. He shows incredible balance, even while stringing together cuts, and maintains his elusiveness during his entire run. While he's more of a zone runner than the scheme calls for, he shows some traits that would allow him to run in a power scheme, and Greg Roman has shown a proficiency for calling both kinds of runs in his offenses. Montgomery is money on.. well.. money downs – a reliable back in clutch situations, who shows soft hands and can shift out of linebacker coverage? A steal in the fourth round. Likely ceiling is RB2, but with the backs already on the roster, and the potential for a stud back in the 2020 draft, a fourth-round pick is huge value for Montgomery.
Pick 123: DaMarkus Lodge, WR, Ole Miss
As the pre-draft process has worn on, I've found myself falling more and more in love with the idea of the Ravens spending mid-round pick on Lodge. At 6'1", and just under 200 pounds, he's likely to play outside, opposite the 'X' receiver, and has shown great proficiency on vertical routes. He's prone to drops (hence the late-mid round pick), but when he's on, he is on. He needs some coaching as far as contested catches, but does show great body control, and the ability to pluck the ball out of the air, away from the defender. Oh, and remember how I crooned about Kelvin Harmon's blocking ability? How I keep saying the Ravens will have a run-first offense? This boy can block. Between his game speed, and strength, with a little coaching, Lodge could turn out to be an absolute steal at this value.
ROUND 5
The Ravens have addressed a lot of needs thus far, but sometimes it makes sense to double down on more than one position – especially when that position is thin on the roster. With their only pick in the fifth round, they do just that.
Pick 160: Jalen Jelks, EDGE, Oregon
Jelks may be the most explosively quick man of his size (6'5″, almost 250 lb) I've ever seen. He's powerful, disruptive…and flawed. He has very fluid hips, but lacks the timing necessary to be a starter at the next level (which is coachable). He's long, and quick, and could be terrifying in run defense, but has problems finishing sacks due to his angles (again, coachable). He's not ready to be anything more than a rotational player at the next level, which makes him a perfect value for a late-round pick by a team that excels at developing EDGE and LB players. His pass-rushing moves need work, and he needs to refine his technique, but if he can do that, watch out – this is second-round ceiling available on Day Three.
ROUND 6
The Ravens don't hold a seventh round pick as yet, but they do hold two sixth rounders, which is honestly a much better deal. In this round, they'll finish off with some depth players with good upside.
Pick 191: Alex Bars, iOL, Notre Dame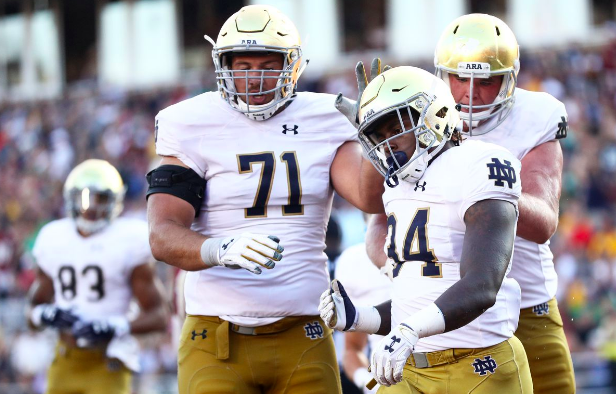 Bars has started at three different spots along the Irish line, something that the Ravens will absolutely love, given their affinity for versatile linemen like James Hurst (let's ignore any deficits in his actual ability – the only comp here is his versatility). Bars has a great anchor, and wins pulls with fluidity through his hips. While I question his footwork, which affects his lateral movement, this is another position where the Ravens have had good success in development. He's a mauler of an OL, bringing a nasty explosion on his first step, and the drive to pancake whoever is in front of him. His health is a concern, but if he can stay healthy, and get coached up, he projects to be an above-average guard in the NFL.
Pick 193: Kendall Joseph, LB, Clemson
The Ravens elected to not pay $17M AAV to ILB C.J. Mosley, and it was the right call, fan favorite or not. That leaves Patrick Onwuasor and Kenny Young as the de facto starters, and not much depth behind them, beyond UDFA Bam Bradley. Enter Kendall Joseph, who was largely under-talked at Clemson, despite being a playmaker. Joseph has plus processing skills, and excels in pursuit. His coverage ability is his strength, something that has been missing from Baltimore linebackers before Kenny Young. The Ravens have enough run-stuffers that the drop-off in run defense while playing Joseph would be swallowable. His problems stem from his power in-stance, where he can get pushed back by offensive linemen. I wouldn't use him as an every-down, run-stuffing, pass-rushing machine, but he holds incredible value on obvious passing plays, where the combination of he and Young could help lock down coverage with an already incredible secondary.
I want to thank The Draft Network for their constant updates of draft picks, player stock, and everything else that goes into creating the Mock Draft Machine. It's helped me see who's going where in each of my mocks.
Feel free to make your snide comments now. I'm here for all of them. Draft season is also troll season, and I expect them to make an appearance here.