Adam's Mock – Oh Man, That's Pretty
Print this article
I've been avoiding this like the plague.
Alas, my cohorts here at RSR have coerced me into throwing a mock out there, so let's get on with it…
Unlike my counterparts, I refuse to run 20 mocks and average numbers, if only because the fan-favorite The Draft Network Draft Machine is so easily compromised thanks to the algorithm that it runs when allocating picks. For example, if I wanted to get two good wideouts in lieu of a top-5 receiver in this draft? I could simply wait until Rounds 3/4, where landing a couple of top-10 WR prospects is a piece of cake, due to the algorithm having everyone reaching for EDGE as their top need, leaving the wideouts to fall far. Same for running backs, where guys like David Edwards – who likely get called Round 2 – are available in Round 4. In stark contrast, if you don't take your EDGE prospects early, you're left with scraps and a prayer by the end of Round 2!
It's a flawed system in many ways (yet still a useful resource!) and honestly, super addictive once you get to your 5th round of mocks (50+ later, you still can't stop).
One caveat: instead of taking 'who is there' on the TDN Draft Machine, I did my best to nab guys likely to be available in each round instead of jumping on a player Round 5 who I know is going to be gone 50-60 picks earlier (stupid algorithm…).
One more caveat: I also managed to steer clear of my typical suspects, as I found myself constantly drafting the same handful of players with every mock over the past few weeks (namely, Devin Bush Jr, Maxx Crosby, JJAW, Jalen Jelks & late flier on Bryce Love) and wanted to shake things up a bit.
Alrighty then kids, let's do this!
Round 1 (22) N'Keal Harry, WR, Arizona State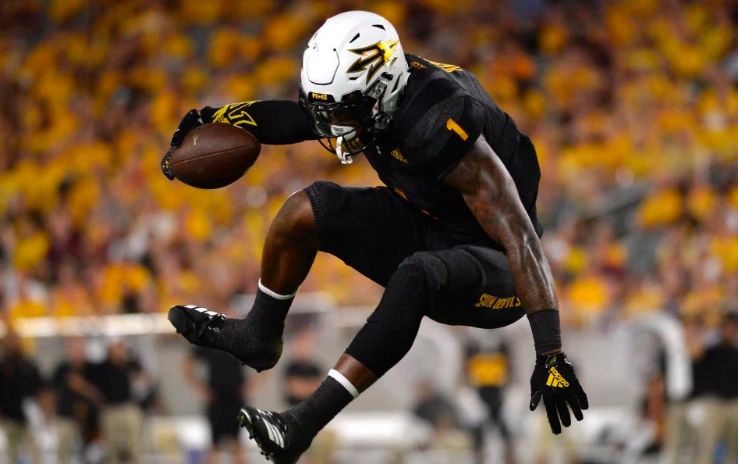 I firmly planted my ass on #TeamTradeback over a month ago, but obviously in mock scenarios, you aren't moving up or down from your set position (well, not this mock he says, heavily foreshadowing). Alas, if I'm taking a warm body to fill a void here, it's likely going to be receiver, and fortunately for me/the Ravens? My WR1 falls to 22 here.
Yes, N'Keal Harry is my top dog for wideout in this draft. Not Hakeem 'bring home the drops' Butler, or DK 'SlowCone' Metcalf. Both players offer a higher ceiling, but have a higher bust rate as far as I'm concerned. For a Ravens franchise to take a receiver round one, and more so, for Eric DeCosta's first true pick as the Raven GM, you cannot afford to take a huge swing and miss on guys like that. 
Instead, I'm stanning for Harry to Baltimore as the first pick in 2019. N'Keal is a big bodied, physical, strong wide receiver that is the biggest friggin' alpha in this WR draft class. He's easily the most complete and well rounded receiver on the board, and the key to this move for Baltimore is his physicality: Harry doesn't shy away from contact, be it running a route, going up for a contested catch, or blocking downfield.
Exactly what Eric DeCosta needs to splash with his first pick.
Round 3 (85) Oshane Ximines, EDGE, Old Dominion
This seems like a logical fall for Oshane Ximines, and one helluva pick for Baltimore. Perhaps 'fall' is the wrong word to use here. Ximines hasn't given teams reason to drop him down their boards; it's more so that other players have risen while Oshane has stayed rather stagnant.
Ximines is a brutal pass rusher with a relentless motor that the Ravens direly need in the absence of Terrell Suggs and Za'Darius Smith. He's no one-trick pony when it comes to rushing the passer, and has a litany of techniques and counters to help get home with strong use of his hands, timing, and initial burst.
What I really love about X here is the intangibles: his pressures are consistent and not bunched, he's remained healthy and starting for three years at ODU (missed only one start of 37), and he's a noted student of the game who's constantly looking to learn and grow.
That's the kind of player the Ravens need, as opposed to a one-trick pony with a head full of steam. 
Round 3 (102) Connor McGovern, IOL, Penn State
Not only am I on #TeamTradeback, but I'm also on #TeamHarbsIsntReplacingLGAndOCInTheDraft but that's too long of a hashtag. 
Indeed, I think we can look at the Ravens offseason under the Harbs regime and realize that we're never satisfied with our O-Line as it is. We always go into camp with a position in a 'TBD' status, typically a fight to the finish between a late-round pick, an underperforming 2nd or 3rd year Raven, and a summertime cap casualty from another team. I think this year, we're going to see that position is Center, as Brad Bozeman and Matt Skura duke it out. 
This leaves LG as a glaring hole (for us, not Harbs, who will say "we have plenty of viable options!") and Connor McGovern is my guy here.
McGovern spent three years at Penn State, starting 25 games at Right Guard, and 14 at Center, offering some much-needed flexibility on the O-Line. He has the size (6'5″ 308-lbs) and strength to play with the big boys at the next level, pulls great and he's one helluva run blocker, but his pass blocking has room to improve. Fret not: I have confidence that Joey D can fix that!
McGovern is just a big, nasty, gritty offensive lineman who the Ravens should be salivating over should he fall to this pick.
In all likelihood, we'd be looking at a Stanley-McGovern-Bozeman-Yanda-OBJr line next year, and honestly?
I can live with it.
Round 4 (113) Sutton Smith, EDGE, Northern Illinois
When you lose a pass rusher named Smith? You add a pass rusher named Smith.
It could be a bit of a risk to go smaller schools twice in the top four picks, and both EDGE guys, but I really like what Sutton Smith can bring to the table here, and I'm not so sure he doesn't end up moving inside. 
Ultimately, Sutton is an undersized EDGE (6'0″ 225-lbs) who will need to transfer those skills to an off-ball linebacker position in the NFL. Don't misconstrue his lack of size as an inability to rush the passer – Smith can still can get home with an outside rush and quick hands to break down opponents, but he's not going to find a permanent home there. Instead, this is a project for the Ravens to transition S.Smith as a backup to Peanut and Kenny Young, and hope that it works out in their favor. 
Quite honestly? I think the versatility here (Smith played RB in high school, making the switch to EDGE at Northern Illinois) is exactly what Wink Martindale would like to have on defense. His schemes, coupled with players that can lineup at multiple positions simply adds to the deception that he instills on opponents. 
Admittedly though, it's a high risk/high-ish reward pick in round 4. 
Round 4 (123) Miles Boykin, WR, Notre Dame
The Ravens can't settle with just a single receiver in this draft, and Miles Boykin is a very intriguing wideout prospect with a rather high ceiling for a fourth-round pick.
I honestly love this pick.
Three things really stand out for Boykin here: his size (6'4″ 220-lbs), his blocking abilities, and his freakish hands. 
Dude has a serious catch radius, strong hands, solid speed, can go up and snatch the ball from anywhere, and is not afraid to clean out a defender in his path (or the path of a teammate). Still, Boykin shies away from physicality when running his routes, and given his size and strength, it's kind of a curious case. If the kid can work on his hands and use his size/strength to his advantage when running a route and not just in the blocking game? He could end up being a Day 3 steal for Baltimore.
With the Harry and Boykin picks in the books, the Ravens have added an X and a Z that they so badly needed on offense. 
Round 5 (160) Isaiah Buggs, IDL, Bama
Congrats! You made it to the 5th round, where we're no longer expecting starters, but instead looking at rotational guys and future prospecting!
First up is Isaiah Buggs out of Alabama, simply because you know the Ravens couldn't go another draft without a Bama player (I'm kidding – it's a nuisance of a narrative that's hopefully dying with the EDC regime in full effect).
Buggs is a short, burly defensive lineman with a serious motor and great technique to counter his physical deficiencies at the position. There's some question about his effort on a consistent basis, but if this Ravens defense gets a hold of him, I'm confident they can right the ship when it comes to effort. Initially, we could see Buggs step into a situational role on limited snaps at defensive end, but the bigger play here may be long term: Buggs can also play inside (and do so quite well), and the Ravens next year face a predicament of whether to pay Michael Pierce and move on from Brandon Williams, or move on from Pierce and take the compensatory pick in 2021. Either way, I can't see a scenario where the Ravens are loading up cap space at Nose, and Buggs could easily slide into the rotational role there.
Again, another defender who can play multiple positions for Wink.
Round 6 (191) Max Scharping, OT, Northern Illinois
Into the later 'who?' picks and I think Scharping can be a steal for Baltimore on the Offensive Line. 
We'll keep this short and sweet: Scharping is a big dude (6'6″ 327-lbs) who has spent time at both left and right tackle during his college career, and gives the Ravens a reliable backup for the inevitable Ronnie Stanley injury (he has yet to play a 16-game season). Hopefully that backup need won't arrive early on, as Scharping needs to refine his technique and utilize his body/size better to make it in the NFL. 
There's also ample chatter that Scharping is best suited to move inside, thus giving Baltimore another option at guard, which is crucial in the final years of Marshal Yanda's career.
Worth noting – Lance Zerlein of NFL.com comped Scharping to Ricky Wagner. Not too shabby.
Round 6 (193) Penny Hart, WR, Georgia State
I know, I know – I already took a pair of wideouts in this draft. Why take another with the Ravens' final pick?
This is less about positional title and more about where Hart can contribute for the Ravens in multiple facets of the game. 
Hart is going to be a jack of all trades, and he's dangerous whenever he touches the ball. On special teams, he can immediately step in and give the Ravens a mainstay at KR/PR, which is something the team has lacked since the days of Jacoby Jones. On offense, the goal is simply to get the ball into Hart's hands and let him rack up the yards, be it on sweeps, short pass game, direct snaps – you name it. He won't step into the starting slot role with Willie Snead in place already, but Snead is in the final year of his deal and the Ravens need to consider the future as well. Give Hart the occasional reps, let him work his way into the offense, and give Lamar another weapon with wheels.
Also worth noting: Penny Hart may be small (5'8″), but he's still taller than Kevin Hart (5'4″). 
Overall Takeaway
It's not the sexiest of drafts, and I'm sure it'll get its fair share of flack, simply because the Ravens have four positions of need (WR, iOL, OLB, MLB) and folks are very divided on which route to take first here. Which is fair. I accept my fate.
Ultimately, I think the approach to this draft was 'SPEED.' The Ravens walk (er, run?) away from this draft with a pair of pass rushers with relentless motors that can get home with their speed, a pair of wideouts that will shine for years to come, and at least one starting offensive lineman. They solidify a returner spot that's been in flux for a number of years with a final (speedy) pick, and all around? This Ravens team went from questionable to dangerous overnight… or, I guess over-three-nights because the draft is a three-day event. 
I'll now be taking questions and comments, thank you.