The Best Ravens Mock of the Week
Print this article
Well apparently all of the cool kids are doing mock drafts this week.
But don't worry, we have saved the best for last. Yes, that's right folks, it's Cole here with my own 7-round mock draft that gets back to doing what the Ravens used to do best, and that is taking the best player available while factoring in need, rather than forcing reaches that have hurt the early rounds of some of the team's most recent drafts.
A wise Ravens draftnik once told me to pay attention to the strengths of the current class and make sure you factor that into your draft board. For example, EDGE is no doubt a strength of this year's first round. That means it's very likely that one falls to 22 as other teams begin reaching for need to fill out their roster.
That's exactly how TheDraftNetwork's mock draft board falls. Reminder folks, in order to keep this fair and as realistic as possible, we're using our friends over at TDN's new Mock Draft Machine as a guide. Go on over and check it out.
Let's dive into my seven-round mock draft.
Round 1, Pick 22 – Clelin Ferrell, DE, Clemson
Lo and behold, a falling stud at 22. In my mock, we don't make the mistake the Ravens made last year and pass on an elite prospect (cough, Derwin James, cough).
Ferrell has prototypical size, length, strength and burst for a 4-3 DE. But, wait Cole, we don't play a 4-3!?
Oh, I know. If this was a Dean Pees defense I would be against this type of pick. However, Don "Wink" Martindale showed creativity and the ability to place guys in position to showcase their strengths. I believe Wink could adjust to a 4-3 Under look (Which is identical to a 3-4 base, except the RUSH OLB puts his hand in the dirt and becomes a RUSH DE).
Ferrell is a complete three-down DE who will help the team enter into the post-Sizzle era of Ravens football. Don't overthink this one Ravens fans.
This is a high level player that will exceed pick 22 value.
Round 3, Pick 85 – Terry McLaurin, WR, Ohio State
Surprise, surprise, the Ravens draft a WR who was present at the senior bowl. Who could have seen that coming?
McLaurin has done a lot to boost his stock in the past two months. He was first brought to my attention over on the RSR Forum by my good buddy RavensNest, who just so happens to be a huge Buckeye fan (Biased, maybe? Eh, oh well).
After diving into his tape, there's a lot to like about the fit in this offense. A lot of Ravens fans are focused on finding an X receiver with a big catch radius to make up for Lamar Jackson's inconsistency. I don't disagree with that, but I think in addition to that, a good fit for Lamar's game is a guy who can use crafty footwork and good burst to separate from defenders and expose them on crossing routes.
That, my friends, is McLaurin's greatest strength. I have two major criteria for a WR nowadays: ability to actually catch the ball and good enough route-running skills in college that will translate to the NFL. Check and check.
Ladies and gentlemen, please meet your newest Z receiver in the purple and black.
Round 3, Pick 102 – Nate Davis, iOL, Charlotte
I have been a big fan of Eric DeCosta's first offseason as GM of the Ravens. The one thing I did not like? His lack of making a play on Matt Paradis and Rodger Saffold. I am deeply concerned about the interior offensive line that got obliterated by the Chargers in the playoffs.
With a big mauling LG, Matt Skura may be able to be a good center in this league (Note, I said may be, not will be). Well, don't worry because the small school stud, Nate Davis, is here to help.
Lets start with the notable bad side of Davis. He's an eager blocker who's always looking for work and, in doing so, he can play with some sloppy footwork that throws him off balance. However, if he gets his hands on you, it's over. He looks to take you into the dirt.
In a scheme that is going to use a lot of powers and inside zone, Davis will be well protected by the scheme and it should allow him to do what he does best. In pass protection, he needs to clean up his balance, but he shows good fluidity to get leverage and he shows a very strong anchor.
Round 4, Pick 113 – Joe Giles-Harris, iLB, Duke
The departure of C.J. Mosley stings. Kenny Young and Patrick Onwuasor are better in coverage, but may not be able to be the thumpers at the MIKE spot that Mosley was. We should note that Mosley was given significantly more hook zone coverage responsibilities than the typical MIKE is asked to do, so expect that to shift.
Giles-Harris can be a day 1 starter in the base formation. He shows tremendous football IQ and is a sure tackler – he can be that thumper. On passing downs, a combo of Young and Peanut, plus Anthony Levine and DeShon Elliott give Wink plenty of chess pieces.
Easy pick and great value in the 4th round.
Round 4, Pick 123 – Keesean Johnson, WR, Fresno State
Every year there's always a WR who isn't putting up the measurable numbers to garner attention, but you watch his tape and it just shows you a good football player. This year's version is Keesean Johnson.
Johnson is coming off a senior year at Fresno State where he put up 95 catches, 1,340 yards (14.1 AVG) and eight TD. That is insanely good production in an underrated Mountain West conference.
Going back to my WR criteria. 1) Johnson catches everything thrown his way; and B) he's already a good route runner, which is quite rare for a WR prospect. This is a high floor guy who projects as a very capable X receiver.
He won't get the ball and make guys miss, but he'll at least get open and catch the ball, and that's an immediate upgrade for the Ravens WR core.
Round 5, Pick 160 – Jaquan Johnson, FS, Miami
The starting FS spot is well manned with the addition of Earl Thomas. The Ravens also have other safeties who are capable of moving around the nickel and dime formations. However, they still need some depth for a deep safety behind Thomas.
That is where Johnson comes in. It's hard to find a FS this late who shows the type of range that Johnson does. Miami used him and Sheldrick Redwine all over the place, so he will be used to Wink's chess piece mentality. I think his range and burst project as mirroring the type of FS alignment we'll see from Thomas. Great value pick to fill a depth role.
Round 6, Pick 191 – Bryce Love, RB, Stanford
Some don't think Bryce Love will fall this far. I disagree. This is a 6th round high risk/high reward type of selection.
Love complements Mark Ingram and Gus Edwards well by adding the big play and more elusive running style that Ingram and Edwards don't necessarily have. He can also catch out of the backfield and would be sheltered from workhorse carry numbers in the RB3 role in Baltimore.
I think this is a great fit and adds a high upside guy that complements the backfield well.
Round 6, Pick 193 – Demarcus Christmas, iDL, Florida State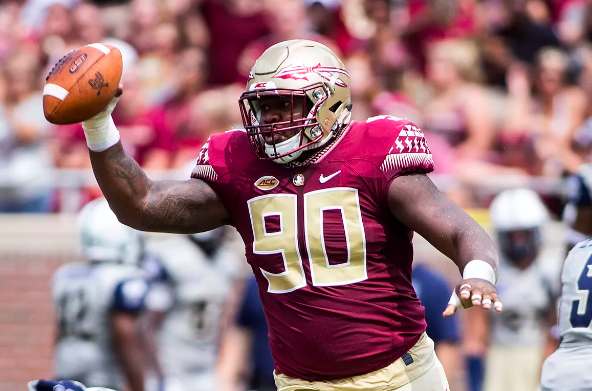 This late in the draft, you're really looking for depth. Christmas is a big man who can clog the middle of the field. He would fill in as a depth player behind Pierce and B-Will on the interior.
This culminates the best mock draft you'll read all week. Or the worst. You decide, and let me know what you think in the comments.
To make things interesting, tomorrow we'll launch a vote so that fans can pick whose mock you liked best between Chibs, V, Adam and I.
Tune in tomorrow to vote!