A Look at Round 1 Trade Trends
Print this article
In the first part of this series, we discussed the past decade of draft picks in Day One of the NFL Draft, and all associated trends. If I had done a video blog (or vlog if you're savvy like that) instead, it probably would've looking something like this: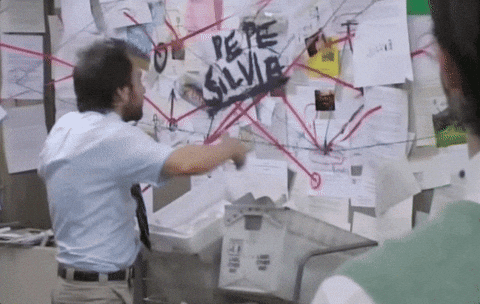 Lots of charts *heart eyed emoji x100*
This week, we're taking a look at Day 1 trades in the NFL draft over the past decade to see if we can find any notable trends, whether that be in the teams typically making trades, the positions most teams covet in a trade, or the value of dropping down 1-2 picks versus 3-5 picks (and beyond).
Figuring out these trends, in conjunction with last week's analysis of team-by-team trends of player selection, our goal is to have a final first-round mock next week that'll closely resemble what we can actually expect come next Thursday evening at 8:30pm.
Deep breath… 
Charts prepped…
Let's go!
Trade Totals
When we think Day 1 trades, we typically remember the bigger moves – the Falcons trading a haul to the Browns for Julio Jones, or the Skins giving away the farm to draft Bob Griffin – but we don't take into consideration just how many trades are made on the first day of the NFL draft.
Here's a quick breakdown by year, using the same 2009-2018 timeframe as last week:
On average, that works out to 5.9 trades per year in Round 1. We'll call it six because who likes a decimal, right?
Also worth noting – the past three drafts (with seven, seven, and eight trades, respectively have been above this average – and rising – which is worth mentioning when debating how the 2019 draft will shake out in terms of trades. 
While it's nice to see how many trades to expect, what about the players that teams are trading up for? What's the most frequent position being traded for? 
More charts!
No surprise that quarterback is the position teams will trade up for with the most frequency, but it's crazy to think that half of all QB's drafted Day One have been via trade up! For those tracking at home, here's the list:
Mark Sanchez, Josh Freeman, Blaine Gabbert, RG III, Johnny Manziel, Teddy Bridgewater, Jared Goff, Carson Wentz, Paxton Lynch, Mitch Trubisky, Patrick Mahomes, Deshaun Watson, Sam Darnold, Josh Allen, Josh Rosen, Lamar Jackson
Quite the dumpster fire of a list early turns fairly formidable once you hit Goff, doesn't it?
I'm going to keep trucking with the big picture, but we surely need to come back to this QB conversation in short order.
Trade Breakdowns
We've already seen a positional breakdown, but let's take it a step further: how many trades are made in the top 10 picks versus the middle of the draft or the back end of the draft? 
Fret not- there's a chart!
Full disclosure: I thought this would turn out a lot more top heavy. 
Instead, what we can see is that nearly half of the trades being made are in the 21-32 range of the draft (conveniently, right in the Ravens range – but more on that later!).
The other noteworthy item here is the final column dubbed "2x Trade." This column identifies teams that traded down once, then used their top pick in the trade to move back up or further down the board once again. Using the Ravens as a frame of reference, here's an example of each:
Bounce Back Up: (2008) Ravens trade back from pick 8 to pick 26 (via Texans), then jump back up to pick 18 (via Texans) to draft Joe Flacco (net gain: R3P71, R4P105, traded away a 6th)
Double Down: (2018) Ravens traded down from pick 16 to pick 22 (via Bills), then turned around and swapped out pick 22 for pick 25 (via Titans) to draft Hayden Hurst (net gain: R3P65, R4P125, traded away a 5th & 6th)
We don't really think about how frequently teams pull the trigger twice to either accumulate multiple picks or jump back up in fearing the player they expected to fall simply won't, but nearly one in every three trades results in a double-trade. While there's been 18 times a team has pulled such a move, it's only been nine franchises that play the game:
Browns (x5), Broncos (x4), Patriots (x2), Seahawks (x2), Rams, Raiders, Titans, Ravens, Packers
The largest delta from original pick to the final pick was the 2009 Patriots, who dropped 18 total slots , first from 23 to 26 (via Baltimore – added R5P162) then again to the second round at pick 41 (via Seahawks – added R3P73 & R3P83). The smallest delta of a double-move was in 2014 when the Browns dropped from pick 4 to pick 9 (via Bills – added a future 1st & future 4th) then jumped back up to pick 8 (via Vikes – cost them R5P145) to take CB Justin Gilbert. 
Head spinning yet? 
Good, because now we're going to talk about which teams trade up the most, which trade down the most, and which refuse to move from their draft slot.
A few key takeaways here:
— The Ravens have traded up twice – to acquire Michael Oher and Lamar Jackson – while trading back three times. 
— The six teams that never move up for a player include the Bengals, Colts, Giants, Raiders, Steelers, and Seahawks. 
— The 12 teams that won't slide down the board include the Cards, Falcons, Panthers, Bears, Texans, Jags, Bolts, Fins, Saints, Giants, Jets, and Steelers. 
— Obviously, far more teams are interested in moving up (26) than moving down (20).
— The Giants and Steelers are the only two teams that have taken the player at their designated draft slot every year since 2009 without moving.
— The Browns and Seahawks have moved down more than any team (8x).
— The Saints have moved up the board more than any team (5x).
QB Trade Game
Jumping back to the QB trades, and breaking the draft into thirds as we did above, here's how the entirety of Day 1 trades breaks down:
10 of 15 QB trades have occurred in the past three years (2016-2018)
10 of the past 22 trades (45%) have been for QBs
10 QBs traded for in the top 10
One QB traded for in the 11-20 range
Four QBs traded for in the 21-32 range
What is this telling us?
That quarterback is a prime position for trade in recent years, and while most teams primarily slide to the top third of the draft in order to land their guy, others are more inclined to hold out until the bottom third.
2019 Day One Draft Trends To Expect
That's a whole helluva lot of information to soak in – but what does it all mean in regards to the 2019 draft?
For the big picture, this tells me that the likelihood of seeing six-seven trades is highly feasible, and it's likely that they'll come courtesy of the teams we see most frequently involved in moving up and down the boards, sans the Browns and Saints (without a first round pick)… unless they jump back up into the bottom of Round 1 using their secnd round pick and additional compensation (yep – it's happening). 
This also tells us that we should expect at least one QB to be drafted via trade up – possibly two if a fourth QB is taken in the bottom third of the draft by a team moving back into the round. 
We're also likely to see a team or two pull the double-trade scenario and not simply drop down and stand pat. 
All things to consider when putting together our final Round 1 mock draft early next week!
What Could This Mean For Baltimore?
The Ravens currently hold pick 22, and let's be honest – #TeamTradeback makes entirely too much sense here. Six or seven trades on day one gives the Ravens a roughly a.. well, a great shot at being involved in one of those deals. Furthermore, if we're looking at the chance a team moves up into the bottom third of the round for a QB (Daniel Jones?) the Ravens should be willing to play ball. 
Of course it shouldn't be a straight drop from 22 to the second round. In fact, I can't find an instance when a team dropped from a pick as high as 22 directly to Round 2. Typically, teams aren't dropping to R2 until pick 28-32 (Bolts, Chiefs, Packers, Rams, Pats), which is where the Ravens should target a trade.
With these teams in mind, the Pats or Pack could move up for a TE (Noah Fant), the Rams could move up for a running back (don't laugh – hearing they're interested in Jacobs), the Chiefs could covet a pass rusher that maybe the Ravens don't value as high (sorry, I don't love Ferrell at 22), and the Bolts could be looking at a few positions that are run dependent. 
All five teams have shown that they'll move up when the need makes sense, which is good for Baltimore. As for the return for a move down by Baltimore, here's a rough idea of trade value based on the past 10 years of moves down from the 21-23 range:
So let's assume a third is the return here.
Once the Ravens drop to the end of Round 1, would they consider looking at teams at the top of Round 2 to partner up with for another move? Perhaps teams that want to move back into Round 1 with likely intentions of taking a QB (Daniel Jones)?
In less than one week, we'll know for sure…