Options Abound for Ravens on Day 1
Print this article
When the Baltimore Ravens staff assembles in their war room on April 25, they will do so in a position they haven't been in a while: with plenty of directions to choose from. Examining the landscape of the roster, there are clear needs throughout; interior offensive line, edge, linebacker, and of course, wide receiver all need addressing.
General Manager Eric DeCosta gets his choice from an array of prospects, each of whom could make a significant impact early on in their career. Here are some clear-cut options for the team to consider.
Clelin Ferrell, Edge, Clemson
Ferrell is a special talent on the edge, with an ability to play in a 4-3 or a 3-4. The former Clemson standout has all the tools you look for in a pass rusher, and if it weren't for this class having the likes of Josh Allen, Nick Bosa and Brian Burns, Ferrell may be considered a top-10 pick.
While there is no telling whether or not Ferrell falls to pick 22, if he is there, the Ravens have to truly consider taking him. Based on the tape, the explosiveness Ferrell possesses reminds me of a young Terrell Suggs. With the production lost from the departures of Suggs and Za'Darius Smith, Ferrell would be an apt replacement to fill the void.
N'Keal Harry, WR, Arizona State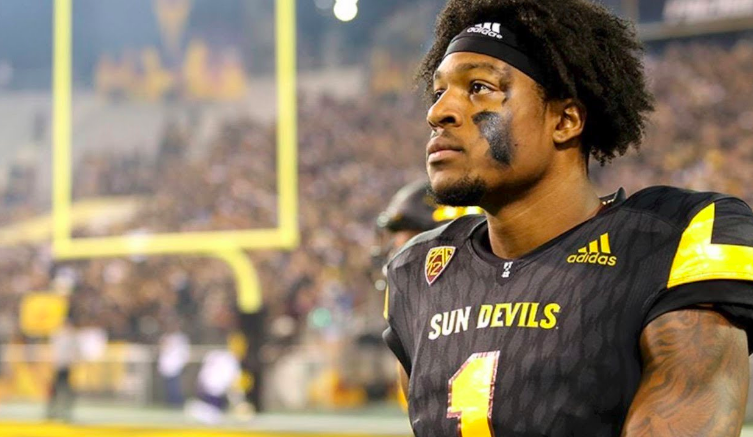 The former Sun Devil has been up and down boards seemingly all throughout the pre-draft process. A year ago, many considered Harry a no-brainer first round pick. Since, he has come to be viewed as a bit of a fringe late-day-one or early-day-two player. Harry possesses all the traits the Ravens offense needs, and would be a great fit if the team can trade down a little bit and get the most value out of their pick (more on that later).
Harry runs fairly strong routes, has consistent hands, and has the catch radius to win the tough contested catch battles. This has been a point of contention amongst the Ravens fan base, as they have longed for a big-bodied target since Anquan Boldin graced M&T Bank Stadium.
[Related: What's the Ravens' WR "Type?"]
While Harry lacks the top-end speed, he is crafty in his ability to get open, and wins at the high-point to snatch the ball out of the air. From a pass-catching standpoint, he can play inside or outside, which would give the offense the versatility needed to move the chains consistently.
With Lamar Jackson needing someone who can win the contested catch battle, Harry would be great value late in round one.
Garrett Bradbury, C, NC State
There is no secret about the Ravens offensive line: it is weak on the interior. While incumbent center Matt Skura filled in last season, it was clear he was a bit overmatched at times, requiring consistent help from his guards. Garrett Bradbury would be an immediate plug-and-play center, and worthy of a pick at 22.
[Related: Big Board Breakdown – Does Bradbury Fit Ravens Scheme?]
As a former tight end, Bradbury possesses the athleticism needed at the center position in today's NFL. Lean and fluid, he is able to help the guards in blocking when needed, while being effective in blitz pickup up the A-gap. Realistically, Bradbury could be called upon to play guard as well if the team truly wanted to move forward with Skura, but there would be no need to do so, as Bradbury is the far superior center prospect.
When thinking of the former Wolf Pack star, think of the likes of Alex Mack and Max Unger, two star centers taken in round one that went on to prolific careers. Bradbury is likely to follow the same path.
Marquise Brown, WR, Oklahoma
Much like Harry, Brown has been up and down on many boards, which makes it tough to peg exactly where he will land. It seems, as of late, the first-round talk has begun to pick up more steam. The Oklahoma Sooners product has a small frame, but game-breaking speed to take the top off the defense.
I have compared Brown to John Brown on a few instances, and the similarities are uncanny: similar route-running abilities, speed, ability after the catch. Brown has solid hands and has the ability to create separation from his defender; however, he isn't going to win the contested catch and high-point the ball.
The value Brown seems to bring is more of a day-two player, but he could find his way into day one with his playmaking ability.
Trade down
This is the optimal route for the Ravens. They come into this draft with eight draft picks, probably less than they would like, given the holes on the roster. I will not get into what exactly the team can get specifically trading down to certain positions (Adam already did that), but it is clear this would be the best-case scenario.
This is more of a depth draft, rather than a top-end stud one. There will be plenty of players of value at positions of need late in day one, or early in day two. The Ravens could ultimately trade out of the first round and still find a day one starter at a position of need later than 22.
Unless a star falls down the board to 22, fans should be prepared for the team to do what they do best, and trade down.