"We're Getting a Complete Player"
Print this article
Hollywood Brown and More…
In Part 3 of 5, Eric DeCosta explains in detail why the Ravens are holding firm at offensive line plus he breaks down a complete wide receiver who goes by the name of Hollywood Brown.
During his conference call with PSL holders, Steve Bisciotti had an interesting comment about upgrading the offensive line. He said that you guys would not pursue just an average player to help bolster the interior line – that you'd prefer to stick with the guys you have instead of adding an average player. Talk about the seasons that James Hurst, Matt Skura and Bradley Bozeman had in 2018.
ED: I think that stems from the idea that we've allocated resources in the last few years in young players that we're excited about and we want to see what that can do. So, in looking at a guy like Bradley Bozeman or Jermaine Eluemunor or [Greg] Senat or Ben Powers or players like that – Orlando Brown. Even though we haven't used a lot of high draft capital on offensive linemen, we feel like we've got a nice long nucleus of quality backup guys that could ascend.
We've seen over the years some guys – Ricky Wagner, Ryan Jensen, those guys didn't start as rookies. Those guys didn't even start as second-year players in some cases but they became players. With offensive linemen, a lot of times what we see is it takes these guys a year or two and they become pretty damn good players.
So, unless we had the chance to bring in an immediate impact offensive lineman we would rather use that capital on other players and give the chance to these young guys to see who of this pack of guys really does emerge and becomes a quality player for us.
What did you see from Ben Powers at the Senior Bowl that enticed you to make him your second fourth round pick?
ED: A physical guy; tough mentality; grinder; a very durable player [who] played on an excellent offensive line. Excellent technician; good finisher. We love the program. We know a lot about Ben because of his relationship with Orlando. Just a good, young player. Kind of gritty, kind of a physical guy. We're excited about what he brings in the short-term but also in the long-term.
He kind of fits our mentality as a person and a player. And we're just excited to see what he does as he gets thrown into the mix.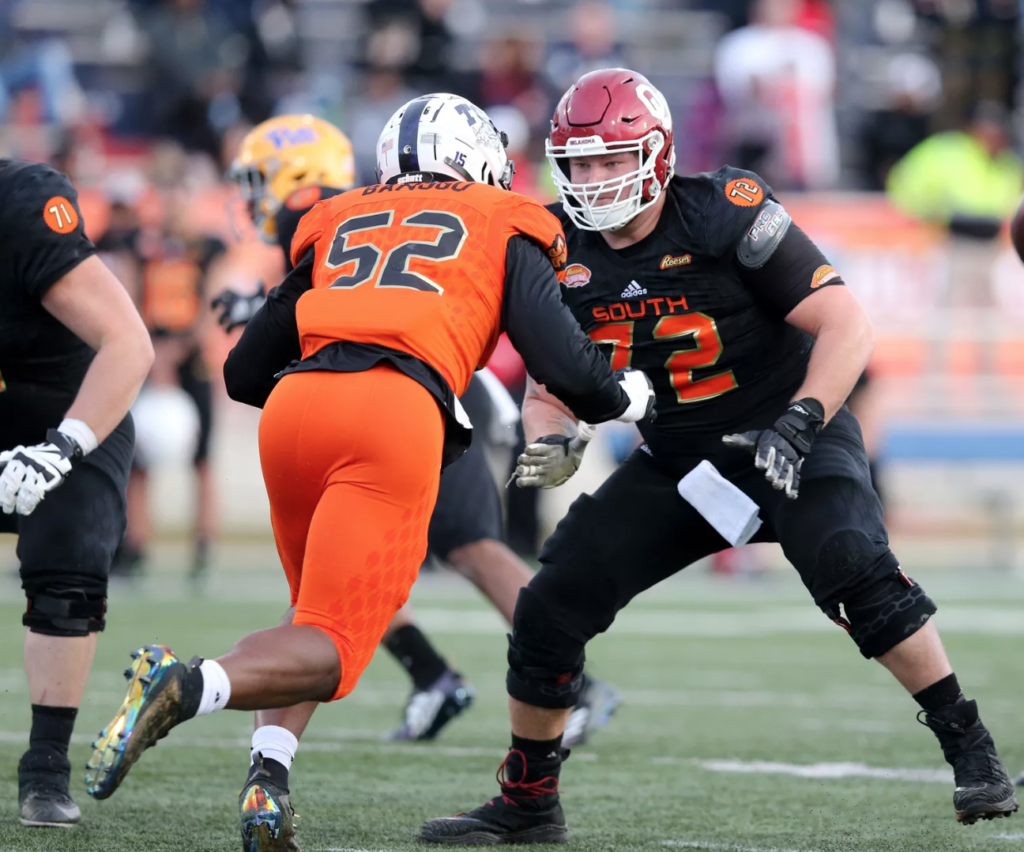 Another player from Oklahoma was your first overall pick in 2019, Marquise Hollywood Brown, has been compared to DeSean Jackson. Is that a fair comparison and if not, who might he compare more favorably to?
ED: I'm always hesitant to compare anybody to a really, really good NFL player. I'm not a huge comparison guy. But what we saw with Marquise was a game breaker – a player that could do things in space and also down the field as a vertical wideout. Most receivers typically get pigeon-holed as a vertical guy or being a run-after-catch, underneath, inside player. Despite Marquise's smaller stature, he's a guy that has shown the ability to make plays down the field and he's also shown the ability to catch the ball underneath, take a reverse, take a screen – whatever it is, he's shown the ability and flair to make big plays.
For two years in a row, we're very excited, he was a dynamic player to watch on tape. One of the more fun guys that we've seen over the last couple of years with the ball in his hand. He's a really consistent player. For a smaller receiver, what we love is his ability to consistently catch the football, which is a really important part of the position, obviously.
So, we felt like we were getting a very complete player and a guy that would make us better and would allow us to keep a balanced field and not allow the field to be shifted towards the quarterback.
Related Articles
Eric DeCosta Interview, Part I
In Part 1 of a five-part series Eric DeCosta discusses the inside linebacker position, the growth of Patrick Onwuasor and Kenny Young and the developmental processes of Tyus Bowser and Tim Williams and why DeCosta believes that both are prepared to deliver on the potential that persuaded the Ravens to draft both linebackers.
Eric DeCosta Interview, Part II
In Part 2 of 5, Ravens GM Eric DeCosta provides details as to why the Ravens pursued and signed Earl Thomas, Mark Ingram, Pernell McPhee, Shane Ray and Michael Floyd.