Print this article
Love What You Do!
During the Summer of 2002 I bought a copy of The Baltimore Sun hoping to catch up on the latest at Ravens training camp.
Despite a major cap purge and coming off a playoff run behind Elvis Grbac, there was not one word about the Baltimore Ravens! While heading towards Ocean City in a convertible, my mind raced with thoughts about the purple and black. Suddenly I noticed a shadow passing above the car and looked up. A magnificent bald eagle soared just overhead, seemingly 20 feet above the car.
OMEN, I thought! The bald eagle is front and center in the Baltimore Sun logo.
Right then I decided to take matters into my own hands. When I reached Ocean City, I took a walk on the boards. Fueled by the seaside air, it was then, literally born on a napkin at the Dough Roller, that Ravens24x7.com was born.
The following summer the site launched on July 3, 2003.
Our odds for survival were slim at best. But despite the odds, since its inception, Ravens24x7.com has been honored many times as the best Ravens blog and best overall blog in Baltimore, by publications like Baltimore Magazine and ironically The Baltimore Sun. Those accolades aside, perhaps the crowning achievement of the site is that it has never lost sight of what it is – a fan website.
[Related Article: Ravens Success Hinges on O-Line]
Some of our competitors dismiss us claiming that we aren't true media. I'm really not sure what that means or even if we're supposed to take offense to that. What I do know is that when I wake up every day there are two things on my mind when I sit down in my office: 1) What can we do today to make a visit to our site a worthy one; and 2) What can we do to provide value to our customers?"
The Baltimore Ravens took notice and eventually forced us to change our name.
We operated as Ravens24x7.com for 9 years. I was terrified that changing the name would hurt us but in order to remain in good standing, we had no choice. After countless hours of internal discussions, we changed our name to RussellStreetReport.com.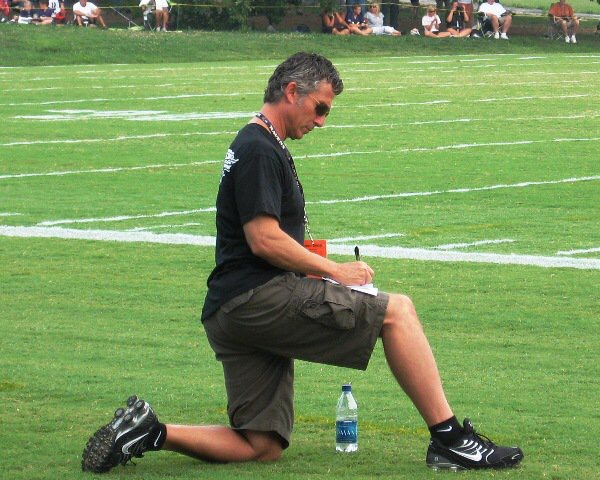 So here I am, 16 years later reminiscing. It's been a success and if we keep at it with the same work ethic and enthusiasm, we will continue to thrive. But the intent of this message isn't to pound my chest and say, "Look what we've done!"
The message I WANT to convey is that if you have an idea that drives you – something that you are passionate about…PURSUE IT! I took a chance. I made some sacrifices to make it work. But all along I felt that I'd rather try and fail than never try at all. I didn't want to look back and say, "I wish I had…".
But more importantly, since we launched in 2003, I haven't worked a day since – or at least it feels that way. When you do something, you love so much that you'd do it for free, BUT you still can earn a living and make ends meet, that's freedom.
As you celebrate our freedom as Americans this weekend, think about that something you'd like to pursue and then figure out a way to make it happen.
It's there for you if you really, really want it.
Do what you love, love what you do…