Print this article
Ask any Ravens fan what their greatest memory in team history is and the majority are likely to reply, "The Mile High Miracle". A game, a season seemingly lost at worst, on life support at best, was given new life by the improbable Joe Flacco to Jacoby Jones 70-yard TD connection. But that answered prayer only put the Ravens in position to tie the game. There was more work ahead.
The game eventually went into overtime, tied at 35.
Another unsung Ravens moment would soon unfold…
After exchanging overtime possessions, the Broncos' Britton Colquitt punted 55 yards to the Ravens 6-yard line with 6:48 remaining. The Ravens first two plays of the possession produced nothing and when Flacco brought the offense to the line of scrimmage to try to convert a third-and-10, they only made matters worse after being flagged for delay of game.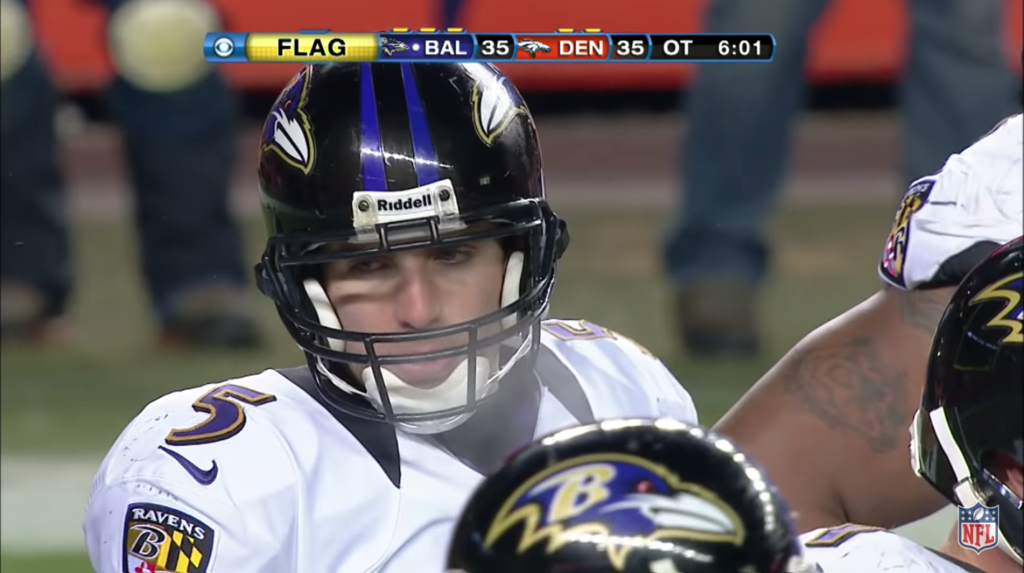 Now, staring at a third-and-13, Broncos fans were in a frenzy as edge rushers Von Miller and Elvis Dumervil salivated at the chance to end the game right then. Even a failed conversion attempt would assure the Broncos excellent field position.
Poised and seemingly with ice in his veins as temperatures dropped deep into single digits, Flacco dropped a dime to Dennis Pitta running a seam route between the right hash mark and the numbers. Pitta used his size to go up and get the ball between defenders Jim Leonhard and Tony Carter. The completion gave the Ravens a first-and-10 at their own 27.
Although the drive would eventually stall and the Ravens would punt from their own 34, this unsung play coupled with Sam Koch's 52 yard punt and an excellent special teams play by Jimmy Smith, dropping the dangerous Trindon Holliday for a 7 yard loss on the return (let's not forget that he had two returns for scores during the game), helped the Ravens completely flip the field.
Denver started the ensuing drive at their own 7, and seven plays later, Corey Graham had his second interception of the day, putting the Ravens in position to win the game on the foot of Justin Tucker.
Yet without that connection from Flacco to Pitta, the Mile High Miracle may have only been a temporary thing and not the epic memory Ravens fans have come to cherish.