Unsung Moments Part IV: Jacked Up!
Print this article
A Patriot Gets JACKED UP!
Just one year prior, on the same field at Gillette Stadium, the Ravens suffered their most crushing defeat in team history. Driving late in the 2011 AFC Championship game with a chance to take the lead, Lee Evans was stripped of a probable game winning touchdown catch to send the Ravens to Super Bowl 46. Two plays later, Billy Cundiff assured the world that the Patriots instead, would represent the AFC in the big game.
But the 2012 season would be different. This time the Ravens, 7 ½ point underdogs, would finish strong. This time the Ravens would leave no doubt, defeating the Patriots 28-13 to advance to Super Bowl 47.
We all remember Joe Flacco's prowess in the second half of that game. We remember Anquan Boldin snatching two TD passes in the 4th quarter with those bear trap paws. We remember Tom Brady spiking Ed Reed and Carey Williams game-clinching interception in the end zone.
Yet there's one play, that really turned the tables – it was a huge momentum shift that time hasn't been as kind to. Let's set the table.
The Ravens took a 21-13 lead on the first play of the fourth quarter – a three-yard TD pass from Flacco to Boldin. On the ensuing drive, the Patriots offense seemed to be gaining some momentum. Taking over at their own 16, Brady moved his offense to his own 39 following a 12-yard completion to Brandon Lloyd.
We've seen Brady's act before.
There was cause for concern.
On first down at the 39 with 12:55 to go, Brady handed it to tailback Stevan Ridley who advanced the ball 8 yards off left tackle. But there he was greeted by Bernard Pollard who delivered a crushing blow to Ridley who seemed momentarily paralyzed stemming from the vicious hit. As the running back fell to the ground, he lost control of the football just before his knee hit the ground.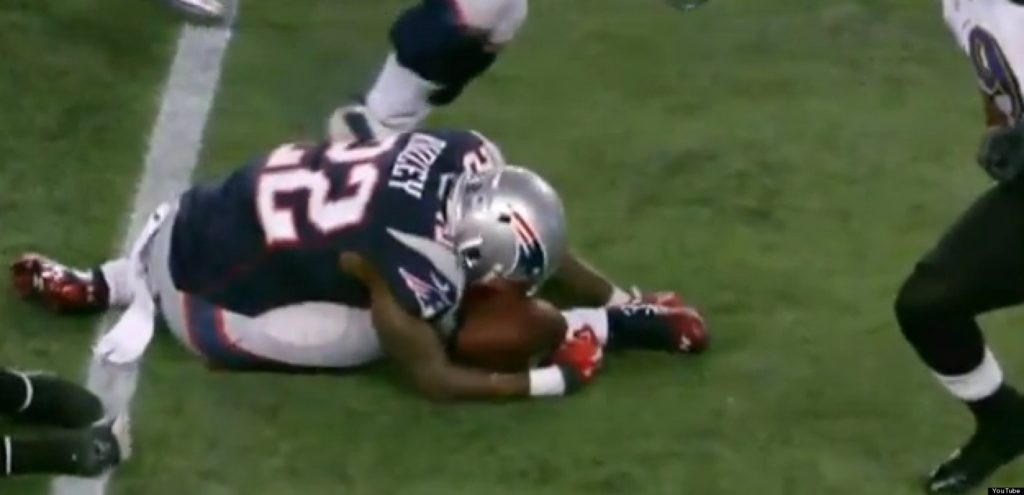 [Related Topic: Full 2012 AFC Championship Game Video]
The ball was recovered by Arthur Jones and the Ravens took possession at the Patriots 47-yard line.
Like sharks navigating blood-infested waters, Joe Flacco & Co. went on the attack. The Pollard hit seemingly sucked the life out of the Patriots. They looked like a beaten team. They looked like wounded animals in the wild, the kind predators prey on. Four plays, 53 yards and 1:27 later, it was 28-13 Ravens.
The Ravens would go on to represent the AFC in Super Bowl 47 and they did so in magnificent style for 2 ½ quarters. In the next unsung moment, we'll touch on an understated play that may have saved the Ravens from a complete second half collapse in the big game.