Unsung Moments V: Hustle Pays
Print this article
Pure Hustle Saves The Day in Super Bowl 47
Super Bowl 47 started out magnificently for the Ravens. They led 28-6 just 11 seconds into the second half. After Jacoby Jones' electrifying kick return of 108 yards, the 49ers took over at their own 14. Following a 29-yard completion from Colin Kaepernick to Michael Crabtree and a 3-yard run by Frank Gore, the Niners faced a second-and-7 from their own 46. Kaepernick was sacked by Arthur Jones for a 6-yard loss at the 13:22 mark of the third quarter. And then…the lights went out in the Superdome.
Play was stopped for a total of 34 minutes. Soon thereafter, the momentum that had solely belonged to the Ravens had shifted dramatically. The second half belonged to San Francisco. The Ravens defense looked beaten. We listened as Phil Simms gloated about the conditioning of the 49ers. San Francisco average 8.9 yards per play on offense in the second half. They ran over the Ravens like a hot knife through butter.
But when it mattered most, the Ravens red zone defense was up to the task. The Niners ran four plays starting at the 7-yard line and could only move it 2 yards. The Ravens took over on downs, milked the clock and closed it out. For me, the victory didn't feel like a win – only relief. Following the power outage, the game was agonizing. The pain ending only after Josh Bynes took down Ted Ginn, Jr. following a free kick, to finish the game.
But there was a play before the Ravens red zone stand, without which the Niners would have scored to take the lead, perhaps forever altering Baltimore's Sports landscape.
At the 2:47 mark, San Francisco faced a first-and-10 at the Ravens 40. Kaepernick handed the ball to Gore who rambled 33 yards down the left sideline. Dannell Ellerbe was caught up in traffic, as Gore broke free. Ed Reed was in pursuit of his fellow Miami alum and threw his shoulder at Gore's legs around the 13 yard line.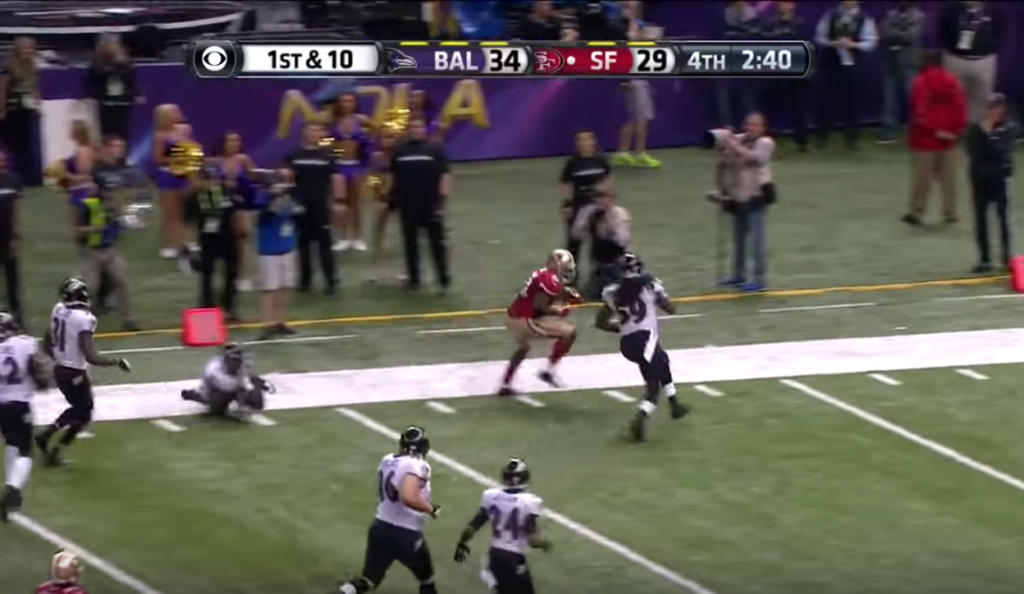 The attempt slowed Gore a tad but if not for the all-out hustle of Ellerbe, to break out of traffic and catch up to Gore, the Niners tailback would have scored easily. Although Reed is credited with the tackle since he was the last one to touch Gore before he stepped out of bounds, it was Gore's attempt to sidestep Ellerbe that caused him to step out.
The ball was marked just outside of the 7. Given the remaining amount of time on the clock, 2:39, it has always amazed me that the 49ers didn't continue to run the football. But that's another story for another day.
Today we remember a great hustle play, an unsung moment from Dannell Ellerbe.