Roger The Dodger Strikes Again
Print this article
In sports we often seek consistency. Whether it's the strike zone of an MLB umpire, how NBA officials handle ticky-tacky fouls during game-changing moments, or the way in which NFL referees police the interior line of scrimmage, players and teams can adjust IF there's consistency.
If only Roger Goodell understood consistency.
If only Roger The Dodger practiced the integrity he consistently preaches.
Goodell only does what he believes is best for "the shield". He's as disingenuous as they come. He regularly feigns contriteness. It's his go-to PR move, and he pulls it out whenever something happens in the league that might deliver a monetary blow.
Integrity for Goodell, has its focus on one thing and one thing only – the league's bottom line. The digits to the left of the decimal point is where his integrity starts and stops. His attention to the league's swelling coffers is all that matters and it has become the lifeblood of his decision making.
[Related Article: Roger Goodell Fails Again]
What happened to his "zero-tolerance" policy following the severely botched handling of Ray Rice's elevator incident? Wasn't a six-game suspension supposed to be an automatic for any offender? Instead, whenever there's an incident of domestic violence tied to the NFL, Roger The Dodger will delay any kind of punishment, hide behind due process, and cross his fingers while hoping no visual evidence comes crawling out of TMZ's research staff.
Zero tolerance? C'mon man. Goodell's zero tolerance policy IS a zero! It's garbage. Just like his overall performance as The Commish. Some will say that he's made the owners rich and that justifies his phony existence. But let's be real – the game makes the owners rich. It's perfect for TV and it fits in perfectly with peripheral attractions like fantasy football and gambling. It's a built-in audience that sponsors are willing to pay for and continue to do so despite all of Goodell's bumbling ineptness.
His most recent epic failure is his mangling of the Tyreek Hill case.
So Hill's 3-year old son has a broken arm to go with bumps and bruises. No one is saying how it happened. The mother of the child has challenged Hill's form of discipline. Child Protection Services concurs. The mother also claims that the young boy is terrified of Hill. Hill is on record saying that he needs to do better. Do better?
Hill is also on record telling the mother of his son that she should be terrified of him.
Yet there's no discipline.
There's no discipline despite Hill's track record.
Yet the Ravens Jimmy Smith was suspended for four games because of threatening text messages between Smith and the mother of his son. Smith deserved his punishment. Yet Hill gets nothing?
Back in 2014 the mother of Hill's child, Crystal Espinal, then pregnant with the boy, was assaulted by Hill. She walked into an emergency room obviously beaten – there's no disputing this. Hill pled guilty to charges.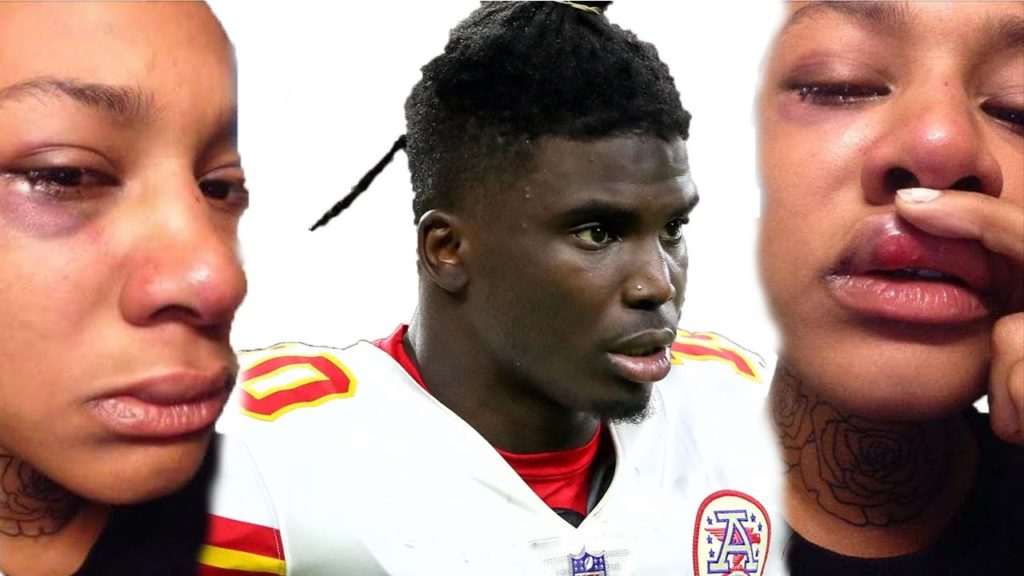 What will it take Roger? Does Espinal or the boy need to show about severely maimed or dead for you to lean on your "zero tolerance"?
But no, let's enable this thug even more. Let's allow him to go on earning millions. Now there's some great punishment. What an example to set by the most acclaimed professional sport in the world's best country! God forbid that the KAN-SAH City Chiefs, the new darlings of the NFL, have to play without their speedy thug.
This liberal implementation of the so-called zero tolerance enables players like Hill. They have no remorse because throughout their lives, faculty members or athletic directors or general managers or league commissioners turn their heads and look the other way, intoxicated by a thug's athleticism.
It invites the next Tyreek Hill and the next and the next to not care about the consequences of bad behavior. Why? BECAUSE THERE ARE NO CONSEQUENCES!!!
It won't end until something really bad happens or big sponsors have had enough of Goodell's phoniness. He's like a see through dress and none of what I see, despite the irony in his last name is good.
Zero tolerance?
The only zero in this equation is the empty suit named Goodell, aka Roger The Dodger…